Ecommerce
Integrating Your Shopify Store With eBay or Amazon Using Veeqo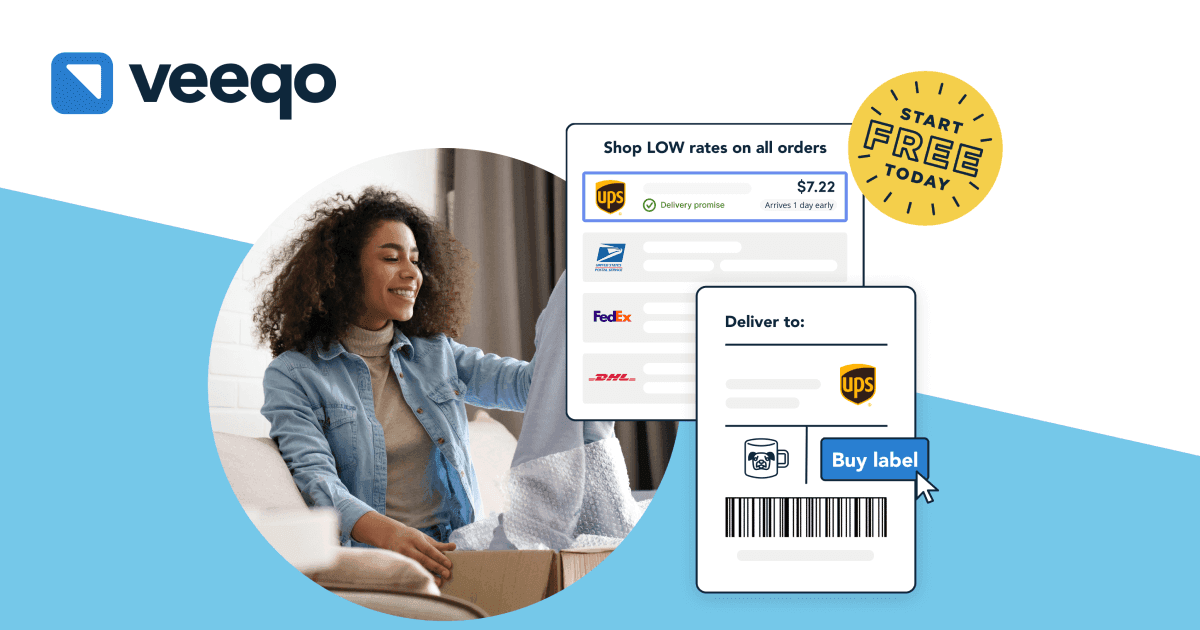 If you are selling on Amazon and eBay as well as Shopify, it's a good idea to integrate these channels to save you time and effort in managing your inventory. You can use Veeqo to integrate these platforms; here's why and how.
Why?
By integrating all your sales channels with Veeqo you can sync your inventories and orders. This means you don't have to log into these separate channels if you want to check their status as you can see stock and order information in Veeqo, and you don't have to update stock across these channels manually because Veeqo does it for you. 
How?
It's really simple. Here's a guide on how to integrate your Shopify, Amazon and eBay using Veeqo.  First things first… You need to make sure your Shopify is linked to Veeqo. To do this, follow these steps: Step 1: Log into your Veeqo, and Shopify accounts. Step 2: Inside Veeqo go to "Settings" and then click on "Sales Channels". Step 3: Click on the "New Sales Channel" button to add a new channel. The screenshot below explains how you can set this up. Step 4: At this point, you need to make sure you have both Veeqo and Shopify windows open. As you click "Save", a box will appear in your internet browser asking if you would like to allow Veeqo access to your Shopify account. You must grant us access on Shopify when installing the App in order for Veeqo and Shopify to integrate. Once this is complete, we will start pulling your products, stock levels and then orders. This can take anything between 5 minutes or a few hours depending on how many products/orders you have. You are now ready for your Shopify Amazon and Shopify eBay integrations.
eBay
First, we are going to look at how to use Veeqo for your Shopify eBay integration.  Step 1: Log into your Veeqo account, if you are not logged in already. Step 2: Go to YOUR NAME then SETTINGS and click on SALES CHANNEL   Step 3: Click on "New Sales Channel"     Step 4: Fill in your details like shown below
Amazon 
Next, we are going to look at how to set up your Shopify Amazon integration. It's important to remember that if you are using a Amazon Europe Marketplaces Account (also called a Unified  account) you will need to follow this guide for each country (i.e UK, DE, ES, FR and IT) in your unified account. Before continuing with the steps below, please login to your Amazon seller central account and select which country from the drop down at the top of the screen you want to access. Step 1: Select from the list below the Amazon marketplace you want to connect and use your "Amazon Marketplace Seller Central" login details. Step 2: Click on sign up for MWS on the right hand side of the screen    Choose "I want to use an application to access my Amazon Seller Account with MWS." It will also ask for the name of the Application : Veeqo And it will also ask for the Application Developer's Number - please ensure you use the correct number as per below Step 3: Click Next and accept the agreement. Step 4: Your Seller ID, and Marketplace ID will be shown, please take a note of these numbers. If the marketplace ID provided is different from the list above, please use the ID show in this guide instead. Step 5: Log in to your Veeqo account and go to YOUR NAME > SETTINGS > SALES CHANNELS. Step 6: Create a new sales channel. Step 7: Choose "Amazon" as the type and insert the details required.  That's it, you're all done! Your Shopify, Amazon and eBay are integrated.