Smarter

ecommerce shipping software

Ship orders from all your stores with clever automation that'll speed up your multichannel fulfilment. All for no monthly cost.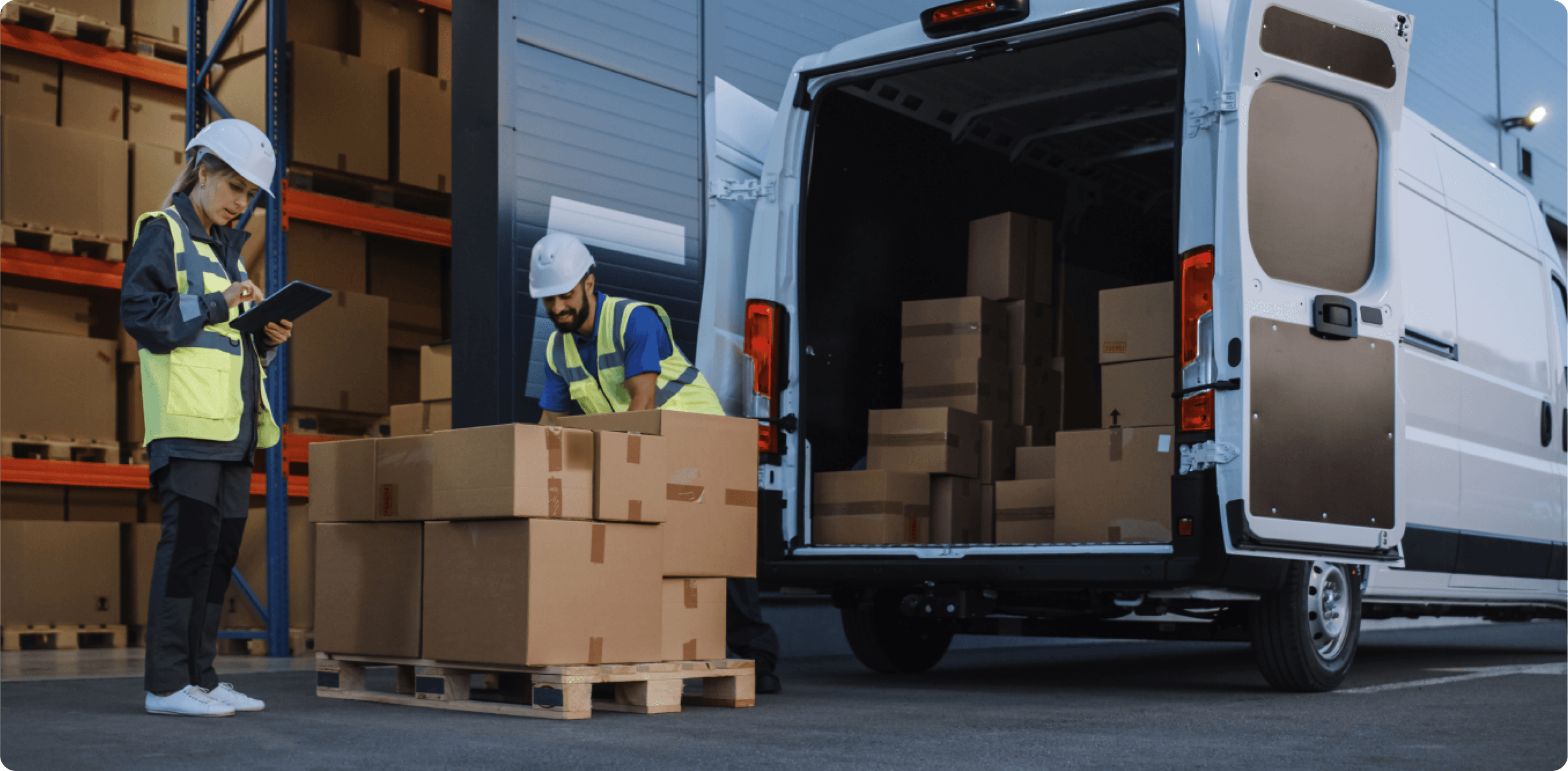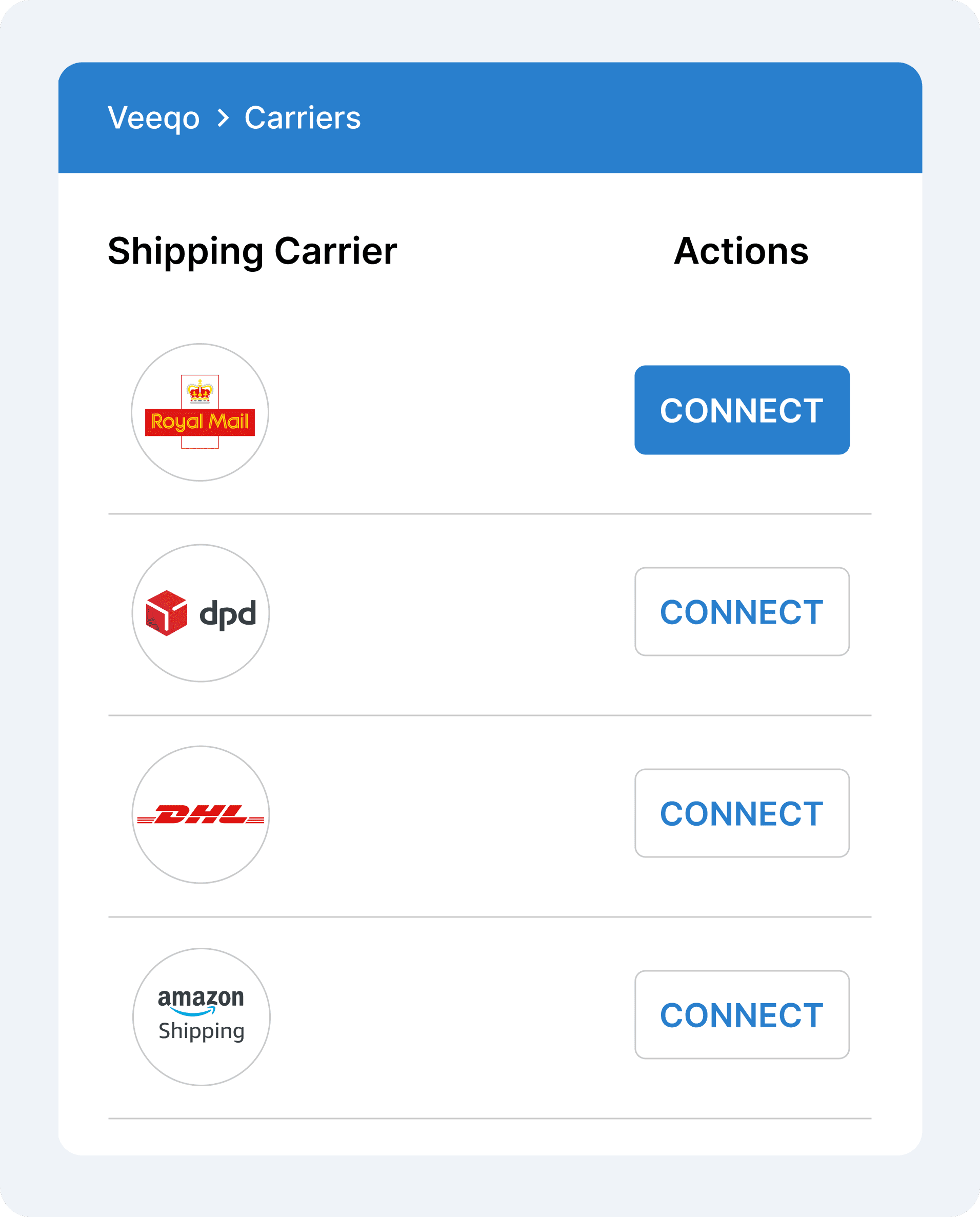 Integrate your favourite shipping carriers
Veeqo allows you to directly integrate your accounts with Royal Mail, DPD, UPS, FedEx, Amazon Shipping and more. Once connected, you can ship orders from all your sales channels and bulk print up to 100 labels in one go.
ALL YOUR TOOLS, ONE App
Shipping management & fulfilment tools
An ecommerce shipping software platform to easily ship every customer order from any sales channel – with discounted shipping rates and advanced order management.
|

Rated 4.5 stars

Loved by thousands of merchants like you
Multi-channel order shipping summary

Ship orders from all your sales channels using Royal Mail, DPD, or DHL and many more.

International shipping summary

Easily print labels and commercial invoices no matter the destination.

Vital reports at your fingertips summary

Generate order, sales and fulfilment reports for data-led decision.

Bulk print shipping labels summary

Print up to 1000 shipping labels in one go.

Shipping workflows that save time summary

Set up rules to automatically select shipping service and signature options for all orders.

Live parcel tracking summary

Email your customers their order tracking information when their order has shipped.

Optimise fulfilment operations summary

Having your inventory and shipping under one roof helps speed up your fulfilment.

Custom invoices summary

Cutomise your invoices to stay on brand with all your shipments.
Live parcel tracking and returns management
Track every shipment in one place
Update sales channels with tracking info and send out confirmation emails on autopilot. So customers stay informed without overwhelming your support team.
Manage multichannel returns
Handle all your returns without a spreadsheet or email thread in sight. Create returns, record the reason, update stock, and issue refunds – all from one platform
A tool your support team will love
Veeqo puts all the info your support team will ever need right at their fingertips. Tracking info, order history, taking manual orders – it's all there in a single login screen.
Stay on-brand at every step
Customise labels, invoices, and tracking emails any way you like. You'll create a unique experience that showcases your brand at every touchpoint.
"Before Veeqo I had a much longer dispatch time – up to 5 days. I can now ship with next day delivery."

"I had to cap orders during busy periods as I could not keep on top of my stock. With Veeqo, the process is a lot less stressful. There are no worries that I will run out or over-make stock anymore."

Read story
Advanced shipping software features
Auto-print on specific printers
Route different documents to specific printers. Set invoices to automatically print on an A4 device, while labels go to your thermal – all without a PDF download in sight.
Create internal order notes & tags
Clearly communicate any special requirements or VIP customer orders by creating an unlimited number of internal notes and tags. You can even add notes to individual line items in an order.
Prioritise orders with advanced filters
Easily organise orders by applying advanced filter options. Sort by store, delivery method, destination, Prime, order weight, items per order, inventory locations, order date, date shipped or any way you want.
Run a cloud-based operation
Access Veeqo's cloud-based software from anywhere with an internet connection – via desktop, tablet or smartphone app.
Take control of warehouse management
Use Veeqo's advanced Warehouse Management System features to organize, pick, pack and ship your inventory with masterful efficiency and speed.
Connect physical stores
Connect Shopify POS or Vend point of sale systems to integrate sales and inventory from any number of physical stores to Veeqo.