Ecommerce
5 Reasons Retailers are Choosing Inventory Management Software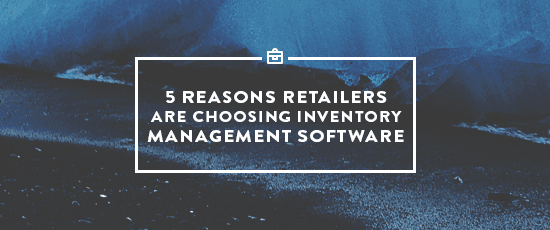 More and more retailers are choosing to adopt inventory management software, and it's easy to understand why. Managing an inventory can be a challenge for online retailers, but having a well organised stock control system can make things easier. We're going to look at a few of the reasons why inventory management software can really benefit you.
1) Reduce mistakes 
By using a software, you can reduce a large amount of mistakes you would normally make by manually managing your inventory, which is time consuming, challenging, and has plenty of potential for human error.  Having a software do the hard work for you can save you valuable time and effort while also eliminating the worry of making mistakes. Also, think of how much money you will save on stationary by not tracking your inventory the old-school way with a pen and paper - it's also much better for the environment as software doesn't require paper.
2) Save time by automating 
A lot of the inventory management process can be automated with an inventory management software to save you time. Things like shipping and stock checking can be automated with this kind of software, so it makes sense to take advantage and automate away. Get updates on your stock, bulk print shipping labels, and email customers with tracking numbers for their orders. This can literally save you hours a week, especially if you're a high volume seller with 50 or more orders a week.  [embed]https://www.youtube.com/watch?v=mmRAZUhTKmk[/embed]
3) Get live updates 
Having live updates on your stock levels and orders in real time can help you keep up to date with your inventory as it's being updating. This is great as you no longer need to log into multiple systems countless times a day to check and ensure that your orders and inventory are consistent throughout your sales channels, saving you further time and effort. These also let you know exactly what's going on with your inventory, so there's no surprises when you log into your system. 
4) Sync your stock 
If you sell on more than one online marketplace, inventory management software can sync stock across your multiple sales channels. If you're selling on eBay, Amazon and WooCommerce, for example, and you sell something on eBay, the software will automatically update your stock across on Amazon and WooCommerce so you no longer have to log into each individual account to check and update the stock yourself. 
5) Understand your sales figures 
We can't all be mathematical geniuses, which means that sometimes it's hard to interpret your sales figures. Most inventory management software systems will have an easy to understand reporting feature built in to provide you with all the necessary statistics on your performance - gross profit, for example, is an important indicator of how well you are doing, and brand reports can help you identify which stock is selling well, and which stock you need to get rid of; the software will work this out for you, saving you time and reducing the risk of errors in calculations.  Need an inventory management software? Try Veeqo!