Veeqo News
March 2020 Product Update: What's New in Veeqo Over the Past Month?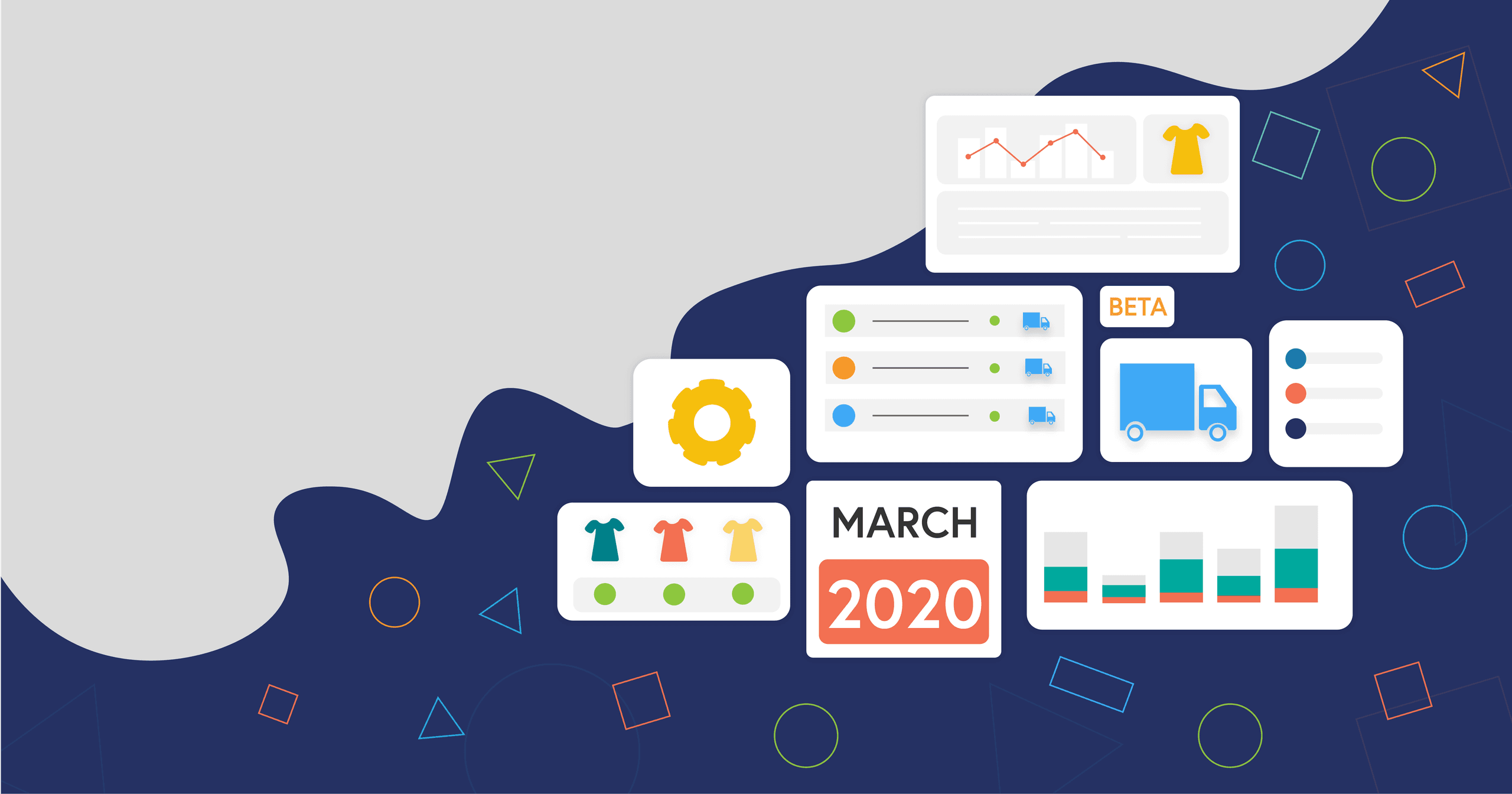 Our inventory and shipping features are currently going through their largest ever change. And last month, we made big progress on Veeqo's order, product and shipping screens. But that's not all: our DHL integration and Android app have had an upgrade too! So let's take a look at what's been happening in Veeqo over the past month, and have a bonus look back at an old feature that could save you some time.
SEE ALSO: Veeqo Changelog: A Daily Update of New Veeqo Updates
Discover how Veeqo can transform your multichannel inventory & shipping
Start a 14-day free trial today, no credit card required.
Start free trial
New features launched in the past month
Along with BETA testing, bug fixing and UI changes all in the works, last month also included some pretty cool feature releases...
1) Print multiple templates in a few clicks
Our new orders screen just got another great new feature! You now have the ability to select multiple templates to instantly print, for up to 100 orders at a time. Simply select your orders, head to the Actions menu, hover over Print orders, choose as many templates as you want and hit print: The templates you can select are:
Invoices.
Packing slips.
Picking lists.
Delivery labels.
Yet another handy new feature from our continued improvements to the Veeqo orders screen. Learn more about order management in Veeqo here.
2) Submit electronic customs forms for DHL Express shipments
DHL Express Electronic Trade Documents is now enabled in Veeqo, so you can transmit your customs documentation electronically. This means you avoid delays at customs and ensure the timely delivery of international DHL Express shipments. Learn more about shipping with DHL in Veeqo here.
3) Select multiple order & date filters in the Veeqo Android app
Veeqo's Android app just got two new updates to improve the way you can use it:
Use multiple order filters
Use multiple date filters
You can also now view your sales dashboard across multiple date filters, allowing you to compare sales against:
The last seven days
The last 30 days
Week to date
Month to date.
Learn more about Veeqo's smartphone app here.
4) More data on wholesale invoices
Invoices created and sent to your wholesale customers in Veeqo now include more information, so you and your customers know exactly what's happening. The new data added to the invoice includes:
Company address, instead of the main warehouse address.
Shipping prices.
Customer notes.
Learn more about managing wholesale orders in Veeqo.
5) Commodity codes on DPD paper invoices
If you ship internationally to a country that does not accept DPD paperless invoices, commodity codes will now be included on all paper ones. See how to bulk upload commodity codes to your products in this help guide using Veeqo's order CSV import. Learn more about shipping orders with DPD in Veeqo.
6) Include more data in Veeqo CSV order exports
You can now include order "due date" and tag data when exporting to CSV file from Veeqo. Meaning you get all the data you need when exporting your orders. This data will appear as the final two columns in your export:
Learn how to export your order data to CSV with this help guide.
Feature of the month
Most retailers using Veeqo will know that it has a lot of features. Even the smallest of features can make a huge difference to your workflow, saving you and your team time. So in each month's roundup post we'll be highlighting some Veeqo features you might not know about... but probably wish you'd started using sooner ;)
'Favourite' preferred shipping carriers in Veeqo for quick & easy access
Our 'Feature of the Month' for March is the ability to 'Favourite' your most-used shipping services in Veeqo: It helps keep your Veeqo shipping screen tidy by only displaying the carriers and services you regularly use. Just 'favourite' your preferred ones, then hide the rest - so no more scrolling or confusion between which carriers to use. Take a look at Veeqo's other time-saving shipping features here.
An exciting month, with a lot more to come
There's a lot more coming in Veeqo throughout 2020. So make sure to keep an eye on these monthly blog posts to keep up to date with all the latest updates and releases. Or add your email below and we'll send it straight to your inbox every month:
Sign me up!
And if you can't wait that long, head over to the Veeqo Changelog for daily updates on all our latest features.
Discover how Veeqo can transform your multichannel inventory & shipping
Start a 14-day free trial today, no credit card required.
Start free trial