Testing For All
"A lot of the positive feedback we've had on Trustpilot has been about speed and efficiency and Veeqo has played a critical role in that"
Making COVID-19 testing more accessible and affordable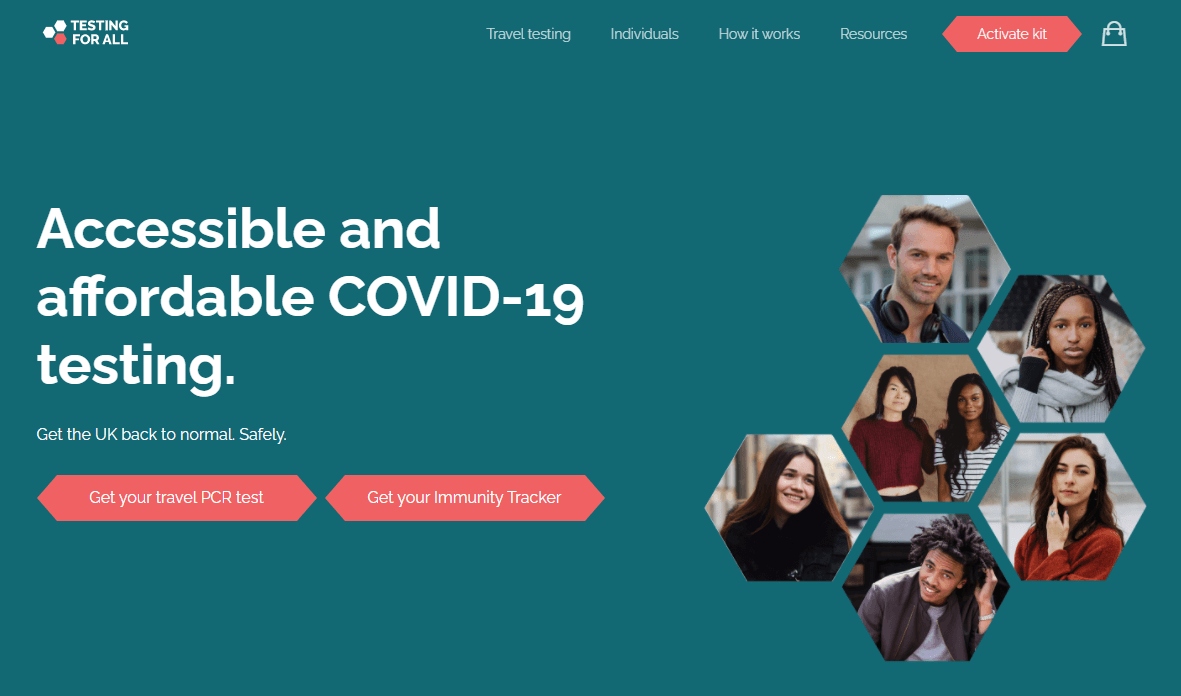 From the very outset, Testing For All needed to be able to adapt quickly to changing circumstances if they were going to be able to attain their bold vision. This was a time when Covid-19 was sweeping across the planet and each day seemingly brought with it new restrictions, challenges and more uncertainty.
This meant having an order fulfillment system that would be resilient enough to manage the needs of a fast-growing organisation, yet agile enough to allow Testing For All to respond to fast-changing circumstances in an unprecedented time to launch a new venture.
From the beginning, Testing For All knew they wanted a system capable of managing 10,000 orders per day. To get that ambitious capability from day one, they decided to launch with Veeqo already in place as their order management software.
Veeqo offers a multi-channel and multi-carrier solution
James was clear from the outset that Testing For All didn't want to be constrained to a single channel. They wanted to develop a testing solution that can sit on a shelf in an airport, be sold on Amazon or be delivered to a workplace. From the beginning, they used Veeqo's integration with Woocommerce, which syncs with Veeqo in minutes, so that they could keep track of their inventory from day one.
Testing for All's complex logistic set-up required an ecommerce system capable of integrating with several logistics partners, such and Royal Mail and DPD. Veeqo's seamless integrations with shipping providers was a key advantage of the platform. Allowing Testing for All to get their tests to the right people on time and back to the lab for testing.
Veeqo's digital picking system reduces shipping errors
Another feature the team at Testing for All love to use daily is digital picking. It was clear from day one that as the pandemic evolved people would want a range of tests and this would lead to a lot of complexity on the fulfillment floor.
For example, one of the biggest challenges Testing For All faces is getting a test sample back to a laboratory from a customer in an effective, fast and reliable manner. It's easy to forget they also have to have the kit manufactured, send the kit to the customer and provide them with shipping labels to get to the lab. Something that can be complicated by something as simple as an individual's situation, such as whether they live in a city or a more rural area.
When it comes to travel testing, positive results need to then be sequenced to check for Covid variants. All of this adds to an already complex process.
Managing this complexity requires having the functionality to do things like handle multiple SKUs and matching up different shipping labels. Digital picking has allowed Testing for All to manage this complexity from day one. This is because Veeqo's digital picking system reduces human error, provides visibility of key warehouse data and reduces the time it takes for the picker to get orders ready for shipping.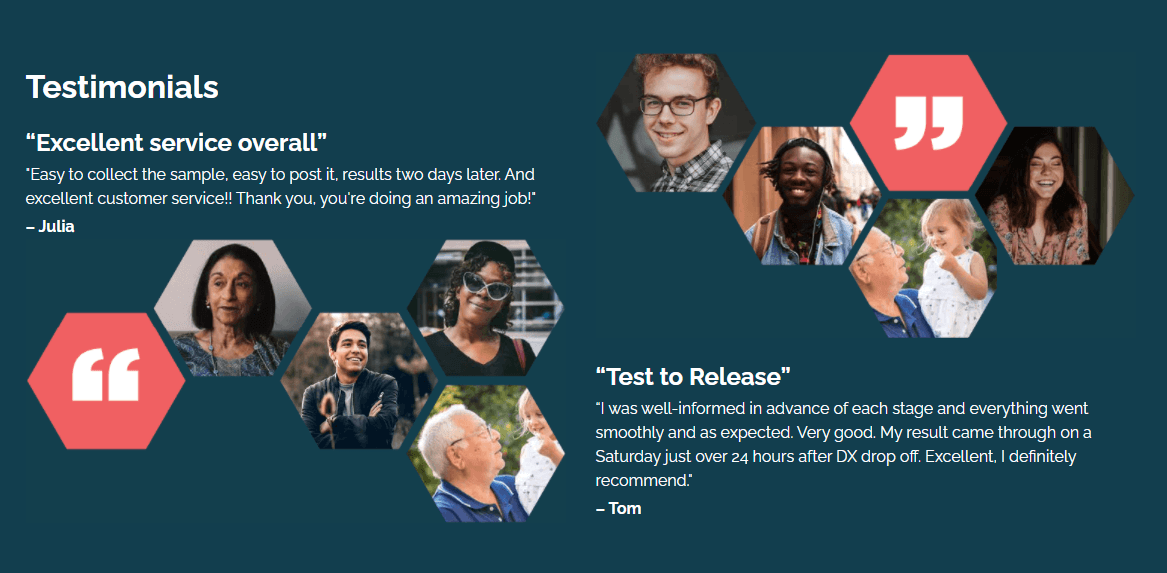 Getting started with Veeqo
James found getting set up and started with Veeqo to be a straightforward and smooth experience. Veeqo's user-friendly interface made it easy to be connected to stores and carriers in minutes.
James was even able to introduce Veeqo to their medical device supplier, who at that point was completely new to the world of fulfillment. This allowed them to use Veeqo in its best practice format, and entirely rely on it for their fulfillment needs.
The integration with WooCommerce, their ecommerce system, was also up and running in no time.
Scaling quickly during hard times
James told us that Testing For All started out small, by delivering tests to GPs in North London, but quickly expanded from there. They moved on to get tests to people who were shielding, in social care and to those who were experiencing ongoing Covid-like symptoms but weren't able to get a test. From day one they have been providing a vital service, getting tests to people in need.
By 2021, the testing landscape changed dramatically as the local Government's test and trace system has ramped up and lateral flow testing has been made widely available. This has led Testing For All to pivot to offering affordable day 2 and day 8 tests to the travel sector, which is a huge challenge and vital for mobilizing the global travel economy.
Testing For All sells through their website and through direct sales (where they sell to businesses with more bespoke requirements). As well as doing travel testing, they use custom bundles of tests that ship as direct orders for a range of clients, from corporations to film and TV companies.
They're serving an important purpose in helping to fight the pandemic in the UK. It is fantastic that Veeqo has been able to support them with their mission by providing the backbone of their fulfillment solution.
A critical part, that a lot of our competitors fall down on, is the shipping part as they are having significant shipping delays. We have done a really good job, between our e-commerce site and Veeqo, of making that working really well and shipping the same day.
Getting one step ahead of competitors
Testing for all is currently rated 'excellent' (4.5) on TrustPilot. Founder James Monico says that "Absolutely and wholeheartedly Veeqo has helped maintain our trust pilot score. If you look at what we do it is a complicated logistics service. We have to manufacture kits, fulfill them and ship them to a customer, the customer has to take their sample and we have to get that sample back to the laboratory for testing.
_A critical part, that a lot of our competitors fall down on, is the shipping part as they are having significant delays. We have done a really good job, between our e-commerce site and Veeqo, of making that work really well and (_being able to manage) _shipping the same day. A lot of the positive feedback we've had on Trustpilot has been about speed and efficiency and Veeqo has played a critical role in that." _
Adapting to a fast-changing business environment
The ever-changing nature of the pandemic, and the Government's pandemic response, has led to Testing For All having to change their operations to better fulfill their mission.
Veeqo's flexible order management system has enabled Testing For All to grow and pivot accordingly. Features such as the off-line ordering function and being able to send a template CSV out to a customer, have them fill it in and then return it to Testing For All for upload into the system have been helpful when delivering their products and adapting their business.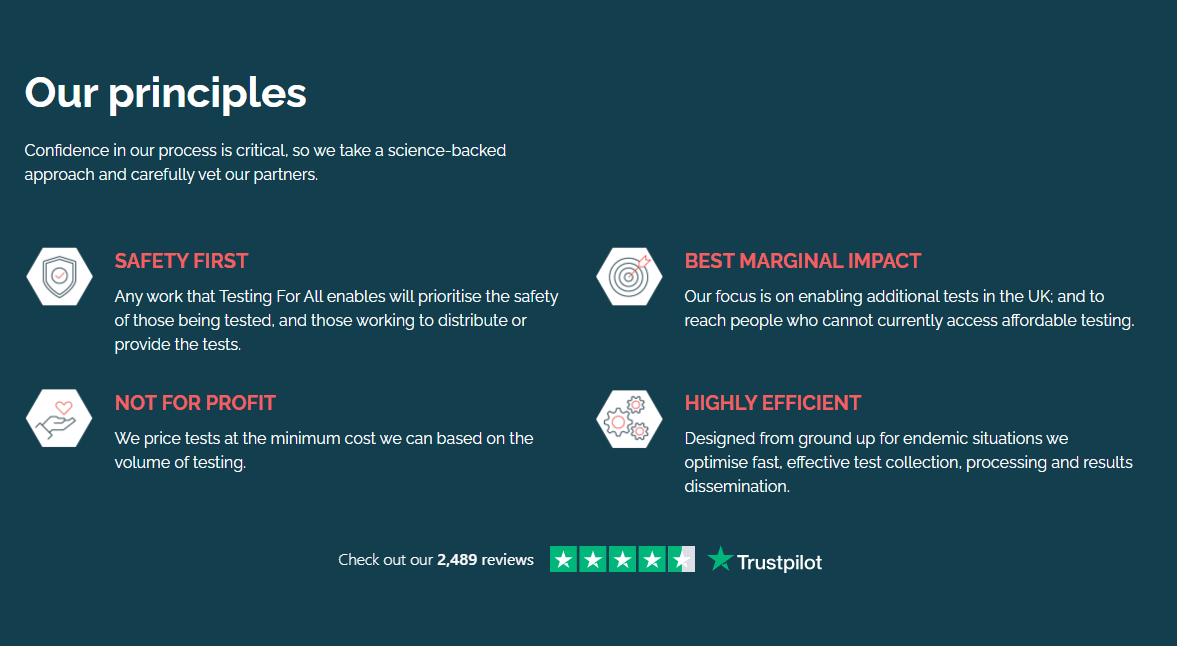 Simplifying a complex, multi-step, shipping process
Testing For All has added considerably to the complexity of their offering over the last year. Initially, they were only using some of the tote functionality Veeqo offers. But as they expanded into twelve different products and multiple different shipping labels they have had to use this function in much more depth. The challenge doesn't end when the customer has received the test, as the samples then need to be couriered back to the lab in order to be tested and the results returned to the customer. All within a very short timeframe.
Veeqo's flexible software solution has meant they can manage this complexity while keeping shipping errors down to a minimum.
Making complex inventory management easy
Currently, the biggest challenge Veeqo is helping Testing For All overcome is their latest day 2 and day 8 tests. When selling multiple variations of their product and have to manage stock at a day level. Unlike normal ecommerce businesses, Testing For All does not want to sell all of its products as soon as possible. They need to be extremely precise about the number they sell on an individual day. This requires being able to stay on top of your inventory management completely and in real-time.
A lot of the positive feedback we've had on Trustpilot has been about speed and efficiency and Veeqo has paid a critical role in that
Testing For All continues to help the world open up for business, getting much-needed Covid tests to all of those who need them. This includes increasing the channels they are distributing tests through, both in terms of online marketplaces and direct sales. At this point in time they are doing 2900 tests a day, with plans to be doing 5000 tests a day within the next couple of weeks.
It is a company Veeqo are very proud to be able to help in their mission and we look forward to seeing how they will adapt and grow in the future.