Ecommerce
Top 5 E-Commerce Email Campaigns to learn from
Written by Richard Protheroe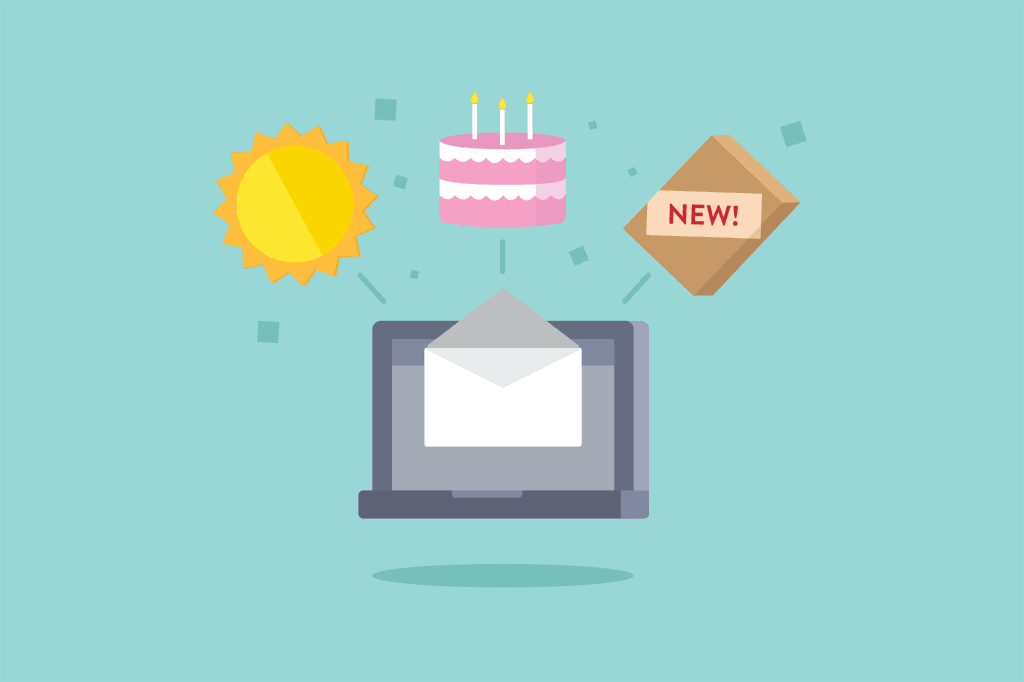 Email marketing is still as popular and effective with retailers as it's ever been. In fact, email has been found to generate more revenue than website ads, display ads and social media combined. So what are the best email campaigns to ensure your customers, and potential customers, will be converting?
1. Personalised Birthday Gift
Personalising emails (easily done through your email marketing service) is a sure fire way of increasing the number of clicks through to your website. In fact statistics have shown that a personalised subject line increases the CTR by 14%. This works best when you tie it in with a customers birthday. If you aren't currently asking for a customers date of birth, here's a great example from Mudpie on how you can gather that information. The problem you can get with this however, is that somebody may want a discount and will set their DOB as tomorrow (shocking, I know). However, an alternative would be to run a competition or quiz and ask for the entrants DOB to enter, that way it won't seem so obvious. Obviously a persons birthday is only one day however here's a great example from Boots who offer double reward points for the month of that persons birth. This is not only rewarding the customer, but it's also encouraging them to spend a little more with you. There are so many great rewards tools to make this work such as Sweet Tooth, FiveStars and Belly that you can read reviews for on GetApp.
2. Summer shutdown sale
As August winds down we'll be slowly making our way into Autumn, therefore you may have some old stock that needs shifting! I recently wrote an article on how you can clear out old stock that you don't need. In this instance you'll need to get rid of these quick before the season's out. The old '10% off' doesn't work anymore, plus you can also go one better than the '1 day flash sale' that you now see quite frequently. To create that sense of urgency offer a discount that drops every hour. This example from Bonton is fantastic as it gets customers to act quickly, in order to gain the maximum discount. The use of a gif in an email is also effective. If you are unsure how to do this, here's a list of people who can do it very cost effectively on Upwork. If you don't manage to sell them, don't worry. Keep hold of them for next year and launch a 'back in stock' promotion like Nasty Gal below. This creates the idea with the customer that the product is in demand and you'll see how much quicker it sells!
3. Autumn products launch
For those in the Northern Hemisphere, Autumn starts on September 22nd. So August is the perfect time to give your customers a sneak preview of what's to come. However, it's best not to just offer this preview of your new range to everyone. Oh no, no, no. This is a great opportunity to offer some exclusivity with your new range. An example a few years back from Milled highlights this well.
Offer a sneak preview of a sale to VIP members
They offer a pre-fall sale as well, which makes customers feel they are getting in even earlier. There are some great plugins such as smile-io to enable a VIP section of your website.
4. Labor Day
One for American readers this. Our British readers will only be thinking why I left the letter 'u' out of labor. However it doesn't necessarily mean that only American retailers should benefit from this. We are running a webinar today on how retailers outside of the U.S can effectively sell into the U.S market. Labor Day (if you didn't already know) is a day observed on the first Monday in September to acknowledge the hard work and contribution of American workers. This is a great example from The Clymb, the tagline 'You've Worked Hard. Now Play Hard' is very emotive and is worth adapting.
Use Labor Day to clear out old summer stock
Notice as well how they offer 90% off 'New Summer Styles'. They've used this day to promote Summer clothing a few weeks before Autumn starts. The word 'New' here is clever, as it's unlikely that this is new stock and is more likely stock they want rid off, but the wording makes it sound fresh.
5. National Dog Day (yes, really)
This is one of my favourite marketing ploys. There is a day for everything and August 26th is no different because it's National Dog Day! I recently read Dale Carnegie's classic How to Win Friends and Influence People. In it he mentions how we could learn so much from dogs when it comes to making friends. When we return home they are so excited to see us and they give us nothing but love. Hence the phrase 'Man's best friend', so why not include a Dog in your email marketing? I wrote recently about I love Warby Parker's marketing and there's plenty retailers could learn from them. They launched an email campaign advertising glasses for dogs named 'Warby Barker', unfortunately it turned out to be a prank. It certainly had me and many others believing though! Despite this it got people talking and word-of-mouth marketing from email campaigns is how Warby Parker generate 50% of their sales. Could you use a dog to advertise your product? Are there any other other unusual celebratory days that are relevant to your business? Give it a go and let me know how you get on!