Ecommerce
Guide to Building Backlinks for Your Retail Business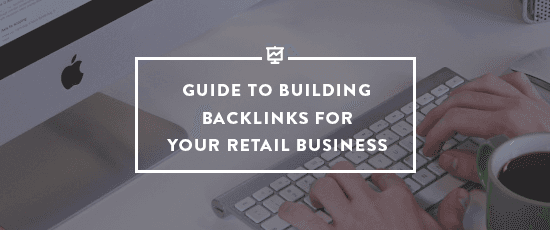 Building backlinks is one of the most important parts of SEO. But it's not as straightforward as it sounds - link building is actually like a complex recipe of various other skills you need to master, including creating awesome content, being a top salesman (or woman), an understanding of psychology, and some quality marketing if you're going to succeed in persuading other people to link to your website. There are two components of SEO we will touch on: On-site SEO is what you do on your own webpages to optimize them for web searches. This helps search engines (like Google and Bing) understand your website, who it's going to be relevant to show it to, and when to show it to them. Off-site helps search engines tell what sites are most relevant and important. This is where backlinks come in. You may have also heard of "Black Hat" and "White Hat" SEO. White hat SEO is a term used in reference to the good practice methods used to achieve those coveted high search engine rankings. They comply with search engine guidelines. Black hat SEO refers to the things you do to improve rankings in devious ways that are not approved by search engines and involve deception. They go against current search engine guidelines.
What kind of backlinks are you looking for?
Don't fall into the trap of thinking that loads of links of all shapes and forms will result in good SEO. The key here really quality over quantity. You should link to internal sources as much as possible as this shows your content is quality, but you can also link out to relevant content too as this could (fingers crossed) encourage others to link to you. Think of backlinks as references for a job: a reference from the mighty Alan Sugar is going to do a lot more for you than a reference from your mum (unless your mum is Karren Brady). Similarly, a backlink from the BBC is going to be a lot more beneficial for your website than a backlink from a 3 month old blog with 2 subscribers and less than 100 monthly views. Look for reputable sites that are relevant to your niche. These will have a much better impact on your rank than smaller and irrelevant sites. Try using Moz to check pagerank and domain authority. Open SEO Stats plugin for Chrome is also good. Try to link from a number of different sites instead of having lots of links from a smaller number of sources. Unique sites will be better than ones you've already used.
Follow and No-follow
You might have heard of "follow" or "do-follow" backlinks and "no-follow" backlinks. A do-follow backlinks means that the website that's linking to your website is essentially saying to search engines "I know and trust this website, so you should to", whereas a no-follow backlink says "I know of this website, but I can't personally vouch for them". A do-follow link is great because it's telling search engines that your site is relevant, and therefore helps your ranking, while no-follow backlinks don't affect your rank at all. However, that doesn't mean that no-follow backlinks are totally useless because they can still do a lot when it comes to sharing and exposure.
Getting started
Your content
Make sure your content is awesome, engaging, informative, and - most importantly - shareable. Content needs to be compelling, whether it's an article, a video, or any in other form, because getting shares is a brilliant way of building a ton of backlinks. You need the kind of content that will get people climbing over each other to get their hands on; the kind people will actively go out and say "have you read this? It's really great!".
Guest posts
Guest posting is a great way of building backlinks, but it's so much more than that: if you target key influencers with a large, dedicated following you're tapping into their audience who trust their opinions. So now you not only have a respected blog saying "I vouch for this website" and pushing up your search engine rank, you also have a trusted blogger saying to their followers "I endorse this company". Simply try searching for "your keyword" + "guest blog" on Google to find bloggers who have accepted guest articles in the past. Targeting bloggers who have accepted guest contributions in the past is much more likely to end in success than firing out a bunch of emails at random blogs with loads of followers. You can also use tools like Moz, Twitter and BuzzSumo to search for key influencers. When reaching out to guest bloggers, try keeping your emails short and sweet, and be specific about why you want to collaborate with them - reference things about the blog you like, link to a blog post that caught your eye. Basically, don't come off like you've sent a generic email off to 50 blogs in the hope that one of them will respond and give you a backlink. Try something like this: Subject line: Something for your audience? Hey [Name], I've been looking through your blog and think it's great, especially this piece about SEO [link to article from their blog]. I have some content which might interest your audience - could I sent it to you for a guest post consideration? I'd really like to work with you. Here are some samples of my work published elsewhere [link to previous guest post slots or you own blog]. I look forward to hearing from you, Best Regards, [You]
Reviews
Similarly, you could try sending your product to those influential bloggers (for free, of course) in the hope that they might review it for you. This is another popular method of obtaining backlinks as giving out your product for free usually warrants a lovely do-follow backlink. Again, find some bloggers in your niche (you could even use the list you've built for guest posting) and offer them your product for free in exchange for a product review post about your product. Most will be thrilled to get something for free - that's probably the reason they got into blogging in the first place.
The press
Getting your face in the paper (or your company's face, that is) is not just great for publicity, it's also great for building powerful backlinks, especially if you're on high-ranking news sites. Local news outlets are also valuable. If you're a startup company, local news publications will probably be excited to hear about your developments, so keep them updated, send press releases documenting your company's progress, and you're bound to get a decent backlink or three.
Customer Testimonials
All companies love a testimonial. What could be better than someone going out of their way to provide a quote saying "I love this company!"? It shows real-life examples of customers who are satisfied with their product/service, and to prove they're real people, testimonials will provide a link to that person's website. And there's your backlink. Both parties are winning. So now you know how to get started with your backlink building there's no excuse. It's one of the most essential parts of your SEO strategy, and you really can't ignore the impact a great backlink has on your ranking - and your traffic as a result.  Remember: You might not see results immediately, but this is a long-term goal, so keep those backlinks coming in.
A link building strategy
The most effective way of building links is by having a clear strategy. Heroic Search are awesome at this. Check out the image below for an outline of what they advise: Using the ideas in this post and creating a strong, actionable strategy is the best way of going about building links. Let us know how you're getting on in the comments below.