Ecommerce Operations
Order Management Comparison: Veeqo Vs. ChannelGrabber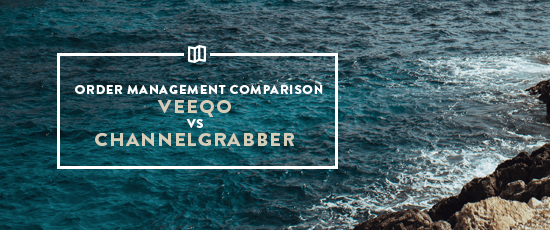 It can be stressful and difficult to choose an multichannel inventory management software, especially if you're not 100% certain what you're looking for. It's daunting looking at all the different options, so we're putting together a comparison guide for inventory management software to make it a little easier and to help you choose.
Veeqo 
Veeqo is a cloud-based inventory and order management software which syncs your inventory across all your sales channels in real time, manages your orders, and automatically prints your couriers' shipping labels. Because it's cloud based, Veeqo's multichannel inventory management system works on iPad, Mac or PC. Being a cloud based web system With many of the price plans, Veeqo gives you a free barcode scanner. Using a barcode scanner combined with your Veeqo account will make scanning invoices and searching for products simpler with just one click and cuts down shipping time. There's a free trial and you can book a free demonstration of the software. 
Key Features: 
The system offers multi-currency support and also supports full and partial returns for orders.
Veeqo's stock control software syncs your orders in real time, which means it checks for new orders every 10 minutes. It also updates your web store or marketplace in real time, so you no longer need to worry about whether you've sold out of an item in one of your stores as stock levels will be updated. View orders by sales channel, status, stock location, customer delivery choice and shipping destination, and import/export orders via CSV. You can also sync your order with your accounting software.
View and manage all your orders from one system with Veeqo's multichannel software, no more logging into multiple systems to check for new orders. Veeqo lets you manage your Amazon,eBay, Magento, Shopify & WooCommerce orders from one dashboard, saving you time and effort - no more logging in and out of all your different marketplaces multiple times a day.
Batch print custom shipping labels from Veeqo with 1 click, this can save you up to 5 minutes per order when dispatching.
Sync with Xero accounting for easier bookkeeping, access to Xero addons and Xero inventory.
Purchase order software lets you create PO's and and automatically email them to your suppliers, sync them with Xero and easily see what you have on order with suppliers. You can also set reorder levels, so when your stock is low, you can automatically order more.
With Veeqo's dashboard and reports, you can see all the important facts and figures, for example profit and returns, across all your sales channels in simple, easy-to-read graphs. You can view each webstore or marketplace individually, or check out sales figures for brands.
Get a free barcode scanner with some of the payment plans to make inventory and order management quicker and easier. 
Integrations 
Amazon, eBay, Shopify, WooCommerce, Magento, BigCommerce, Xero, QuickBooks, Royal Mail, DHL, DPD, USPS, UPS, FedEx, myHermes and more.
Pricing
You can start a free trial today, or take a look at Veeqo's current pricing plans here.
ChannelGrabber
ChannelGrabber is an online solution for eCommerce retailers, that saves time and improves the ability to make more sales. Multichannel eCommerce means selling your items in more places to improve your revenue. With ChannelGrabber, you can easily sell across the world on numerous marketplaces and webstores including Amazon, eBay, Play, Magento and many others. 
Key Features: 
Automated Stock Management between eBay, Amazon, and Play.com to eliminate overselling. Easily upload CSV files for multiple product updates across channels.
Use ChannelGrabber to create Product Lists, upload all your listings in one go, including images, descriptions, and other SKU-related fields. Update your existing eBay, Amazon and other marketplace listings.
Order Management to help streamline your order process and grow your business. View your purchase history and items awaiting payment/ready to be dispactched.
Webstore Integration includes ekmPowershop, OpenCart, Bigcommerce, EasyWebstore, Magento, Shopify and more.
Courier Integration allows you to automate your order dispatches with your dedicated courier services in one place. Integrated with Royal Mail, UPS, TNT, ParcelForce and DPD.
Sync with your accounting Software to create orders and invoices. Kashflow, Intuit QuickBooks and Clearbooks are available. 
Integrations
eBay, Play.com, BusinessCatalyst, Volution, Shopify, Easy Web Store, Free Webstore, EKM Power Shop, Amazon and BigCommerce, OS Commerce, Interspire, XCart, Virtue Mart, CubeCart, OpenCart, PrestaShop and Magento.
Pricing 
Webstore integrations are categorised into Group A (BusinessCatalyst, Volution, Shopify, Easy Web Store, Free Webstore, EKM Power Shop, Amazon and BigCommerce) and Group B (OS Commerce, Interspire, XCart, Virtue Mart, CubeCart, OpenCart, PrestaShop and Magento). Prices are also shown without added VAT.
£60 per month (+ £60 set up) for 1000 SKU's, 50 orders per day, 1 eBay store, 1 Amazon store, and 1 Rakuten Play. Support is free. Stock and orders is an extra £20 a month for group A, and stock, orders and listings is an extra £35 a month. For group B, stock orders and listings are the same as for Group A, but with a £95 one off payment. You can also add accounting, couriers, and EPOS £20 extra each per month, and FBA costs £30 a month.
£150 a month for 5000 SKU's, 150 orders per day, 1 eBay, 1 Amazon and 1 Rakuten Play marketplace, and free support. For Group A, stock and orders includes one webstore, and then stock, orders and listings is £35 a month. For group B, it is the same as Group A, but with a £95 one-off fee on top. Accounting, couriers, and EPOS all cost £20 a month each. FBA is £30 per month.
£240 a month for 15,000 SKU's, 300 orders per day, 2 eBay, Amazon and Rakuten Play stores, plus free support. For Group A, stock and orders includes one webstore, as does stock, orders and listings. For Group B, it is the same again but with a one off payment of £95. Accounting, couriers, and EPOS are £20 per month and FBA is £30 per month.
There is a "Premier" option, price of which is available on request, where everything is unlimited.
Veeqo Vs. ChannelGrabber
To begin with, Veeqo is more cost effective than ChannelGrabber, whose pricing plan is actually pretty complicated to figure out, wheras Veeqo's is much simpler and straightforward. This alone could help you decide as you might not be quite sure what you're paying for with ChannelGrabber with its random one-off payments and grouping systems. Veeqo is also cloud-based, so you can access it from any device with an internet connection, whereas ChannelGrabber isn't, so you can only access it from a device on which it is installed. ChannelGrabber offers more webstore integrations than Veeqo, but Veeqo does offer the most popular sales channels. ChannelGrabber also offers more courier integration, but again, not the most popular ones - e.g FedEx and MyHermes. Veeqo offers a free trial, but ChannelGrabber doesn't - you'd have to pay the setup fee and the first month, which would be a headache if you decided you didn't like the system. You are offered a free barcode scanner with some of Veeqo's pricing plans, but not with ChannelGrabber. ChannelGrabber also lacks the purchase order and supplier element that Veeqo offers.