Shipping
What Ecommerce Retailers Need to Know About Amazon Shipping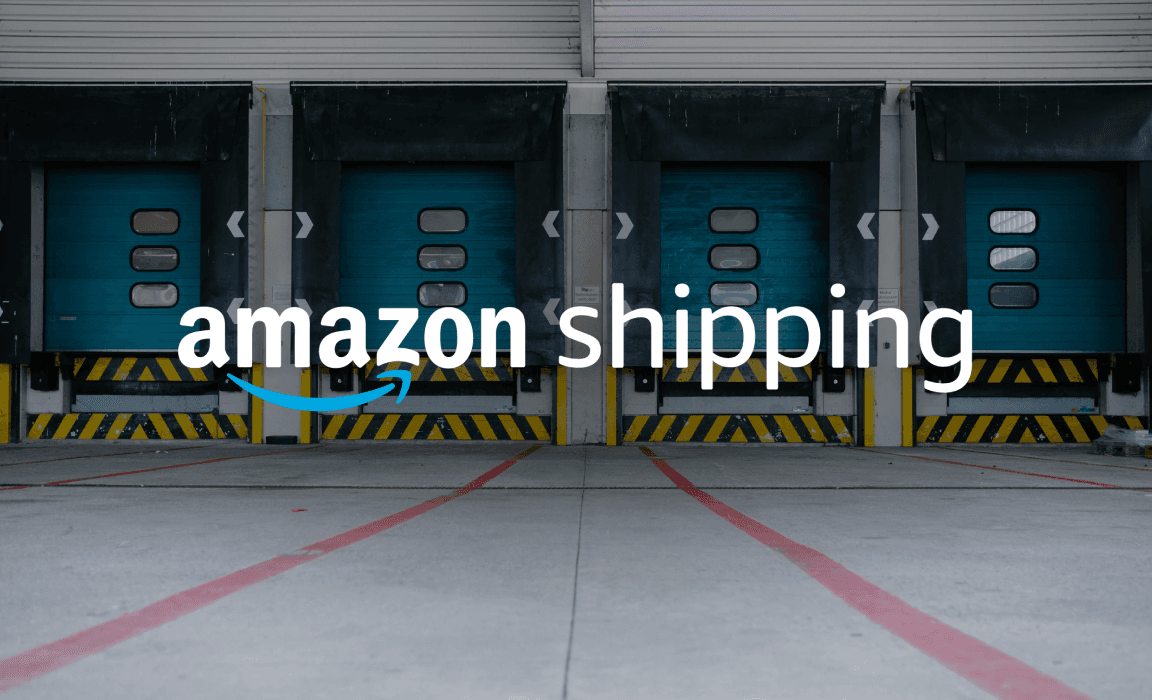 What is Amazon Shipping?
Amazon Shipping offers next-day delivery shipping services for UK businesses, allowing UK retailers to offer reliable and competitive shipping to customers across their different customer channels for both off and on Amazon. 
The core benefits of Amazon Shipping for retailers
Offer reliable next-day delivery for your customers
An obvious advantage but one we couldn't leave off the list. One of the core benefits of using Amazon Shipping for all of your UK fulfilment operations is being able to consistently and reliably offer next-day delivery. 
Amazon-level customer service
Amazon has become a byword for excellent customer service. Using Amazon Shipping extends this to your fulfilment operations.
Collections every day of the week & no weekend surcharges
Amazon Shipping collects products every day of the week and doesn't add a weekend surcharge. So, if your customers are likely to buy on a weekend you can now offer them a better shopping experience.
Advanced tracking of all packages
Amazon Shipping offers proof of delivery by GPS. This means that retailers can see the GPS location when the location matches the customer's original delivery address. All verified by Amazon. This is not just cool, but 86% of customers said that tracking was important to them. 
Your customers can provide delivery instructions
With Amazon Shipping your customers can give you specific delivery instructions. Allowing them to reschedule deliveries or choose a safe place for deliveries to be left.  
Learn More About Amazon Shipping
The competitive advantage of reliable next-day delivery
Next-day delivery is a deciding point for nine in ten consumers
A survey (ran by RetailX and commissioned by Amazon) found that 91% of online shoppers choose where to buy based on next-day delivery. Meaning that, if you can't currently offer this, then you could be losing sales. 
The 'delivery promise' builds trust between brands and consumers
"The delivery promise is… about reliability, delivery, and convenience. It's about customer trust – a positive delivery experience is a repeat customer" 

Nikhil Amin, head of commercial UK, Amazon Shipping
The foundation of a positive relationship between a brand and customer is trust. Customers need to believe that they will get what they order when they are told they are going to receive it. So, ecommerce retailers need to be able to deliver on their promise to their customers. Amazon Shipping is, in the words of Head of Commercial UK Nikhil Amin, built "Around reliability, delivery, and convenience. Reliability – can we deliver within the time frame we've said? Speed – can we deliver a really fast service? Convenience – can we offer multiple delivery options for the end consumer and the business, making it super simple and a great experience?" (source.) 
The 'delivery promise' offered by Amazon Shipping consists of three core stages: Consideration – Customers want to choose an experience according to how quickly they need something or how urgently that product is required.
Conversion –  The delivery options offered to a consumer are part of the purchase decision for customers. Quite simply, they are likely to look elsewhere if the delivery options aren't an attractive proposition. This is why so many leading retailers put their delivery options on the main landing pages of their websites and in prominent positions on product pages: they know it is a positive factor in conversion rate.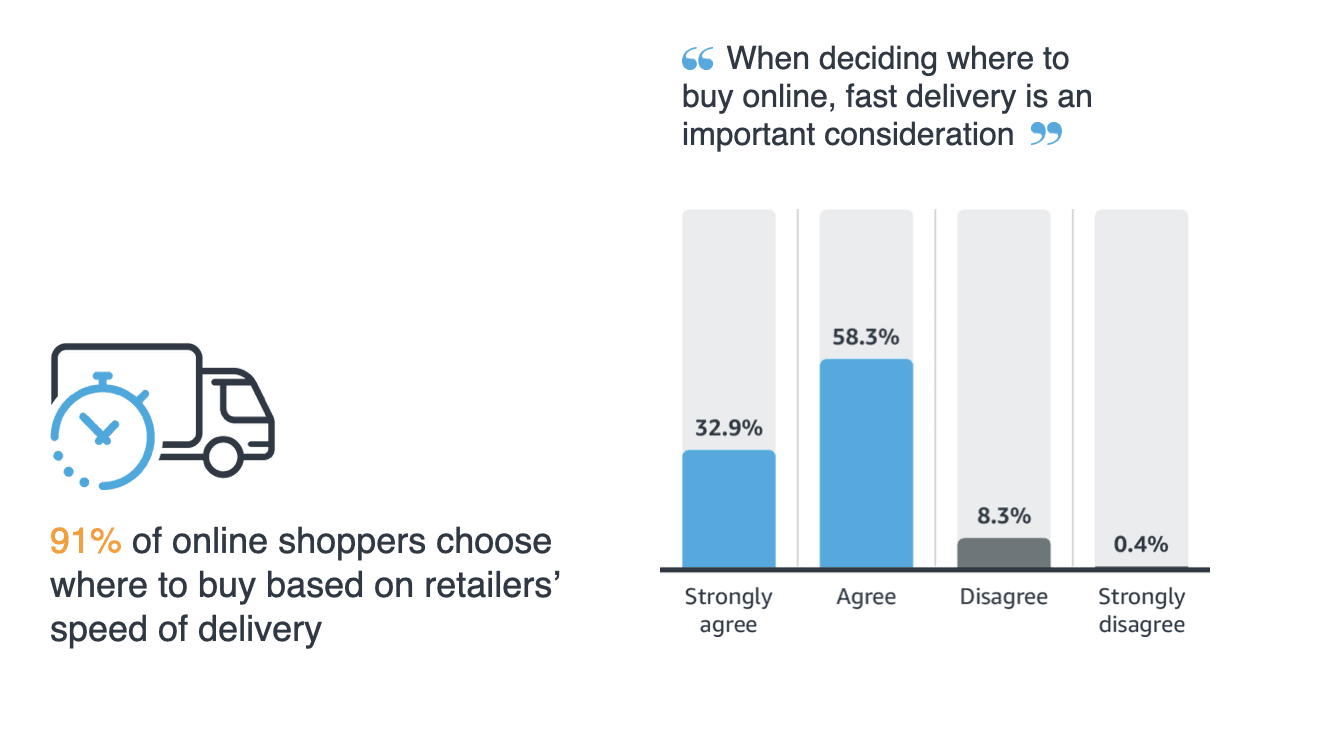 Loyalty – Customers are much more likely to go back to an ecommerce retailer if they have had a positive experience.  Similarly, you only need to look at negative reviews to know how unlikely they are to come back following a poor shipping experience.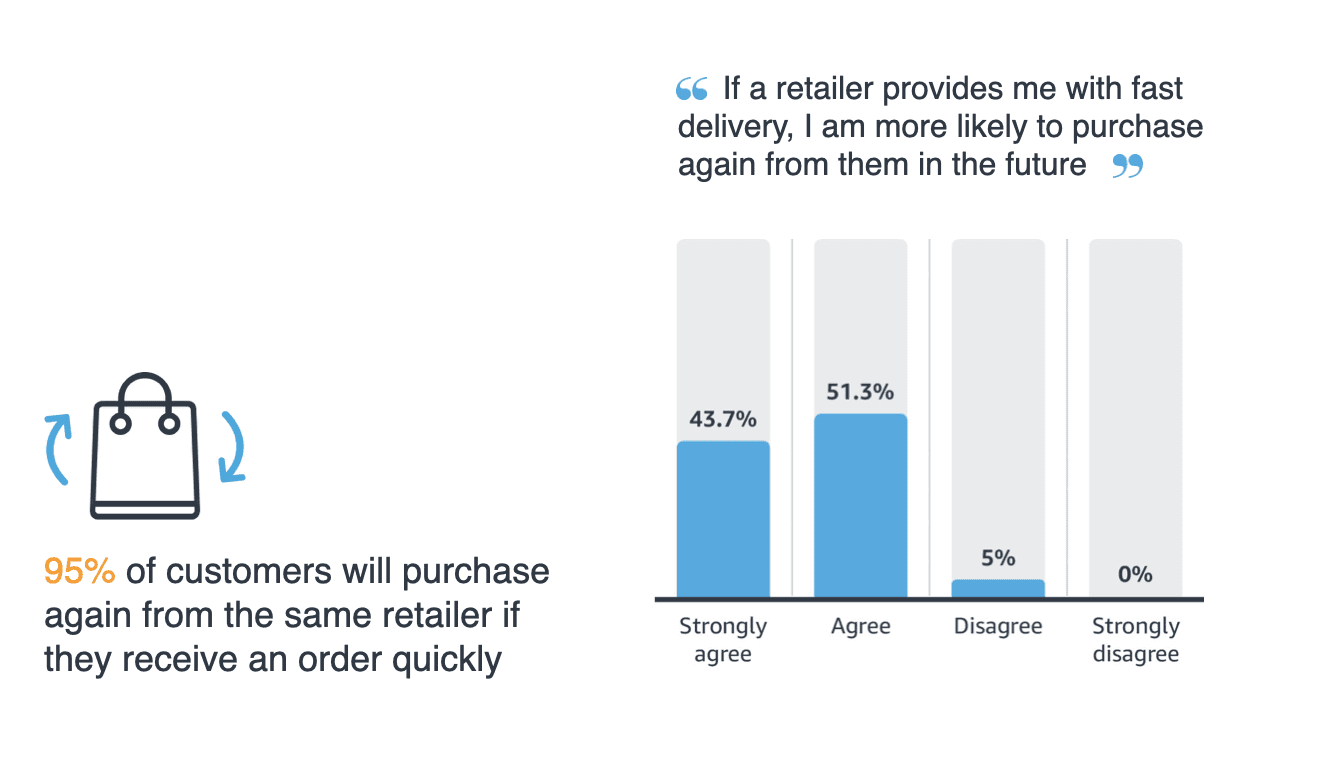 The 'cost' of poor fulfilment service
While we have focussed on the benefits of offering Amazon-level fulfilment services, it's worth noting the risk of not doing so.
Poor delivery will cost you customers
One in three consumers said they would not reuse a retailer if they had had a bad delivery experience. 
Competitive disadvantage
According to a survey by RetailX (commissioned by Amazon) more than half of retailers (53%) offer next-day delivery. The same percentage also offers Click-and-Collect. Interestingly both of these percentages are down on the previous year (by 4 and 1 percentage points respectively).  This is probably due to the effects of the pandemic affecting demand. 
If you are not currently offering this service, there are two important takeaways from this:
As half the market offers next-day delivery, customers are likely to be able to find a competitor that offers it in your space. So if you don't offer next-day delivery, you are ceding a significant advantage to your competitors. 

As demand and supply chains normalise, the percentage of companies that offer next-day delivery will only grow.
Learn More About Amazon Shipping
What is the difference between Amazon Shipping and Seller Fulfilled Prime?
Seller Fulfilled Prime is where sellers are responsible for their own fulfilment operations and meet  the performance requirements for customer service, therefore able to earn the Prime badge on their listings.. 
Amazon Shipping is a delivery provider that can be considered for Seller Fulfilled Prime. 
What is the difference between Amazon Shipping and Fulfilment By Amazon?
Fulfilment by Amazon is where ecommerce retailers put their products in an Amazon warehouse. Amazon then handles the fulfilment processes for the retailers. 
We hope you have found this guide to Amazon Shipping useful. If you need more information it is probably best to contact Amazon Shipping directly.
Veeqo is an ecommerce fulfilment solution designed to help merchants realise the potential of their businesses. We offer market-leading inventory, picking and shipping management in a cloud based platform.