Free eBay Shipping and Inventory Management
Veeqo's eBay integration offers seamless syncing of your eBay orders thanks to our FREE powerful inventory management tools and FREE top-rated shipping software.
Keep your stock accurate, your orders syncing, all while shipping eBay orders with ease and confidence.
Free eBay Shipping Software
Automatic rate selection
Save time with rate shopping that automatically chooses the best value label based on label cost and the promised date of arrival to your customer.
Faster bulk shipping
Veeqo can select the best rates for your eBay orders and ship up to 100 at once. So you save time, clicks, and cash.
Automated shipping rules
Set up weight, value, delivery options, and other specs in advance so you can efficiently ship all your eBay orders. Veeqo even follows your pre-set guidelines to offer up the best labels.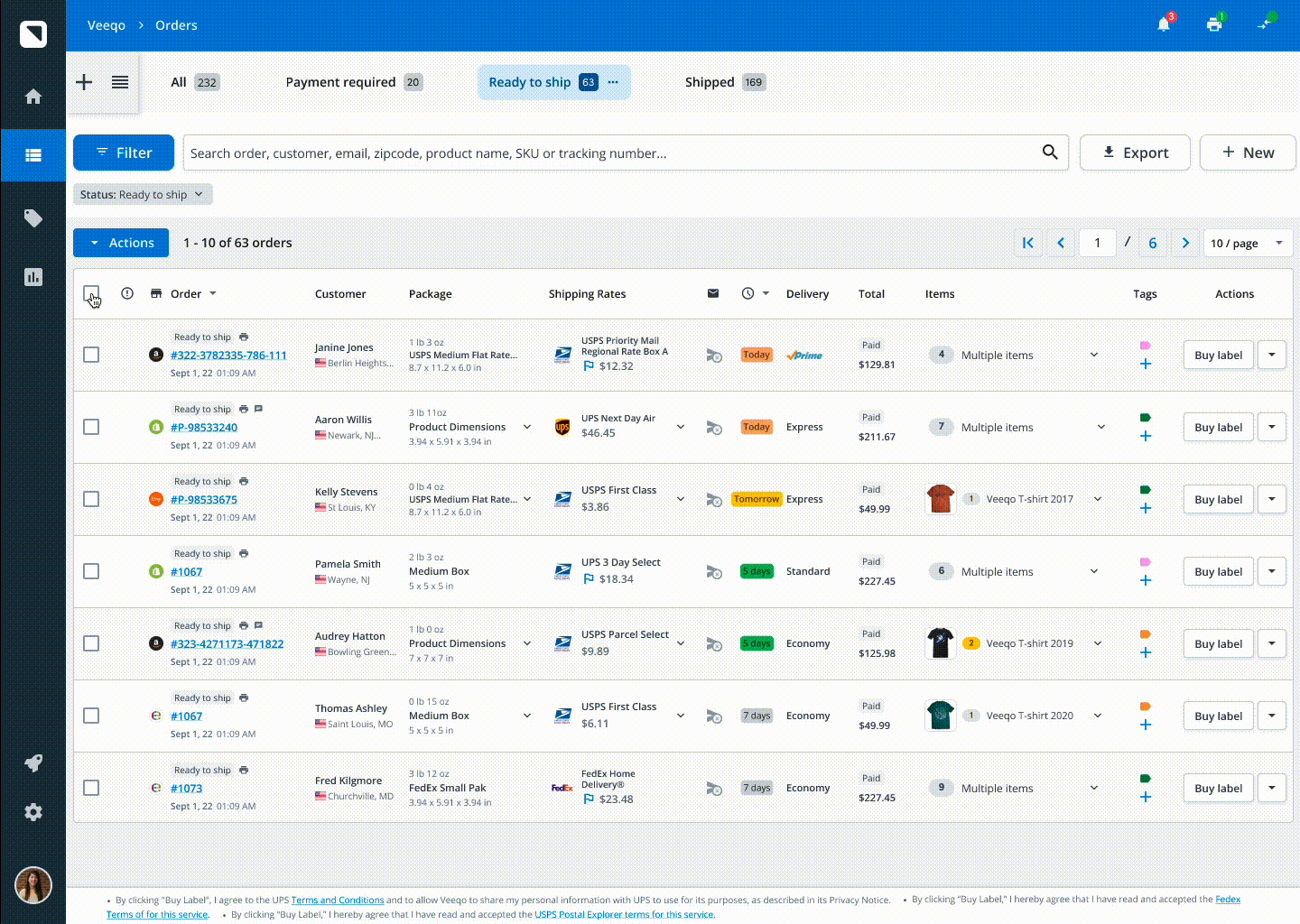 Free Ebay Inventory Management
Sync your inventory from eBay into Veeqo's software and ensure that your stock is always accurate and up-to-date, giving you the confidence that your inventory is being tracked all the time with no manual work.
See inventory that's on hand, committed, available and incoming. Store by store, product by product. Say goodbye to overselling and hello to happy customers.
Connect a store for instant low rates
Veeqo gives you immediate access to discounted shipping rates from all major US carriers. No negotiations.
eBay Stock Management built in
Streamline how you manage your eBay stock with Veeqo's pre-set rules and supplier purchase order features.
Automatically route orders to specific warehouses based on inventory levels, sales channels, final destination, and never worry about stock management again.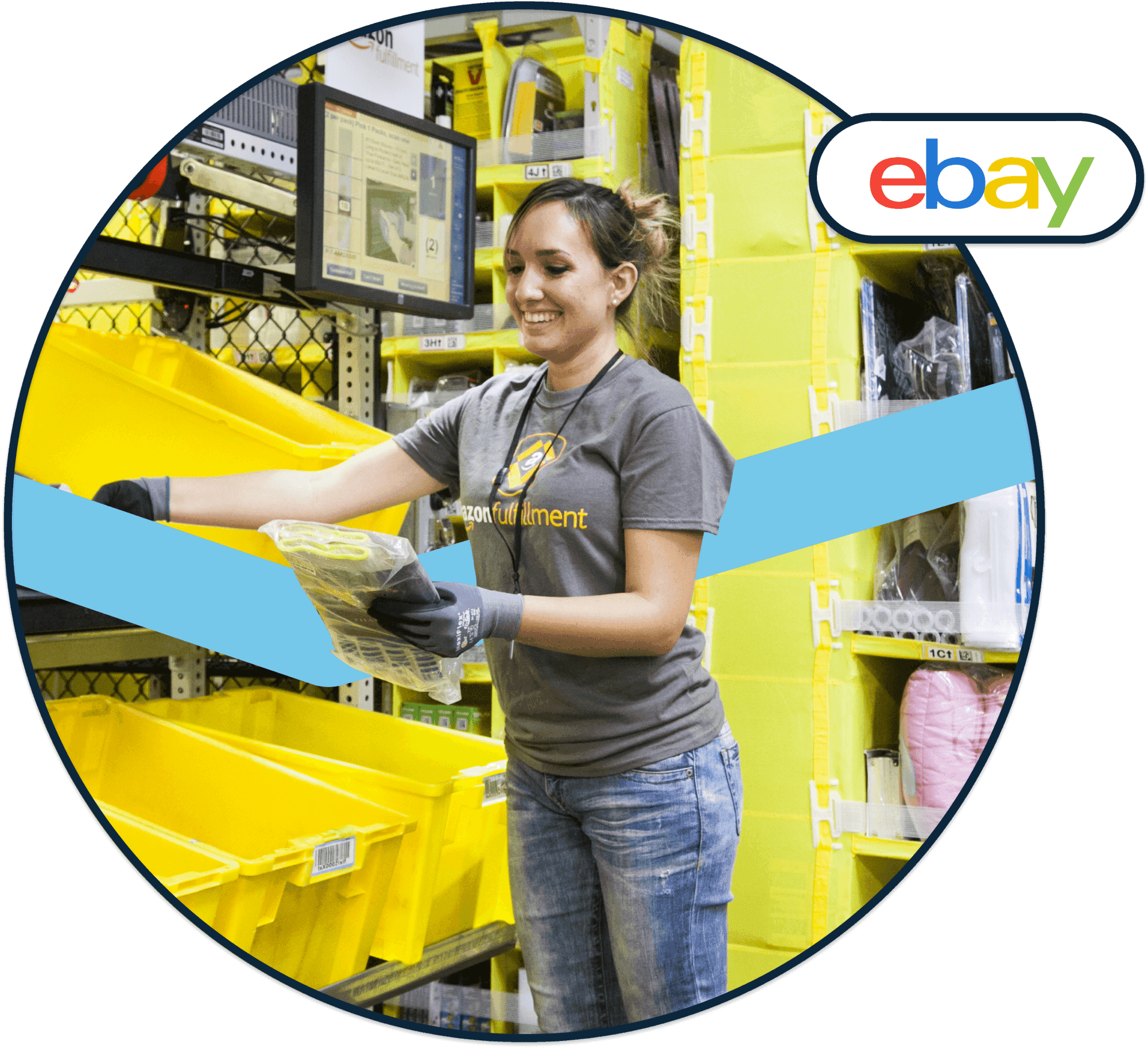 Shipping eBay orders with FBA
eBay to Amazon FBA Integration
Fulfill orders from eBay and any other channel through Fulfilment By Amazon (FBA). Ship manually or automatically and easily manage stock at all your locations.
Auto fulfill via location
Set Veeqo to automatically fulfill selected orders through an FBA location of your choice.
Total stock visibility
See all stock levels between your FBA warehouses.
Plus, do more than print labels with our Power Features
Wave goodbye to spreadsheets with multiple tools wrapped into one, at no extra cost. Subject to our fair usage policy.
Inventory control
Your stock automatically updates across all your stored. Goodbye, spreadsheets! Hello, peace of mind.
Pick with your mobile device
Use our scanner or your mobile device to help you pick, pack and ship the right items quicker - with a lot less risk of sending the wrong stuff.
Report and Forecast
Veeqo tracks and organizes all your sales data to make planning, purchasing and growing your business a breeze.
Want to know more?
A few of the questions we get most often.
Why is Veeqo Free?
Veeqo benefits from referring sellers to shipping carriers. Veeqo passes this benefit back to our sellers in the form of giving sellers Veeqo for free. It's all part of our mission to help sellers, like you, stay a step ahead.
Will Amazon see my off Amazon sales data?
Amazon will not have access to sellers' product sales data for off-Amazon sales. Veeqo's seller information will only be accessed by Amazon to the extent necessary to provide and improve Veeqo's services or to assess and manage logistics provider performance. Veeqo's seller information is secured against inappropriate loss, access, or disclosure.
What are power features and are they free?
Power features are inventory management, mobile picking and analytics tools, which are free to use but access to them are subject to our Fair Usage Policy for Power Features of buying the majority of your shipping labels in Veeqo. We will provide monthly updates on your quota usage and give you time and flexibility to meet the quota, but reserve the right to deny access to power features. There are zero fees.
Why does Veeqo need my credit card information?
Veeqo provides a simple way for sellers to buy shipping labels. We take credit card information for this reason only.
Can I still use Veeqo if I don't want to sell on Amazon?
Yes! Veeqo's mission is to help sellers get a step ahead, wherever they sell.
I'm setting up this process for the first time, can you help show me the best way?
Yes. Our knowledge center offers written and video content to help you get started. If you need some extra help, our customer success team are standing by ready to help by email, chat, or call.
I'm a UK seller. Is Veeqo available from today for me too?
Yes, Veeqo is available today in the UK for free. Sellers can connect their own carrier rates and start shipping.
Get started in minutes
You're just three simple steps from cutting your shipping costs and managing all your ecommerce in one place.
1

Create your account

It's quick, easy, and always free to use, no matter how much you ship.

2

Connect a store

Check out how Veeqo works—it won't affect your current sales data.

3

Save on your very first shipment

Enjoy faster fulfillment and happier customers!
Start shipping
Want to talk to a human first?
Schedule a demo we'll help you decide if Veeqo is right for you. No pressure. We promise.
Book a call
"I didn't realize how efficient Veeqo would make our business. It has at least halved the time it takes to fulfill orders"
— Jason Guy Gay Pride Shop, Gay Pride Shop