Veeqo News
Say Hello to Easy Package Weighing with Veeqo's New USB Scales Connection
Written by Marc Girdlestone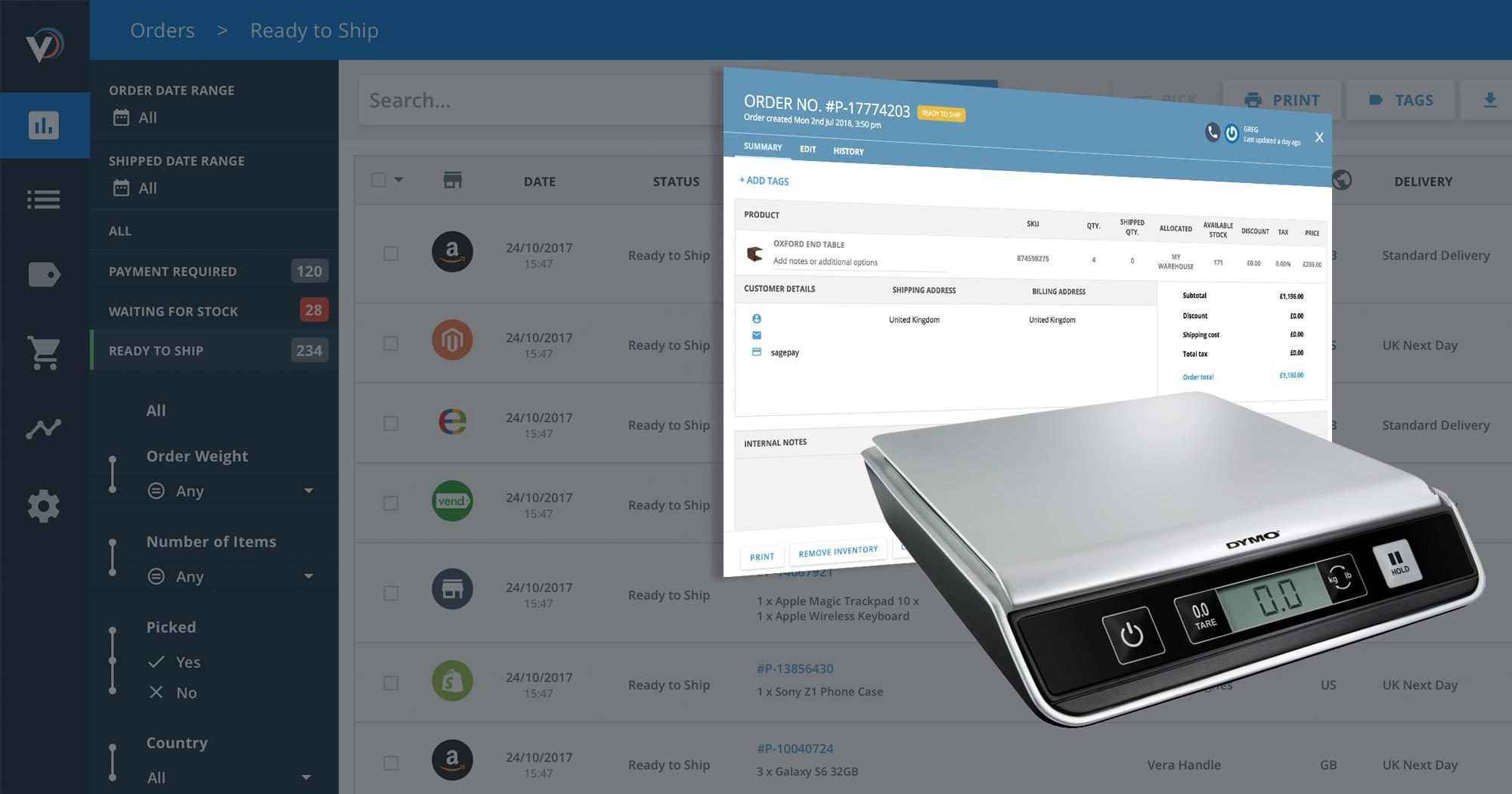 Calculating the weight for each of your shipments just got a whole lot easier. One of the biggest time killers for retailers is needing to weigh every single package and enter the data into a system. Then sift through shipping providers to find the best one. But you can now plug a set of USB scales directly into Veeqo as part of our V-Print feature. Helping you calculate the weight of packages easier than ever and choose the right shipping service for every order. All saving you bags of time at the packing desk while making sure you never get overcharged for shipping. Let's take a look at how it all works:
SEE ALSO: Introducing V-Print: The Quick New Way to Print Labels & Invoices in Veeqo
How to ship with Veeqo & USB scales
There are five simple steps for using your USB scales to ship an order in Veeqo.
1) Open the order
To start with, log in to your Veeqo account and open the order you're wanting to ship:
2) Click ship
Once you're happy with all the order details, click the 'Ship' button on the bottom-right of the order screen:
3) Place item on scales
Box up your item in exactly the way you want it to ship out, then place it on your USB scales:
4) Hit the weigh button
Head back into the order on Veeqo and click the 'weigh' button: This then pulls the data from your USB scales right into the relevant 'Total weight' box in Veeqo:
5) Choose courier
As soon as the weight is entered into Veeqo, your courier options refresh down the right side with the most economical service automatically selected: Once you're happy with the courier service selected, just enter any relevant package dimension details and hit 'Ship' once more: The shipping label is then printed on your chosen device ready to attach to the package: All making it super quick and simple to get the correct weight for every single package you ship through Veeqo.
Getting your scales setup in Veeqo
Before being able to use your scales, there are a few things you need to make sure of first:
1) You have V-Print installed
Using USB scales to ship an order in Veeqo is an extension of our V-Print feature. Meaning you'll first need to have this installed correctly on the same computer you have your scales connected to. Our V-Print help articles run through exactly how to do this - with specific instructions for both Mac and Windows.
2) You have compatible scales
Most USB scales are compatible with V-Print. But we recommend using Dymo's Mailing Scales - either the M10 or M25. Here are a few places to get these scales from:
Note: These are not affiliate links and Veeqo in no way directly benefits financially as a result of anyone purchasing these scales.
3) Select your scales in Veeqo
Once you've installed V-Print and got your compatible scales, you just need to install these as a device for every applicable Veeqo user. Simply connect your USB scales to the relevant computer and make sure they're switched on. Then head to Settings >> Devices in Veeqo: Now hit the 'Scales' tab down the left: Before finally selecting the correct scales you'd like to use for the current user: For further assistance, you can take a look at our help guide for setting up USB scales in Veeqo here. And that's all there is to it. Finally, a quick and easy way to perfect your weighing process for every single item you ship. Just log in to your Veeqo account to start getting it all set up!
Don't have an account yet? Book a demo today to see how Veeqo can help you run a slick retail operation while rapidly growing your business.