Ecommerce Operations
How to Drive More Repeat Purchases with Omnichannel Customer Service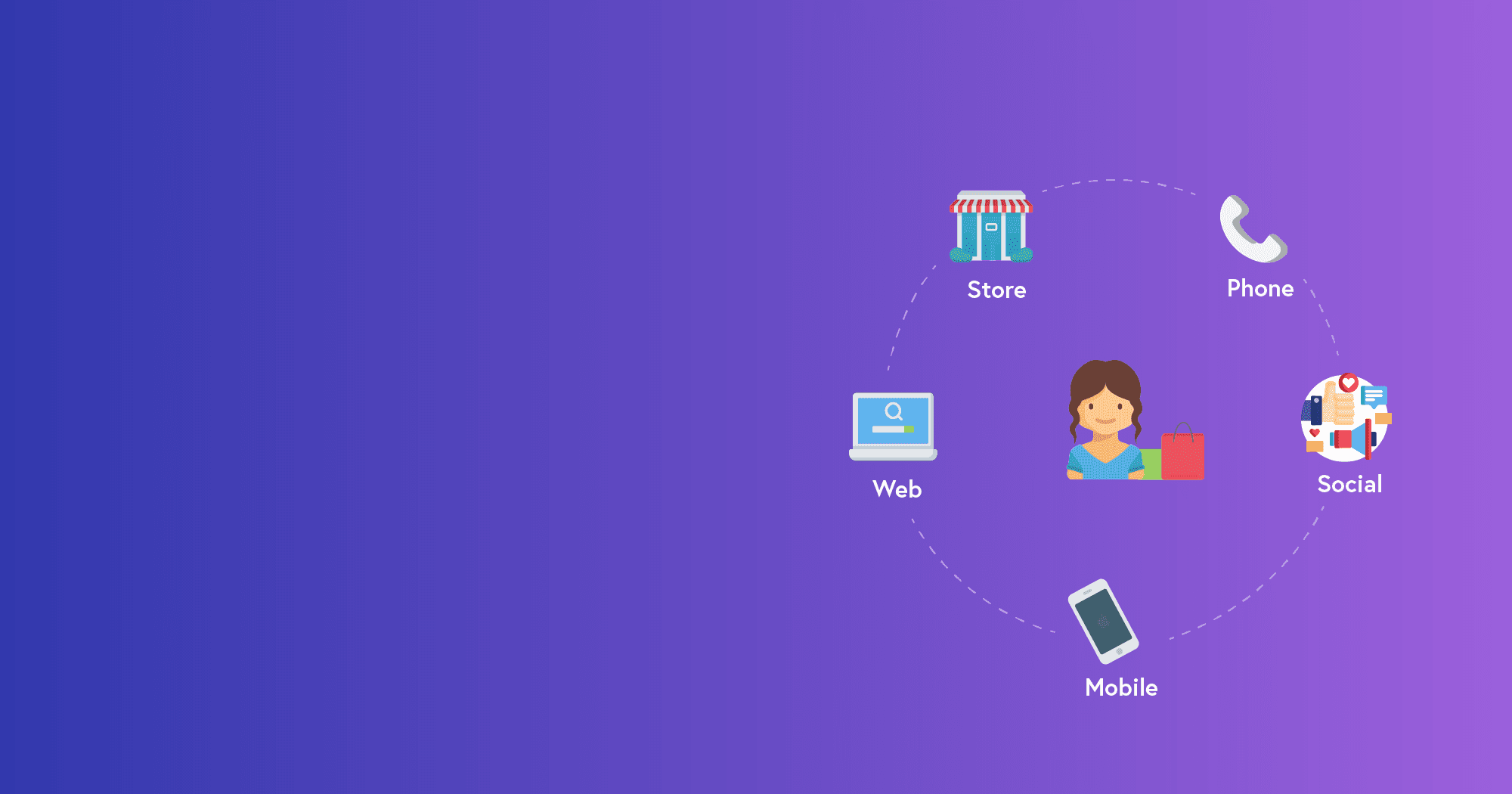 Even the slightest misstep by your team can completely derail the customer experience - costing you sales, referrals and brand reputation.
According to Gladly's Customer Service Experience Survey of 2018, 26% of consumers would switch brands after only one negative customer service experience; this figure jumping to 92% after three negative experiences.
Worse yet, 67% of them say they'd actively warn others to stay away. But they love when brands do provide top-notch customer service:
68% of consumers would spend more for better customer service.
42% have increased their spending habits after receiving excellent service.
80% share their positive experiences with friends and family.
In short: Making sure customers are completely satisfied is simply good for business.
So in this post, we're going to explain how adopting an omnichannel approach can help your team provide the best customer service possible.
SEE ALSO: How to Roll Out a Winning Omnichannel Strategy in Your Retail Business
What is omnichannel customer service?
An omnichannel approach to customer service ensures your customers get the same high-quality service from your brand regardless of which channel they use.
While multichannel service involves offering support via more than one channel, omnichannel customer service involves integrating these channels to create a cohesive experience for your customers (and your team too).
As we'll explain throughout this post, an omnichannel approach to customer service allows your team to keep their focus on what really matters most: Helping your customers overcome the obstacles they may face when using your brand's products or services.
Omnichannel customer service channels
When it comes to omnichannel customer service - the more channels, the better. But typical standard ones ecommerce brands should have covered are:
A self-service option via FAQs and/or knowledge base sections.
A direct email to a dedicated customer service address (not one that's shared between sales, CS and every other department).
An on-site contact form that forwards to the above address.
On-site live chat that works on mobile too.
Easy access to help via any branded smartphone apps you have.
Dedicated customer service phone number.
Amazon, eBay and other marketplace emails.
Manned Facebook Messenger, Twitter and other relevant social profiles.
Offline/in-store sales associates with access to same info about customers as all of the above.
It's not necessary to have all these manned 24 hours a day. But it is imperative that you make exceptionally clear the times your customer support staff are online and answering questions - even on Twitter and Facebook.
But the omnichannel key to all this is to make sure it's all unified and tied together on the back-end. So utilising some kind of CRM software is essential.
This should help do two key things:
Store all your customer data in one place, so your CS team always get a clear picture of who's contacting them and their order history, etc.
Bring interactions from all support channels into a single place.
Veeqo has a number of direct CRM integrations - including xSellco, Freshdesk and Gorgias.
How omnichannel enhances overall experience
Now that we understand exactly what omnichannel customer service looks like, the question becomes: How do you do it so well that customers feel compelled to stick with your brand and buy over and over?
To answer this, we're going to focus on five key areas:
Accuracy & clarity.
Accessibility.
Speed.
Efficiency.
Empowerment.
For the principles listed above, we'll explain:
Why the principle is essential to your customer service initiatives.
Why omnichannel customer service allows you to more effectively follow the principle.
How to make improvements to your efforts to better adhere to the principle.
Let's dive in.
1. Accuracy & clarity
A _multi_channel approach can unwittingly cause silos to be built within your organisation, in which cross-team communication rarely (if ever) takes place.
In turn, each of your service teams may end up adopting their "own way" of solving certain problems, explaining different issues and providing other such assistance.
As you can imagine, this can end up being a nightmare for your customers.
They've contacted your service team looking for specific guidance - but they can't even get a straight answer. Not good.
This is where the omnichannel approach comes in: One of the main tenets of omnichannel operations is to deconstruct silos, and make cross-team communication essential (rather than a mere suggestion).
The goal is to effectively get everyone 'on the same page'.
For example: Your retail company operates both on and offline. After browsing your website, a customer sets their sights on a specific item for purchase - but they'd rather pick it up in-person.
Despite your website specifically stating the item is "in stock," the customer drives to your physical location only to find out that the item is actually on backorder.
To make things worse, the sales associate mutters something about "the website never being up to date with inventory".
But with omnichannel, your on and offline teams would be working together to ensure the information provided on all channels is accurate and uniform—meaning your customer would never have been misinformed in the first place.
So omnichannel customer service ensures that the information your teams provide your customers will always be accurate - since it all comes from the same, central source.
2. Accessibility
In today's world, there's really no excuse for retail companies to be completely inaccessible at any point in time.
Reason being, the average consumer uses at least three different channels to contact brands they do business with.
This doesn't necessarily mean that phone and email are the preferred methods of communication for the modern consumer. Most individual consumers don't have a "preferred method" of reaching out to a customer service team.
Rather, they simply go with the channel that's most convenient at a given point in time. What this means is that your service team needs to be able to use all possible channels to solve the problem at hand.
As an example, if after (finally) responding to the customer's question, you put the onus back on the customer to further escalate the instance through a different channel, this would provide a poor experience. At each step of the way, an omnichannel approach would have enabled your service team to help the customer more efficiently. Your team could have:
Provided better assistance on Twitter as opposed to just directing the user to contact a different team
Set an autoresponder to point the customer toward their choice of support channels
Have previously created a knowledge base or FAQ page in which common issues are addressed, and pointed the customer to this resource immediately
...among many other possibilities.
And that's essentially the point: An omnichannel customer service approach would have allowed the customer to solve their problem in a variety of different ways (that is, whichever was most convenient at the time).
3) Speed
A University of Warwick study found that your customer service team's response time is often the determining factor between a positive and negative customer experience.
Of course, this doesn't mean sacrificing accuracy and clarity. But customers do expect you to:
Respond to their initial inquiry in a timely manner.
Resolve their issue with no unnecessary delay.
This means cutting down your:
Average response time.
Time to resolution.
There are a number of things you can do to increase the speediness of your customer service initiatives.
Firstly, you'll want to automate certain processes to save time for your customers and your team.
For example: Sending a simple auto-response email can be enough to let your customer know you've received their message and are working on a solution. It doesn't have to be anything special, either.
Next steps would include:
Ensuring your service reps are all equipped to handle the issues assigned to them with little to no downtime.
Assigning employees only to issues which they are best qualified to tackle.
Allowing and enabling team members to cross channels themselves as needed (instead of wasting time transferring customers to other departments).
To reiterate, it's not how long it takes to solve an issue that bugs your customers - it's the downtime that does.
So always look for ways to remove redundancies, unnecessary steps and other barriers from your customer service processes.
4) Efficiency
We've already talked about accuracy, clarity, speed and accessibility in this post - all of which play a huge role in overall service efficiency.
On top of this, an efficient omnichannel customer service approach will ensure that:
Customer data is kept up-to-date in a centralised database/CRM that's accessible to all service reps at all times.
Service reps can easily pick up where they (or another team member) left off with a customer's issue.
Customers can engage with your service reps (as well as your support documentation) in the way that best allows the problem to be solved.
Overall, adopting an omnichannel approach will in itself make your customer service efforts more efficient. But there are a few things you'll need to do to fine tune:
Invest in the best CRM software and omnichannel management tools that will allow you to effectively store and retrieve customer data.
Improve your presence on the channels which will best enable your customers to reach your service team.
Make crystal clear to your customers what their best options are for reaching out (channels, times, etc) - and do this well before they actually need your assistance.
Invest in training your service reps in how to utilise these tools and channels to maximum efficiency. This not only involves training them in how to use these resources in the first place, but also in how to determine which tool or channel will best enable them to complete the task at hand.
By getting your customer service team fully aligned and onboard with your omnichannel initiatives, they'll inherently become much more efficient in their duties.
In turn, your customers will experience less downtime and frustration on the path to solving their issues.
5) Empowerment
We've already talked about the importance of minimising the amount of time your customers spend in turmoil, and of solving their problem with as little effort on their part as possible.
But it's also important that your service team understands the importance of reassuring and empowering your customers as they face their difficulties.
You want your customers to know they're in good hands, the situation is under control and that they genuinely matter to your service team.
Unfortunately, this doesn't happen the majority of the time.
Case in point: Gladly found that 61% of customers who contact a brand's customer support team often feel as if they're treated as ticket numbers rather than human beings.
To these individuals, it feels like the brands they reach out to don't really care about the issue at hand; but just about getting it off their plate.
Needless to say, this isn't a good look for retailers operating in 2019, a time in which feeling unappreciated by a brand is the top reason consumers defect.
But there's more to empowering your customers than simple reassurance. Talk is cheap, after all. What's even more important is that your omnichannel customer service team walks the walk.
This means:
Providing proper service on the customer's terms, not your team's.
Ensuring your customers remain "in the loop" at all times as you work on solving their issue.
Giving customers the opportunity to provide feedback on their experiences with your service team.
Another key aspect of customer service and support is personalisation. With more and more consumers coming to expect personalised service from the brands they do business with, focusing on this area is basically a no-brainer for your business.
SEE ALSO: Ecommerce Trends 2019: 17 Experts Reveal 3 Big Predictions
Omnichannel customer service and support enables you to implement highly-focused personalisation.
As we talked about earlier, customer data is constantly being collected, stored and updated as the individual engages with your brand - whether on or offline.
In turn, your team can provide personalised services, suggestions and offers to each of your customers based on their individual histories with your company.
Fashion retailer Oasis provides a textbook omnichannel example of how this protocol goes hand-in-hand with personalisation.
The company begins collecting information on its customers from the onset of their relationship, then uses this data to provide personally-relevant product recommendations and other fashion advice to each of their customers.
This is especially apparent when shopping at the brand's brick-and-mortar locations, where sales staff use iPads to access individual customer data while helping them find a "look" that aligns with their tastes.
So it's one thing to tell your customers that their problem is being taken care of - but it's another thing entirely to actually prove it to them.
With an omnichannel customer service approach, providing this reassurance and empowering your customers simply becomes a part of the process.
Final thoughts
Providing top-notch customer service to your patrons is all about quickly and effectively solving their problems in a way that shows them how much you truly value and care about them.
Focus on becoming accessible to customers through as many channels as possible. Then backing this up by integrating them together and working to improve your:
Accuracy & clarity.
Accessibility.
Speed.
Efficiency.
Empowerment.
All too often, though, the customer service provided by most brands is lacking in at least one of these areas.
In turn, their customers don't actually get the help they need, or at the very least leave the experience feeling disheartened.
But with integrated omnichannel customer service, you'll inevitably be able to provide the high-quality support your customers expect and deserve.
And your bottom line will see the difference.