Warehouse Management Software for ecommerce sellers
Warehouse management software that connects your picking, packing and shipping processes with your entire ecommerce operations. All in one easy-to-use cloud-based system.
All your tools, one platform
Warehouse management & fulfilment tools
Warehouse management software that connects your picking, packing and shipping processes with your entire ecommerce operations. All in one easy-to-use cloud-based system.
|

Rated 4.5 stars

Loved by thousands of merchants like you
Multi-channel order management

Track and fulfil orders from all your sales channels with 21+ direct integrations.

Returns management built-in

Manage customer service returns and refunds in one place.

Vital order reports at your fingertips

Generate order, sales and fulfilment reports for data-led decision.

Shipping software built-in

Bulk print labels, ship your orders & track your inventory in one place.

Order workflows that save time

Setup workflows based on triggers like delivery option selected, value and weight.

Wholesale management

Manage your wholesale orders and automatically keep your inventory updated.

Optimize order fulfilment operations

Having your inventory and shipping under one roof helps speed up your fulfilment.

Digital picking ready

Upgrade your fulfilment with digital picking using our scanner.
Warehouse management made easy with 21+ direct integrations
Fulfil and ship customer orders from any sales channel, using any shipping provider.
Benefits of Veeqo's warehouse management software
Veeqo connects to all of your ecommerce channels, warehouses and locations.
Connecting your warehouse to your ecommerce channels
Sync sales channels and marketplaces with your warehouse process and inventory management. Fulfill your customer orders accurately without having to worry about overselling, mispicks and returns.
Fulfill more orders with a smaller team
Grows as you grow, alongside your warehouse team. Stay efficient and improve your warehouse operation with every order.
Multiple warehouse locations
Built to work with multiple warehouse locations, route orders to warehouses based on customer location.
Warehouse management software for more efficient fulfillment
Use your current workflows combined with Veeqo's handy fulfilment tools.
Advanced picking batch creation
Say goodbye to waiting for warehouse managers to print off picking lists. Filter orders into picking batches, assign them to your team and work out the shortest warehouse route for your pickers.
Split picking lists between multiple pickers
Generate a picking list per picker for those busy order surges. All a picker needs to do is press a button and they receive a picking list.
Paper picking without the hassle
Use packing slips, picking lists or invoices for picking, packing and shipping. If you don't have a separate label printer, you can print out a single document (package invoice or slip), print it off and place it on the package. Giving you one label to pick, pack and ship your orders.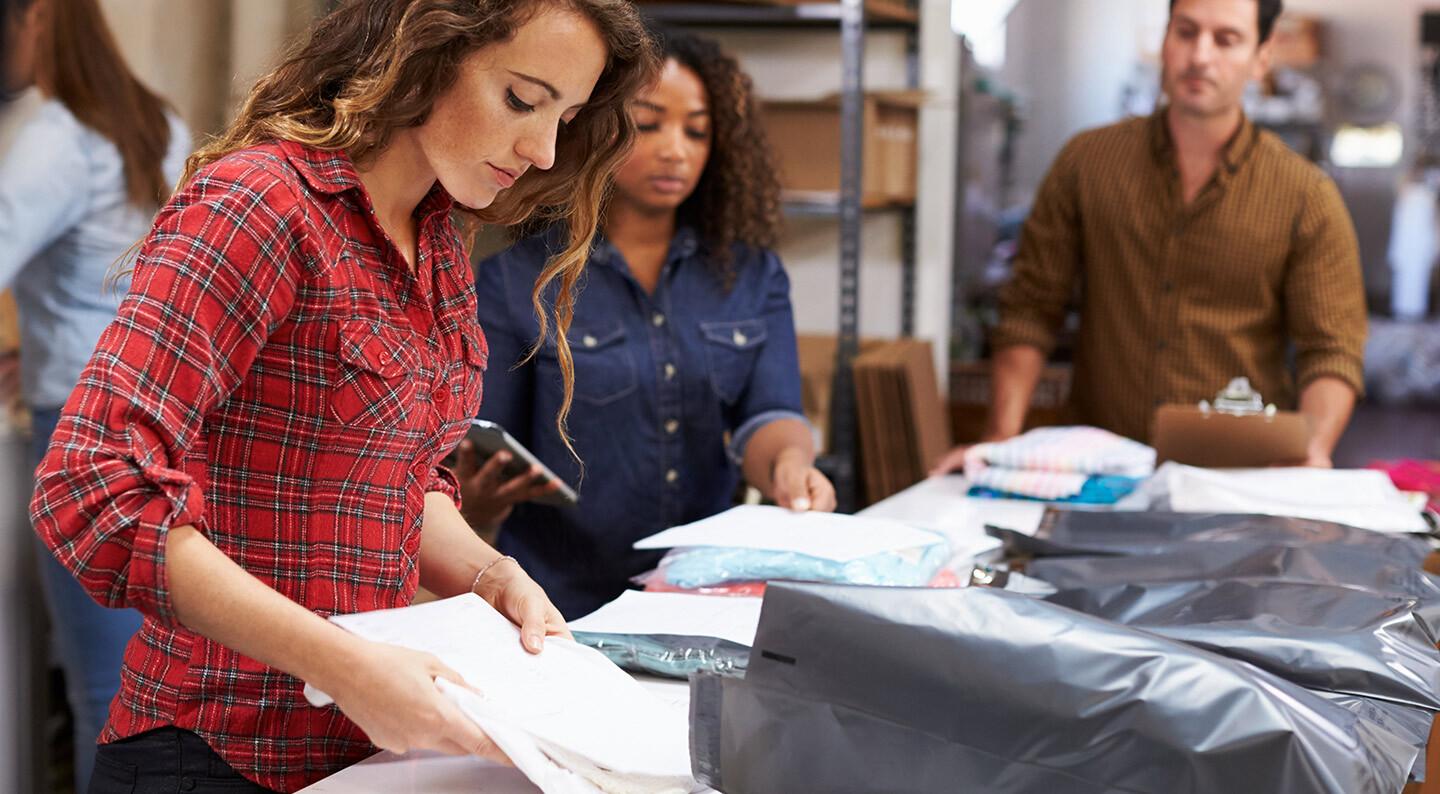 "Perfect solution for our inventory management"

We have been using Veeqo Since 2018. We use multiple marketplaces (eBay, BigCommerce, Amazon, etc.), and Veeqo provides the perfect solution for our inventory management needs.
Simplify your warehouse processes with automation
Automate the repetitive tasks in your warehouse to increase output and reduce errors.
The Veeqo scanner
A WiFi-enabled, drop-proof picking device, the Veeqo barcode scanner is specifically designed to efficiently and accurately process high order volumes in a warehouse environment. Learn more about the Veeqo Scanner.
Generate optimized picking routes
Layout the location of the different bins holding your products in Veeqo, our software then works out the optimal route for your pickers to take.
Automated stock rules across channels
Sell something and Veeqo will automatically update inventory levels on all sales channels. Unified inventory that stays accurate.
Easily manage selling multiple products across multiple warehouses
Easy tools to speed up the dispatch and fulfillment of your best-selling products.
Easily set up product kits
Sell kits made up of multiple products on your sales channels to speed up your fulfilment for those products.
Connect bundles to your warehouse
Connect the bundles you sell on your sales channels to the information your team has in your warehouse.
Fulfil those orders faster
When bundles are ordered on your website or sales channel your warehouse team knows exactly what to pick, rapidly improving dispatch times.
Veeqo is FREE!
We're able to provide Veeqo for free because we benefit from shipping volume passed to our partner shipping carriers. It's all part of our mission to help sellers, like you, stay a step ahead.
Unlimited users

No monthly cost

Unlimited orders

No shipping label limits
Start shipping
A live warehouse dashboard to provide key information at a glance
Get a real-time view of the top-level information your warehouse team needs to know.
Customisable to your needs
Update based on weight, shipping carrier, country or marketplace. For example, set up your Amazon Prime orders to be prioritized on your dash to make sure they are fulfilled on time.
Different dashboards for different locations
Have one dashboard for all of your warehouse locations or different dashboards for each location.
Easily reprioritize orders
The dashboard can be quickly and easily reprioritized by your warehouse manager, letting the whole team know what orders should be prioritized instantly.
Stock takes made easy
No longer stop fulfilment to stock take
Have your team perform incremental stock checks using Veeqo instead of shutting your operations down.
A smarter way to take stock
Incremental stock checks look at a certain percentage of your inventory over a time period so you can keep an accurate record of your stock levels.
Monitor stock shrinkage and theft everywhere
Monitor stock shrinkage and any theft that occurs in your fufilment operations.
The VS2 Digital Scanner
The ultimate high-tech picker to handle your growing sales.
Our VS2 is a stand-alone, wireless device with built-in laser barcode scanner. It's designed to improve and speed up the order picking process.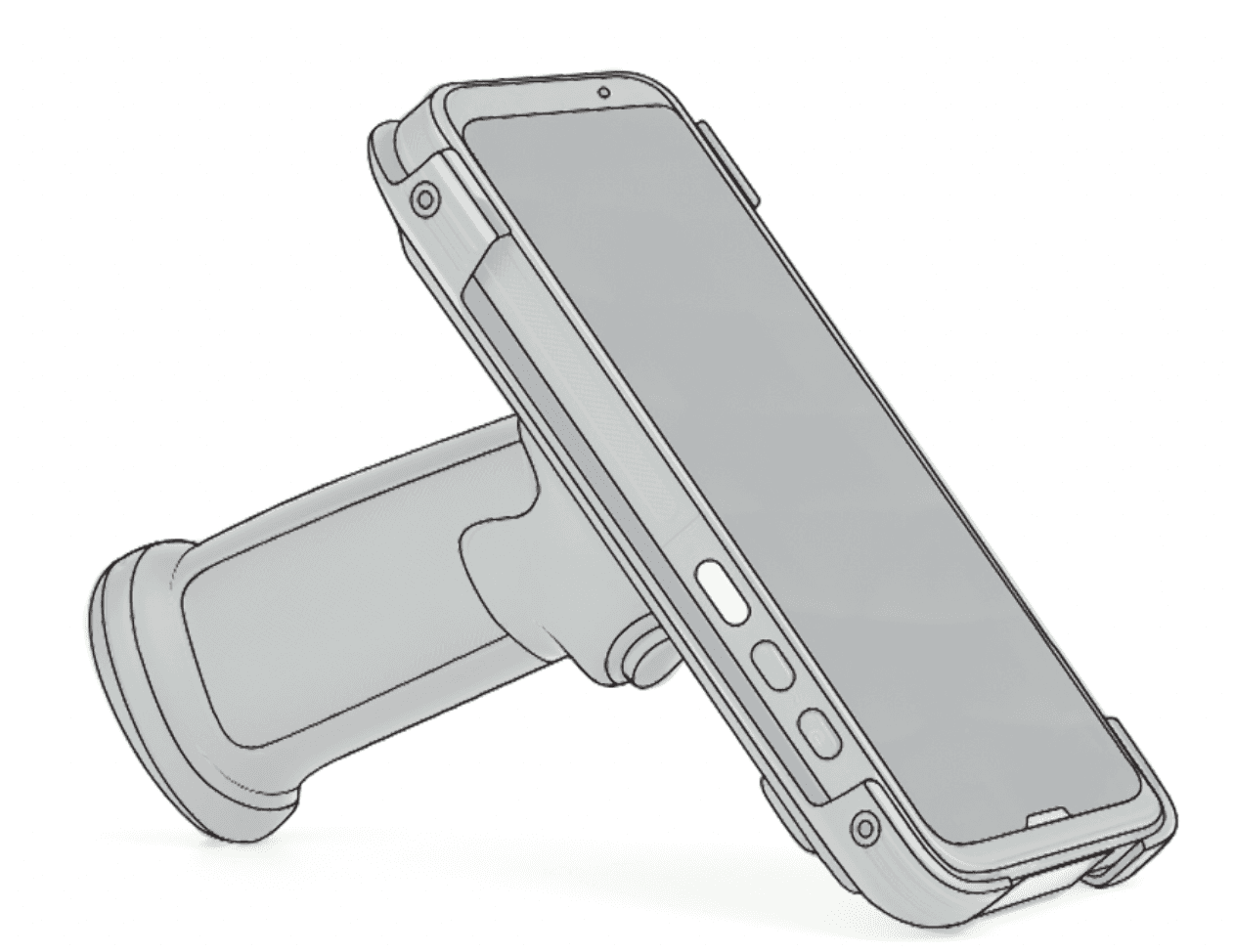 Improve your warehouse team's performance
Cut down on team training time
Provide your pickers with the information they need at the click of a button. Saving them time and reducing errors that new hires may otherwise make.
Evaluate your warehouse team's performance
Generate team reports to monitor the performance of pickers. Split reports up by picker, by time, by day or by warehouse with audits trails to hold them accountable.
Easy to digest reports
View current and historic inventory values by warehouse, investigate stock level changes and see reasons for manual adjustments.
Deliver the experience your customers want with Veeqo's warehouse management software
Always ship the right items
By blocking shipments until products are scanned via barcodes, you'll never ship an order with the wrong items again.
Eliminate shipping errors
Eliminate shipping errors by managing your entire picking and packing process with Veeqo.
Fast, discounted shipping
A cheaper, faster way to ship your packages. Including getting the best possible discounts on USPS shipping rates.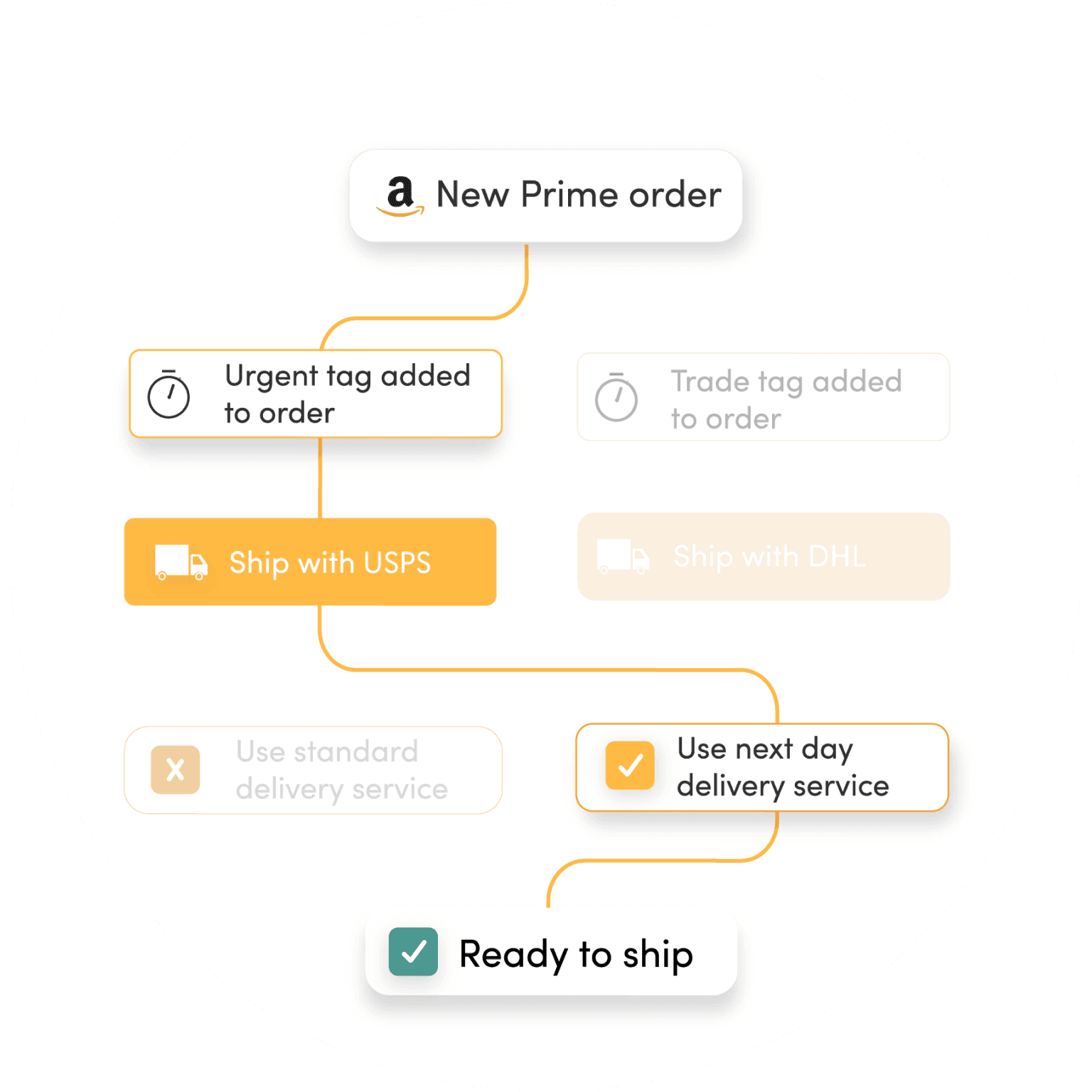 Connect your fulfilment workflows with automation
Automate warehouse tasks for increased efficiency
With Veeqo, you can create workflows to automate mundane tasks using custom triggers or conditions. This lets you select shipping services based on delivery options, assign specific branded invoices to orders based on sales channel, add order tags based on customer ZIP code, and much more.
Update processes without decreasing accuracy
Changing processes as your business grows can be challenging, especially when your frontline teams need to adjust their operations. With Veeqo's automation, you can easily make changes to business logic, such as shipping services or priorities, without sacrificing accuracy or disrupting how the warehouse team works.
Advanced warehouse management software features
Auto-print on specific printers
Route different documents to specific printers. Set invoices to automatically print on an A4 device, while labels go to your thermal – all without a PDF download in sight.
Create internal order notes & tags
Clearly communicate any special requirements or VIP customer orders by creating an unlimited number of internal notes and tags. You can even add notes to individual line items in an order.
Prioritise orders with advanced filters
Easily organise orders by applying advanced filter options. Sort by store, delivery method, destination, Prime, order weight, items per order, inventory locations, order date, date shipped or any way you want.
Run a cloud-based operation
Access Veeqo's cloud-based software from anywhere with an internet connection – via desktop, tablet or smartphone app.
Take control of warehouse management
Use Veeqo's advanced Warehouse Management System features to organise, pick, pack and ship your inventory with masterful efficiency and speed.
Connect physical stores
Connect Shopify POS or Vend point of sale systems to integrate sales and inventory from any number of physical stores to Veeqo.
Frequently asked questions
Want to know more?
A few of the questions we get most often.
Why is Veeqo Free?
Veeqo benefits from referring sellers to shipping carriers. Veeqo passes this benefit back to our sellers in the form of giving sellers Veeqo for free. It's all part of our mission to help sellers, like you, stay a step ahead.
Will Amazon see my off Amazon sales data?
Amazon will not have access to sellers' product sales data for off-Amazon sales. Veeqo's seller information will only be accessed by Amazon to the extent necessary to provide and improve Veeqo's services or to assess and manage logistics provider performance. Veeqo's seller information is secured against inappropriate loss, access, or disclosure.
What are power features and are they free?
Power features are inventory management, mobile picking and analytics tools, which are free to use but access to them are subject to our Fair Usage Policy for Power Features of buying the majority of your shipping labels in Veeqo. We will provide monthly updates on your quota usage and give you time and flexibility to meet the quota, but reserve the right to deny access to power features. There are zero fees.
Why does Veeqo need my credit card information?
Veeqo provides a simple way for sellers to buy shipping labels. We take credit card information for this reason only.
Can I still use Veeqo if I don't want to sell on Amazon?
Yes! Veeqo's mission is to help sellers get a step ahead, wherever they sell.
I'm setting up this process for the first time, can you help show me the best way?
Yes. Our knowledge center offers written and video content to help you get started. If you need some extra help, our customer success team are standing by ready to help by email, chat, or call.
I'm a UK seller. Is Veeqo available from today for me too?
Yes, Veeqo is available today in the UK for free. Sellers can connect their own carrier rates and start shipping.
Get started in minutes
You're just three simple steps from cutting your shipping costs and managing all your ecommerce in one place.
1

Create your account

It's quick, easy, and always free to use, no matter how much you ship.

2

Connect a store

Check out how Veeqo works—it won't affect your current sales data.

3

Save on your very first shipment

Enjoy faster fulfillment and happier customers!
Start shipping
Want to talk to a human first?
Schedule a demo we'll help you decide if Veeqo is right for you. No pressure. We promise.
Book a call
"I didn't realize how efficient Veeqo would make our business. It has at least halved the time it takes to fulfill orders"
— Jason Guy Gay Pride Shop, Gay Pride Shop