Own your future with simple and powerful shipping software, for free
Veeqo is helping US businesses make selling online more effortless, more automated, and more connected. Cut your cost-per-customer and get your ecommerce business ready for the next step with our simplified and FREE shipping and inventory management software.
Veeqo simplicity. Amazon trust..
As part of the Amazon family, Veeqo provides trusted data security and Amazon account protection from late deliveries and negative feedback, if you ship on time. Our Amazon Single Sign-On also allows you to connect your store in just a few clicks and start shipping quicker.
Matt Warren, Founder of Veeqo
Experienced ecommerce owner, with ecommerce sales of over $80m.
I've built a multichannel ecommerce business. I know where the tools fall short.
For my ecommerce business, success came from driving 5-star reviews, repeat purchases and referrals. I knew that the best marketing would be happy customers. And happy customers would come from delivering what I promised, when I promised it.
The frustration came when I found that an item that a customer wanted to purchase in-store had been sold online minutes earlier, which meant unhappy customers. To solve this, I went looking for shipping and inventory management software that could help me pick accurately and ship fast.
I searched for something that could connect and automate my inventory, picking, and shipping workflows across all the channels I sold on. Everything I found was too complicated, too basic, or built (and priced) for enterprise. Veeqo was born out of that frustration and has developed over the years to become an award-winning tool that was acquired by Amazon in 2021.
Customer success teams in every major time-zone we serve
Originally founded in Wales, a country that's part of the UK, we serve the US and UK and now have teams based across North America and Europe, ensuring our team can help you wherever you're located and whichever time-zone you're in.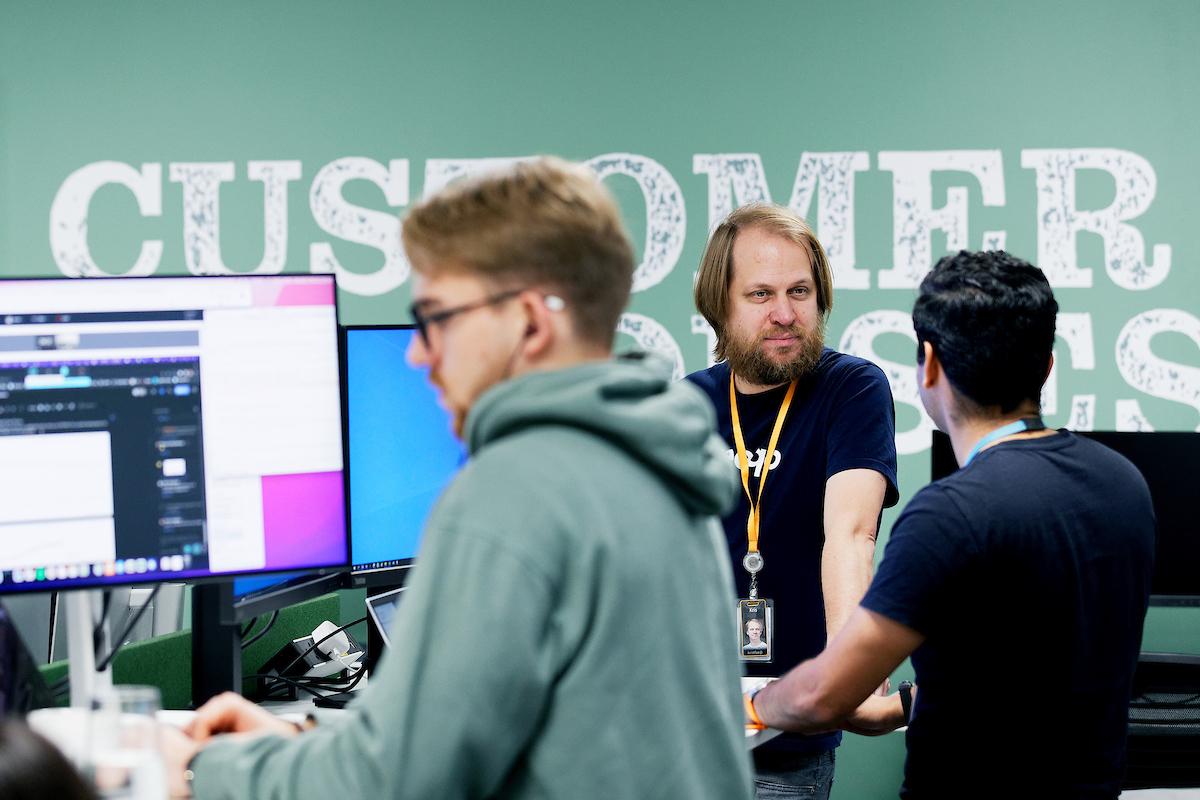 Connect a store for instant low rates
Veeqo gives you immediate access to discounted shipping rates from all major US carriers. No negotiations.
Find out more on life at Veeqo
Explore our stories, blog and careers to discover all things Veeqo.
Want to know more?
A few of the questions we get most often.
Why is Veeqo Free?
Veeqo benefits from referring sellers to shipping carriers. Veeqo passes this benefit back to our sellers in the form of giving sellers Veeqo for free. It's all part of our mission to help sellers, like you, stay a step ahead.
Will Amazon see my off Amazon sales data?
Amazon will not have access to sellers' product sales data for off-Amazon sales. Veeqo's seller information will only be accessed by Amazon to the extent necessary to provide and improve Veeqo's services or to assess and manage logistics provider performance. Veeqo's seller information is secured against inappropriate loss, access, or disclosure.
What are power features and are they free?
Power features are inventory management, mobile picking and analytics tools, which are free to use but access to them are subject to our Fair Usage Policy for Power Features of buying the majority of your shipping labels in Veeqo. We will provide monthly updates on your quota usage and give you time and flexibility to meet the quota, but reserve the right to deny access to power features. There are zero fees.
Why does Veeqo need my credit card information?
Veeqo provides a simple way for sellers to buy shipping labels. We take credit card information for this reason only.
Can I still use Veeqo if I don't want to sell on Amazon?
Yes! Veeqo's mission is to help sellers get a step ahead, wherever they sell.
I'm setting up this process for the first time, can you help show me the best way?
Yes. Our knowledge center offers written and video content to help you get started. If you need some extra help, our customer success team are standing by ready to help by email, chat, or call.
I'm a UK seller. Is Veeqo available from today for me too?
Yes, Veeqo is available today in the UK for free. Sellers can connect their own carrier rates and start shipping.
Get started in minutes
You're just three simple steps from cutting your shipping costs and managing all your ecommerce in one place.
1

Create your account

It's quick, easy, and always free to use, no matter how much you ship.

2

Connect a store

Check out how Veeqo works—it won't affect your current sales data.

3

Save on your very first shipment

Enjoy faster fulfillment and happier customers!
Start shipping
Want to talk to a human first?
Schedule a demo we'll help you decide if Veeqo is right for you. No pressure. We promise.
Book a call
"I didn't realize how efficient Veeqo would make our business. It has at least halved the time it takes to fulfill orders"
— Jason Guy Gay Pride Shop, Gay Pride Shop