Inventory Management
Renting Warehouse Space vs Buying a Warehouse: Everything You Need to Know
Written by Martha Kendall Custard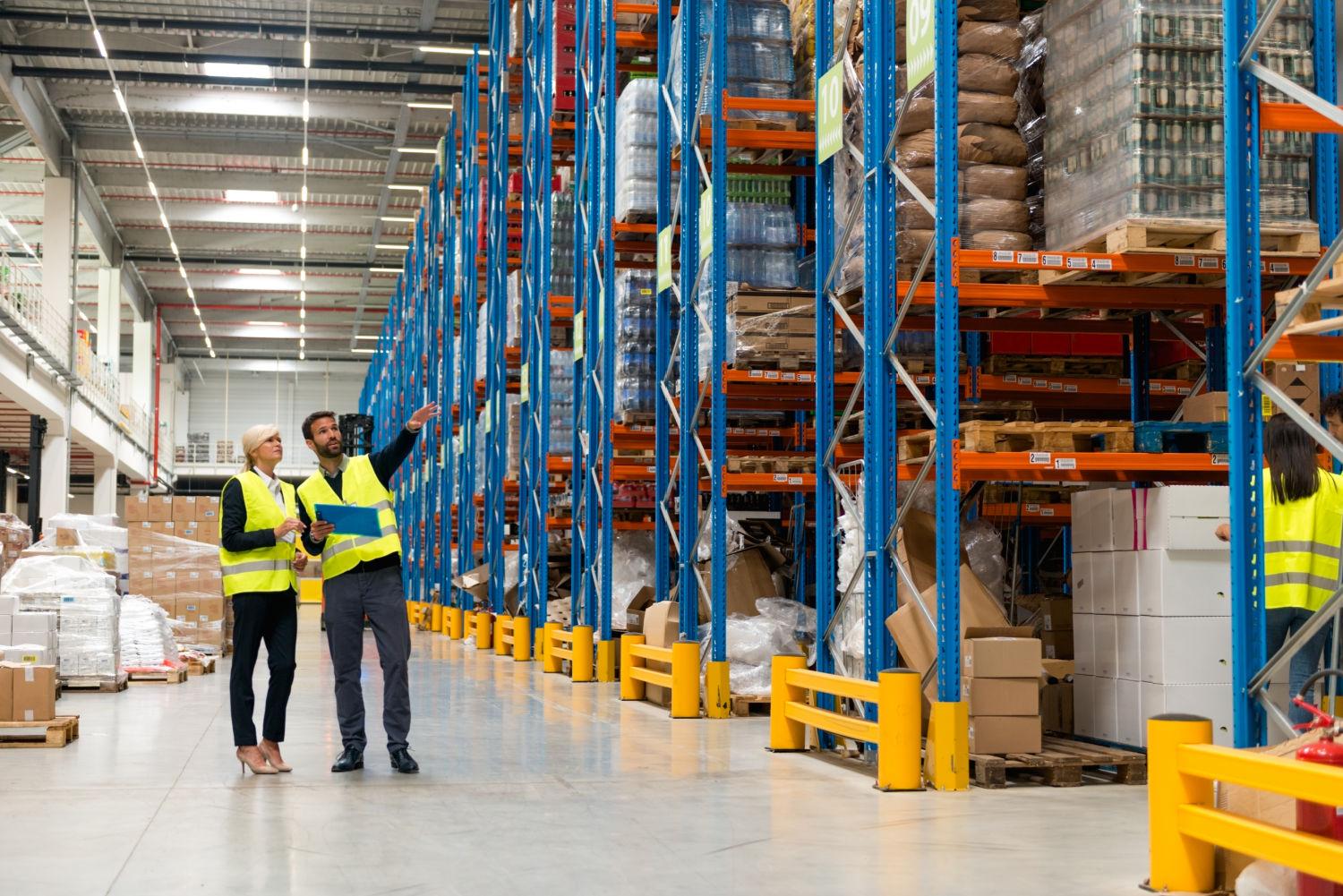 You're ready to invest in a space with the inventory capacity your business needs to flourish, but you've encountered a problem.
Acquiring a warehouse space means dropping a fat chunk of cash on upfront purchase costs or signing a 5-10 year rental contract with higher monthly fees and no equity at the finish line.
Deciding whether to buy or rent warehouse space is one of the hardest decisions to make as a growing business owner. 
While those two options may seem equally unappealing, there is good news: 
Business finance is not personal finance

Renting and purchasing aren't your only options
Keep reading to find out whether buying or renting a warehouse is the right choice for your growing business.
Renting warehouse space
Renting doesn't require a big investment upfront. The leases span 5-10 years and come in a variety of flavors, including:
Absolute triple net (NNN) lease: The tenant is responsible for covering all operating expenses. 

Double net (NN) lease: Also known as a modified gross lease or modified NNN, this lease structure gives the landlord responsibility over expenses related to the roof, parking lot, structure, etc. 

Gross lease: Landlord covers all expenses including property tax, insurance, operating, CAM, and maintenance and lumps a prorated portion of the expenses into the gross rent. 

Ground lease: The tenant owns the building, but the landlord maintains ownership of the land. 
Pros of renting a warehouse
1. Flexibility
Signing a 5-10 year lease rather than a 30-year mortgage offers flexibility. Your business is still growing and may need room to expand later on.
Plus, you never know what lies around the corner– especially in this volatile market. Renting offers the freedom to relocate if necessary.
2. Capital
Renting bypasses the massive upfront costs required to buy a property. That means you can use your extra capital to further your business growth. 
3. Maintenance
Leasing agreements allow companies to share maintenance costs and repairs between the leasing parties, reducing tenant overhead. Depending on the type of lease, your landlord will be responsible for some or all warehouse maintenance costs. 
4. Time and energy commitment
Renting steers your full attention toward business logistics. The time you would've spent worrying about operating costs and repairs can go toward master plans and dynamic growth strategies.
Cons of renting a warehouse
1. No equity
Because you don't own your warehouse, the rent you pay each month does not build equity. This is often the primary concern for business owners in your position. 
2. Less control
You'll need permission from the owner to modify the space. This could impede your ability to optimize your warehouse according to your business needs.
3. Rent fluctuation
Rent prices shift with the market. Your monthly overhead could skyrocket when you go to renew your lease. You could also be forced to relocate on the off chance your landlord decides to sell the property. 
How much is a warehouse to rent
Calculating rent requires three numbers:
Amount of space in square feet

Base rental rate per square foot

Estimated operating expenses per square foot
The average rent per square foot of warehouses and distribution centers was $8.84 in Q4 of 2022, up from $6.34 two years prior. 
National industrial in-place rents averaged $7.18 per square foot in April 2023 – that's 7.3% higher than this time last year. Here is the average industrial in-place rent as of April 2023, broken down by metro:
https://www.datawrapper.de/_/ad8L4/
While rent prices are still on the rise, demand for space is slowing alongside confidence in the current economy.  
Recent survey data averaged the yearly cost per square foot of rented warehouse space to be $7.96. Operating costs like utilities, janitorial, internet, taxes, and insurance will increase that number by $2-5. 
Based on that average, a 10,000-square-foot lease will cost around $119,600 per year. 
How to rent warehouse space
First, find a warehouse space for rent that fits your needs. You'll be fulfilling from this warehouse, which means the location will impact your logistics costs. You may benefit from the help of a commercial real estate broker. 
Before negotiating, review the types of leasing agreements and choose the structure that works best for you. 
Before you sign your contract, be sure to clarify the following: 
Who performs and/or pays for maintenance?

Who performs and/or pays for repairs?

Who replaces external equipment, including the HVAC unit?

Do tenants pay for common area square footage?

Are tenants required to install signs?

Will the landlord fund tenant-made improvements?
Who should rent a warehouse?
Renting a warehouse is a solid option for businesses that are expanding or entering a new market. By renting, you get the extra room to grow without sacrificing your free capital. 
Buying a warehouse
Buying a warehouse can be a gateway for business owners with free capital who want to diversify their income through real estate investments.
Pros of buying a warehouse
1. Equity
Mortgage payments build equity that can be used as collateral or sold for capital down the road.
2. Control
Owning the warehouse frees you to customize the layout and remodel according to your unique logistics needs.
3. Rental opportunities
Extra space can be rented out to increase income and fund mortgage payments.
4. Tax benefits
Save money through tax deductions and potential savings. 
5. Stable ownership costs
Fixed mortgage payments are stable, predictable and an average of 15-40% less than monthly rent payments.
Cons of buying a warehouse
1. High upfront costs
Expect to pay 30-40% of the property value upfront.
2. Maintenance costs
Maintenance, repairs, and general upkeep can get costly and time-consuming. 
3. Risk of selling prematurely
If you need to sell prematurely, you could end up losing on your investment. 
4. Invisible "what if" costs
The most important negative to consider is the potential impact on business growth. Devoting too much capital, time and attention to upfront costs, maintenance, warehouse management, tenant management, etc. could hinder your business growth in the long run. 
How much is a warehouse to buy?
The warehouse purchase price varies by location and market conditions. 2023 Q1 data indicates an average cost of $162 per square foot in the United States. 
How to buy a warehouse
Find a real estate broker to help you locate a warehouse and negotiate a deal. They will help you get loan approval before closing the deal. 
Remember to review zoning requirements and secure compliance before getting straight to business. 
Who should buy a warehouse?
Have enough free capital to cover the upfront costs with plenty left over for emergencies?
You may want to buy a warehouse, so long as you can secure a long-term mortgage and don't plan on relocating.
Alternative solution: Amazon FBA
Fulfillment by Amazon (commonly known as Amazon FBA) is a service that lets business owners outsource their order fulfillment to Amazon.
After signing up, you can send your products to Amazon's global network of fulfillment centers and automated shipping process.
Your customers get free two-day shipping, customer service, and easy returns, and you get to sit back and watch from your automated ecommerce software while Amazon fulfillment specialists pick, pack, and ship your orders.
Amazon FBA is cost-effective. You only pay for the storage you use and the orders Amazon fulfills. Shipping is 32% less per unit than the average carrier's slowest shipping option and 72% less expensive when comparing two-day shipping options. 
And don't worry – Amazon FBA supports multi-channel fulfillment. Amazon's free warehouse and inventory management tool, Veeqo, fulfills orders from your ecommerce site, Amazon, eBay, Shopify, and other marketplaces, with no monthly fees and discounted shipping rates.
Potential fees for Amazon FBA include:
Inventory storage fees: Charged for items stored by Amazon based on your daily average volume of inventory. 

Aged inventory surcharge: Monthly fee for items stored in a fulfillment center for longer than 181 days. 

Fulfillment service fees: Per-unit fee to cover picking and packing, shipping and handling, customer service, and product returns. 

Unplanned services fees: Covers unplanned services necessary to fulfill orders when inventory arrives at the fulfillment center without proper preparation or labeling.

Removal order fees: Per-item fee charged when Amazon returns or disposes of inventory in a fulfillment center (by your request). 

Returns processing fees: Charged on free shipping orders. 
Final thoughts on renting a warehouse vs buying a warehouse
If you've gotten this far and still aren't sure whether to rent or buy a warehouse, take a pause.
*deep breath*
Now, imagine you have the funds to cover the upfront costs of purchasing a warehouse. Will you get a better ROI by purchasing a warehouse or by using that capital to grow your business some other way?
If equity is the only reason you're considering buying a warehouse over renting one, turn around. 
Renting is often regarded as a waste due to the lack of equity. While you technically lose equity when renting a warehouse, you gain the free capital that would have covered your down payment.
That money can go a long way in increasing your income when invested back into the business.
Play your cards right, and you'll more than compensate for the lost equity and the discrepancy between mortgage and rent fees. 
Sign-up today to try Veeqo, or book a demo with one of our ecommerce experts to see if Veeqo is right for your business.