Warehouse
How to Run an Efficient Warehouse for Your Ecommerce Business
Written by Clare Dyckhoff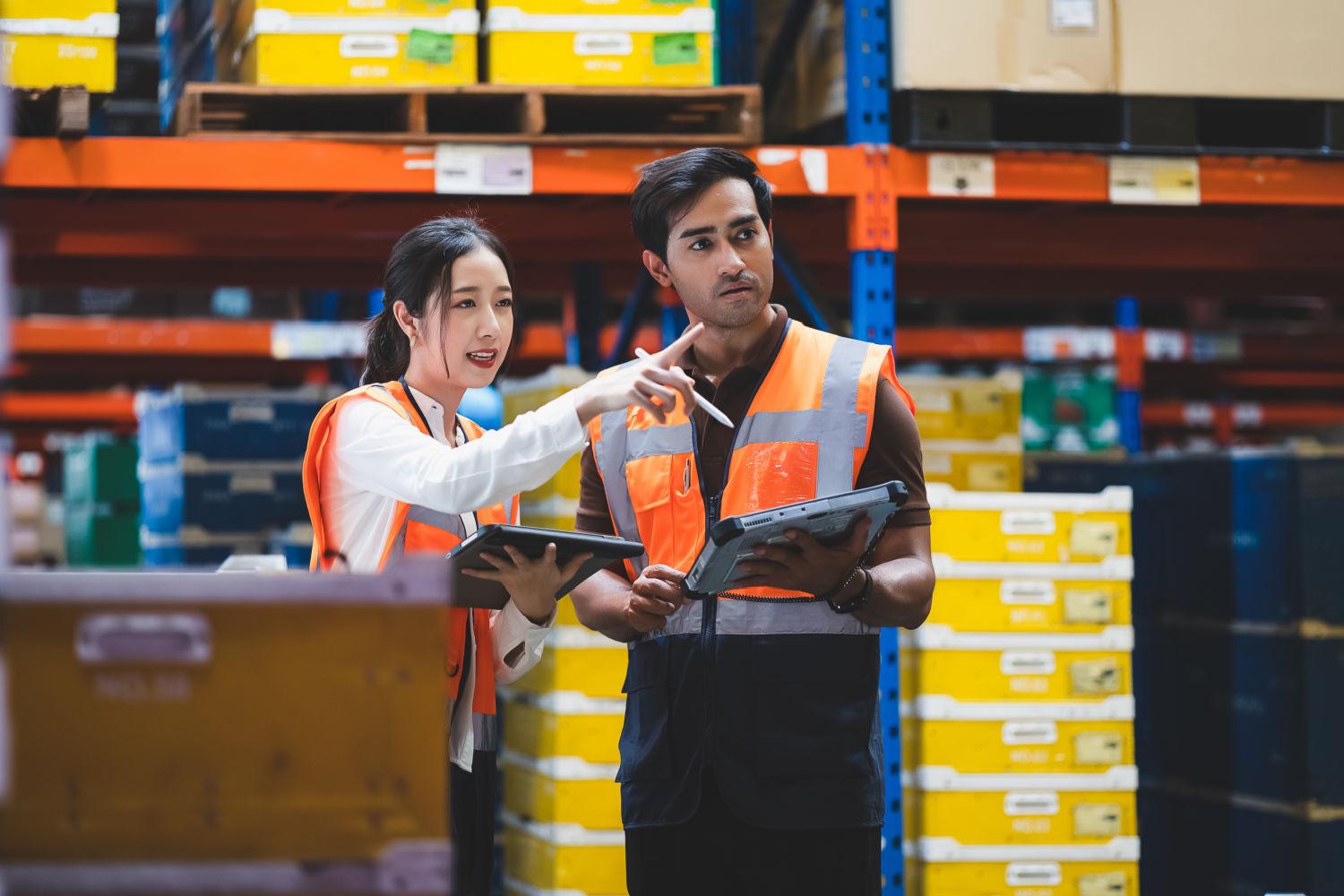 With more products being sold online and the demand from customers continuing to grow, running an efficient warehouse is essential when it comes to maximizing efficiency for ecommerce businesses.
With the Warehousing And Storage Services Market size expected to grow from USD 691.74 billion in 2023 to USD 963.74 billion by 2028, there's no time like the present to get it right. 
Logistics play a key part in running a warehouse efficiently. But sometimes it's difficult to know where to begin, so we've created this guide to help make the process that bit simpler. 
Some key areas to running an efficient warehouse include:
Establishing an organized and cohesive warehouse 

Reducing stockouts and underselling

Saving time and money with digital picking 

Reducing misshipments and errors through automation 
Make the most of the warehouse floor plan and layout 
Whether you're weighing up whether to rent your warehouse space or buy it, your warehouse is your canvas and your stock is your bread and butter.
Starting with the warehouse floor plan is the best first step in setting you up for success. 
By reducing the space required to walk to each section, for example, employees can maximize their time picking or packing instead.
You can also avoid bottlenecks in the process, reduce the risk of losing items, and make the most of your floorplan by using space efficient packages, all by creating a cohesive layout.
Storing goods by priority and popularity can help with sourcing products against tight deadlines, and establishing a clear receive-offload-dispatch process is the best way to set up for a smooth journey of goods from warehouse to customer. 
A clearly designed, laid out, and organized warehouse is the perfect first step to efficiency. 
Keeping an optimum temperature in the warehouse
Did you know the temperature of your warehouse can determine how efficient your warehouse is?
No one can work their best in temperatures that would rival the North Pole, so ensuring your warehouse is operating at the optimum temperature is a sure fire way to ensure you're running efficiently and effectively. 
Every warehouse is different so the optimum temperature depends on the purpose of the warehouse and the environment in which it is situated.
For example - warehouses storing non perishables such as furniture and wood-based products will need to maintain a higher temperature so as to avoid humidity, which provides a mold risk. 
If staff are in the warehouse for longer periods of time, maintaining a more moderate temperature is important for their comfort. This will provide a much healthier environment for employees, and in turn will generate better job satisfaction, workflow, and efficiency for the warehouse output.
That's what I'd call a win-win. 
How to keep employees safe
With many employees working in warehouses at any given time, having a system in place to prevent any slips, trips, or vehicle accidents is of paramount importance.
To ensure the health and wellbeing of those working in warehouses:
Be up to speed on safety protocols - ensure your warehouse team are clued up on the safety protocols when at work (e.g. fire exits, and emergency action plans), and hold practice drills so everyone knows where and what to do in the unfortunate situation they might need to know 

Ensure everyone wears work appropriate attire - such as anti slip shoes for in transit or ensuring clothes aren't too restrictive or baggy 

Optimize your warehouse layout - have one way systems in place so drivers can see where they're going (less risk of collision when reversing), and use anti-slip paint on the floor, for example. 

Keep the warehouse clear and tidy - encourage everyone to do their bit when it comes to keeping workspaces clear, even ensuring things such as having cables tidied away and that there are no obstructions in paths can make a huge difference

Provide protective equipment where needed - providing employees with hard hats, uniforms, high visibility clothing, face masks, and safe footwear can all help the overall safety of your workhouse 

Ensure the vehicles are up to standard - in addition to the clear one-way systems mentioned above, ensuring all vehicles have mirrors, and providing a list of daily checks (e.g. warning lights on the dashboard, looking for faulty belts), is a good system to have in place for consistency and to ensure nothing gets missed 

Restrict who can use the equipment - a standard procedure but an essential one, limit vehicle driving to only over 18s and if they're trained

Provide warehouse safety training - so employees can be accountable and know what the correct procedures and safety protocols are while at work

Manual handling training - no one wants to hurt themselves at work, so ensuring staff are trained in manual handling, know their limits (e.g. 25kg is a heavy load to lift for most people!), helps staff be accountable for their own personal lifting limits 
Keeping a clean and clear warehouse
No one wants to work in a disorganized space, and reducing clutter has even proven to inhibit creativity and productivity and increase stress - not an ideal set up where you're trying to be productive at work. 
By reducing clutter in the warehouse, you're not only reducing trip hazards and potential safety issues, but you're also creating an environment for healthier and happier employees. 
There's less risk of damage to inventory and product, and most essentially, it helps employees work at their best while they're there.
We all know how clutter can creep back in, so hold regular training on keeping spaces clear and decluttered, and work with your teams to keep on top of it rather than trying to tackle it too late in the process again. 
Ensuring you have enough staff for key seasonal events 
Clutter and safety aside, there are some big moments in the calendar ecommerce businesses have to plan for.
Aside from our loved ones' birthdays and important milestones, Black Friday and Christmas are the two big events where extra staff and resources are going to be crucial. 
What are the benefits of seasonal staff?
You can avoid being short staffed on peak calendar moments

Ensure the warehouse-to-customer process continues to run smoothly

Keep customers happy by meeting demand 

Have support for any staffing issues caused by sick leave or holidays 
The beauty of these big moments is that they come round every year, so being able to plan for them doesn't need to come as a surprise. It's always recommended to advertise the open vacancies as soon as possible.
Seasonal staff are in demand so opening it up as soon as you can is a great first step to get some good candidates in the door and mitigate risks of open roles or poorly filled ones. 
Black Friday and Christmas are key moments in many customers' commercial diary, and no one wants to lose out on the TV or household appliance they've wanted for a while.
Ensuring there is sufficient support in the warehouse and having an order management process set up for key events can help reduce stress in what is an extremely busy timetable. 
Avoiding supply issues
A poorly configured warehouse can cause issues when it comes to inventory and avoiding supply issues.
Supply chain performance can fluctuate and with so many external factors, there is always room for supply issues to crop up, no matter how hard you try to avoid them.
With order picking operations factoring for more than 50% of a facility's operational costs for some, reducing errors is essential. Limiting issues with stock is the first point of call, but if you're not sure what metrics to track - check out our guide for some inspiration. 
Why digital picking can help with efficiency 
As technology continues to make our lives more connected and areas slightly easier and more efficient, consider digital picking to help save time and money.
New to digital picking? Don't worry, we'll explain all you need to know about it. 
How does digital picking work?
Digital picking provides a framework according to guiding principles (e.g. including warehouse location). 
Due to its system, you and your employees can feel confident in knowing the right inventory is being considered when sorting orders, so your customer will always receive what they're expecting. 
According to Conveyco, walking and picking orders can account for more than 50% of the time associated with picking, which opens up more room for mispicks due to tight timelines.
Because picking can be time intensive and prone to human error, digital picking enables employees to locate products when they need, at ease.
By using Veeqo, you pick, pack, and ship faster and flawlessly to meet the tighter carrier cut offs. You can opt for the mobile app or the Veeqo scanner - whichever suits your preference, and both provide picking peace of mind.
Reducing stockouts and underselling 
Running an efficient warehouse means avoiding running into stockouts and underselling. Having an efficient process or an automation tool in place to best track inventory in real-time can help alleviate stock headaches.
The last thing you and your customer wants is to see the dreaded "out of stock" messaging.
With retail being such a competitive space, having the product your customer wants when they want it is the difference between you and another business getting their custom. 
To ensure this doesn't happen: 
Increase your inventory checks - using a digital solution can help take the pressure off and do it for you, to help you forecast any issues of this happening. 

Timing is essential - monitoring stock replenishment time is a great back up for days where you might sell out 

Have carefully chosen safety stock - of your most popular products or highest selling point. Just make sure you don't have too much, as floor space is also essential!
With so much to focus on in a warehouse, consider automating this part of the process, to free you up for the other important things going on. 
Improve shipping and quick turnaround 
Customers are used to quick turnarounds when ordering online, and just as receiving the wrong item can cause angst, receiving it too late can do too.
Automating the shipping process can help cut time, error risks, and provide greater peace of mind the customer is receiving what they expect, when they expect it. 
With Veeqo, you can manage the entire process from sale-to pick-to reporting. With our smart filtered views, you can look for 'waiting for payment' or 'ship with USPS' to keep the team up to date on the orders that matter most.
You can also send to specific locations so you're always sending from the optimal warehouse to suit the timeframe. 
By automating the shipping labels you can print up to 100 at once. Failed deliveries are costly to both businesses and the customer, so the above steps can help you avoid them.
Why warehouse management systems are needed
Traditional processes are often quite time restrictive, less efficient, and harder to keep up with customer demands on busier days. With a warehouse management system, it's a digital solution to keep tabs on everything going on.
By operating on a cloud-based system, it's easier to keep track of inventory and provides real-time answers and updates. 
With Veeqo, it connects to all your warehouse and ecommerce so you can fulfill customer orders with lower risk of picking errors and over or underselling.
On busier moments, you can create a picking list per picker. All they need to do is press a button and they'll receive a picking list.
Want to learn more about warehouse management systems? Check out our extensive guide  and create a free account with Veeqo today.