Veeqo News
493 Ways We've Improved Veeqo So Far in 2019 (PLUS What's Still to Come)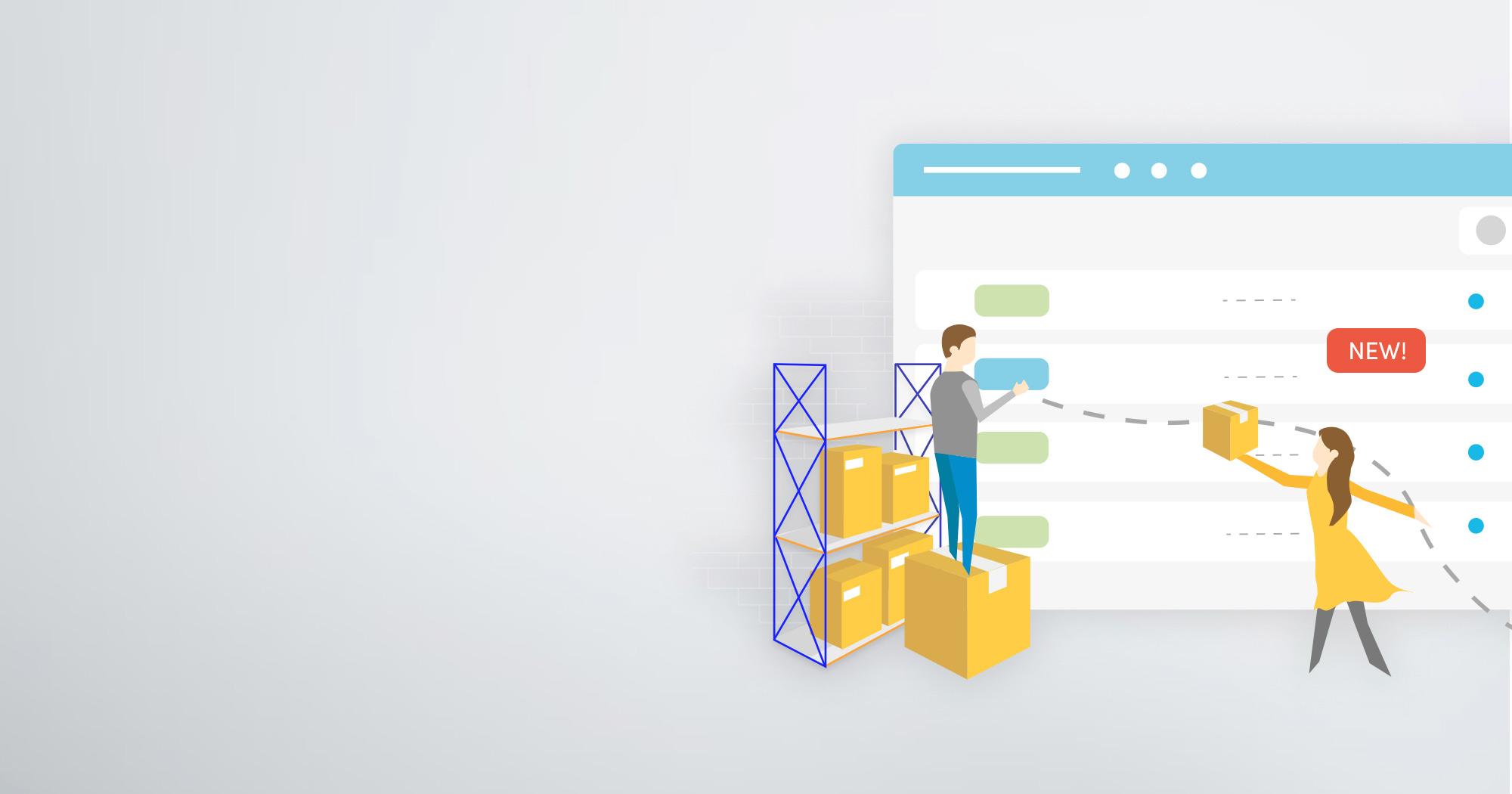 It's been a busy six months for the product team at Veeqo.
We have been able to rapidly scale the core Veeqo platform – packing in a broad range of new features and functionality for retailers using our software.
Here's a little summary of what we've achieved in the last six months:
282 new features.

7 new BETA releases.

204 bug fixes.
That all amounts to an incredible 493 total updates.
So let's take a look back at the key features we released in the first half of this year.
New features so far in 2019
We released a total of 289 new features or BETAs in Veeqo. Here are some of the most popular ones:
1) Veeqo Wholesale (BETA)
To be fully released out of BETA soon, our brand new Wholesale feature was a huge focus for us in the last six months.
Veeqo Retailers can now manage their entire B2B operation in Veeqo. Meaning both wholesale and retail/B2C orders can be easily handled in one platform.
With Veeqo Wholesale, you can:
Easily create new wholesale orders taken via email or phone.

Set dedicated wholesale pricing, and apply further bespoke discounts for VIP customers.

Quickly create and send invoices to B2B customers – eliminating messy email exchanges.

Get paid quicker by including an electronic payment button within invoices.

Pick, pack and ship wholesale orders quickly and accurately – just like you would any other order in Veeqo.
As you can see, there's a lot of hard work gone into getting this feature right. But it's something we're super proud of – and are delighted to have fully up and running.
See more about Veeqo Wholesale.
2) Improved Veeqo Scanner
The Veeqo Scanner has become a hugely popular extension to our core platform, allowing retailers to save so much time moving to a digital, paperless picking process.
And we've worked hard to develop it even further over the past six months.
Here are some of the improvements:
'Pick Order Screen' only sees orders that are 'Ready to Ship'.

Digital picking now shows the variant title on pickable line items.

The scanner can now show and manage more than six line items per order.

'Pick to pile' is refreshed for each user after a batch is completed.
All helping to make your digital picking even easier, quicker and more accurate.
Want to see the Veeqo Scanner in action? Take a look at this webinar we recently put together:
See more about digital pick & pack in Veeqo.
3) Inventory forecasting
Our new forecast feature is a game changer for balancing inventory levels.
It takes all the guesswork out of demand forecasting by using your past sales history to calculate exactly how much inventory you need.
You can easily work out how much stock is required to cover a variety of upcoming periods. And even offset the figure with an expected sales up or downlift:
We've also connected it with Veeqo Purchasing so you can re-order any new stock from your suppliers in just a few clicks.
See more about inventory forecasting in Veeqo.
4) Veeqo Returns
Returns has been yet another massive feature achievement so far in 2019.
This means retailers can now manage every return in Veeqo from start to finish – giving support, warehouse and finance teams a single view every step of the way. And allowing them to:
Quickly create customer return requests in Veeqo.

Manage all returned items in one place.

Record the reason a return was made.

Refund orders either partially or in-full.

Trigger partial refund payments to Shopify (with Magento & WooCommerce coming soon!).
5) Warehouse stock transfers
Earlier in the year, we also added the ability to transfer stock between your warehouses in Veeqo. Helping you to ensure you have the right inventory at the right locations to fulfil orders as fast as possible.
Key features are:
Create warehouse-to-warehouse transfers while seeing stock levels for each location.

View stock that's currently in-transit to and from each warehouse.

Maintain accurate stock histories with automatic updates when a transfer is made.

Keep track of which team members are creating and receiving transfers.
6) Set item minimum, maximum & re-order quantities per warehouse
We've also made it even easier to manage your product re-order levels.
Each product in each warehouse can now have a different:
Minimum stock level.

Maximum stock level.

Re-order quantity level.
This is great if you tend to stock different amounts of the same item at each of your warehouses.
The figure will then be used when generating purchase orders for the items to help order exactly what you need.
7) Set supplier lead times
Another thing we've added to Veeqo is the ability to incorporate supplier lead times into your forecasting and purchasing workflow.
You can now set a specific lead time for each product, allowing for much more accurate forecasting:
All ensuring you re-order at precisely the right time – and you don't run out while new inventory is in transit to your warehouse.
8) User permissions
We've always been aware that not every single member of your staff needs access to every little piece of company info in Veeqo.
So we set-up user permissions. Allowing you to assign roles to each of your users and toggle which areas and actions in Veeqo they have access to:
All meaning you keep full control of your business while reserving access to key reports, data and actions solely for those who actually need them.
9) Easily identify mergeable orders
It can take a long time to go through every order trying to identify which ones are going to the same destination – and so could get shipped together.
So Veeqo now checks the postcode of each delivery address in your 'Ready to Ship' orders for possible matches.
Similar addresses will be highlighted in the same colour and grouped together:
You can then tag these to help identify during picking and packing, and send out all in one single shipment.
Even more new features…
Custom 'ship-to' address for purchase orders. When drafting a purchase order, a custom 'ship-to' address can now be used instead of the default warehouse address.

Create picking queues. Prioritise which types of orders you want to pick, pack and ship first by adding a queue to the Picking Dashboard.

Delete images for simple products. When attempting to delete an image from a simple product the button would not respond. This made it difficult to keep the product catalogues up to date and reflect the most recent images.

Support for Magento Bundles. Magento Bundles are "build your own" customisable products. And orders that contain these types of items can now be pulled into Veeqo.

Faster customer search. Searching for a customer to create a new order or in Settings>Customers is now much faster. This will make it even easier to create new orders in Veeqo.
Want to know what all the 493 updates were? Check out the Veeqo Changelog, which is updated daily.
New shipping integrations
This year has also seen Veeqo launch seven new shipping integrations so far. All allowing users to generate and print labels from inside the Veeqo platform.
The new carriers are:
Parcelforce

Yodel

DX

DHL DE

Hermes World

Asendia

APC Overnight
New marketplace and ecommerce integrations
We recently connected Stripe to pay invoices online and over the phone as a key part of our new wholesale feature.
What to expect for the rest of 2019
With new investment and a growing team, we have an ambitious second half of the year planned for you.
Here's a taste of what's to come:
Improved order and product search. New search and filters for orders and products to make it even easier to find what you need.

Make orders mergeable. Physically merge orders together in a click of a button and ship them together quickly.

Marketplace integrations: Wayfair, Jet.com, Walmart, OnBuy and Amazon Vendor.

Ecommerce integrations: Prestashop

POS integrations: Square POS

Shipping integrations: FedEx Smartpost

Live parcel tracking. You will be able to track the live status of your parcels.

Stock history reports. See a complete history of your stock movements.

Dropshipping support. Manage your dropshipping orders within Veeqo.

Backorder allocation. Allocate stock to backorders.

Order routing. Route orders to be fulfilled by specific warehouses or via click-and-collect.

Returns portal. Let customers manage their own returns on your website and auto email them a return shipping label when necessary.
These are just some of what's on the menu for rest of 2019. But there'll be plenty more updates on top of these as the year progresses.
If you're already a Veeqo Retailer, you can keep up to date with what we're working on right now by logging into your account and selecting 'Product Roadmap' right at the very bottom:
Got an idea for a new Veeqo feature? Just head to the Product Roadmap and select the green 'Make a Suggestion' button at the top: