Ecommerce Growth
8 Business Solutions You Didn't Know You Needed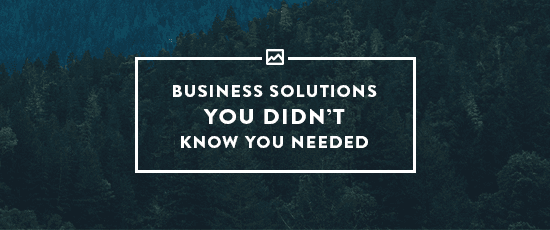 Running a business is a challenge, there's no doubt about that. More often than not, you'll find yourself facing problems you never even thought you'd come across. We've put together this list of business solutions so you can get ahead of your problems and eliminate them before they even start.
Email Marketing
At some point in your business you're probably going to have to send a marketing campaign. Unfortunately, we're not all HTML whizzes, so using an email marketing application like MailChimp can be an absolute lifesaver when it comes to building professional and attractive looking email campaigns with little to no design skills. It's incredibly easy to put together a great-looking campaign, and there's plenty of reporting features to track opening rates and other stats so you can A/B test emails to see what's working and what isn't. There are also a range of other cheap or free email marketing services available on top of MailChimp.
Backup and Recovery
You never know when a computer is going to fail, get lost, stolen or broken. This is why it's a good idea to have a software in place to backup all your important files and documents. It's better to have it and not need it than need it and not have it, so it's worth investing just incase. Acronis offers backup, storage, and data recovery software for businesses to give you peace of mind.
Blogging
WordPress is the go to blogging platform for most companies, and with good reason. It's free and pretty simple to use while also being a powerful blogging tool, plus you get your own domain name. The SEO capabilities are great, and there are tons of different plugins available for you to add features and flare to your blog.
Social Media
If you struggle to keep up with however many social media accounts you currently have, try using an app like Buffer, which you can use you automate and schedule status updates/posts which can then go live on whichever platforms you wish. It's much easier than constantly updating your social media, especially if you have things like blog posts to be shared on certain days.
CRM
Managing relationships with your customers is a pretty important part of your business as it's key to keeping customer satisfied and thus retaining them. Zendesk is a CRM solution which helps bring customers and businesses together, providing email, social, phone and web tickets, and provides data insights to build and maintain customer relationships.
Accounting
If you're not an accomplished accountant yourself, don't be a hero and try and tackle the task of managing company accounts. If you don't want to hire an expensive accountant either, try an accounting software like Xero to take care of the finance side of your business. Xero gives a real-time view of your cashflow and also incorporates payroll and
Inventory Management
Inventory management might not be the most glamorous task when it comes to business, but it's definitely one of the most important ones, and poor inventory management can have a negative effect on your profits. Fortunately, Veeqo is a stock control software which provides a solution to this problem by automating a great deal of the inventory management process including syncing across sales channels, order management, and shipping.
Project Management
monday.com is a simple project management tool which helps connect members from different departments of your company. You can use it to assign tasks, record and report progress, and unite your team. This is especially handy if you have a large business with multiple departments and team members, which can be a nightmare to manage if you're not all in one office. You can also check out this great list of free productivity tools to help get your projects done in the most efficient timeframe possible. Of course there are hundreds of business solutions out there, but these ones should provide you with plenty of benefits and solve some common issues.