Ecommerce Teardown
How Alphalete Used Content & Community to Grow a Multi-Million Dollar Apparel Brand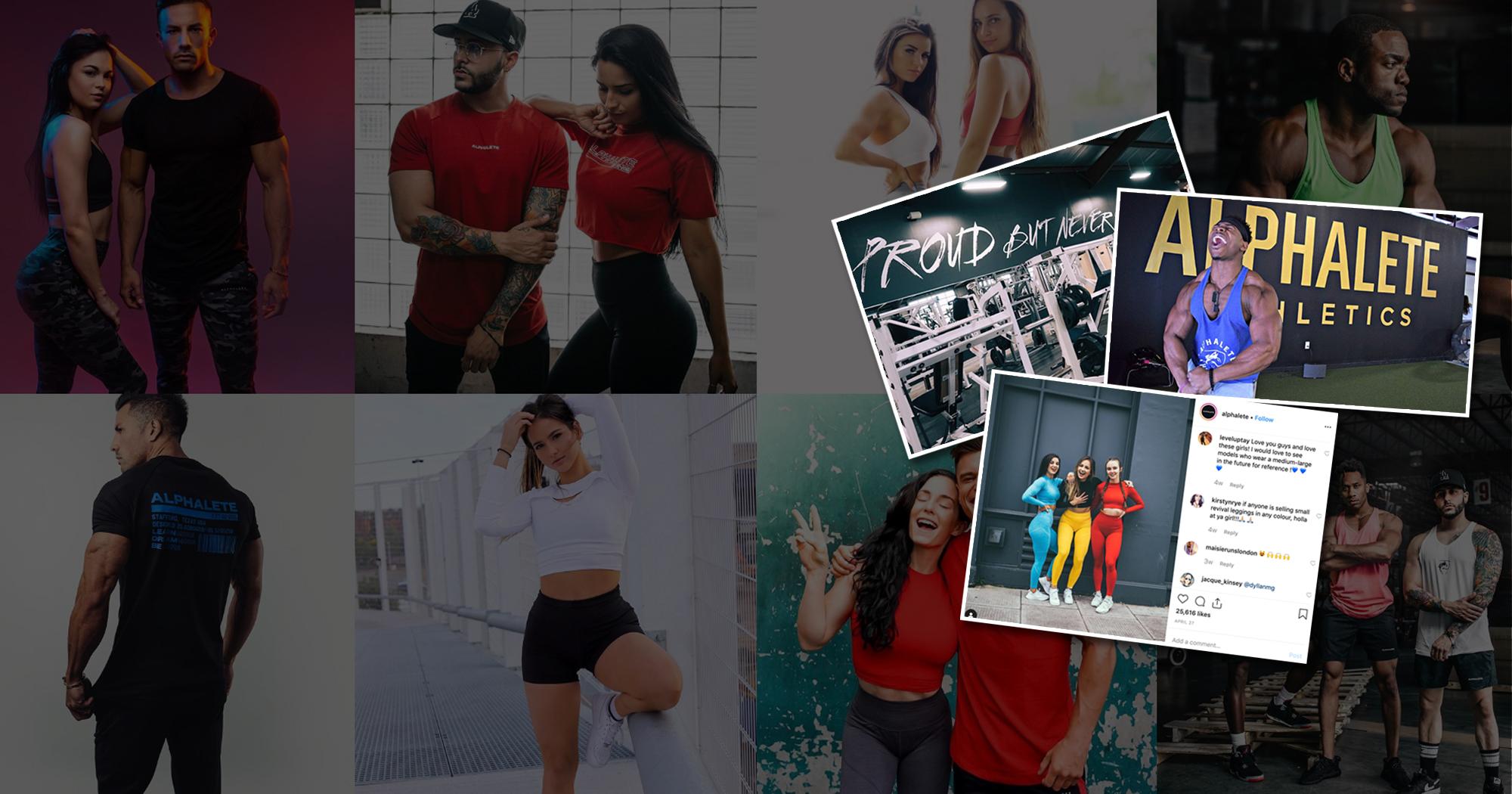 Building an ecommerce brand is about way more than products on a store.
Today's online world is one of accessibility, high-competition and dropshippers at every turn. So you've got to do something special to stand out.
Case in point: Alphalete Athletics.
Despite operating in the hyper-competitive fitness apparel sector - dominated by the likes of Rhone, Alpha Clothing, Lululemon and Gymshark, Alphalete have managed to flourish:
Multi-million dollar annual revenue.
A highly engaged 750k Instagram followers.
Thousands of fans showing up to meet-ups in cities all over the world.
Dedicated gym location in Texas that also sells their gear.
We're going to delve into the success story of Alphalete Athletics and uncover the key strategies that have propelled them to multi-million dollar annual revenue and a highly engaged 750k Instagram following.
In this digital age, however, strategic success goes hand in hand with powerful tools. In a landscape teeming with options, a robust ecommerce and inventory management platform is essential to amplify and sustain the strategies we'll explore.
Enter Veeqo – the game-changer that complements and enhances the very strategies discussed in this blog post.
So let's teardown Alphalete's model to see what's behind the success. And how they use quality content and community creation to drive sales in a competitive marketplace.
Table of Contents
Alphalete: The background
The Alphalete brand mission
Growth Tactic #1: Document the journey
Growth Tactic #2: Launch-based ecommerce
Growth Tactic #3: FOMO-based marketing
Growth Tactic #4: Authenticity with the tribe
Growth Tactic #5: Create quality content
Growth Tactic #6: Go big with influencers
Growth Tactic #7: Real, in-person experiences
Alphalete are not slowing down
Elevate Your Ecommerce Success with Veeqo
Alphalete: The background
Who owns Alphalete?
The entrepreneurial force behind Alphalete is Christian Guzman.
He began with a simple Youtube channel - giving viewers an introspective look at his bodybuilding training in tandem with everyday life. Then started coaching and opened a gym.
Alphalete started out as a small apparel brand
This then transcended into offering CG Fitness branded apparel both online and as secondary spend purchases at his gym, which sparked his passion for creating athletic apparel.
Blue CGFITNESS shirts now available on http://t.co/3DukPx9RVm pic.twitter.com/Tl79j6pXN9

— Christian Guzman (@Guzmanfitness) June 20, 2014
Then came a strategic re-branding: and Alphalete was born:
Guzman built a niche brand for his audience
Branding is crucial in the modern ecommerce world - consumers want to support companies they personally resonate with.
And so Guzman's mission was to niche down on creating apparel that stayed true to the style his bodybuilding and hardcore fitness-obsessed audience had come to love.
The Alphalete brand mission
Behind the logo, Alphalete was created with a clear mission:
Guzman's objective was to create an elite line he would wear himself as both functional work out pieces and lifestyle attire.
From the very beginning, his objective was for the quality of product to speak for itself.
And with the popularity of activewear and workout gear on the rise, he knew he could gain repeat customers if quality exceeded price points. So huge focus was placed on:
Custom-made fabrics.
Engineering soft material that could endure high performance.
Maintaining a perfectionist level control over means of production.
Once the idea, mission and general purpose for the brand was cemented, it was time to start making sales.
Growth Tactic #1: Document the journey
Alphalete officially launched in the beginning of 2015. And Guzman conscientiously documented every aspect of its growth through his vlogs.
So viewers and potential customers were exposed to first-hand successes and growing pains of the business. Also gaining insight into the personalities and people behind the brand - showcasing the family-oriented and close-knit feel to the company.
The brand immediately benefited from this candid exposure: Guzman transferring his raw honesty to Alphalete, making potential customers feel like it was a dependable brand they could trust.
SEE ALSO: 10 Inventive Ways to Drive Ecommerce Sales From YouTube
Growth Tactic #2: Launch-based ecommerce
Alphalete was initially intended to subscribe to a traditional ecommerce model.
So it was all about the standard set-up:
Online store listing a variety of products.
Consistent and ongoing ads and campaigns.
Directing customers to typical product pages.
Ample inventory of every product to make sure customers could always purchase exactly what they wanted.
However:
Given the nature and style of the brand, Guzman changed his approach to become a launch-based company with occasional restocks in between releases.
So no more pouring money into continuous marketing efforts stressing customers to buy year-round. Instead, they reallocated budget to:
Continue growing and engaging their audience through quality content on social media.
Run extensive campaigns to hype-up "launch weeks" for new products periodically throughout the year.
As the company grows, so does the scale of its launches in terms of volume, diversity/range of products and global reach, which can make it trickier to manage their inventory and shipping to ensure the reduction of dreaded stockouts.
Veeqo is a software that offers a powerful suite of shipping, inventory and warehouse management tools, that seamlessly facilitates these launch strategies by offering efficient order fulfilment, and analytics and forecasting that can help prevent things like stockouts.
Growth Tactic #3: FOMO-based marketing
A launch-based business model instils a sense of urgency within customers, incentivizing them to act fast before the product is gone.
And so Alphalete leans on this perfectly by employing FOMO (fear of missing out) in their marketing:
The consumer view of products is transformed by making low stock seem exclusive, therefore more enticing.
And this "exclusivity" also negates the need to utilize sales or discount codes the way other ecommerce brands commonly do to lure in customers.
All meaning Alphalete stopped the traditional "click this ad to buy a product" type of advertising. And transitioned into simply using appealing content to expand the brand's reach as much as possible.
Growth Tactic #4: Authenticity with the tribe
Alphalete has completely embraced its model as a launch-based company.
Guzman prides himself on never launching the same product twice. So the company can play the FOMO and urgency cards with 100% authenticity.
In addition to brand-new pieces, every launch also features recurring products that have been redesigned to or slightly embellished.
Even bestselling products will undergo some degree of modifications before a new release.
Often times, these alterations are the direct response to customer feedback - demonstrating the brand's dedication to client interaction and perception of the product.
It also gets the influencers talking and reviewing with each launch:
This constant modification of products means:
Customers know each launch is likely their only opportunity to buy a product in its current form.
Customers can justify repeat purchases at each launch by buying products in new colors or enhancements.
Growth Tactic #5: Create quality content
Alphalete produces as much graphic and video content as possible to grow their audience - going extra hard when it comes to launch weeks.
This content is usually comprised of:
Extensive, professional photoshoot campaigns.
Motivational videos and posts.
Workout videos and vlogs on Guzman's personal YouTube channel.
Interviews and 'day in the life' features on Alphalete sponsored athletes.
Detailed sizing guides and product reviews.
The photoshoots obviously fit perfectly with the Instagram crowd:
View this post on Instagram

A post shared by ALPHALETE (@alphalete) on Jul 16, 2019 at 9:04am PDT
While the motivational and instructional videos engage Alphalete's audience with genuinely helpful advice:
But they'll also use Youtube to combat one of the most difficult factors of a strictly online fitness apparel company: sizing.
Athletic apparel that hugs and squeezes every inch of our bodies is infamous for fitting every body type differently. Making purchasing online a challenge for the consumer.
So in the weeks leading up to launches, Alphalete will release meticulous and detailed sizing videos:
These feature models with different body types and sizes wearing and reviewing each product.
Alphalete athletes, influencers and affiliates will also blast the internet with similar videos so their followings know as much as possible before launch date.
And speaking of influencers...
Growth Tactic #6: Go big with influencers
Guzman credits much of Alphalete's success to two key things:
Quality of the apparel itself.
Influencer marketing.
With the latter easily the most significant revenue driver in the company's exponential growth over the last 18 months.
They began building the influencer team in November 2017, referring to them as 'sponsored athletes'. And it's been continually expanding since:
Influencer selection
Of course, the first consideration in influencer selection is social media notoriety.
But Alphalete's sponsored athletes still exhibit a lot of personal range amongst each other:
Global reach. The team is comprised of fitness influencers from all around the world to push the brand into different global markets.
Individual styles. The team is dynamic in that they don't all subscribe to one 'mode' or 'style' of fitness - and therefore have different follower demographics.
Engagement. Athletes aren't selected based on their follower numbers alone. Instead, engagement with their audience is key - which usually comes from being open and empathetic with the audience.
Alphalete's philosophy with managing influencers is that it has to be sincere and organic. If athletes are forced to post a certain amount of times a week about products, the posts will lose their authenticity.
Therefore, athletes are encouraged to post as much or little as they wish - and to always use sincerity and honesty in product reviews.
This freedom speaks to how the brand is careful to only employ athletes who are as passionate about the brand as Guzman is himself.
Influencer business model
Alphalete divides its influencers into two tiers of sponsored athletes:
Official Alphalete Athletes.
The Alphalete Family - an affiliate program.
Athletes from both tiers are always provided their own personal codes for their followers to enter at check out. These don't give a discount, but attribute orders to an influencer to gauge the impact he or she is having on sales:
Official Alphalete Athletes are more exclusive to the brand. So they:
Get paid a salary with sales commission on top.
Frequently feature in Alphalete media campaigns or travel tours.
Regularly appear in Alphalete content - photoshoots, specific ad campaigns, athlete official videos, etc.
Are held to more exclusive contracts that hinder them from endorsing other athletic clothing brands.
On the other hand:
The 'Alphalete Family' affiliate athletes only receive sales commission linked to their promotional codes. They're also granted flexibility to support other brands instead of being held to exclusive contracts.
Using influencers to open new markets
In Alphalete's early days, their women's line was essentially nonexistent.
As the face of the company, Guzman (and his content) appealed to men who trusted him for advice on all things fitness. So the initial audience didn't attract many women.
However:
Growing the female influencer team saw a massive surge in women's engagement with the brand:
This helped Alphalete transform site traffic by growing their female audience from 4-5% in 2017 to around 50% in recent campaigns.
And it speaks volumes to the power influencer marketing can have on diversifying your brand and appealing to a range of demographics.
Growth Tactic #7: Real, in-person experiences
Alphalete thrives on community and customer interaction.
So they started creating in-person experiences for customers. Helping to bridge the gap between being an online store and a tangible community.
In 2017, Alphalete's influencer team set out on a world tour spanning seven different cities across Europe and North America:
Official tour dates: pic.twitter.com/Qj3Ou93yK4

— ALPHALETE (@Alphalete) August 1, 2017
This set the precedent for the brand to hold meet-ups and sponsored events as a consistent community-builder in the future - including most recently London in March 2019:
These meet-ups aren't even strictly about making sales on the actual day. They're more focused on:
Building community.
Generating social media buzz (as attendees inevitably post and share about their experience on social).
Encouraging and strengthening brand loyalty.
Cementing this omnichannel strategy is the Alphalete Gym, which boasts a 19,000 square foot location in Texas:
The gym itself again focuses heavily on the idea of community. With members often featured in social content and Guzman's vlogs to strengthen the online and offline brand.
Members and attendees also get discounts on Alphalete products and exclusive merchandise at the front desk. All creating revenue that can be easily tracked through their gym software.
SEE ALSO: 3 Retail Brands with Amazing Omnichannel Experiences
Alphalete are not slowing down
Alphalete shows no signs of slowing down any time soon.
In fact, Guzman candidly admitted in a 2019 video that he feels pressure to make sure the infrastructure of the company grows with it. And to fix operational problems they're currently facing - like minimizing delivery mistakes and growing the team.
But Alphalete's success is a great example of how to stand out in a saturated market via:
authenticity;
quality production; and
die hard customer interaction.
Applying these principles to any ecommerce brand is bound to have positive effects - regardless of what niche you're in.
Elevate Your Ecommerce Success with Veeqo
As you embark on your journey to stand out in the saturated market, remember that having the right tools is as crucial as implementing the right strategies.
Veeqo, an Amazon-owned shipping and inventory management software, aligns seamlessly with the principles of quality customer service and ecommerce efficiencies discussed in this post.
Revolutionize your ecommerce brand by streamlining operations, ensuring quality customer experiences, and staying true to your mission.
Ready to take your ecommerce brand to the next level? Sign up for Veeqo now and revolutionize your business.