Shipping
A Guide to Amazon Day Delivery vs Amazon Prime
Written by Clare Dyckhoff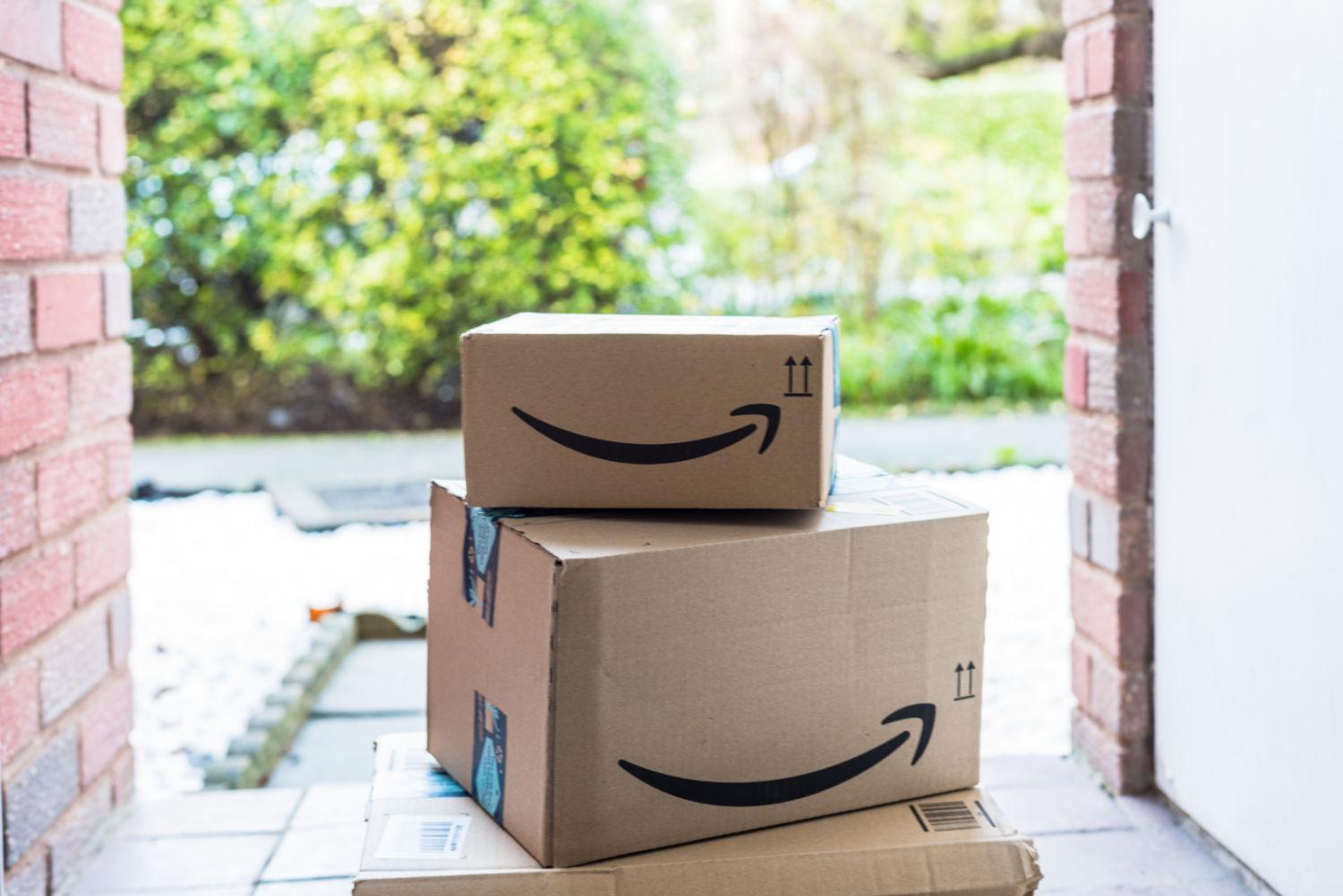 Replacement parts for kitchen appliances, textbooks for last minute reading piles, gifts for loved ones, and stationery for small businesses…sometimes we just need what we need to arrive fast.
And with Amazon being at the forefront of people's minds when it comes to quick delivery, it is no wonder why Amazon has 200 million Prime Members. 
Whilst the internet may not have been invented with the sole ambition of delivering trainers in less than 24 hours, it cannot be denied it makes our lives a lot easier when it comes to fast delivery.
But the convenience of Amazon Prime and Amazon Day Delivery does not just sit with consumers.
If your business is also in the space for sending out shipments and packages, weighing up the benefits of sending items with Amazon Prime or Amazon Day Delivery is also well worth thinking about. That way you can position your business as one that can also meet the needs of the time-strapped consumer. 
Table of Contents
What is Amazon Day Delivery

Benefits of Amazon Day Delivery 

Items that cannot be delivered with Amazon Day Delivery

What is Amazon Prime

Benefits of Amazon Prime

Items that cannot be delivered with Amazon Prime

Prime Delivery vs Amazon Day Delivery

Selling with Amazon 

Shipping with Amazon through Veeqo
What is Amazon Day Delivery? 
Amazon Day Delivery is a free, exclusive delivery option for anyone who is a member of Amazon Prime.
We have all had times where packages arrive 10 minutes after leaving the house for 20 minutes so to help combat this, Amazon Day lets you pick the day it will arrive.
It also lets you pick a selected day for deliveries each week - so if Mondays work best for you, they can be your default option for all deliveries going forward,  so you never have to miss an important package.
What can this delivery option be useful for? If you have ordered a few non-urgent parcels and want a smoother delivery experience instead of scattered deliveries throughout the week, you can opt for one Amazon day where they will all arrive at the same time, and you guessed it - on the same day. 
What about adding new items? If you still need to buy and add more items throughout the week, you can buy more things and they will still arrive that same day. 
Once you've proceeded to check out, look out for the delivery instructions and date. This is where you can find the options as shown below. It's as simple as that!
Benefits of Amazon Day Delivery
Easier to manage multiple parcel deliveries - no more waiting in for packages 4 days a week

Set day availability for deliveries going forward - maybe Thursdays are your best option so you can have it preset for next deliveries 

Less packaging - instead of 5 individual boxes arriving throughout the week, deliveries can be packaged into fewer boxes for one delivery

Fewer trips to your address - drivers have likely seen it all in the course of their job, but they can do one trip a week instead of 5. Reducing emissions and chances of opening the door in your dressing gown…(though no judgment on that front!) 

Less chance of packages going missing if they are left - you know you will be at home to collect them when they arrive

Full tracking of shipments in "Your Order" in Amazon account 
Even though Amazon Day can deliver a number of items across the marketplace, there are some exceptions to be aware of before clicking the purchase button. 
Items that cannot be delivered with Amazon Day Delivery:
Prime orders fulfilled by third-party sellers

Shipments containing items that aren't eligible for One-Day or Two-Day Shipping

Amazon Key deliveries

Shipments containing Hazmat items

Delivery addresses outside of the contiguous US

Deliveries to Amazon Hub locations

Deliveries to PO Boxes
Not only is Amazon Day putting the convenience in the customer's hands, but by reducing the number of trips to an address and the number of boxes delivering items in, it is also better for both the planet and the amount of packaging you have to dispose of.
But what about Amazon Prime delivery? Let's look at that next. 
What is Amazon Prime Delivery?
When you are an Amazon Prime customer in the U.S.* unlimited one-day, two-day, and same-day shipping is all free, as part of your Prime perks, as long as your order meets the minimum threshold of eligible items.
It is available on millions of items available to buy on Amazon so keep an eye out to see if your item is included when you get to the delivery stage before checkout. 
In eligible cities in the U.S., you can order items until 5pm and have them delivered within hours, as well as providing a variety of daily delivery windows (covered in Amazon Day).
If you order your item by midnight, it will be delivered overnight by 11am. Any items eligible will be marked as "Today" or "Overnight". 
In thousands of other cities and towns across the U.S, if you place an order in the morning, they most likely will be delivered by 10pm. If you order an item in the afternoon, it will arrive the next day - look for items marked "Prime FREE Same-Day". 
For most Prime members, one-day delivery is the default and free shipping option, but there are some exceptions if you are not included in the contiguous U.S. 
If you want your delivery by 9pm the next day after placing your order, click "get it tomorrow" and it will be on its way to you in no time. 
| | |
| --- | --- |
| Shipping speed | Amazon Prime member price |
| One-Day Shipping | Free |
| Two-Day Shipping | Free |
| Same-Day Shipping | Free |
*Table above shows shipping and costs for the contiguous U.S.*
Benefits of Amazon Prime delivery
Unlimited one-day delivery

Unlimited same-day delivery

Full tracking of shipments in "Your Order" in Amazon account 

Fast delivery of items when you need them 
Just as we saw with Amazon Day, there are however some exemptions when it comes to Prime shipping eligibility. Amazon clearly state these as the following: 
Deliveries that do not qualify for Prime shipping:
Items fulfilled by Amazon Marketplace sellers that aren't marked as Prime-eligible

Magazine subscriptions

Personalized gift cards

Any item that doesn't have a message indicating that it's eligible for Prime on its product page

Addresses in the US territories, possessions, and protectorates (other than Puerto Rico)

International destinations

Items with Scheduled Delivery
What is Amazon Day Delivery vs Prime Delivery
When it comes to weighing up Prime Delivery vs Amazon Day Delivery, the first thing you will want to look at is the cost involved.
The good news for both Prime Delivery and Amazon Day Delivery is that one-day, two-day, same-day shipping are all offered for free, as part of Prime membership. 
The speed of delivery options for your order will depend on the items themselves and order threshold. Before check-out, be sure to look for the delivery date options for your items before clicking buy now, so you know your delivery choice suits your timeframe and need. 
| | |
| --- | --- |
| Shipping speed | Amazon Prime member price |
| One-Day Shipping | Free |
| Two-Day Shipping | Free |
| Same-Day Shipping | Free |
| Amazon Day  | Free |
Selling with Amazon
Amazon is not just somewhere that attracts customers into the space. Just as every warehouse looks at how to maximise efficiency, ecommerce businesses often look at how to maximize efficiency too.
This often includes selling online.
Because Amazon is one of the biggest online marketplaces in the world, customers opt for it as their solution for finding an array of products and receiving the items in a short timeframe.
When it comes to selling on Amazon, you can upload your items to their online inventory and when a customer buys your product, receive the money from Amazon (minus any fees). 
There are a number of tips for how you can sell on Amazon like a Pro and with Amazon being such a global platform, information on getting the best from your selling experience is available. 
We've got guides on How to Sell on Amazon and how to avoid getting your seller privileges suspended, as well as looking at 7 ways to reduce your shipping costs as an Amazon Seller to help you navigate Amazon selling, if you are new to it. 
Shipping with Amazon through Veeqo
Maybe you are a customer looking for delivery options of items in need, or a business assessing the pros and cons of sending with Amazon Prime or Day Delivery and looking for the best rates on shipping labels.
If you are the latter, looking at the essentials as an ecommerce business covers everything from having business insurance to looking at the cost of shipping. 
Amazon-Owned Shipping Software
Signing-up and integrating with Veeqo means you can ship your Amazon orders, as well as manage your multi channel orders through Amazon Shipping.
Because Veeqo is owned by Amazon, our shipping software integrates seamlessly with Buy Shipping and A to Z protection when your labels are purchased through Veeqo's software. You also get up to 5% back on eligible shipments with our Credits program.
And where time is of the essence on Amazon delivery, as an ecommerce shipping software, Veeqo can speed up dispatch dates to ship with next day delivery and provides immediate access to reduced shipping rates with the top carriers across the U.S.
So you can rest assured customers will receive their parcels just when they expect to, whether it is through Amazon Day Delivery or Amazon Prime. 
Powerful Analytics & Forecasting Features
You can even use Veeqo's powerful suite of analytics and forecasting tools to:
Tweak your demand forecast

Keep track of and tabs on your total inventory

Check how SKUs are performing (sales)

Get profitability reports for all marketplaces and products

Grow your business with data-driven reporting and insights 
Further reading:  Shipping software alternatives to Auctane's key brands
As a business, digital solutions can help with everything from inventory control to learning how to best increase your organic traffic on Amazon as a seller.
As a customer, Amazon Prime and Day Delivery are the sure-fire ways of receiving items on time, and at the time they are most needed. 
Whether you opt for nominated Day deliveries for the foreseeable or are happy to wait in for the delivery arriving the next day, Amazon Prime offers solutions to suit you.
So you can get back to doing the things that really matter and require your attention. 
Sign-up now for Veeqo, a free shipping and inventory management software owned by Amazon, that provides A to Z protections and up to 5% back from shipping labels purchased through Veeqo.