Ecommerce
The Ultimate Guide to Migrating from Magento to Shopify Plus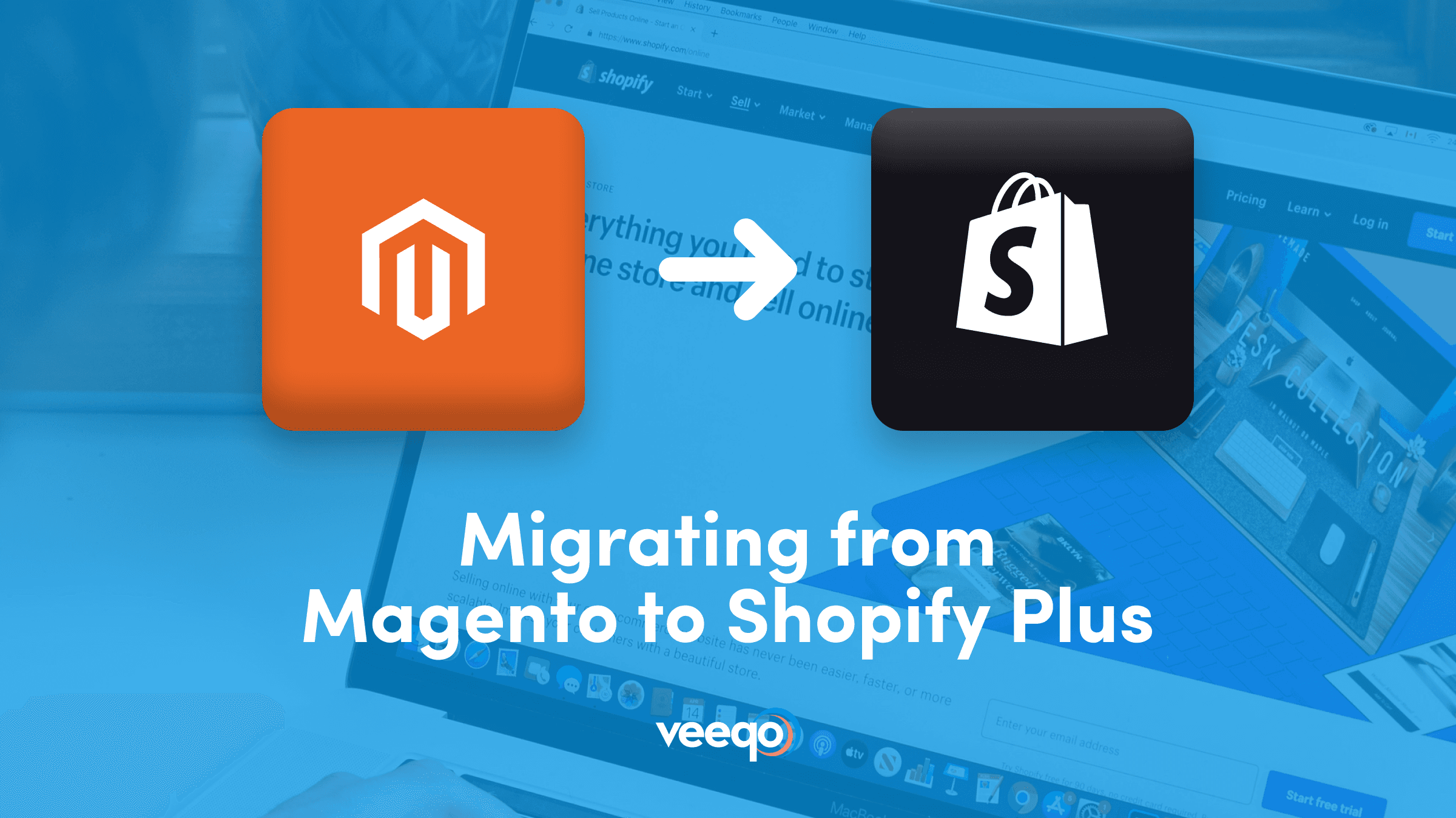 Over the past few years, you may have noticed a vast increase in the number of ecommerce brands making the move from Magento to Shopify Plus.
This is unsurprising because Shopify Plus offers features brands feel they can't miss out on.
Here, we deep dive into why Shopify Plus is the preferred platform and what a migration from Magento to Shopify looks like.
We'll cover why you should move to Shopify Plus, and then take you through what a full migration looks like.
Key Takeaways
Why should I migrate to Shopify Plus
How do I migrate from Magento to Shopify Plus? Step-by-step in 9 easy steps
Using a migration service
Your Shopify Plus partner agency
Migrating from Magento to Shopify Plus doesn't have to be daunting
Why should I migrate to Shopify Plus?
When Shopify Plus launched in 2014, thousands of brands across the globe, including Gymshark, Rebecca Minkoff and our client, Linda Farrow gravitated towards it, moving from Magento in the process.
Here are a few reasons why:
1. Shopify Plus is quick to launch
With Shopify Plus your store can be up and running in less than 3 months!
For a brand looking for a platform to migrate to quickly and with minimal disruptions, as ecommerce retailers normally are, Shopify Plus is a great option. 
2. Unquestionable security
Shopify Plus is certified Level 1 PCI DSS compliant.
This compliance extends by default to all stores powered by Shopify.
From annual on-site assessments validating compliance to continuous risk management, Shopify Plus keeps brands' and their customers' data protected.
3. Lightning-fast speed
Shopify Plus' cloud-based infrastructure means its storefront loads 2.97 times faster than any other platforms on the market.
Plus has an amazingly fast page response of 80 milliseconds and can handle 500,000 hits a minute, meaning merchants never have to worry about site speed affecting their bottom line again. 
4. Scalability
Shopify Plus is built with merchants' success in mind.
Offering 99.9% uptime and unlimited bandwidth, the platform can handle whatever you throw at it.
So, no matter how quickly you're scaling or how complex your operations are, there's plenty of room to grow with Shopify Plus. 
5. Deep app ecosystem
Shopify Plus boasts of a world-class app ecosystem. From email marketing and reviews to shipping and inventory management, merchants have unlimited access to the broadest range of third-party technology providers. 
6. Flexible design and functionality
Shopify Plus is totally customisable. Merchants can design and build a store that perfectly represents their brand and business needs. 
7. Ease of use
Shopify is built to be easy for ecommerce retailers to use.
There is no need for you to organise server hosting, find a front-end CMS end and hire the world's best developer just to add a new product to a Shopify store.
Shopify is so easy to use that, once you are migrated, you will be able to pick it up straightaway.
8. Automation made simple
Shopify Plus comes with several in-built features which eliminate time-consuming, repetitive tasks in just a few clicks. For example: 
Shopify Flow
This is an automation engine that allows you to automate tasks and processes easily, including re-ordering stock and tagging customers based on their preferences.
Shopify Launchpad
From product launches to discounts, Shopify's Launchpad makes scheduling campaigns simple.
In particular, brands find this tool useful during big sale events such as Black Friday and Cyber Monday.
Shopify Scripts
This allows brands to create personalised shopping experiences for their customers.
For example, with Scripts, you can offer bespoke discounts and bundles, and tiered discounts based on customer spend or product quantity in cart.
9. 24/7 hour support
From day one of launching on Shopify Plus store, merchants receive 24/7 support via phone, email and live chat. 
Further reading - Shopify Plus Demystified: A Complete Guide to Pricing & Features
How do I migrate from Magento to Shopify Plus? Step-by-step in 9 easy steps
If you're considering migrating from Magento to Shopify Plus, you're making a smart choice.
Shopify Plus is a powerful and flexible e-commerce platform that offers many benefits, including better scalability, faster loading times, and more robust features.
But while it's clear that there are a lot of benefits when it comes to Shopify Plus, the process of a migration can seem quite daunting, particularly when you're a big brand with even bigger ambitions.
Here's our step-by-step process on how to migrate from Magento to Shopify Plus:
Step 1: Export your Magento data
Before you create an account and begin migrating to Shopify Plus, you will need to export all of your Magento data.
This includes your product data, customer data, and order data.
To do this, log in to your Magento admin panel and go to System > Data Transfer > Export.
Choose the entities you want to export and save the files to your computer.
Step 2: Create your Shopify Plus store
To create your new Shopify Plus store, go to the Shopify Plus website and sign up for a new account.
Once you have created your account, you can begin setting up your store.
Choose a theme, add your logo and branding, and set up your payment and shipping options.
Step 3: Import your Magento data into Shopify Plus
Once you have set up your Shopify Plus store, you can begin importing your Magento data.
Shopify Plus provides a migration tool that allows you to import your product data, customer data, and order data directly from Magento.
Simply log in to your Shopify Plus admin panel and go to Apps > Import Store.
Follow the prompts to upload your Magento data files and begin the import process.
Step 4: Set up your collections and products
After importing your data, you can begin setting up your collections and products in Shopify Plus.
Create your collections and add your products to them, making sure to include all relevant information such as pricing, images, and descriptions.
You can also set up product variants, such as different sizes and colors.
Step 5: Set up your payment and shipping options
Once you have set up your collections and products, you can set up your payment and shipping options in Shopify Plus.
Choose the payment and shipping methods that are best suited for your business, and make sure to test them thoroughly before going live.
Step 6: Review your new site
Review the store to ensure all product descriptions, images, and pricing are correct.
Make sure all customer data is properly migrated, including order history and customer profiles.
Step 7: Test your new Shopify Plus site
Before going live, it's essential to test the migrated store to ensure everything is working correctly.
Test the store thoroughly, including order placement, checkout, and payment processing.
You should also ensure that all of your customers are aware of the migration process and any changes to your website.
An email to your customers is enough, just to let them know what's going on and that they might see some changes.
Step 8: Launch your new Shopify Plus store
After completing all of the above steps, you are ready to launch your new Shopify Plus store.
Step 9: Take advantage of Shopify Plus features
Take advantage of Shopify Plus features like abandoned cart recovery, upsells, and cross-sells to maximize sales.
Shopify Plus also offers a range of integrations with third-party apps to help you customize your store further.
Using a migration service like Velstar
If the above process feels too daunting to handle, you can work with a certified Shopify Plus partner agency like Velstar to manage the entire process for you instead.
Here's a summary of Velstar's migration process from Magento to Shopify Plus:
Stage 1: Data review and planning 
During the initial stage of a migration, our team of Shopify Plus experts learn more about your brand and identify the strengths and weaknesses of your site.
At Velstar, we use tools like Google Analytics and heat mapping to better understand how your customers are interacting with your store and how well your current Magento site is performing. 
Step 2: Consultation 
Once we understand your business goals and objectives, we then scope the migration process.
We identify areas of the store that are working well and those areas that aren't, as well as opportunities for improved features and functionalities to drive further growth. 
Step 3: Design
After a plan for the migration is in place, it's time to start the re-design process.
Our UX and UI designers will work with you to create a fresh new storefront that will give your customers an exceptional shopping experience and guarantee results. 
Step 4: Development
We then create a roadmap and use this to build and code a brand new Shopify Plus store,  whilst seamlessly and securely transferring all your data from your original Magento store.
Step 5: Migration 
Data migration
Using the very best re-platforming tools, we'll transfer all your data to your new Shopify Plus store.
This includes everything from orders and products to reviews and customer loyalty points. 
SEO migration 
We understand SEO is often one of merchants' biggest concerns when it comes to migration.
However, with Velstar's team of Shopify Plus experts managing your migration, you don't need to worry.
From the get-go, we'll put together a checklist to follow, including monitoring duplicate content, tracking 404 errors, testing site speed, and installing page redirects to minimise the changes to your SEO performance.
Throughout the transition process, we work with you to maintain your store's search rankings. 
Step 6: Test and launch 
Both before and after your site launch, Velstar will review and test every part of your store's performance – with no stone left unturned.
This is because we pride ourselves on providing our clients with world-class websites and want to ensure that every Shopify Plus store we design and build is one that customers love using and drives sales. 
Your Shopify Plus partner agency
Every day, brands are making the decision to migrate to Shopify, and it's easy to see why.
Shopify Plus comes with a heap of benefits and the migration process is simple (when you know how). At Velstar, we've helped hundreds of brands do it successfully.
So, if you think Shopify Plus is the platform for you, get in touch with Velstar's re-platforming experts today!
Integrating Shopify Plus with Veeqo
Once you have successfully migrated your store from Magento to Shopify Plus, you may want to consider integrating your store with an inventory management solution like Veeqo.
A Shopify Plus Partner, Veeqo is a shipping and inventory management software that helps online retailers manage their inventory, orders, and shipping across multiple sales channels.
Integrating your Shopify Plus store with Veeqo will help you keep track of your inventory levels, ensure accurate order fulfillment, and improve your overall efficiency.
You can manage your inventory in real-time, automate your order management, and easily ship orders to your customers.
To integrate your Shopify Plus store with Veeqo, follow these steps:
Sign up for a free Veeqo account and connect your Shopify Plus store. Veeqo is free for everyone, no matter how large your business and how many orders you ship.
Once connected, Veeqo will automatically import all of your products, orders, and customers from your Shopify Plus store.
Next, set up your inventory levels in Veeqo using the inventory management feature. You can set up inventory levels for each product or variant, and Veeqo will automatically update your Shopify Plus store when an item is sold or restocked.
Now, you can manage your orders in Veeqo. When a customer places an order on your Shopify Plus store, it will be automatically imported into Veeqo. From there, you can manage the order, print shipping labels, and send tracking information to your customers.
Finally, you can use Veeqo to manage your shipping. Veeqo integrates with major shipping carriers like FedEx, UPS, and USPS, and offers discounted shipping rates on some carriers, allowing you to easily ship your orders and provide your customers with accurate shipping information.
By integrating your Shopify Plus store with Veeqo, you can streamline your operations, improve your efficiency, and provide your customers with a better shopping experience.
Migrating from Magento to Shopify Plus doesn't have to be daunting
Migrating from Magento to Shopify Plus can seem daunting, but with the right planning and execution, it's a straightforward process.
Follow the steps outlined above, and you'll be able to migrate your store with ease. But if you still don't feel comfortable migrating yourself, speak to Velstar about their Magento to Spotify Plus migration service.
Remember to take the time to plan, prepare, and test thoroughly to ensure a smooth migration.
With the added benefits of Shopify Plus, such as a robust ecosystem of apps and support, you'll be well on your way to growing your business and maximizing sales.
Sign up to Veeqo for free to get access to the powerful features that will help your Shopify store grow.