Shipping
Comparing Veeqo vs Brightpearl: Which Software is Best For You
Written by Rachael Pilcher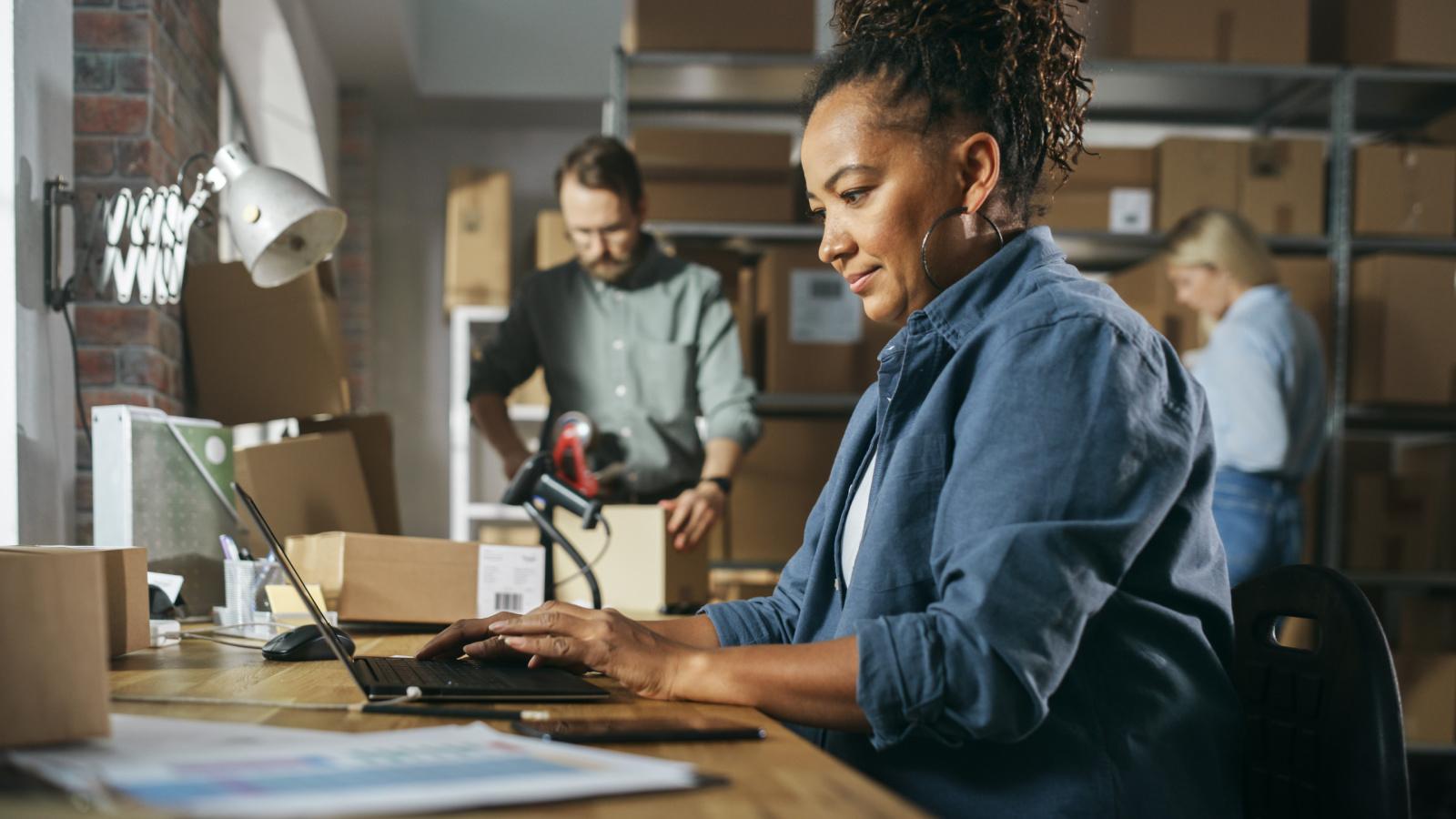 If you're looking for a powerful ecommerce management solution, Veeqo and Brightpearl are both prominent cloud-based software tools that can help startups and scaling businesses streamline their order processes and automate all of those annoying, time-consuming, and repetitive tasks.
Both have slightly different features and functionalities, so it's important that you understand all the strengths and benefits that each one offers. 
You'll need to decide whether you're looking more for a comprehensive shipping management tool that can manage your inventory in real time, automate tasks and workflows, and keep shipping costs down — or whether you're leaning more towards a tool that can keep your customer and warehouse management under control.
In this article, we'll be comparing the differences between Veeqo vs Brightpearl, and the pros and cons to think about before you make a purchasing decision.
Table of Contents
Brightpearl overview

Pros and cons of Brightpearl

Veeqo overview

Pros and cons of Veeqo
BrightPearl overview
Brightpearl is a cloud-based solution that's designed to help ecommerce and B2B businesses cut down the daily time they spend on low-profit admin tasks, so they can focus on higher-growth areas of their ecommerce stores. 
Recently acquired by Sage, Brightpearl positions itself as "not a traditional ERP, a standalone OMS, WMS or inventory system" but a Retail Operating System that offers retail businesses the ability to easily automate everything from order fulfillment, to multi-location inventory control, to shipping management. 
You can also forecast and plan your inventory, and take advantage of the built-in CRM that lets you track, tag, email, and update customers whenever you need to.
Key features of Brightpearl
Automation Engine

Inventory planning

Inventory and order management

CRM

Analytics

POS system

Integrations

API
How much does Brightpearl cost?
On the Brightpearl website, it states they have simple and transparent pricing. But, somewhat ironically, they don't actually mention what this pricing looks like.
If you're interested in exploring whether it's the right software solution for you, you'll need to either book a demo or request a quote to find out how much implementing Brightpearl will cost for your specific business needs.
Pros and cons of Brightpearl
Pros of Brightpearl
Automation: Brightpearl's Automation Engine makes it simple for users to automate a ton of different daily processes, which can help you take back hours of your time each week. You can set up workflows to automate everything from returns, cloning orders, issuing refunds, processing and shipping orders, and more.

Reporting and analytics: View all your sales, customer and marketing data in a simple and intuitive format. You can see all your key metrics in one place, including stock availability, ROAS, and customer LTV.

POS: The fully integrated POS system lets you sync your online and offline sales channels in real time, which can help improve the customer experience. When items are showing as out of stock either in-store or online, you can quickly check availability in the Brightpearl POS and choose to either fulfill the order from another location which has stock, or mark unavailable items as backorders to prevent you from losing sales.

Simplifies your accounting: Brightpearl integrates with many popular accounting solutions such as Sage Intacct, Xero, and Quickbooks.

CRM: Automatically create profiles for all of your customers, with contact details, order history, and business touchpoints, so you can create more personalized customer experiences.
Customers mention that they love using Brightpearl because:
"The Inventory Planner is a great tool for integrating various marketplaces such as Amazon and Walmart"
"From the time an order is placed, through fulfillment and automation, we don't have a single touch point that requires manual intervention"
"Having very accurate stock levels, as well as much more efficient ordering, leads to being able to offer a better customer service experience and helps boost turnover"
Cons of Brightpearl
While customer reviews are mostly favorable for Brightpearl, many users feel that the software is complicated to set up and manage, that the CRM feature is too basic for their needs, and that there are ongoing bugs and performance issues.
Customers also mention things like:
"Almost every integration we set up we had to have custom developed. We're used to the Shopify integration model at this point and prefer tech platforms with 1-2 click bespoke integrations that you can then customize to match your business"
"Brightpearl are not the cheapest to work with, but they are still good value for money"
"There is a bit of a learning curve to Brightpearl as there are many different functions. In some instances one function (such as updating inventory) may have multiple ways it can be updated"
Veeqo overview
Veeqo is a cloud-based ecommerce shipping software solution that is similar to Brightpearl.
It offers smart automations, powerful warehouse and inventory management features, reporting, forecasting and analytics, plus exclusive perks for ecommerce sellers due to it being owned by Amazon.
As a Veeqo customer, you can also access the lowest commercially available rates, based on our pre-negotiated pricing from UPS, USPS, FedEx, and DHL and up to 5% back with Veeqo Credits.
Key features of Veeqo
Discounted shipping rates

5% back in Veeqo Credits

Amazon A to Z Protections

Integrations

Automation tools

Real time inventory and warehouse management

Multi-channel shipping and order management

Veeqo scanner

Forecasting, analytics, and reporting tools

API
How much does Veeqo cost?
One of the best features of Veeqo is that it's completely free to use.
So if your business is in the early stages of growth, or if you're planning to scale, you won't need to worry about ongoing - and increasing - monthly software costs that can eat into your budget and bottom line.
You can also take advantage of our shipping reward program, Veeqo Credits, which can help your business save even more money on shipping costs. 
Pros and cons of Veeqo
Pros of Veeqo
Cost: One of the biggest advantages of Veeqo vs Brightpearl is that Veeqo is completely free to use for unlimited users, with no hidden costs.

Automations: Veeqo has a ton of powerful automations available for you to customize workflows, update and track inventory across channels in real time, validate shipping addresses, automate your warehouse management processes, and more.

Integrations: Veeqo integrates with the world's most popular retail applications, including ecommerce apps, marketplaces, shipping carriers, 3PL, POS systems, and more.

Pick and pack faster: The Veeqo scanner is fully integrated with our suite of shipping software, and inventory and warehouse management tools. It's designed to improve and speed up your shipping process by helping you scan and pack faster and more accurately.

Inventory and warehouse management: Stay in control of your inventory management with powerful analytics and forecasting tools, stock tracking, and real-time updating of your inventory — wherever it happens to be.

Part of the Amazon family: As an Amazon company, using Veeqo means you can sync orders from Amazon, your own website, and other channels, and then ship with Amazon Shipping for fast and reliable delivery.  It also integrates with FBA and MCF, provides you with A to Z Protections, and lets you manage all of your orders in one place.

Shopify Plus partner: Veeqo has passed the rigorous screening protocols needed to become a Shopify Plus certified app. This means we've got the track record of delivering expert solutions that meet the unique needs of global brands and high-volume sellers.

Excellent customer support: Support is essential when you're a busy ecommerce seller. Our tech and customer support teams are both knowledgeable, friendly, and dedicated to solving any problems you have as soon as they come along.
Customers also comment that Veeqo:
"Is really easy to use, simple, and has a good support team that assist when help is required"
"Has massively streamlined the order dispatch process and allowed us to focus on our core business"
"The app makes it extremely mobile and gives you the ability to check on stock levels and performances while on the move. We have trained 3 new staff on the system and it was so easy for us to do this, and also for them to learn"
Cons of Veeqo
Is this a trick question? We might be a little biased of course, but there aren't any real downsides to using Veeqo. And the minor downsides we do have (such as the lack of a listings tool - we've heard you all loud and clear at Accelerate!), we're working really hard to prioritize and fix in 2024.
You can quickly set up a free account to see if it's the right tool for your business shipping needs, and if you love it you can continue to use all of our enterprise-level features for free, no matter how fast your business grows, or how big your shipping volume gets.
Further reading
When it comes down to Veeqo vs Brightpearl - which one is right for your business?
Brightpearl positions itself as a retail operating system, while Veeqo is a shipping and inventory management system. So you'll need to think carefully about what it is you're hiring this software to help you with.
If you're looking for a smart way to keep your inventory under control and market to customers, then Brightpearl is a great solution.
But if your business needs to seriously streamline its end-to-end inventory and warehouse processes, and quickly pick, pack, and send orders at the lowest possible shipping rates, then Veeqo is what you've been looking for.
And if you want the best of both worlds? You can integrate Brightpearl with Veeqo to further streamline your order fulfillment process, optimize inventory, and automate workflows, helping your business to grow faster while keeping costs down.
Create your free Veeqo account today and discover how simple shipping and inventory management can be.