Marketplaces
Amazon Prime Day 2017 - The Good, The Bad, The Ugly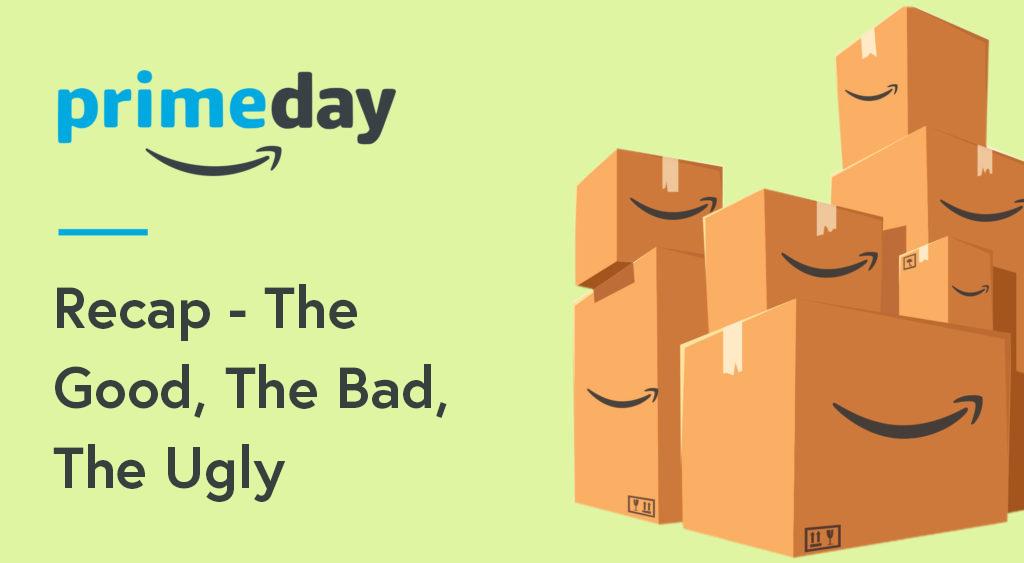 Amazon Prime Day proved a hit with­­­ customers and a goldmine for small businesses. When Amazon first announced it was having its own sales day to rival Black Friday, their customers were hardly overwhelmed. Two years on, though, and it was a very different story. Sales were up, customers excited and Prime membership soared. For small- to medium-sized businesses it also turned out to be a day to remember. This post recaps Amazon's third Prime Day and looks at the good, the bad and the ugly.
A record day
In sales terms, Prime Day 2017 broke records and surpassed last year's Black Friday and Cyber Monday to become the biggest day ever in Amazon's history. It had an advantage being 30 hours, rather than just 24 hours, long. But it surpassed the same 30-hour period from last year by 60% with entrepreneurs and small businesses seeing an even larger gain. More people joined Amazon Prime on July 11 in preparation for the event than any other day in its history. [vc_video link="https://www.youtube.com/watch?v=EytXgsxtRTU"]Amazon's own line of devices such as the Fire, Echo and Kindle all had record sales, especially the Echo Dot which sold more devices of any manufacturer on Amazon ever. Amazon's all new Element 55-inch 4K Smart TV secured the best-selling TV deal in Amazon's history. Here in the UK the favourite item, excluding Amazon devices, was the TP-Link Wi-Fi Smart Plug. A remotely controlled plug which can be used to schedule electronics to come on and off throughout the day. As it ended its third year, the day is also firmly established as a global – rather than just a US – phenomenon. Shoppers made a record number of purchases across 13 countries.
People are latching onto the idea
Amazon's first Prime Day was met with something of a muted response back in 2015, with customers notably sceptical about the concept. However, early signs are that people are coming around.As it gets bigger and more popular, Prime Day starts to surface on the radar of not just retailers or online savvy shoppers:However, not everyone is impressed with Amazon Prime Day...And of course Prime Day puts Amazon, and how they conduct their business, in the spotlight.Generally, however, people seem to be feeling much more positive and excited about Prime Day than when it first started. Many will have been planning and looking forward to the day for a while, ready to snatch up those bargains. And they are happy to shout about it on social media. 
The rise of voice controlled devices
The biggest selling item also indicated a shift in the way people – particularly Americans – are shopping. Amazon's voice activated device which uses Artificial Intelligence, took the crown as the biggest selling item on Prime Day. [vc_video link="https://player.vimeo.com/video/221486426"]It hints at a significant shift in the way people will be buying with more and more people using voice to carry out tasks and to shop. Walker Sands 2017 Future of Retail Survey found that 19% of shoppers in the USA have made a purchase using a voice controlled device in the past year.A quarter of all shoppers said that they already owned a voice control device of some kind while 20% said they planned to make a purchase over the coming year.Currently they are more likely to use a device for non-shopping tasks such as selecting music. But this appears to be changing, with the number of people making purchases with a voice device also on the rise.
Boom time for medium-sized businesses
In the run up to Prime Day, Amazon was keen to promote just how big the day was becoming for entrepreneurs and small- to medium-sized businesses. "We're absolutely thrilled – our daily sales increased by over 500 times on Prime Day. Within the first six hours," said Victor Chang of Furbo Dog. "Furbo Dog Camera shot up to the No.1 Best Seller in four categories including the highly competitive pet supplies and home monitor category." In our preview to the event, we mentioned Caron Proschan of Simply Gum who seemed geared up and she wasn't disappoint. "Prime Day was a huge success for us. We had a massive lift in sales last night compared to an average Monday night, and our deal sold out almost as soon as it went live. The level of demand far surpassed our expectations," she said. Sales figures for Simply Gum made headlines with CNBC reporting that they had seen sales rise by 1,371% on Prime Day with a few hours still left to run. They illustrated some of the ways a small business can prepare for an event such as Prime Day. Before the event they promoted it heavily on Instagram and partnered with Amazon themselves on video and in press releases to maximise their impact. They made it a big discount with 20% off six packs of assorted gums and kept the deals running for the remaining week of Amazon Prime. They made good use of the Lightning deals and ran out of stock within the first six hours.
Food for thought
So, what can we take away from an extremely busy Amazon Prime Day 2017? 1. We're suckers for a bargain. Not only will we buy a product if it's on sale, but we'll also demonstrate quite astonishing levels of excitement, sharing the spoils of our shopping as soon as we get them. 2. Businesses can harness their customers. Throughout the day people responded well to encouragement to promote the latest deals. The power of social media is increasingly turning us all into eager brand advocates. 3. Buyers are changing. We're changing the way we shop and it's happening quickly. Not only are we more open to shopping online, but we're also adapting to the latest technology such as voice activation and artificial intelligence. Devices such as Echo are a double win for Amazon – not only do they sell a device, but it's opening up a new way for people to buy from them. 4. Big business for small business. It's not just the big brands who did well. In the run up to the event Amazon worked hard to target small- to medium-sized enterprises. And it worked; they experienced bumper sales, especially those who prepared well. Have a look at our tips on preparing for Prime Day to see how you can get your business ready for next year. Prime Day Mark 3, then, appears to have been a success. Along with Black Friday and Cyber Monday we have another big day in ecommerce to look forward to. And just like Christmas, the countdown to the next one begins just after the one before ends. Businesses that plan well can use it to dramatically increase their sales. Did you take part this Prime Day? Whether you were buying or selling - we'd love to hear your thoughts in the comments below!