A Guide to Order Management Systems
Learn how an order management system could supercharge your ecommerce business.
What is order management?
Order management is all about keeping track of and organising sales orders coming into a business, usually from a variety of different online and offline channels. In ecommerce, it will usually include the processes needed to deliver an order to the end customer and handle any resulting returns.
A typical order management process would involve:
Capturing order data

Processing payment

Receiving order details in warehouse

Entering order into a picking queue

Actually picking items from shelves

Packing items together

Shipping out to the customer

Handling any returns
It's possible to handle all this manually through a series of spreadsheets. But most retailers would utilise some form of order management system (OMS).
Learn more about Veeqo's order management system software.
What is an order management system?
An order management system (OMS) is a tool or piece of software that consolidates and organises all the sales orders of a business into one place. It will usually track sales, inventory fulfilment and returns across multiple online and offline channels.
All this allows for easy viewing, editing and managing of the order process from start to finish.
What is an order management system in retail?
Almost all businesses need to manage sales orders at some level. But an order management system is particularly useful in retail - where a company may be dealing with large amounts of orders each month coming in from a variety of different stores, websites and marketplaces.
For example, a retailer may sell via a Magento website as well as on Amazon and eBay. Rather than logging into each individual channel to manage and fulfil orders, an order management system would bring them all into one platform.
Choosing an order management system
Different order management systems will have their own advantages and disadvantages. Some good fundamental aspects to look out for though are:
Integrations. The system should directly connect with and bring in orders from all the channels you sell on.

Order type. Can handle all the different types of orders you need. E.g. sales, wholesale and purchase orders.

Order organisation. Has easy-to-use tools like fast search, filtered views, customisable tags and internal notes.

Order history. Allows you to see every interaction your team has had with each order - like exactly when payment was taken or who picked it and when.

Automation. Removes the majority of manual processes with automated order rules and digital systems.

Cloud-based. Runs on the cloud and doesn't require you to install complicated software on local computers and devices.

Inventory. Syncs inventory across your sales channels in real-time, and forecasts accurately to prevent stock-outs.

Warehouse. Routes orders to most appropriate warehouses, and provides digital solutions to streamline your picking and packing process.

Shipping. Directly integrates with your relevant shipping carriers to fulfil orders without needing further software.

Returns. Can manage any customer returns from start to finish - booking the stock back into inventory and updating order records.
Why is Order Management Important?
Order management is important because it's the fundamental process of delivering on what customers have paid you for. When done right, it's the key integrator that brings all channels into one unified brand experience.
Without order management, orders can:
Easily get missed;

be incorrect or inaccurate;

take longer to ship than originally promised;

or simply go unfulfilled entirely.
This creates a huge void in customer experience levels. And leaves your business highly susceptible to new or existing competitors providing a better experience.
Conversely, reliable order management allows companies to benefit from selling on multiple channels. Meaning a business can increase its selling potential, while maintaining the same, high quality overall experience across the board.
To achieve this cohesive order experience, retail businesses are increasingly turning to automated order management systems.
What is the Process of Order Management?
The process of order management starts from the moment a sale is made, and continues right through to delivery and any possible returns. This order involves several steps:
Order is placed.

Process payment.

Item(s) get picked.

Item(s) get packed.

Order is shipped.

Handling of any returns.
1) Order placed
This involves actually taking the order details from your customer.
In ecommerce, this would typically mean someone completing checkout on your website or marketplace store. But could also involve completing an in-store transaction, or receiving some kind of order form sent via mail.
2) Process payment
Payment is a key part of any order process. This is usually done as part of the checkout for online orders and completed immediately via card processor or a tool like PayPal.
However, it's important to note that some payments take time to fully process. And you should not move onto the next stage of the order management process until this is complete.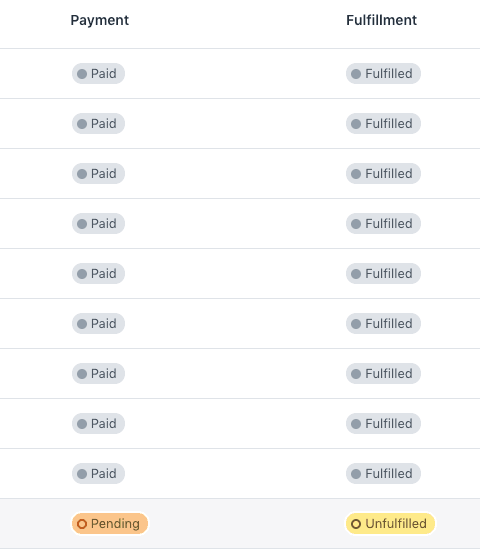 Retailers with physical stores will obviously have the option of taking cash payments.
While wholesale or B2B sellers may choose to operate on an invoice model. This is where a buyer is quoted for a bulk buying order, then sent an invoice via post or email to be paid by a specific deadline date.
3) Item(s) get picked
Once payment is successfully taken, the warehouse team can start the fulfilment process by picking the items.
There are four main methods when picking manually:
Single order

. This is simply where each order is picked and brought back to the packing station one at a time.

Batch picking

. A picker gets assigned a certain number of orders to pick in one go before returning them all to the packing desk.

Zone picking

. Each picker gets their own 'zone' in the warehouse with items being added to an order as it gets passed through each zone.

Wave picking

. All zones are picked at the same time and brought to a centralised desk to be consolidated and packed.
But many retailers are now opting to automate this with digital picking. This uses a barcode scanner to pick more orders, in less time and with greater accuracy.
4) Item(s) get packed
Once picked, orders will be brought to a central desk ready for packing together.
This is an opportunity to make completely sure that you're sending the right products to the right customers and in the most efficient way.
Here are some things to consider:
Verify order accuracy

. Verifying each item is going in with the correct order as it's being packed is a great fail safe check.

Box size

. Shipping companies now tend to incorporate dimensions into their prices – so having 3-5 standard box sizes to choose from helps keep costs down while not being overly confusing.

Use appropriate packaging

. Some packaging material gives more protection yet costs more. Choosing the right kind for the right order is therefore imperative.
5) Order is shipped
Once the items for each order are packed and sealed, the final fulfilment step is to actually ship it out.
This involves:
Printing out the relevant shipping label (and invoice, if not already done).

Marking the order as shipped in relevant sales channel.

Sending out 'shipping confirmation' and 'tracking' emails to the customer.
A quality order management system will allow you to do all this with a few clicks in the same platform.
6) Handle returns
Returns are an inevitable part of the order process. And handling them effectively is necessary for businesses wanting to uphold their customer experience reputation.
Key elements of returns are:
Actually opening up a return request in your system.

Printing off and issuing return labels.

Booking returned items back into warehouse inventory.

Processing any refunds to customers.
This can be a complicated process in itself. But a quality order management system will provide a single view for all your teams to complete their necessary tasks on a return from start to finish.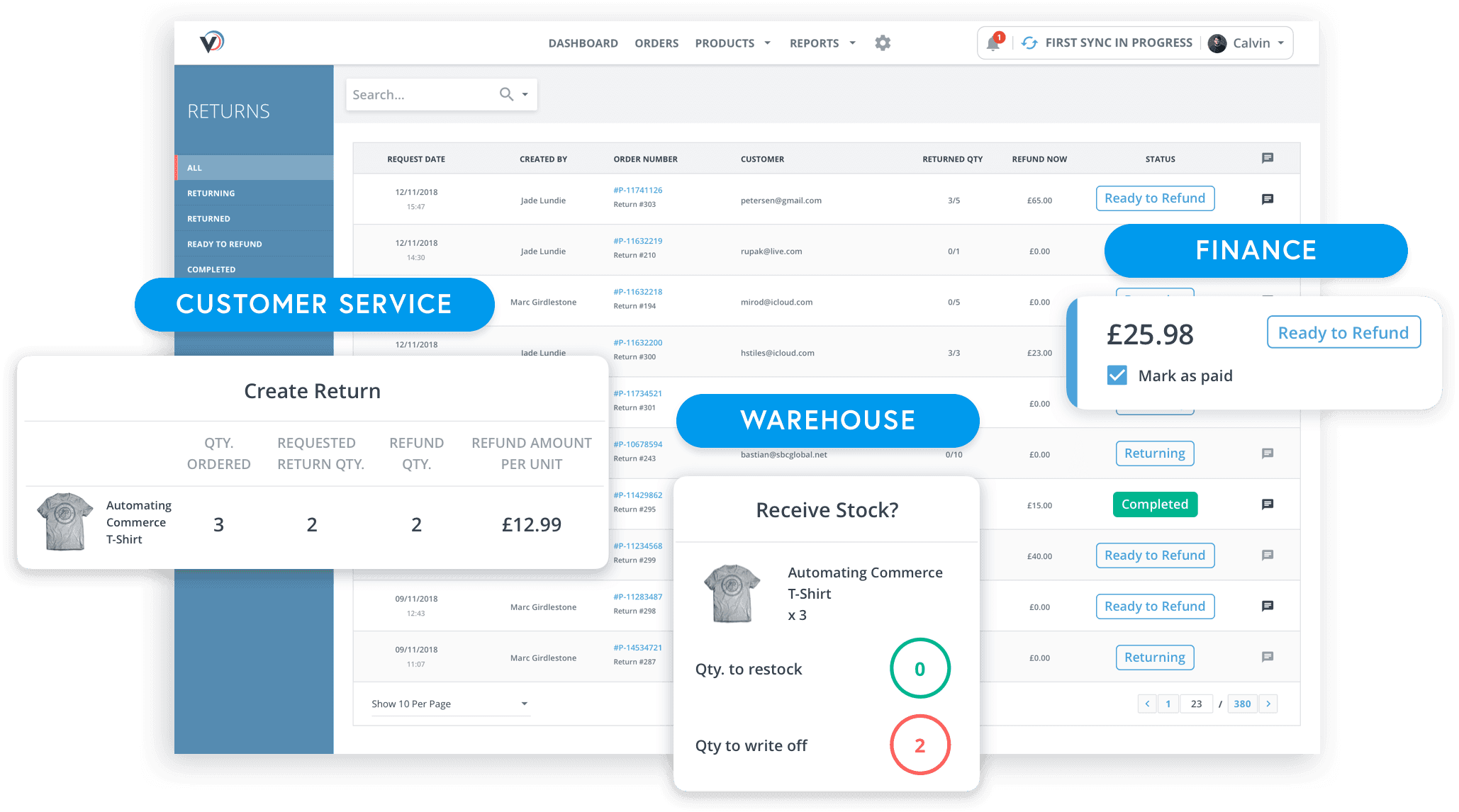 How Does an OMS Work?
An order management system (OMS) works by consolidating orders from all of a company's sales channels into one place. So a business selling on a Magento site, Amazon, eBay and a physical brick-and-mortar store, would be able to view, manage and fulfil all their sales orders from one login screen.
This makes managing the order process much easier. Rather than logging into each individual sales channel or POS system, everything can be managed from start to finish in one place.
An OMS will cover four key pillars:
Orders

. Bringing in sales from every channel to manage in one platform.

Inventory

. Syncing inventory in real-time across every channel, and accurately forecasting to prevent stock-outs.

Fulfilment

. Streamlining picking, packing and warehouse activity, and directly integrating with relevant shipping carriers.

Returns

. Providing one place for your team to complete returns from start to finish and book-in returned stock back to your warehouse inventory.