What is a Packing Slip & Why Is It Important
For a single document, a packing slip has a surprisingly important role to play in ecommerce order management and fulfilment. To both retailers and their customers.
What is a packing slip?
A packing slip is a piece of card or paper that details all the items inside the package it comes with. They are used in fulfillment operations to make sure that the order is accurately fulfilled and the customer receives the items they are expecting. A good packing slip can help reduce customer enquiries and prevent mistakes when packing.
Why is a packing slip important?
Despite being a simple document, a packing slip has some key benefits both for sellers and buyers. Packing slips are important because they:
Ensure the correct items are shipped to the right customer
One of the most frustrating experiences for a customer is to have items missing from their order or not receive the product they purchased. This negative customer experience can make it less likely businesses will get repeat customers. After all, no one likes receiving part or order or wrong the product. The cost of shipping out the missing or correct items eats into the profits. If unchecked these could stunt the company's growth.
There are some great methods around to help improve accuracy when picking. But implementing a technically great picking solution is worthless if the items still get packed incorrectly.  A printed packing slip can be used during the packing process as a basic but effective check to make sure all the correct items have been placed in the package. 
During the packing process the packing slip tends to be used at two stages:
Items placed in the package
Often warehouse pickers will collect items from multiple orders at the same time. During the packing process the products need to be packaged for each customer. The packer will use the list of products to determine which items should be packed together.
Shipping label attached
Prior to sealing the package a shipping label needs to be printed and attached. At this point you should check the shipping address or order number on the shipping label matches what's printed on the packing slip. Without such a check the wrong shipping label could be attached to the parcel, which will likely cause two customers to have a bad shopping experience.
Simplify the returns and refunds process
Returns and refunds are sometimes inevitable in ecommerce. But a packing slip can stop this small headache from becoming a migraine. If an item is damaged when it has been shipped, having a packing slip can help speed up the process of refunding the customer or sending out a new package. 
Similarly, having a packing slip helps the customer quickly identify if a product that should have been in the package is not. While they are unlikely to be happy about the missing item, at least it is now quicker to identify the problem and sort out a refund or to send out the product again. 
For companies that sell fashion items or other products that have a high volume of returns or exchanges, it's even more important to try and reduce the number of queries customers have with the return/exchange process. Having a large customer support team can be costly so having clear return/refund instructions on the packing slip can help reduce the touchpoints that the customer support team need to be involved in.
Help keep track of complex orders
Sometimes the items in an order will be spread across different warehouses or may need to be split across separate shipments or packages. When this happens, fulfilling the order can become hard to follow for both the seller and the buyer. Packing slips help keep on top of what should be in which shipments. You can learn more about how Veeqo can simplify and optimise your order management operations here.
What information is normally included in a packing slip?
Packing slips can come in all shapes, sizes and styles and tend to reflect the branding of the company that the customer purchased from. Because there is no universal standard for retail packing slips, the information can vary.  However, normally the following information is included.
Itemised list of the shipped items & out of stock items
The key element of a packing slip is simply to say what's in the package in a clear way. This is a simple way to help the packer ensure accuracy before they ship the package and to help your customer quickly ascertain that their order was properly taken.
While a customer should already have been told that one of the items they have ordered was out of stock, it's also good practice to include this on the packing slip. 
Quantity of each product
If shipping more than one product, this should be detailed. So if someone has ordered two tables it should be recorded on the packing slip. It may also include a list of any goods to be shipped separately from the same order.
Other important info
While packing slips do differ from company to company, it's standard to have information like shipping address, company name, purchaser name and address,  order date, and relevant contact information on the packing slip. 
Packing slips and automation
With an ecommerce fulfilment software such as Veeqo, you can set up the printing of a packing slip automatically. This seems simple, yet when you combine it with automations that select which carrier you use based on rules you set it becomes an effective way of making sure your orders are fulfilled accurately. This is because it essentially takes out opportunity for human error to creep in to your warehouse operations. Meaning that you can decide how every parcel is shipped once, and Veeqo does the rest.
Packing slips with integrated shipping labels
Veeqo lets you print off a packing slip with an integrated shipping label. This is an Letter/A4 Document that lists the items to be shipped out and has a separate shipping label on the stick part of the Letter/A4 page. Meaning that you only need to print out one shipping document per order. Learn more about Veeqo's advanced shipping features.
How personalisation can make your packing slips standout
One of the best ways to ensure your packing slip is better than your competition is by customising the slip with a memorable, eye-catching design that speaks to the vision of your brand. This is a good way to demonstrate to customers the effort you put into every detail of your business. There are many free websites that you can use to assist you with this, most notably: www.printful.com.
Alternatively, Veeqo provides you with the flexibility to create and edit your packing slip templates.
Alternatives to printed packing slips
It is becoming more popular for companies to reduce their paper usage and more and more are turning to paperless picking and packing solutions. With Scan to Pack, the packer scans the product barcodes with a USB scanner as they pack the items. The packer is alerted whenever an incorrect item is scanned or an item is missing. When the order is shipped a dispatch confirmation email is sent to the customer, which lists the items that are on their way along with the tracking information. Veeqo has its own barcode scanner its merchants can use.
Barcode scanning is a far more effective way of preventing packing errors when compared to paper picking lists. 
Frequently asked questions about packing slips
What is the difference between a packing slip and an invoice?
Invoices and packing slips do share a similarity as both are sent to buyers from sellers; however, they serve completely different purposes.
Following a sale, an invoice is created by the seller; this is a non-negotiable document that contains important information regarding the sale; it includes unit costs, the date of shipment, expected delivery dates, discounts, and methods of payment. Sometimes, a seller may choose to include further information such as the methods of transportation or additional details about the shipping. An invoice should be sent to the individual responsible for the payment of the goods or service such as the customer or accounting firm, for example.
On the other hand, a packing slip is not used to list the prices of all the products within the package. Instead, it contains helpful information for the buyer to help explain what the parcel should contain. All businesses must use invoices to reiterate the total price to the customer whereas a packing slip is only needed if the products must be shipped to be received by the buyer.
Another difference between a packing slip and an invoice is that it is important to keep an invoice after receiving the goods, especially if you would like to keep track of your finances for your records. However, for a packing slip, once you have ensured that you have received every item that is listed on the document, this can then be set aside or thrown away.
Below is an example of how a typical packing slip should appear in a parcel, and the detail it includes: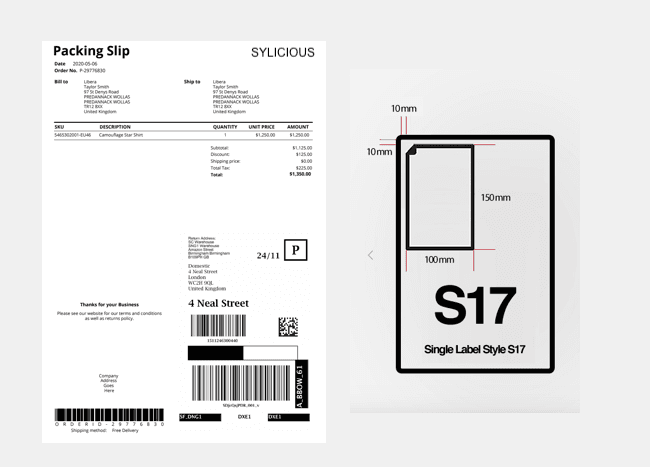 What is the Difference Between a Packing Slip and a Bill of Lading?
A bill of lading is a legally binding document that represents a contract between all the parties involved in the sale: the customer, the shipper, and the carrier. It is provided by a carrier to a shipper and includes information regarding the quantity, the destination that the products originated from, as well as the intended location of the package.
A bill of lading operates as a shipment receipt that must be placed with all shipped products and signed by a verified official from all three parties. It exists as a portrayal of the terms and conditions that are involved in the transportation of items, whilst also transferring ownership of the items from the sellers to the purchasers.
What information does a bill of lading contain?
A bill of lading includes the necessary details needed to process a shipment such as a shipment date, quantity of the items, weight, the names and addresses of the consignor and consignee, and the freight classification.
The differences between the use of a packing slip and a bill of lading are quite simple. A bill of lading acts as an endorsement that the dispatch has been delivered whereas a packing slip helps identify the different items that are included in the shipment.
What Is the Difference Between a Packing Slip, Picking List and a Shipping Label?
A packing slip contains information for a single customer's order, whereas a picking list contains multiple customers orders on a single document. The items of a picking list tend to be sorted in a way that is efficient for a picker to navigate around the warehouse. Using a packing slip for picking is not as efficient as a picking list as the picker would likely visit the same warehouse shelves multiple times as they pick each order in turn.
A shipping label allows the parcel to smoothly transition through the supply network as it contains important information regarding the transport of your order, including: the address it originated from, address of destination, the tracking barcode, and its shipping class.