Shipping
How Do You Package Items for Shipping?
Written by Aisling Miller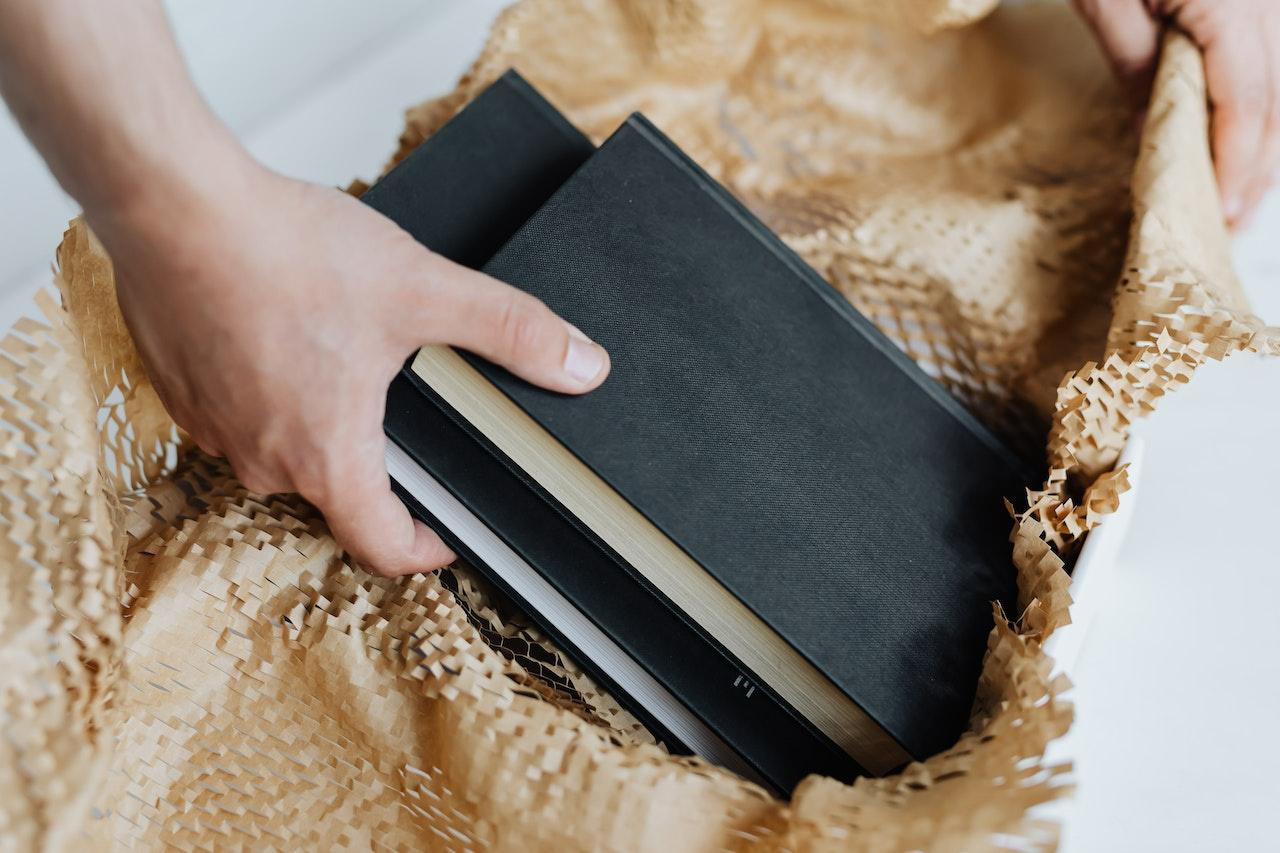 Shipping packages sounds simple on paper. Put your product in a box, send it on its way, and you're good to go.
Easy peasy, right? Well, not quite… but we can help. In this guide, we'll talk about why packaging is important, how to do it right, and ways to improve your packaging processes.
Table of contents
Why does packaging matter?

Six packaging best practices (for domestic and international shipments)

How to streamline packaging with Veeqo

Customers also ask

Resources you'll love

Experience the future of packaging and shipping with Veeqo
Why does packaging matter?
Packaging protects shipments in transit, improves customer experience, and prevents goods from being damaged. It's an important area of a shipping management strategy that small-to-medium ecommerce businesses often overlook.
Proper packaging is crucial because humans make mistakes—be it your warehouse staff or someone from your shipping service provider.
For example, long-distance deliveries through international services are vulnerable to plenty of potential mishaps.
One mistake could lead to unexpected delays, damaged products, and additional costs for handling returns and shipping replacements. 
Worst of all, you could lose your customers to your competitors.
Remember, shipments are easy to insure, but your customer's loyalty is tough to regain once you've lost it. 
Product packaging with branded elements also enhances the customer experience. It helps you make a solid first impression on new customers and showcase your attention to detail. 
This turns packaging into a marketing tool that may encourage customers to recommend your ecommerce store. 
The more memorable and unique the unboxing experience, the easier it is to win your customer's advocacy and loyalty. 
Further reading: How to Create SKU Numbers & Use Them Like A Pro
Six packaging best practices (for domestic and international shipments)
Here are six best practices for an effective packaging strategy.  
1. Familiarize yourself with the different packaging types
Learn the different types of shipping boxes to determine which to use before shipping your packages. 
Below are four examples of shipping boxes you should know.  
Corrugated box: a corrugated box is sturdy and stackable – perfect for long-distance, high-volume shipments. Since corrugated boxes are mass-produced, they are affordable and highly accessible for all types of shipping.

Wooden shipping crate: a wooden crate or box provides extra protection to large or high-volume shipments. They're incredibly resistant to transit damage, but they cost more to ship due to their weight. 

Rigid box: a rigid box is made using a solid board wrapped with paper or fabric. Rigid boxes are sturdy and feel premium, but they're expensive. 

Mailer box: mailer boxes are sturdy and small enough to fit into mailboxes. They can also be customized with branding elements, like logos, graphics, and text.   
2. Be flexible with packaging
Before choosing a shipping box, be mindful of the packaging requirements of your products.
There's no one-size-fits-all solution in product packaging. 
Old or recycled boxes may suffice for light and sturdy products, especially for short-distance deliveries.
But if you're shipping large, fragile, or expensive items, consider sturdier (and more expensive) options. 
3. Use void fill 
Cushion your shipment with void fill materials to add extra protection in case it's mishandled. 
The last thing your growing ecommerce business needs is an influx of customer complaints for damaged packages. Avoid this easily – and without spending too much – by adding biodegradable void-fill materials.
Some examples of void fill are:
Bubble wrap

Air pillows

Shredded/crumpled paper

Packing peanuts 

Styrofoam

Foam blocks
Various void-fill materials have their own advantages. 
If you're shipping heavy items, choose rigid void fill like eco-friendly and biodegradable Styrofoam or foam blocks. 
Lightweight materials like bubble wrap, shredded paper, and air pillows provide modest protection and lower shipping costs. Other materials like shredded paper and packing peanuts make it easier for customers to unpack their items. 
4. Inspect the box before shipping
Before sending it off, triple-check the destination address, the package's total weight, and the integrity of your shipping box. 
Also, try shaking the box to determine if you used enough void fill. Add more until the contents of your shipping box don't slide around when shaken. 
5. Find a reliable packaging partner 
Partner with reliable packaging suppliers to get exclusive discounts. 
This also unlocks branding opportunities for your packaging. Remember, customers value memorable and unique unboxing experiences. 
They may even leave the box on display or reuse it when sending their own packages. Either way, it becomes a marketing tool to help you reach more customers. 
6. Automate to save time and reduce shipping costs
Invest in ecommerce shipping software with automation tools to save time in the packaging process. 
Automation workflows let you save a ton of time on repetitive yet essential shipping tasks. This includes ordering shipping labels, sending tracking number emails, and selecting packaging options. 
Further reading: Inventory Reduction Strategies to Clear Excess Stock
How to streamline packaging with Veeqo
Here at Veeqo, we make packaging effortless through the unified order and shipping management dashboard. Quickly check pertinent details such as delivery speeds, order totals, customer information, and more. 
Look for ready-to-ship orders and click the drop-down menu under "Package" to select a carrier-supplied packaging. 
Conduct comprehensive shipping carrier comparisons with our vast network of supported shipping carriers. Our platform integrates with over 21 carriers, including: 
FedEx

UPS

USPS

DHL

Royal Mail
To integrate new carriers and add more packaging options, click 'Shipping carrier integrations' in the upper-right corner. 
Veeqo will show you a list of available carriers in your business's location. 
Select the carrier you want to use and click 'Connect.' 
Supply your shipping carrier account information to complete the integration. 
To save even more time, create an automation workflow that selects the packaging type based on order parameters. 
Go to the settings page and click 'Rules' to get started. Select 'Order' or 'Allocation' from the drop-down menu and click 'New Rule.'
Use the visual automation builder to specify rules for your workflow. 
Set conditions based on the delivery destination's postal code, the number of items, product tags, and more. In the "Carrier Packaging" drop-down menu, select the packaging option you wish to use when these conditions are met. 
Further reading: Benefits of Using Veeqo for USPS Shipping
Customers also ask
Are package boxes free?
Some shipping carriers, like USPS, offer free shipping boxes to businesses in the US. These and other free shipping supplies can be ordered through their online store. 
Can I use my own packaging for USPS? 
Yes, you may use custom packaging with USPS shipping services. The only exception is if you're using flat-rate shipping. 
Can you use any box for shipping? 
Yes, most carriers allow any box in good condition to send shipments. This includes reused boxes from other carriers. 
Further reading: 7 Ways to Reduce your Shipping Costs as an Amazon Seller
More Resources you'll love
Experience the future of packaging and shipping with Veeqo
Whether you use air freight, sea freight, or ground shipping, Veeqo will help you find the ideal shipping service and packaging for your orders. 
Our free shipping software also features advanced tools. Watch out for the following power features next time you log in: 
Analytics and forecasting

Automatic re-orders

Digital picking (with a mobile scanner) 
Sign-up today and try us out, or book a demo with one of our ecommerce experts to see if Veeqo is right for your business.