Ecommerce
How to Fund Your Ecommerce Business as You Scale
Written by Clare Dyckhoff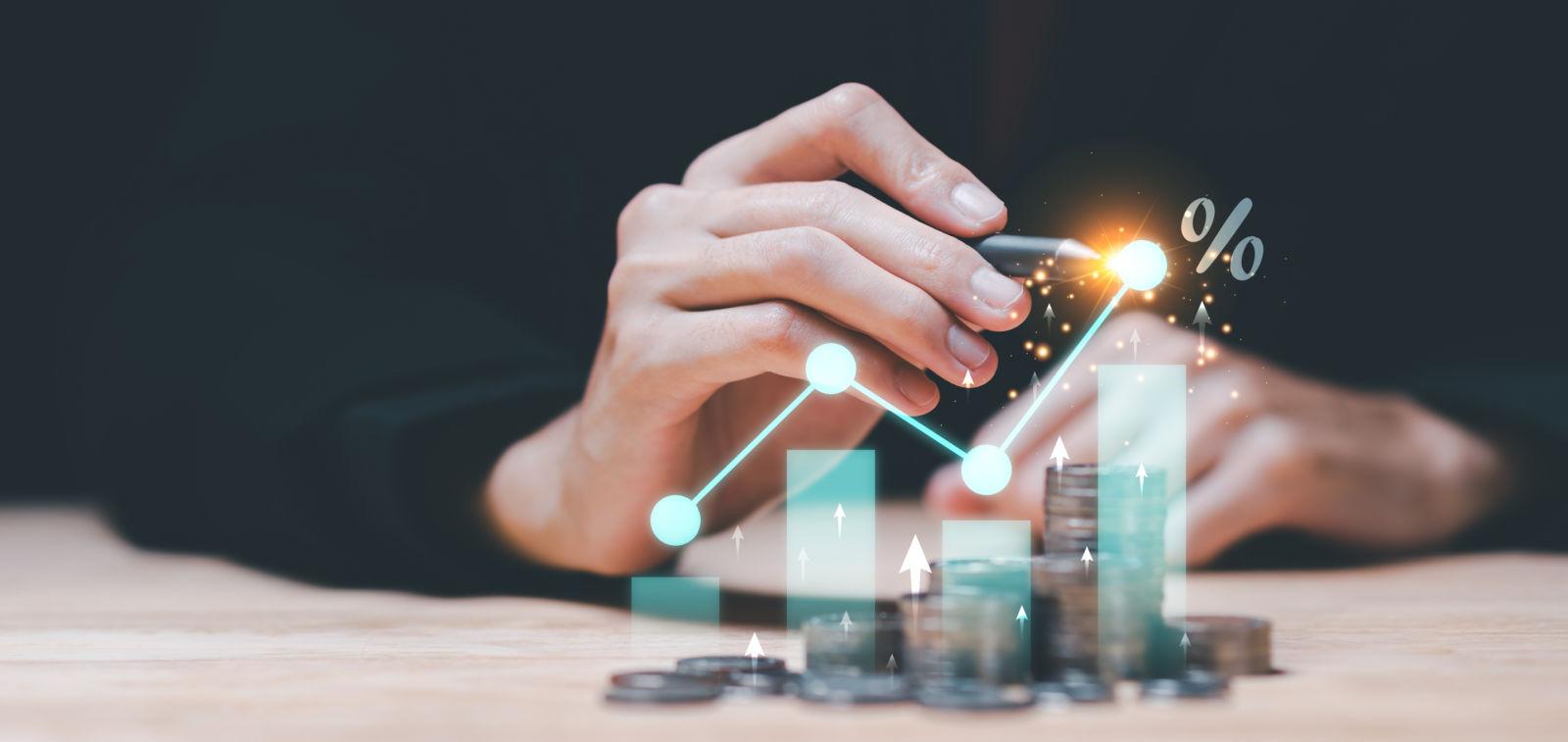 You've dreamt of the day where your first order turns to multiple, your venture is more than just a side project, you've outgrown the use of grants, and you're now looking for more capital to help fund your business to grow to the next stage.
And with The US ecommerce market forecasted to reach more than $940.9 billion in 2023, no wonder growing ecommerce businesses want in on the action! 
But with endless financial jargon and acronyms - knowing where to begin when you're a busy growing business owner isn't always easy.
It's one thing to ensure there's enough money covering each month but then to secure enough capital to help the business grow is quite another. But what do you do financially if you're reaching full capacity? How can you prevent stockouts and overbooking?
In an ideal world, pre-empting these occurrences is the best way around keeping customers happy, but in a scaling business, this too requires extra costs. And without that, your business's growth can stagnate. Which isn't what you and your company deserve with all the time and effort you've invested. 
Why do Ecommerce businesses need funding? 
When Ecommerce businesses look to ramp up their growth, there are a number of areas extra funding can be essential to growth. 
When it comes to scaling your business, you may be thinking of funding to help support the following areas:
Evolving marketing strategy to stay competitive 

Launching in new markets

Optimizing your order fulfillment strategy 

Upgrading your tools and technology 
But you might also be looking for e-commerce funding to:
Ensure you've got sufficient stock for your demand supply

Launch new products in the space to stay competitive 

Quicken up processes and ways of working

Help with the shipping of goods

Cover employee wages (e.g. increasing staff support as you scale or on peak calendar events) 
It takes money to make money, so chances are you've already invested from your own personal pocket to give your business wings. But as you scale, even if you're an Ecommerce business running an efficient warehouse, this isn't always viable and the majority of scaling businesses require some business funding support.
And if you're a relatively new business, securing a traditional business funding can be trickier if lenders think you are more of a risk. 
Just as a warehouse management system helps run your warehouse smoothly, securing business funding can help you scale and grow. In this day and age, there are more avenues to securing ecommerce business funding. In this piece we will intro and weigh up the pros and cons for the following options for business funding:
Bank Loans

Business Credit Cards

SBAs (small business loan) 

Amazon Lending

Crowdfunding

Venture Capitalists 
Let's dive into some of them now to see which could be the best fit for you and your growing business. 
Bank Loans
The most traditional form of ecommerce business loans, bank loans are the first solution many leaders and business owners think of.
But with the rapidly changing economic climate and banks being more hesitant with who they lend to and how much, this is neither the only nor the simplest solution.
Advantages of Bank Loans:
For most banks, they're happy as long as you're making the repayments, so you won't feel restricted with them checking what you're spending the cash on unlike other funding solutions

You can free up your cash flow issues pretty swiftly if you're accepted 

It helps build credit when you're meeting your repayments each month on time

Flexible terms to suit your business needs - every growing ecommerce business is different, so finding one to suit you is in your hands
Disadvantages of Bank Loans:
Hefty paperwork and processes - This can slow up the process before you've even started 

It can take a while to be accepted for a business loan - which isn't always feasible if you want to grow sooner rather than later. Some banks let you apply online, others have to be in-person.

Smaller companies might find it trickier to secure - some businesses might not have the historical evidence to give banks the confidence in lending (e.g. this option might not be the most ideal for startups) 

Banks often require excellent or very good credit scores - which rules this option out for some businesses
Business Credit Cards
Loans aside, like other credit cards, business credit cards are a way to withdraw what you need, when you need, as long as you're not exceeding your pre-agreed limit.
Whether you're renting your warehouse or own it, finding a flexible credit card solution might also be the right thing for your ecommerce business to help cover costs. 
Advantages of Business Credit Cards:
Flexible monthly withdrawals - some months you might need to invest in more inventory, others you might need to put the cash towards paying extra staff. 

Cash back incentives - some business credit cards offer cash back and rewards schemes e.g. earning points per transaction which can be used towards purchases 
Disadvantages of Business Credit Cards:
It can get complex - look for T&Cs on foreign currency fees, foreign exchange commissions, transaction fees, and other ad-hoc fees 

The credit offered and interest rates depend on credit score of the business owner/manager and business - something to consider if your personal credit score is not where you want it to be 

There's a risk if you can't pay the money back in full each month or within the interest-free period, as credit cards usually have higher interest rates than other financing
SBA Loan
The SBA is a U.S. government agency that works with a number of financial institutions to help increase small businesses' chances at getting a loan. 
With funding guidelines and loans funded only from SBA-approved or preferred lenders, these lenders are guaranteed up to 90% by the SBA. 
Advantages of an SBA Loan:
Accessible funding for smaller businesses struggling to secure funds elsewhere 

Business owners can secure anything from $5,000 to $5.5m - depending on the loan

Favorable repayment terms 

Lower interest rate
Disadvantages of an SBA Loan:
Longer application process

SBA loans need to be approved by both the lender and the SBA, which can extend the process. 

You may have to put down a larger down payment

Stricter terms for fund usage (vs. Business credit cards) 
Amazon Lending
Business loans may have been the first thought for growing businesses in the past when it comes to funding, but with so many different components and factors to weigh up, it is not a one-size-fits-all solution. 
The application process to securing funding doesn't need to be a barrier. Thousands of sellers are already making use of Amazon lending, where applying is broken down in just four easy steps.
So whether you're a small or medium sized business looking for amazon seller lending, you could use it for anything from growing inventory, branching out with marketing activity or establishing your business in new markets. 
Amazon lending offers 2 options:
1. Term loan
What is a term loan?
A loan to grow as your business grows - choose a loan amount up front and term length you are eligible to use during the application.
You can also feel rest assured with pre-agreed, equal monthly instalment repayments. 
Who is it best for? 
Growing your business without credit checks. And no lengthy paperwork processes, you can apply to Amazon Lending direct through Seller Central. 
2. Merchant Cash Advance (MCA) 
What is it an MCA?
An MCA is a sum of funding with flexible repayment and no late fees. It provides businesses with a sustainable way to grow, tying repayment to a portion of future sales for a single-fixed fee.
With an MCA, you will repay as you earn with no additional fees or interest charged. 
Who is it best for? 
Small and medium businesses that require flexible terms. As there is no fixed term, repayments are tied to sales revenue - so the time you repay varies depending on the amount of business sales generated. 
Further reading: Amazon offerings and integrations with Veeqo
Crowdfunding 
Crowdfunding is an option where instead of relying on one bank loan or one investor, you open it up to the wider public. When it comes to crowdfunding, there are two options: flexible and fixed.
Flexible funding is often chosen by charities and personal campaigns, fixed is a better option for entrepreneurs and startups.
Not only does it hedge investment risk compared to other capital solutions, it can also provide you with a wider loyal community interested in buying your products and spreading the word about your business on your behalf. 
Advantages of Crowdfunding:
Validating your business idea

Generating loyal customers and creating a community of invested individuals 

Can be a fast solution to raising capital compared to other funding solutions 

No upfront costs 

Access a diverse-rich audience and supporters who could spread the word about your business to their connections too 

Minimises risk (you choose fixed or flexible when setting up) 
Disadvantages of Crowdfunding:
Crowdfunding is not always guaranteed - there is no 100% success rate of getting onto the platform

A lot of time and effort required to ramp up ahead of the project launch

If you don't hit the target you set, you might have to give back the money raised to the investors 

Reputation of the business and product - Other rivals might see more of what you are up to and if the project fails, it can leave a lasting impression on the people who had pledged to you
Venture Capitalists 
Unlike other means of ecommerce lending, when a venture capitalist invests in your small or medium sized business, it will do so in exchange for equity in the company. So unlike ecommerce business loans and others, there will not be any monthly payments.
Venture capital firms can provide funding amounts as small as $100,000 for startups in the seed stage and as high as $25 million for more mature startups.
Advantages of Venture Capitalists
Can support with future rounds of funding

No monthly payments

Access to larger amounts of capital

Could help secure high quality hires 
Disadvantages of Venture Capitalists
Reduces the stakes for business owner and anyone else with existing shares and equity

Funding rounds can take a long time to secure and requires a great deal of preparation, presentations, and paperwork - which not all growing businesses can afford if teams are smaller

The price you end up paying may be more than a loan - whilst you get advice and support on top of capital, when it comes to the event of selling the business, the equity given to the venture capitalist firm could well exceed what you would have paid on an interest loan

High pressure and expectations - with investors looking to make their money back at least, pressure to perform, deliver, and meet expectations can be an extra added pressure on already-busy business owners 

Not the easiest to secure - even with the amount 
What to look for with eCommerce funding
When it comes to finding the right kind of eCommerce funding consider the following:
What are your goals? What can the capital help with? Do you need to make more up front purchases or chop and change what you need depending on the month? Have you already got your business insurance sorted? 

What are your funding needs? Do you need to consider foreign currency costs? Would you rather have a loan, a new investor, or feedback from crowdfunding investors? 

What is your timeline? How soon do you need the cash, how long can you afford to wait when it comes to application processes and approval timelines? 
Gone are the days where funding options for your growing business depended on banks and their terms. 
Whether your growing business needs cash flow for staff to shipping, evaluating options around funding, crowdfunding, angel investors, and loans is the best way to consider what is right for you and your growing company at this current stage.
And whether you choose an SBA, crowd fund or make use of Amazon Lending, we hope it gives you the financial foundation to help elevate your business to where you want it to go next, and find the right funding solution for you. 
Sign-up to Veeqo for Amazon integrations and a powerful suite of shipping, inventory and warehouse management tools.