Shipping
Veeqo's Ultimate Guide to Shipping with UPS
Written by Rachael Pilcher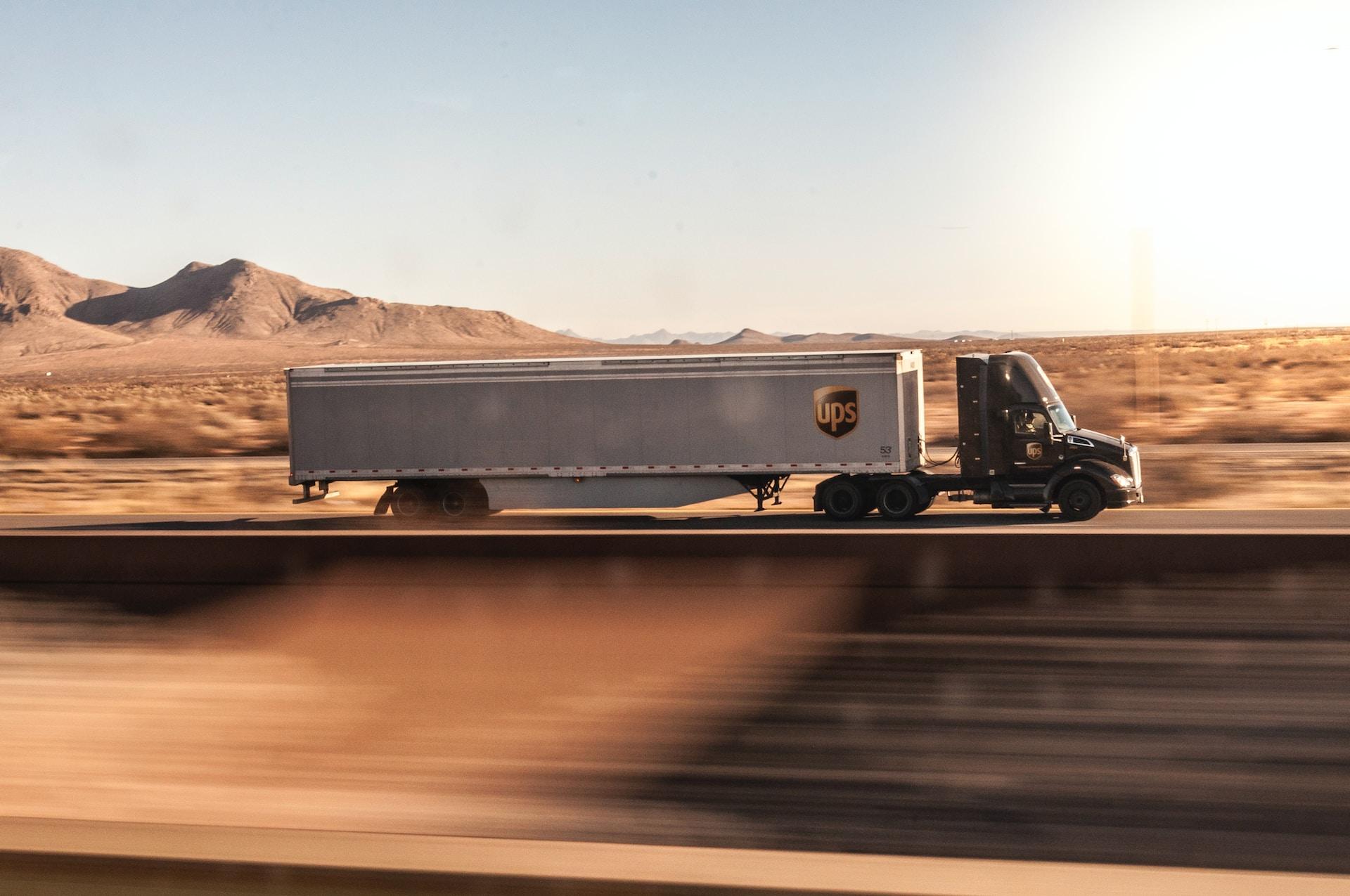 UPS has been around since 1907 and is now one of the world's most recognized and widely-used shipping carriers.
With its extensive warehousing, distribution centers, global logistics partners, and freight network, UPS is an ideal choice for high-volume shippers and large businesses.
In this article you'll learn everything you need to know about ecommerce shipping with UPS.
Table of contents
Benefits of shipping with UPS for large businesses

UPS delivery options

How to calculate your UPS shipping rates

4 simple steps to get started with UPS ecommerce shipping

Veeqo + UPS  = the ecommerce shipping dream team
Benefits of shipping with UPS for large businesses
UPS is a trusted, reliable carrier that provides sellers with an affordable way for businesses to ship locally and internationally, and it can help create a more streamlined shipping process with built-in tools such as stored payment methods, customer address books, and online billing.
Customers can connect their shipping account with popular sales channels like Shopify, Shopify Plus, WooCommerce, Etsy, and BigCommerce so that orders can be quickly processed, shipped, and tracked.
Opening a UPS account enables large businesses to:
Save up to 74% on postage

Order free shipping supplies

Schedule recurring pickups

Bill shipments to third parties

Get a customized tracking dashboard with shipment history

Pay with Paypal or credit card

Track packages locally and globally
UPS Business tools
In addition to their carrier services, UPS also offers a suite of tools to make life easier for busy sellers.
UPS Quantum View: For sellers that ship over 400 parcels per day, this gives more detailed shipping visibility, with customizable dashboards, reports, and notifications, so that businesses can manage orders and resolve problems quickly.
UPS Flex Global View: For high-volume global shippers, this dashboard gives sellers the ability to control all their air, ground, and ocean freight shipments and manage brokerage activities in one place.
UPS My Choice: Business can view all their outbound and inbound shipments, change delivery destinations and dates, get custom notifications, manage alerts, and manage any returns and claims from a central dashboard.
Ship now, pay later: Customers can make a shipping account and set shipping options that give them greater flexibility.
Business customers also get the advantage of value-added services such as:
Saturday deliveries

Options for customers to pick up their packages at UPS access points

Ecommerce fulfillment and marketplace connectivity

Capacity for companies with seasonal demand spikes

Retail compliance and reverse logistics

Post-sales services support

Get funding, extra discounts, and exclusive access to e-commerce platforms, software and other tech solutions through UPS Digital Connections
UPS delivery options
90% of UPS ground parcels are delivered in three days or less. But whether your parcels need to arrive at standard speed or super-fast, UPS has a shipping option to suit your business.
Domestic Shipping within the USA
Next day: For urgent parcels, UPS offers next day delivery by morning, noon, or end-of day. Customers can also take advantage of UPS Next Day Air services.
2-3 days: If your customers want speedy delivery, but it's not urgent, you can select two or three-day options like UPS 2nd Day Air or UPS 3 Day Select.
1-5 days: UPS Ground is a slower option that ensures cost-effective, reliable ground shipping between one and five business days.
Flat rate: UPS also offers five flat packaging rates with four shipping speeds, so you can mix and match the option that suits you best if you're sending within the USA.
International Shipping
UPS technology and logistics partners ensure you can safely ship all around the world with competitive delivery times and prices. 
As shipping costs and duties will vary depending on your parcel metrics and where it's headed to, there's a helpful resources section on the UPS site where you can get more information on pricing, shipping documentation, and customs requirements.
If you're looking for a faster, more cost-effective way to find the best rates for any parcel — Veeqo's ecommerce shipping software gives you automated rate shopping, plus discounted UPS commercial rates (and discounts with DHL, FedEx and USPS too), without any minimum volume requirements.
How to calculate your UPS shipping rates
UPS has a handy online calculator that will let you punch in all the details for a parcel, and show you all the relevant options for shipping costs, speed, and delivery dates based on the data you've entered.
You can use this calculator without being a customer or logging in, but customers will be able to see the most accurate rates and delivery times for their packages.
4 simple steps to get started with UPS ecommerce shipping
It's easy to start shipping your parcels anywhere in the world with UPS. It's also free to start an account so that your business can take advantage of the many options available for shipping prices and speeds.
1. Open a free account
Creating an account with UPS is 100% free. Simply fill out the form on their website and answer a few quick questions to start the shipping and label printing process.
2. Get your parcels ready to send
You can order free shipping supplies online from UPS, or pack items using your own bags or boxes. Make sure your parcels are packaged and taped up safely.
Next, you'll need to create a shipment and follow the workflow that's set out in your UPS dashboard. You'll need your customer details handy, and you'll need to enter in the type of packing you're using, plus the length, width, height, and weight of your parcel.
If you don't know exactly how much a parcel measures or weighs, UPS offers handy flat rate shipping options you can select instead.
Choose from the relevant delivery options available to you for each parcel, and then pay for your postage with your credit card or Paypal.
3. Create shipping labels
It's simple to print out your own shipping labels, or you can scan and print them with a mobile barcode at your closest UPS location. Once that's done, stick the label securely to your parcel, and you're ready to ship.
4. Let UPS handle the rest
You can order parcel pickup by UPS for an extra fee, or drop your labeled packages into your local UPS office or agent. That's it! 
Your package will be scanned and tracked, and you can send the tracking details to your customers to let them know their order is on the way.
Veeqo + UPS  = the ecommerce shipping dream team
With Veeqo you can enjoy all the free, enterprise-level features offered by our shipping management software, plus take advantage of UPS shipping discounts — for example, 78% off ground labels. 
Veeqo's automated rate shopping will instantly display the cheapest UPS label options for every parcel, so you'll never need to go hunting for them. You can even create filtered order views for "ship with UPS" so your team can get things packed and sent faster.
You can use UPS shipping options natively in your Veeqo account, or you can opt to connect your own UPS carrier account for no extra charge. You'll get discounts either way. Need insurance too? You can add this with just a few clicks.
Here's a few other reasons why our customers love using Veeqo and UPS together.
Buying UPS shipping labels
Veeqo lets you set up and automate shipping parameters for your UPS shipping such as "order weight", "order value", and "delivery promise" to help you select the correct shipping option when the cheapest rate isn't necessarily the best option.
Our software checks if these automations should apply with every order sync. If it doesn't, you'll automatically be given the cheapest shipping rates for an order.
If you need to ship an order in separate boxes, or split a shipment to send at different times, Veeqo lets you buy and print UPS labels for each package so you can increase customer satisfaction with faster deliveries.
Your team can even manage returns, exchanges, and refunds from Veeqo's returns page. Simply add a return label when you're purchasing your UPS outbound label, or create one with a few clicks at a later date if you need to.
Save time AND money
Busy ecommerce sellers can enjoy all of Veeqo's time-saving features like:
Mobile picking

Bulk shipping for up to 100 orders at once

Set and automate shipping rules

Updating stock and prices across all sales channels
And unlike other shipping management tools, Veeqo is completely free to use — so you won't need to worry about ongoing monthly costs or hidden fees.
Integrations
Veeqo integrates seamlessly with UPS, as well as leading marketplaces and commerce stores like Etsy, Shopify, eBay, and Amazon, plus 3PL, accounting, point of sale, and helpdesk tools.
As part of the Amazon family, Veeqo also offers Amazon sellers ultimate peace of mind. We fully integrate with Amazon's Buy Shipping, helping you reduce shipping costs and manage customer expectations. You'll get a tracking ID for each UPS parcel that automatically syncs with your Amazon account orders.
Inventory management
You can import orders from multiple sales channels into Veeqo to manage everything in one central dashboard. 
For large businesses, Veeqo's powerful order management software is a huge time-saver and can help:
Sync orders from multiple channels into one dashboard

Boost warehouse fulfillment speed

Prevent item sell-outs

Keep inventory updated in real time across all stores, marketplaces, and warehouses

Transfer and track stock across warehouse locations

Create customizable workflows
Analytics and reporting
The advanced analytics and reporting features built into Veeqo enable high-volume sellers to grow their businesses by helping them make faster, more informed decisions about products, marketing, costs, sales, and profit margins.
Demand forecasting, inventory quantity and location, individual SKU revenue, profitability reports and more are all at your fingertips in your Veeqo dashboard.
Got a small business? Check out these articles instead:
Shipping large volumes with UPS is easy thanks to their suite of business tools and the capacity to help enterprise-level businesses send, manage, and track hundreds of parcels each day. It's a reliable, affordable option for sellers shipping both within the USA and internationally.
With Veeqo and UPS combined, it's like supercharging your UPS commerce shipping. All you need to do is create your free Veeqo account, connect your stores, and start saving from your very first shipment.