Shipping
How to Use USPS for Your Small Business
Written by Martha Kendall Custard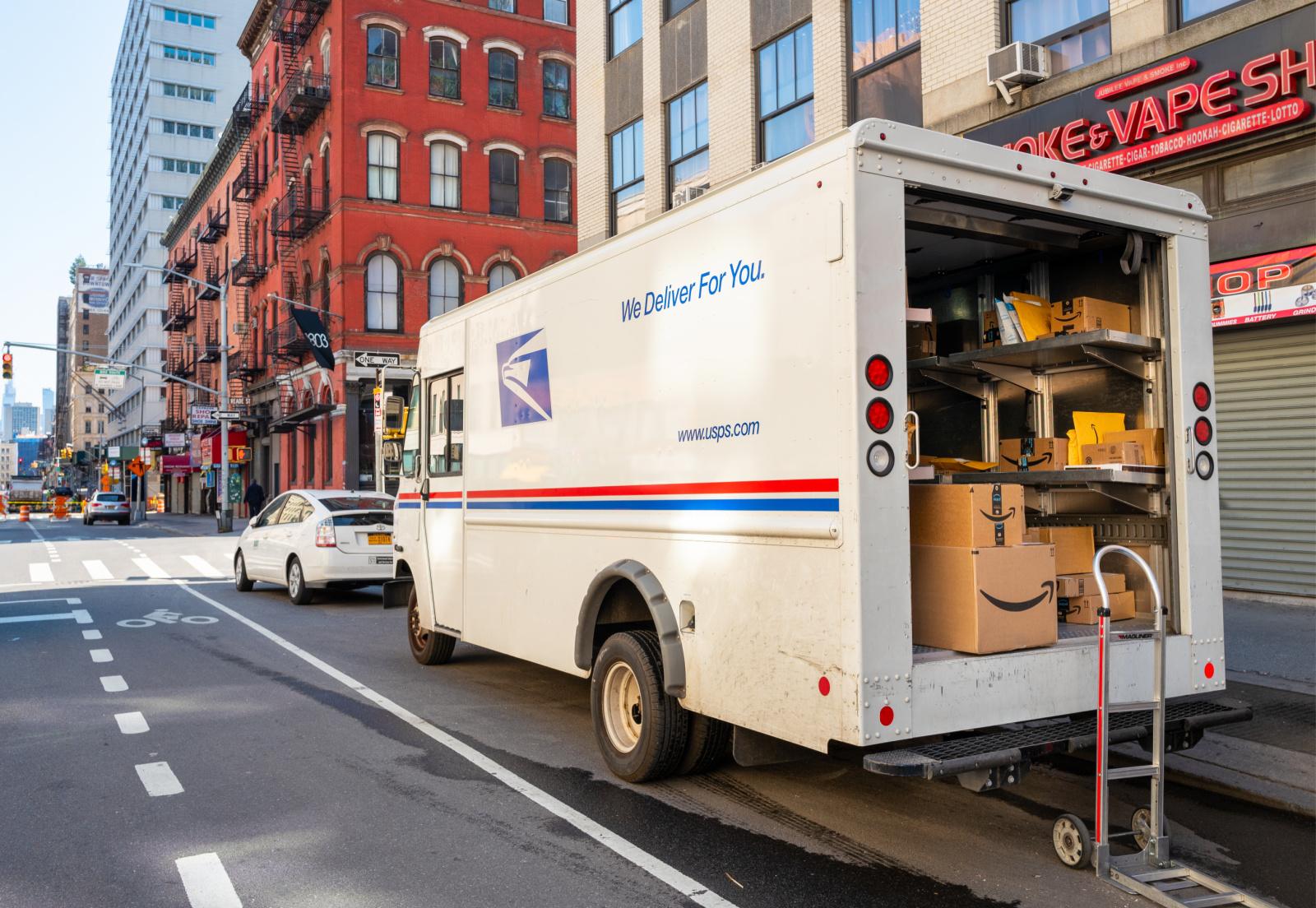 In this post, we're digging into the USPS small business basics. Stick around to find out how USPS and Veeqo help small business owners save costs and improve efficiency.
What is USPS shipping?
The United States Postal Service (USPS) is a federally operated shipping company. They deliver mail both domestically and internationally and are an affordable shipping method for small businesses.
Because USPS delivers mail to every US residence on a daily basis, they are the most reliable shipping service for homes in rural areas. 
Benefits of using USPS shipping for your small businesses
USPS is a popular carrier among small businesses shipping within the United States. Here are some reasons why:
Affordable rates: With a variety of shipping methods and flat rate options, USPS shipping is often the most affordable domestic shipping carrier for small businesses. 

Free Priority Mail supplies: Small businesses can order Priority Mail packaging supplies for free.

Pickup program: Your USPS letter carrier will collect pre-packaged and labeled orders from your preferred pickup location for free. All you have to do is submit a pickup request.

Schedule pick-ups in advance: You can also schedule pickups up to three months in advance. If you need your items picked up at a time that doesn't align with your letter carrier's schedule, you can also pay a fee to schedule a Pickup On Demand service. 
In addition to these benefits, USPS offers a suite of services designed to help small businesses thrive:
USPS Marketing Mail: lower marketing and advertising rates

USPS Connect™ Local delivery: same-day and next-day delivery for select zip codes

Click-N-Ship: faster label printing

Every Door Direct Mail® (EDDM®): Delivery advertisements to neighborhoods without knowing recipients' names or addresses. 

Guidance and starter kit: talk with a Business Solutions Associate about your shipping needs and get a free starter kit.
How to use USPS for your small businesses
Jumpstart USPS shipping for small businesses in three simple steps:
1. Choose your USPS shipping method
The best shipping method for your order will vary by product, customer location, etc. USPS shipping for small businesses isn't one-size-fits-all. ,
Visit the USPS website to read about the requirements for each USPS shipping method and order your free shipping supplies. 
Create fake labels to test out the cheapest option or use Veeqo to automatically compare live shipping rates. 
2. Pack your order
When purchasing your shipping label, enter the total package weight– that includes the weight of your packaging materials. Poly mailer dimensions are measured pre-folded. 
When in doubt, round the weight and measurements up. 
3. Drop-off or schedule a pickup
Once you've packed your order, don't waste time standing in line at the post office. Either use the pickup service or drop packages in the metal chute or bin at your local post office. 
Does USPS offer small business discounts?
Small businesses can take advantage of USPS volume discounts so long as they meet the following minimum quantities:
Presorted and automation First-Class Mail®: 500 pieces

USPS Marketing Mail®: 200 pieces or 50 lbs

Destination entry Parcel Select Ground: 50-piece minimum per mailing

Presorted and carrier route sorted Bound Printed Matter: 300 pieces

Commercial Library Mail: 300 pieces

Commercial Media Mail®: 300 pieces
There is a simpler way to get discounted rates, however. Using Veeqo's shipping software grants you access to discounted USPS commercial rates without hitting any minimums. 
USPS shipping services
USPS offers a wide range of shipping services, which is part of what makes them so affordable. If you shop the full list of USPS shipping services, you'll likely find multiple that apply to a single order.
This flexibility means you can compare methods, delivery dates, packaging options, and pricing until you find the most efficient, cost-effective shipping method for your order.
The most common USPS shipping methods for small businesses are:
USPS Priority Mail
USPS Priority Mail has a typical delivery time of 1-3 days. To ship with Priority Mail, you have to measure the dimensions and weight of your package first.
The box you use doesn't matter for regular Priority Mail– it can be any color you want.
You can get free Priority Mail boxes from USPS. Pricing is also impacted by zones, which means shipping with regular Priority Mail can get expensive for longer distances. 
Priority Mail Flat Rate
Priority Mail Flat Rate shipping follows the "if it fits, it ships" motto. Geographic zones don't impact the shipping price, as long as you're shipping in a flat-rate box.
The padded flat-rate envelope can fit a small box, which can be cheaper than sending the same box with regular Priority Mail. 
You can also order free Regional Rate boxes and pay a shipping rate priced by zone.
Priority Mail Cubic shipping
Because it's based on cubic volume rather than weight, this shipping method is good for small, heavy packages.
The price is based on box dimensions. The bigger the box, the more expensive the shipping rate.
You can use any box, so long as no one side exceeds 18 inches in length. While you can't walk into USPS and use this option, you can access Priority Mail Cubic through Veeqo. 
USPS First Class Mail
First Class Mail applies to any package under one pound. These are typically sent in poly mailers and can arrive in 2-3 days.
First Class Mail is zone-based, which means geographical distance impacts shipping rates. 
When shipping first class, ensure the dimensions and weight are accurate before sending. If your package is too large, your customers could face extra fees at the post office. 
What USPS shipping option is best for a small businesses
The best USPS shipping option for your business will vary order by order.
You have to examine factors like the size and weight of the contents, customer location, and expected delivery time to find the cheapest shipping method that checks all your order's boxes. 
How to calculate USPS shipping rates
To calculate USPS shipping rates manually, head to the USPS retail postage price calculator.
Input your origin zip code, destination zip code, departure date, and details about your package to view potential shipping methods and associated rates. 
Or you can save time by using an order management system. With Veeqo, you can automatically view and compare live prices for each order.
Further reading: Stamps.com shipping label alternatives
Veeqo + USPS for small businesses
Veeqo's ecommerce shipping software streamlines the order management and fulfillment processes for all leading shipping carriers. Here are a few benefits of using Veeqo for USPS:
1. Order + inventory management
Import orders from sales channels like your online store, Amazon, etc. to centralize and manage all your orders in one place.
Once all your orders are imported to Veeqo, you can fulfill them from a single dashboard. Veeqo's inventory management capabilities reconcile inventory across all sales channels.
2. Save time and money on shipping
Save your frequent shipping preferences and leverage Veeqo's automated shipping rules feature to cut your fulfillment time and save on shipping costs.
Instead of puzzling out which shipping method is the most affordable for your order, let Veeqo automatically choose based on criteria like weight, destination, and SKU. 
View real-time USPS shipping rates without leaving Veeqo. This feature helps you choose the most efficient, cost-effective shipping option for each order. Once you're ready to pack orders, generate and print USPS labels in bulk. That includes thermal label printing with custom branding elements. 
Veeqo's shipment tracking and notification capabilities keep your customers well-informed from the moment they place an order to the moment it hits their doorstep.
You can even customize the email notifications according to your branding for a cohesive customer experience.
3. Track progress
Analytics and reporting features analyze your shipping performance, providing valuable insights into shipping cost, delivery times, carrier performance, etc. These metrics empower business owners to make data-driven optimization decisions. 
Further reading: How to choose the right inventory management software
How to ship with USPS small business
USPS small business shipping is a simple, affordable shipping option for domestic orders under 70 pounds.
The shipping carrier offers a range of features designed to help small business owners market and deliver products that, in conjunction with Veeqo's automation tools and discounted rates, help small business owners save time and money while outdoing their competition.