Shipping
5 Alternatives to Stamps.com for Online Shipping Labels
Written by Rachael Pilcher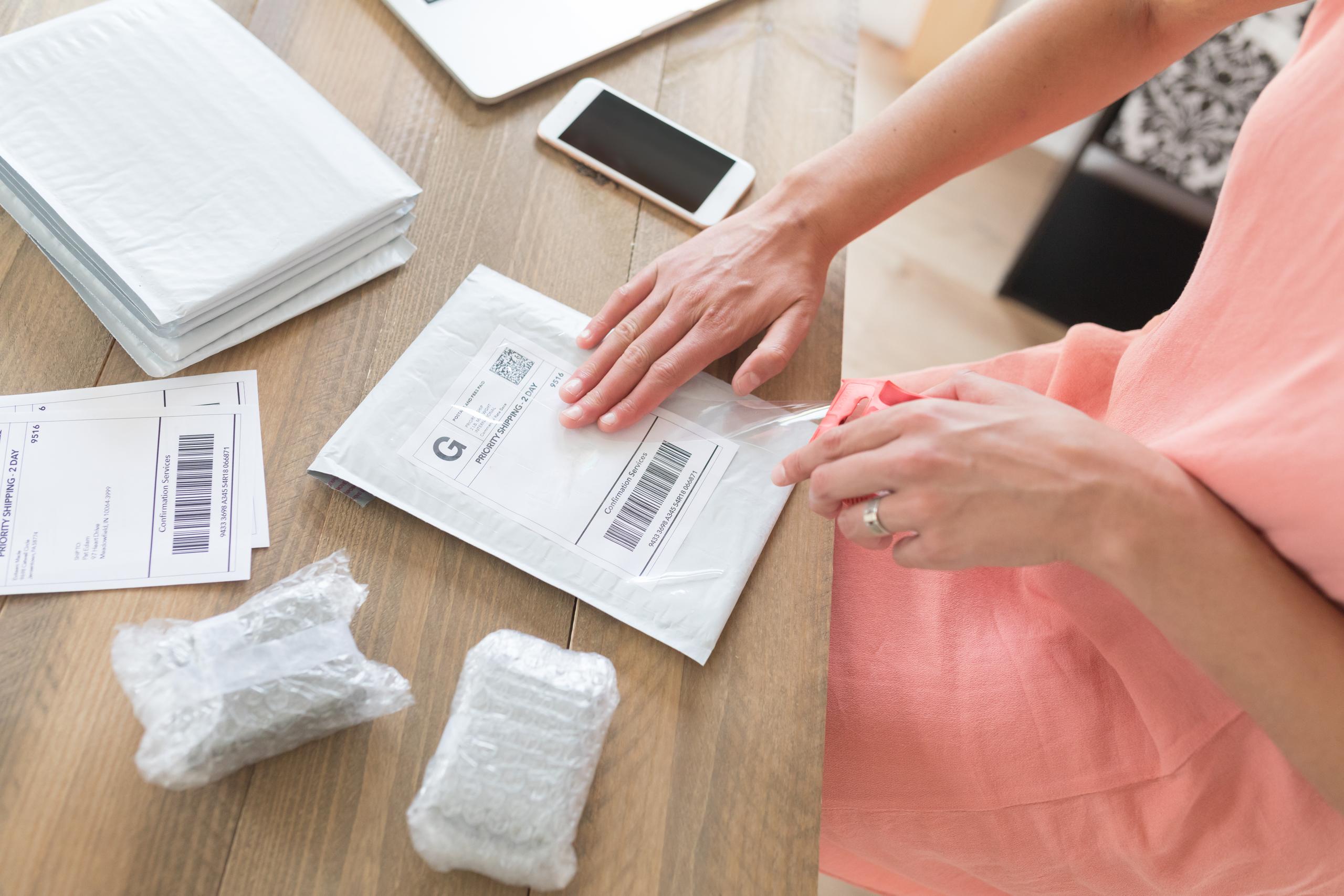 The ability to buy shipping labels online has made life a breeze for ecommerce companies. No more wasted hours standing at the post office, and no more uncertainty about what your parcels will cost to send when you finally reach the front of the queue.
But not all shipping solutions are created equal.
Stamps.com is an Auctane brand that has been a prominent player in the online postage and shipping label space for a while.
But with recent price increases, there are now a lot of other alternatives that offer more features, seamless integrations, automated processes, special discounts, and lower (or free!) pricing plans.
Is there an alternative to Stamps.com that's right for you? You bet.
Whether you're new to the world of online shipping, or you're ready to scale and need reliable shipping at volume for the lowest cost, plus advanced features like analytics and reporting, we'll walk you through some of the top options to check out.
Table of contents
What is Stamps.com?

How does Stamps.com work?

Is Stamps.com free?

Why look for Stamps.com alternatives?

5 best alternatives to Stamps.com
What is Stamps.com?
Stamps.com is a cloud-based provider of postage and labels for online retailers.
It's approved by the U.S. Postal Service, and it lets customers buy postage and print shipping labels for their parcels via their online dashboard.
Target customers are small businesses and online retailers, although it also provides enterprise-level solutions. 
Stamps.com allows senders to consolidate order details from popular ecommerce channels like Etsy, eBay, and Amazon, making it faster to get things priced and ready to ship.
How does Stamps.com work?
The Stamps.com service partners with UPS and USPS to give you access to all the shipping features you'd find at the post office—so you can process customer orders, calculate postage amounts for each parcel, and print shipping labels from your desk 24/7. 
As a bonus, Stamps.com users can also claim special discounts on their postage that aren't available over the counter.
When you sign up for an account, you'll need to deposit funds into your Stamps.com account before you purchase any mailing or shipping services. You'll be able to see your available balance in the dashboard, along with any purchases or debits.
The features offered by this company are modest compared to alternative shipping providers, but it's a good starter solution for small businesses.
It works well if you're only selling on a few platforms and shipping small amounts of orders at a time.
Key features of Stamps.com:
Import order details from ecommerce stores like Shopify, Amazon, Etsy, and eBay

Print official USPS postage for domestic and international parcels

Track deliveries, notifications, and confirmations

Share tracking information with customers

Create presets for frequently shipped items

Integrate with tools like Shipedge and OPAL
Is Stamps.com free?
Unlike some of the other online postage alternatives we mention below, Stamps.com isn't free.
There's a four-week free trial for new customers, and you'll get $5 of free postage to use during your trial period so you can test out the service and see if it's right for you.
When your trial expires, you'll need to upgrade to the paid monthly plan of $19.99, plus any applicable taxes. You can cancel your subscription at any time. 
If you have multiple locations or you need enterprise-level shipping services, the prices will increase depending on your specific needs, but you'll still pay a set flat rate each month.
Why look for Stamps.com alternatives?
There are lots of reasons you might be looking for an alternative to Stamps.com.
Although it's positioned as being suitable for small businesses through to enterprise companies, the setup, feature set, and pricing means it won't be suitable for everyone.
These are the some of the main downsides mentioned by Stamps.com users:
Price
In terms of pricing versus features, Stamps.com doesn't give as much value as some of the other alternatives we mention here.
There is no free plan, the choice of shipping providers is limited to UPS and USPS, and some users comment that it feels overpriced for these reasons.
Software problems
Some customers have issues with discrepancies between the Stamps.com calculations for postage prices, and the amount when UPS and USPS audit the package for sending. This can result in unexpected shipping charges being debited from your Stamps.com account.
Users also comment that they have been overcharged on occasion for labels that weren't received, and that the software can be glitchy or crash from time to time.
Support
One of the biggest reasons people look for alternatives to Stamps.com is because of support issues. Users feel that both tech support and customer service can be overly time-consuming and frustrating when they need it the most. 
5 best alternatives to Stamps.com
If you're looking for more flexible, cost-effective business shipping solutions for your company, we've researched the best Stamps.com alternatives for you to check out.
1. Veeqo
Stamps.com isn't designed as a comprehensive shipping management solution. It's more for calculating mailing costs and printing the postage labels.
So if you need an alternative that's cheaper and has more functionality, Veeqo is an ideal solution with some great benefits for users.
Veeqo is packed with features, including shipping software, inventory control, and warehouse management, that can help you streamline and automate the key parts of the online postage process.
If you're struggling to pick, pack, and mail everything on time, or you're sick of the sight of spreadsheets—their suite of shipping tools could be the game-changer you've been looking for.
As a member of the Amazon family, Veeqo has advanced data security and provides Amazon account protection from negative feedback and late deliveries, as long as you ship on time. 
They're also part of the Shopify Plus Certified App Program, which means they've been hand-picked for the quality of their features and service, and their ability to solve the complex postage and inventory needs of Shopify Plus merchants.
Key features of Veeqo:
Multichannel inventory control

Manage orders from all your sales channels in a single platform

Automatic rate shopping gives you the best value labels for each order

Set up automated shipping rules

Bulk shipping from any sales channel

Pick, pack, and ship faster with your mobile device

Plenty of integrations

Analytics, reporting, and forecasting
Veeqo Pricing
As part of their mission to help sellers grow their businesses, Veeqo is completely free to use.
This means:
Unlimited users

Unlimited orders

No shipping label limits

No monthly fees

No hidden costs
As well as being free for customers, Veeqo gives you immediate rate discounts from UPS, DHL, USPS, and FedEx carriers. You can also connect your existing carrier account to Veeqo if you want to.
Further reading: Benefits of Using Veeqo for USPS Shipping
2. ShipStation
ShipStation is another shipping management tool that aims to simplify workflows for online retailers. Users can easily import orders from their selling channels, create postage labels, and track the delivery progress.
With ShipStation, customers love the ability to pick, pack and ship from their computer, as well as being able to integrate with many tools that they're already using. 
But on the flipside, some users mention the software can be frustrating and time consuming to use, as well having problems getting tech help and efficient customer service when they need it.
Key features of Shipstation:
Branded labels

Import and manage orders

Inventory management

Integrates with other ecommerce and shipping tools

Chat, email, and community forum support

Discounted shipping rates from USPS, UPS, DHL, and GlobalPost
Shipstation Pricing
ShipStation has a free 30-day trial for new users. Once that's over, you'll need to upgrade to one of their many paid plan tiers.
You'll be billed based on the amount of shipments you make each month. For small businesses sending up to 50 parcels a month, it will cost $9.99 on the Starter Plan. 
On the top level Enterprise plan, you can send up to 7,500 packages a month for $229.99. If your shipping volume exceeds this, you can talk with the ShipStation team to arrange a custom plan.
Further reading:
3. Shippo
Shippo is a multi-carrier shipping platform that gives you everything you need to ship in one place.
You can sync your existing sales channels, create shipping labels, and track shipments and billing with ease.
Users find the Shippo dashboard easy to navigate, and simple to sync up with their existing sales channels and apps. But some customers state that their tech support and customer service leaves a lot to be desired, and it's often difficult to get problems solved quickly.
Key features of Shippo:
Inventory management

Delivery tracking

Web app

API access

Global carrier discounts

Custom branding for packing slips

Email and live chat support
Shippo Pricing
Shippo has three pricing tiers, including a free plan.
On the free tier, you'll get access to all the basic features in this software—but you'll still pay a fee of 5c per label that you print out with your own connected carrier accounts, so that's something to be aware of. 
For high–volume shippers that need batch and automation workflows, the Professional plan starts at $10 a month, and gives you access for five users. 
If you have a defined fulfillment flow and need a customized shipping solution, there's also a Premier plan that you can enquire about.
On top of the monthly plan price, users will also pay extra for advanced features such as global address validation and API tracking validation.
4. SendCloud
This cloud shipping tool supports small businesses right through to enterprise-level organizations, but is primarily focused on business shipping larger volumes of parcels.
You can enjoy fast syncing with any of SendCloud's shop and carrier integrations, and they have a custom API if you need something different.
Workflows can also be customized for faster picking, packing, and shipping, which is a huge time-saver if you're sending at scale.
Like some of the other Stamps.com alternatives, SendCloud can automate the selection of the most popular carriers in your country. You can also use your own carrier contracts, or mix it up between the two.
In general, customers say that this software is pretty user-friendly, it's easy to sync to their sales channels, and it lets them see all the orders across their stores in one place.
It's not perfect though, and some users report running into difficulties with customer service when something goes wrong, especially when trying to integrate SendCloud with their sales channels.
Key features of SendCloud:
50 integrations

Delivery tracking

Custom API

One-click label printing

Barcode scanner support
SendCloud Pricing
SendCloud has a free basic tier and a 14-day free trial for users who want to try out some of the more advanced features. 
The free plan is ideal if you're sending less than 50 parcels a month and you don't need features like shipping with your own contracts or more than two shop integrations.
The Lite plan at $25 a month gives you a few more options, and up to 400 parcels a month. You'll be charged $.09 for each label printout as well. 
Need more volume? You'll be looking at the Growth plan for $75 a month, or the Premium plan for $148 a month. Both of these plans have label printing charges of $.08 and $.07 respectively.
If your shipping volume is more than 10,000 parcels a month—firstly, congratulations! And secondly, you'll need to get in touch with the SendCloud team for a custom quote.
5. ShippingEasy
Another popular Stamps.com alternative is ShippingEasy. It's designed with ecommerce stores in mind, helping them to automate a lot of back-end processes like printing postage labels, creating shipping rules for common order types, sending tracking updates to customers, and managing inventory.
You can also access customer marketing and email marketing tools in the dashboard.
Like Veeqo, ShippingEasy also features advanced analytics and reporting functions to help you get deeper insights into your sales and customers.
This company prides itself in having "award winning customer support", and users seem mostly happy with the product.
The downsides mentioned by some customers are that there are limited carrier options and fewer features compared to some of the other shipping management solutions we mention here.
Key features of ShippingEasy:
Connect your own FedEx, DHL or UPS account

Integrates with all major sales channels

Automatic order imports

CSV uploads

Workflow automations

Discounted UPS and USPS shipping rates

Reporting
ShippingEasy Pricing
ShippingEasy has a whopping seven pricing tiers, and it also offers a free plan with basic features and up to 25 shipments a month.
The paid plans increase in price depending how many shipments you think you'll send each month. The Growth plan covers 26 to 200 shipments, and will cost a flat fee of $19.99. Plans scale gradually all the way up to an Enterprise tier which will keep you sorted for up to 10,000 shipments a month.
Which of these Stamps.com alternatives is right for your business?
When it comes to choosing the right online shipping tool, it will depend on the unique postage needs and the size of your business. All of the alternatives we've mentioned above are trusted, popular solutions for ecommerce retailers.
But if you're looking for a next-generation, comprehensive shipping management solution to take your ecommerce business to the next level—your search stops on this page!
With its smart automations and powerful inventory management tools, Veeqo lets you quickly pick, pack, and ship your own orders in a fraction of the time, while saving you up to 78% on UPS ground labels.
Did we mention it's free?
That means no matter how fast your business grows or how big it gets, you won't be charged for extra users or extra volume. 
Create your free Veeqo account today and see how easy it can be to manage your ecommerce empire as you scale.