Shipping
Benefits of Using Veeqo for USPS Shipping
Written by Aisling Miller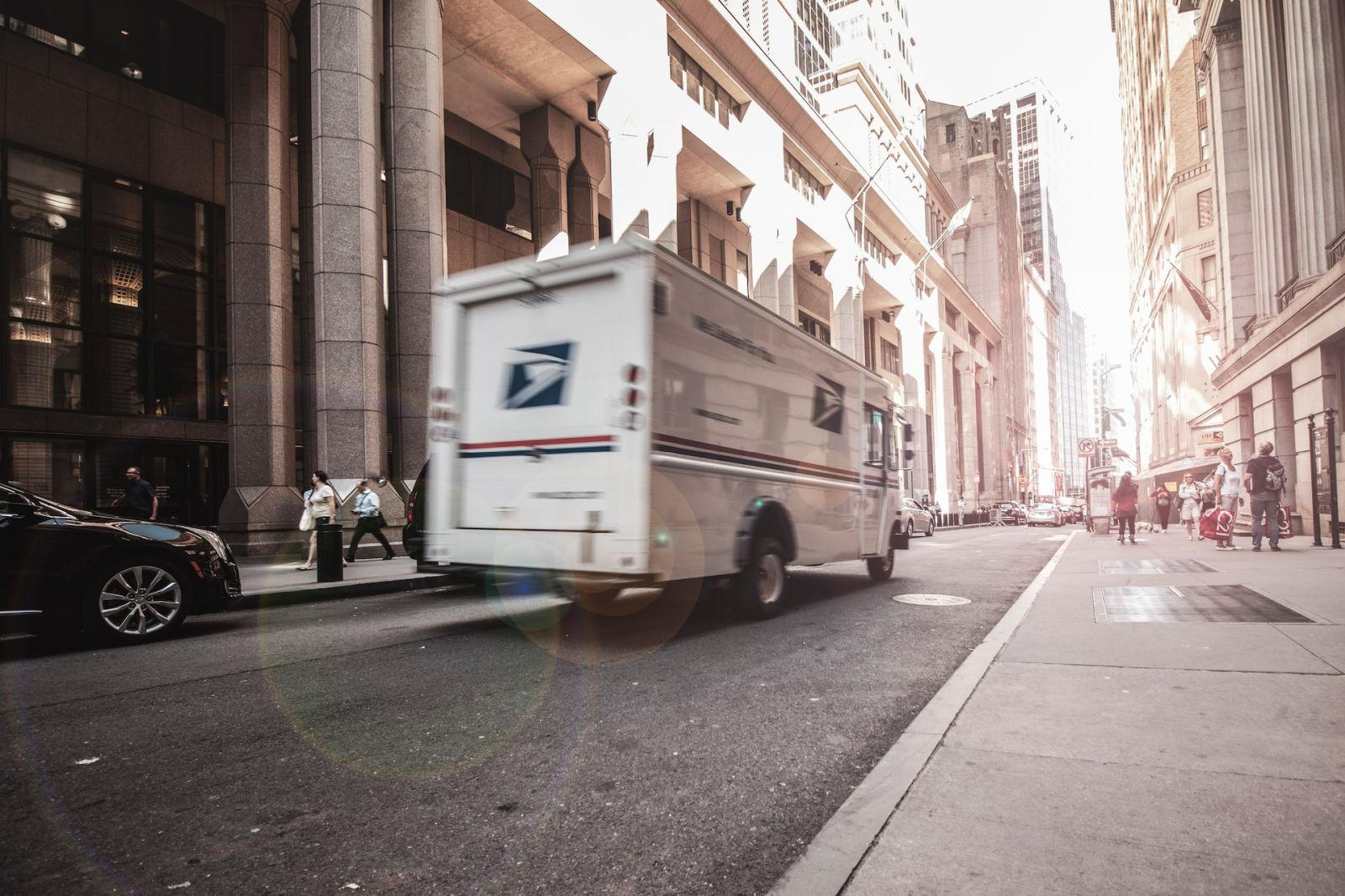 Why pay regular USPS shipping rates when you can get discounted USPS rates through Veeqo?
Veeqo is a completely free, feature-packed shipping and inventory management software that helps you save on shipping and enjoy healthier profit margins.
The software has handy features for inventory control, shipping automation, analytics and more.  
Continue reading to learn the benefits of using Veeqo for USPS shipping.
Table of Contents
Why should you use USPS shipping?

What does Veeqo do for USPS shipping?

Other benefits of Veeqo 

What shipping services does USPS offer?

Other USPS benefits

USPS shipping: customers also ask

Resources you'll love

Bolster your shipping process with Veeqo today
Why should you use USPS shipping?
The United States Postal Service—better known as USPS—prides itself as "the only delivery service that reaches every address in the nation." This claim is backed by over 160 million residential, business, and post office box addresses. 
USPS has a reputation for offering cost-effective mail delivery solutions for smaller packages. 
Since the company can reach destinations in every corner of the U.S., it's the go-to delivery service provider for individual sellers and small-medium retail businesses in the country. 
Today, USPS has more than 630,000 employees and boasts a revenue of $71 billion per year. The company also claims to deliver 48 per cent of the world's mail.
What does Veeqo do for USPS shipping?
Veeqo is a revolutionary ecommerce shipping software that streamlines your shipping process across all channels. 
In addition, Veeqo also makes it easy to get discounted rates from the world's top carriers, including USPS. 
Veeqo is also loaded with inventory and shipping management tools that simplify and optimize your shipping processes.
Stay on top of ready-to-ship orders, available stock, and active listings—all in the same place.
To ship with USPS through Veeqo, head to your dashboard's "Orders" page.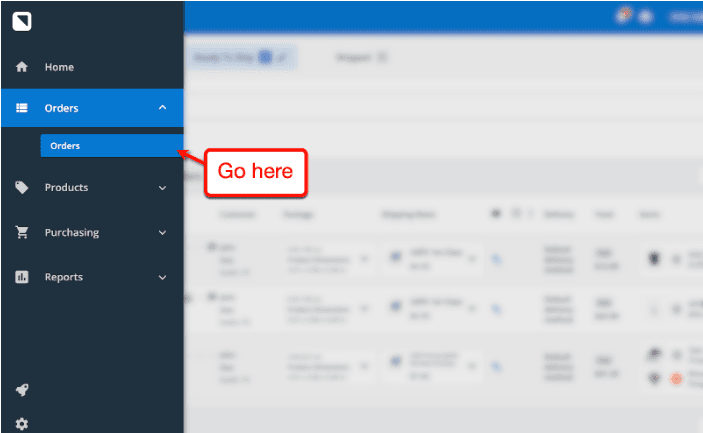 The list automatically prioritizes items that are ready to ship.
Ensure you select the correct package type under the "Package" column. Every package type should be visible, from the flat rate envelope to the irregular parcel.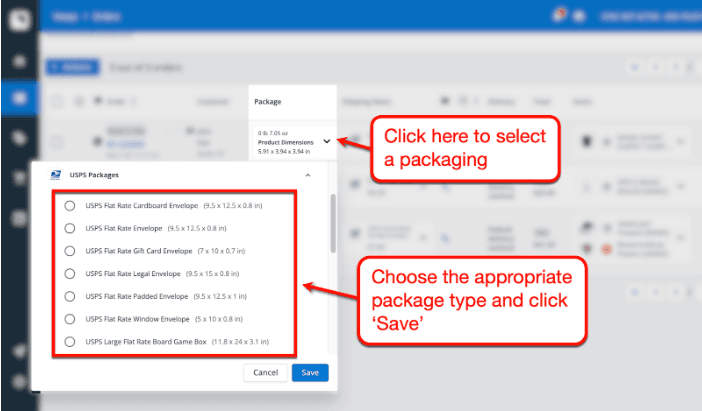 Click under "Shipping Rates" to select the appropriate USPS shipping service for each order. 
Veeqo automatically selects the best shipping solution based on your item's details and packaging. If you're shipping domestically, USPS offers most of the top prices. 
Feel free to specify a confirmation method. You can also create a return label.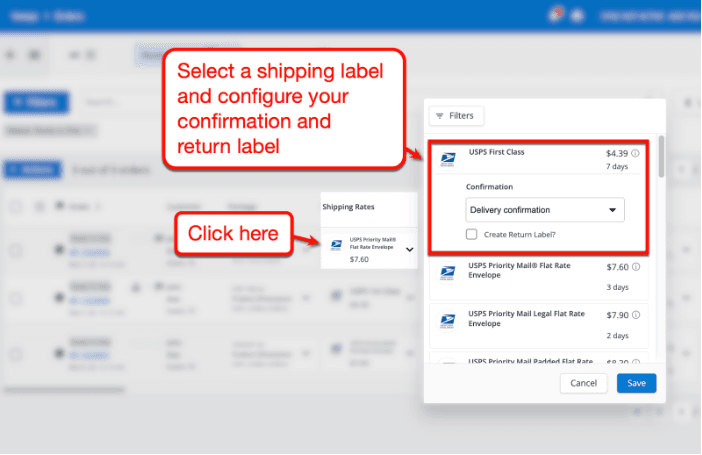 To save time, use the checkboxes in the leftmost column to perform bulk actions. 
Select similar items to enter the group's correct dimensions and package types. You can also bulk purchase shipping labels with the best rates for up to 100 items at a time.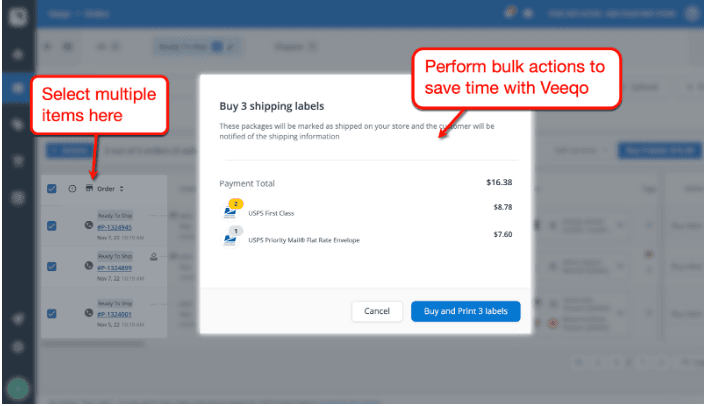 Other benefits of Veeqo
Below are additional benefits of using Veeqo.  
1. Supports major shipping carriers
Veeqo lets you make a comprehensive shipping carrier comparison—thanks to its network of trusted carriers. 
Apart from USPS, Veeqo makes it easy to purchase low-cost shipping labels from the following major carriers (including international providers): 
United Parcel Service (UPS)

FedEx

DHL
2. Create rule-based automations
Save time with Veeqo's built-in automation rules editor. 
Automatically set your desired carrier, packaging, and delivery service based on parameters like:
Destination zip code

Selected delivery method

Product tags

Shipping volume

Amazon-specific delivery options

Total price
3. Direct integrations with ecommerce platforms
Veeqo features direct integrations with Shopify shipping, Amazon, and other ecommerce platforms. This provides a unified dashboard to manage orders from all your digital storefronts. 
Supported ecommerce platforms include: 
Amazon

BigCommerce

Ebay

Etsy

Magento

Not on the high street

Shopify

Shopify Plus  

Walmart 

WooCommerce
4. Free, customizable email templates
Veeqo comes with free, customizable templates for different email types. This includes order cancellation emails, shipping confirmation emails, and order confirmation emails. 
Use Veeqo to automate confirmation emails with delivery tracking links. Not only will this free up time and reduce human error, but automating emails also improves the customer experience.  
5. Power features
Veeqo offers powerful features that will elevate your shipping process.
Analytics and forecasting. Use your sales performance data to predict demand and ensure you always have enough stock to fulfill orders.

Digital pickups. Enable hassle-free warehouse work with mobile book-ins and inventory synchronization through your mobile or Veeqo's scanner.

Re-stock through Veeqo. Track incoming inventory by creating email purchase orders to suppliers through the Veeqo interface. 

Inventory control. Veeqo automatically updates your stock across all your warehouses and storefronts. It's the easiest, most efficient way to manage your inventory. And it's free.
What shipping services does USPS offer?
Not sure which USPS shipping services to pick through Veeqo? Here's a quick overview of USPS services.
Priority Mail Express
Delivery time(s): Next day or up to two days
The USPS Priority Mail Express service is a popular choice among businesses that offer next-day shipping. It is available 24/7, year-round, with very few exceptions to this.
You can get guaranteed overnight delivery if the package is brought in before 10:30 a.m. 
Priority Mail Express comes with the following extra services: 
Money-back guarantee 

Holiday deliveries (for an additional fee)

Up to $100 package insurance

USPS tracking

Free package pickup at your location

All-in pricing includes proof of delivery signature confirmation
Priority Mail Express International ships in 3-5 days, depending on the destination.
Priority Mail
Delivery time(s): 1-3 business days
Priority Mail is a budget-friendly delivery option if you want healthier margins from domestic sales. 
Priority Mail offers flat-rate and prepaid pricing to simplify costs. Conveniently ship goods through the Click-N-Ship service, which supports residential and commercial pickup locations. 
Priority Mail also ships internationally with prices starting at $29.60. Priority Mail International delivers within 6-10 business days. 
Priority Mail includes:
Free package pickup at your location

USPS tracking

No hidden costs (surcharges for fuel, Saturday delivery, etc.)
First-Class Mail
Delivery time(s): 1-5 business days or 2-5 business days for small packages
USPS First-Class Mail offers the most affordable shipping rates for small packages (except for items that qualify for USPS Media Mail rates).
This, on top of the speedy delivery times, make First-Class Mail ideal if you sell small items. Some examples are cosmetics, accessories, and small office supplies. 
First-Class Mail includes: 
Insurance coverage of up to $5,000 for merchandise

Delivery confirmation through services like Certified Mail

Flat price for commercial cards and letters
First-Class Mail has an international counterpart.
Media Mail
Delivery time(s): 2-8 business days
Media Mail provides the cheapest shipping rate for educational media, including books, sheet music, manuscripts, and video recordings. Remember that digital drives, video games, and computer drives aren't covered. 
USPS Retail Ground
Delivery time(s): 2-5 business days or 2-8 days for certain items
USPS Retail Ground is a cost-effective solution for your shipping needs, especially if you don't need uber-fast delivery times. This offer is only available via USPS post offices (pickup not available). 
USPS Retail Ground includes:
USPS tracking

Supports shipment of up to 70 lbs and 130 inches around the thickest part

Saturday delivery
First-Class Package International
Delivery time(s): Varies
The USPS First-Class Package International is popular for businesses that ship products of up to 4 lbs internationally. 
Shipping costs depend on the package's weight and dimensions. Delivery times vary based on the destination. 
First-Class Package International deliveries are eligible for Electronic USPS Delivery Confirmation in select countries.
Other USPS benefits
In addition to the reliable delivery speed, affordable pricing, and tools to save time, USPS also provides the following benefits:
Schedule your package for pickup. Use the online interface to book a pickup at your desired location (depending on availability).

Click-N-Ship. Pay for postage, book a pickup, and ship your USPS package from anywhere.

Shipping supply store. The USPS website also includes a built-in shipping supply store.

Self-service USPS tracking. Use the free package tracking tool from the USPS website to track the status of your delivery. 
Customers also ask
What is the best way to ship USPS?
Priority Mail is the most popular and versatile USPS shipping service with its free packaging, insurance, tracking, and flat-rate pricing. Use shipping software like Veeqo to get discounted USPS rates for every order.
Can I use my packaging for USPS?
You can use your packaging when booking a USPS shipping service if you're not using a flat-rate service. Remove old barcodes, labels, and other stickers to avoid confusion. 
How long does USPS shipping take?
Deliveries within the US generally take 1-5 business days to reach their destination. Some services take longer, including international shipping and media mail (2-8 business days).  
Resources you'll love
Bolster your shipping process with Veeqo today
Trying Veeqo is 100% risk-free.
We don't charge our users a single cent for using our software, no matter how large their business is. With our commission-based business model, we make money from partner carriers by promoting their services rather than our users.
Get started today by creating your free account here.