Shipping
A Comprehensive Guide to USPS International Services
Written by Jana Gentry Smith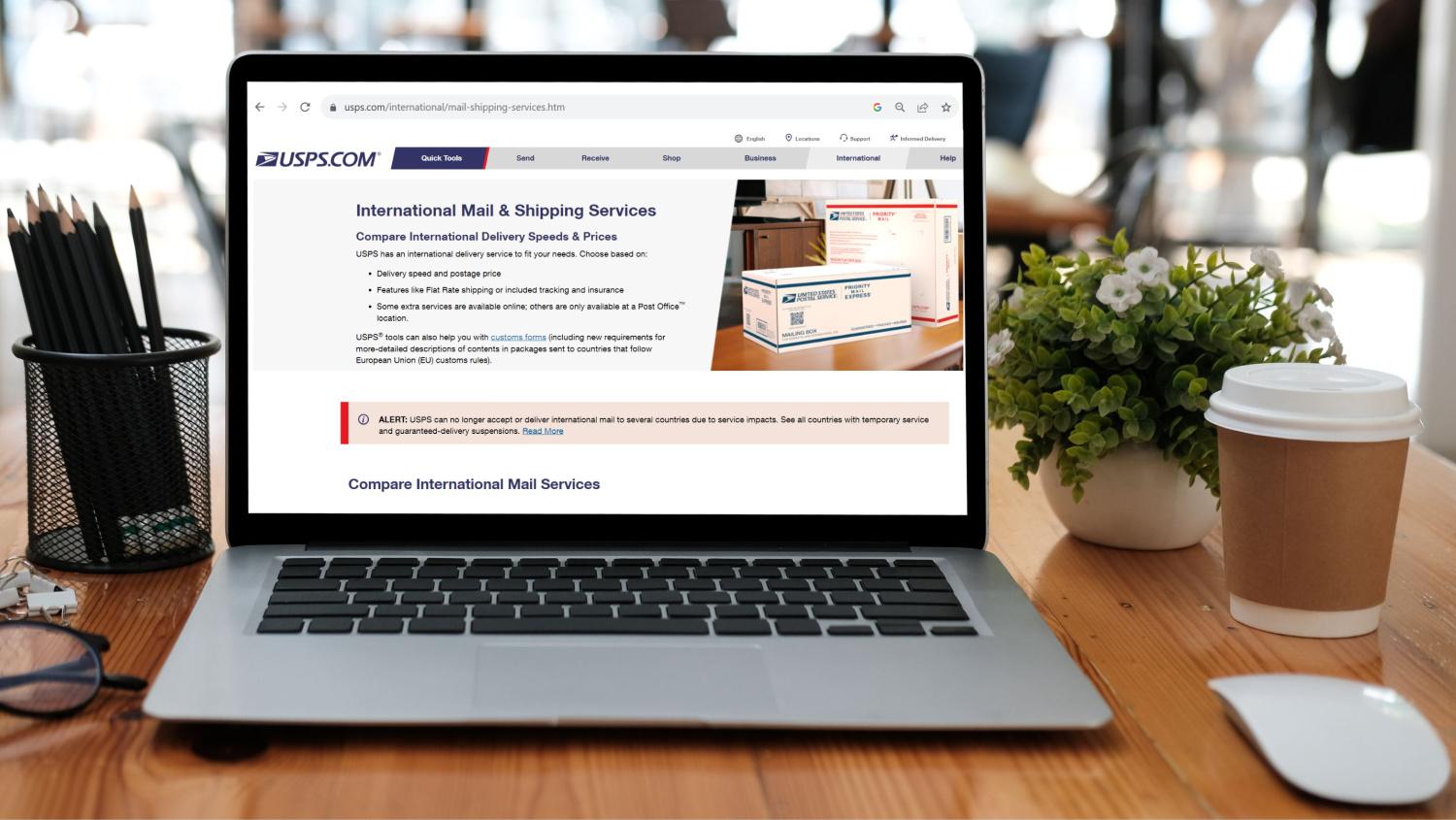 Veeqo sellers, meet a fresh addition to your shipping toolkit: United States Postal Service (USPS) International Services. 
Now, alongside DHL, you've got more ways to save on international shipping, delight your customers, and streamline your e-commerce operations.
Let's explore the ins and outs of USPS International Services and what it can do for your business.
What is USPS International Services?
USPS International Services, part of the broader United States Postal Service, offers an affordable route to international shipping. y
With a delivery network encompassing over 180 countries, USPS offers options such as Priority Mail Express International, Priority Mail International, and USPS First Class Mail International. 
As a federal operation, USPS handles domestic and international deliveries, making it a practical choice for small businesses looking for wallet-friendly shipping solutions.
Why would ecommerce business use USPS for shipping?
The choice of USPS as a shipping partner comes with specific advantages and considerations for e-commerce businesses. Let's unpack them:
Pros

Cons

Cost-effective rates, especially for small businesses

Pickup Program simplifies order collection

Flexible scheduling allows advanced pickups or on-demand service

May not always be the fastest international shipping option

Pickup schedules vary depending on the location
Affordable rates
Since USPS offers a range of shipping methods and competitive flat-rate options, it's a savvy choice for small businesses on a budget.
The affordability of USPS services helps e-commerce businesses manage their bottom line while providing reliable shipping to customers.
Pickup program 
With the USPS Pickup Program, simply pre-package and label your orders, select a pickup spot, and your USPS letter carrier will do the pick-and-go, all without extra charges.
A pickup request is all it takes to save time and effort.
Convenient Scheduling
Also, you can schedule pickups up to three months in advance, allowing you to plan your shipping operations efficiently. USPS even has a solution for what happens when the pickup time you want doesn't match your letter carrier's schedule.
For a small fee, you can opt for the Pickup On Demand service, and they'll pick up your packages at a time that works best for you.
Harnessing the advantages of USPS, e-commerce businesses can elevate their shipping game with a solution that's not only reliable and cost-effective but also hassle-free.
It's a smart move that can enhance the delivery experience, bringing reliable and affordable options to your customers' doorsteps.
USPS International Services International Shipping Options
Within the diverse landscape of USPS International Services, a selection of shipping options awaits to fit your e-commerce business's unique needs.
To help you navigate, check out this chart that details the need-to-knows of each option:
USPS First Class Mail International

USPS Priority Mail Express International

USPS Priority Mail International

Pricing

From $3.00

From $54.75

From $30.35

Delivery Speed

Varies by destination

3–5 Business Days

6–10 business days

Weight Restrictions

Up to 1 pound (15.994 ounces) documents only

Up to 4 pounds. in a USPS Flat Rate International envelope, 

20 pounds in a Flat Rate box, 

or packages up to 70 pounds

Up to 4 pounds in a Flat Rate Envelope, 

Packages up to 70 pounds are priced by weight

Tracking

Not available

USPS Tracking

USPS Tracking

Insurance

Not available

$100 for documents, 

$200 for merchandise, 

and up to $5,000 if needed

$100 for documents, 

$200 for merchandise, 

and up to $5,000 if needed

Function

Send a document envelope under one pound (15.994 ounces)

Send important items, guaranteed to arrive within a week, with date-certain delivery for select locations

Send a package that weighs over 4 pounds
What is USPS First Class International?
Pros

Cons

Competitive shipping rates for shipments under 4 pounds

Reliable option for non-urgent international shipments

No tracking available

Lack of insurance coverage
Are your shipments lightweight? USPS First Class International might be your go-to solution. It offers a speedy and budget-friendly way to ship your international deliveries.
Shipping rates: With USPS First Class International, you can enjoy competitive shipping rates starting at just $3.00. This cost-effectiveness is particularly appealing for businesses looking to manage their shipping expenses.
Delivery speed: Its delivery speed varies depending on the destination. While it isn't the fastest option, it is a reliable choice for international shipments when there's no rush.
Weight limits: Send packages and letters weighing up to 4 pounds. If you have an envelope of documents under 1 pound (15.994 ounces), this service is ideal for your needs.
Tracking: Where's your package? Your guess is as good as mine. Tracking isn't available, so that you won't have real-time visibility into your shipment's location. Consider it if monitoring is crucial for your business and customers.
Insurance: It also doesn't include insurance. If you're shipping valuable items, you may want to find an option where insurance coverage is available.
While USPS First Class International provides a budget-friendly solution for lightweight international shipments, consider your specific needs and priorities.
It may be ideal for folks who want to save a few dollars on non-urgent shipments, but you'll likely want to look elsewhere if speed and insurance are top concerns.
What is USPS Priority Mail International?
Pros

Cons

One of the fastest international shipping USPS options

Tracking is available

Provides insurance coverage

Shipping rates are higher than USPS First Class International
Looking to ship larger packages internationally? USPS Priority Mail International is the way to go. This option offers both reliability and flexibility for your shipping needs.
Shipping rates: USPS Priority Mail International shipping rates start at $30.35. While there are more budget-friendly options, it's well-suited for larger packages.
Delivery speed: With a delivery speed of six to ten business days, it balances affordability and timely delivery.
Weight limits: The price of shipping packages depends on their weight and packaging. You can ship up to 4 pounds. in a USPS Flat Rate International envelope, 20 pounds in a Flat Rate box, or packages up to 70 pounds.
Tracking: One of USPS Priority Mail International's biggest perks is its USPS Tracking. You can see your packages' locations at any time, which is valuable for you and your customers, who constantly check their package statuses on their mobile phones.
Insurance: It also offers insurance coverage for your shipments. For non-negotiable documents, you can get insurance coverage up to $10. For merchandise (depending on the value of the contents), insurance coverage goes up to $200. If you're shipping higher-value items, you can purchase additional insurance up to $5,000.
USPS Priority Mail International is like the Swiss Army knife of shipping options for e-commerce businesses handling larger shipments. Think reasonable rates, solid delivery speed, and handy tracking and insurance features. It's your go-to when you've got a mix of packages—big, small, precious, or not-so-much —on their way to international destinations.
What is USPS Priority Mail Express International?
Pros

Cons

Speedy delivery

Tracking is available 

Insurance coverage available

Suitable packages from 4 to 70 pounds.

Shipping rates are higher than economy services
When you need speed, USPS Priority Mail Express International is what you're looking for. It's known for reliability and rapid delivery, so your shipments reach their international destinations pronto.
Shipping rates: USPS Priority Mail Express International offers shipping rates that start at $54.75. It's not the most affordable option, but it's well worth the cost when you need expedited international delivery.
Delivery speed: With a remarkable delivery speed of 3 to 5 business days, it's one of the fastest ways to send packages to other countries.
Weight limits: Ship up to 4 pounds in a Flat Rate Envelope or packages up to 70 pounds priced by weight so you can tailor it to your shipping needs.
Tracking: It includes USPS Tracking so you can monitor your shipment's location whenever you need. 
Insurance: Insurance coverage is available. For example, you can insure non-negotiable documents up to $200.
If you're crunched for time, USPS Priority Mail Express International is the ideal choice. Since it has rapid delivery, tracking, and insurance, your customers will be telling everyone they know about how quickly they received their packages from your business. 
What other shipping options are available with USPS International Services?
While USPS offers popular international shipping choices like USPS Priority Mail International and USPS Priority Mail Express International, it's worth noting that they also provide less-used services for international shipping. 
These options cater to specialized needs and circumstances, so USPS customers can find a shipping option for whatever they're sending. In the chart below, you can take a closer look at these services: 
Airmail M-Bags®

USPS First Class Package 

Global Express Guaranteed® (GXG®)

Pricing

From $55.00

From $15.75

From $71.10

Delivery Speed

Varies by destination

Varies by destination

1-3 business days 

(1 business day to many destinations in Canada)

Weight Restrictions

Up to 66 pounds (printed material only

Up to 4 pounds (64 ounces)

Up to 70 pounds

Tracking

USPS Tracking

E-USPS DELCON INTL® service to select destinations only

Included for all destinations

Insurance

Not available

Not available

Up to $100 insurance included. Purchase additional up to $2,499

Function

Send lots of books home if you're an international student

Send a package (or large envelope over 1 pound) that contains items worth less than $400 and weighing less than 4 pounds

Send urgent items that must arrive in a few days with date-certain delivery with a money-back guarantee
Here are more in-depth explorations of these lesser-known USPS services that cater to rarer international shipping needs:
Ship to military: Properly send APO/FPO/DPO packages using free boxes, complete the correct forms, and follow military mail guidelines to send mail and packages to military members.

Passports: Whether you're applying for your first passport, dealing with passport renewal, or can't renew by mail, you can visit a US Post Office that accepts passport applications.

International money transfers: Explore the safe and reliable methods for sending money to specific international destinations. USPS offers options like postal international money orders and Sure Money wire transfers.
These services go beyond traditional shipping and help folks with international communication needs.
How do you ship internationally through USPS?  
Shipping packages through USPS is a dance of measurements, codes, addresses, and forms. But, with a bit of prep work, accurate documentation, and the help of ecommerce shipping software like Veeqo, it can be as easy as a click of a couple of buttons.
Here's a breakdown of the steps:
Measure and weigh your package: Measure the total weight and dimensions of your package for correct pricing. 

Item information: If you're shipping to the EU, be prepared with an HS Tariff Code, which is based on the item descriptions. This code helps identify the type of goods you're shipping.

Customer and return addresses: Have access to your return address and your customers' shipping addresses and full names for the shipping labels and customs forms.

Customs forms: Utilize all the gathered information to complete the necessary customs forms accurately. These forms are essential for international shipments and ensure your package complies with customs regulations.

Calculate shipping rates: To manually calculate shipping rates, use the USPS price calculator. You'll enter the origin zip code, destination zip code, departure date, and package specifics.

Streamline with order management systems: Too busy for all of that? Save time and effort by utilizing an order management system. With tools like Veeqo, you can automatically access and compare live shipping prices for each order, simplifying the shipping process.
Shipping internationally through USPS involves careful preparation, accurate documentation, and the option to streamline the process using modern order management systems.
With Veeqo, you can automatically view and compare live prices for each order.
How to get started with USPS international shipping with Veeqo
If you're on the lookout for a more efficient and cost-conscious way to uncover the best shipping rates, Veeqo's ecommerce shipping software might just be the tool you need. With Veeqo, you can automate rate shopping, tap into discounted USPS commercial rates, and access reductions from carriers like DHL, FedEx, and UPS.
Best of all, there's no stress about meeting minimum volume requirements. Ready to navigate your international shipping path with Veeqo? Here's how to navigate the USPS integration:
Set up your Veeqo account if you haven't already. 

Connect Veeqo with your ecommerce platforms to unlock seamless order management.

Automatically access pre-negotiated USPS shipping rates on your Veeqo orders page. The system automatically prioritizes items that are ready for shipping.

Select the correct package type in the "Package" column. Choose the appropriate package type. Veeqo provides options for various package types, from flat-rate envelopes to irregular parcels.

Choose the USPS shipping service: Click on "Shipping Rates" to select the best USPS shipping service for each order. Veeqo's intelligent system automates the best shipping solution based on your item's weight and dimensions.

Customize your shipments by specifying a confirmation method, adding insurance or creating a return label.

Use the checkboxes in the leftmost column to perform bulk actions like adjusting dimensions and package types for similar items. Also, you can bulk purchase shipping labels for up to 100 orders.

Manage returns, exchanges, and refunds efficiently by adding a return label while purchasing your outbound UsPS label or creating one with just a few clicks.
Veeqo's user-friendly platform simplifies the international shipping process so you can access the best rates, streamline your shipments, and manage returns with ease.
Say goodbye to the complexities of international shipping and embrace a more efficient and cost-effective approach with Veeqo.
Veeqo + USPS  = An Ecommerce Shipper's Dream 
Why settle for regular USPS international shipping rates when you can unlock discounted USPS rates through Veeqo? 
Veeqo's shipping and inventory management software isn't just a solution; it's a game-changer for e-commerce businesses looking to save on shipping costs and boost their profit margins.
Check out the array of features Veeqo offers for growing ecommerce businesses:
Amazon-owned Shipping Software
Veeqo is owned by Amazon, meaning you get Amazon's pre-negotiated shipping rates with USPS, as well as AtoZ protection when you ship your Amazon orders on time. It also integrates seamlessly with other Amazon services, including Multi-Channel Fulfilment and Amazon Shipping.
Inventory Management 
Improve your fulfillment efficiency and customer satisfaction by preventing stock-outs, forecasting customer demand, automating inventory tasks, and keeping inventory up-to-date across your marketplaces, stores and locations.
Wave goodbye to the manual world of spreadsheets and let Veeqo do the work by automatically keeping your inventory levels up-to-date across Amazon, eBay, Shopify, and Walmart to ensure that you know:
Exactly what you have in stock

What you've sold and on what marketplace

What you could sell more

What's not selling
Order Management
Automatically update inventory levels across Amazon, eBay, Shopify and Etsy as orders come in, setup automated rules to help you sell more and get powerful inventory automation tools to make your warehouse more efficient.
You can access real-time inventory updates, prevent sell-outs, and facilitate stock transfers between warehouse locations. Plus, you can earn up to 5% back with Veeqo Credits on eligible shipments.
Veeqo's order management software takes the guesswork out of tracking your stock and helps you craft workflows customized for your business.
It pulls orders from various channels into a single dashboard for easy tracking, improves warehouse fulfillment, and keeps your inventory in check across all your stores, marketplaces, and warehouses.
Analytics and Reporting
Think of Veeqo's advanced analytics and reporting features as a crystal ball for high-volume sellers. They dish out nuggets of wisdom to help you make smart choices on everything from products and costs, to sales and profit margins. 
Whether it's predicting demand, keeping tabs on inventory, diving deep into individual SKU revenue, or generating profitability reports, Veeqo can handle it so you can scale your business thoughtfully.
Veeqo's smooth integration with USPS and top marketplaces like Etsy, Shopify, eBay, and Amazon makes it a key player in the e-commerce game. With Veeqo, you're set to fine-tune your inventory management, declutter your order processes, and make decisions backed by solid data. 
So, what's the holdup? Just a few clicks stand between you and your free Veeqo account, connecting your stores and snagging discounted rates right from shipment number one.
All you need to do is create your free Veeqo account, link your stores, and start saving from your very first shipment.