Getting The Most From Product Bundles
Bundling products can be a secret weapon to help ecommerce businesses sell more products, in
Looking for ways to increase your ecommerce revenue by as much as 30% without the hard sell? Welcome to the world of product bundling. Product bundling is the customer-centred strategy that can grow your average order value (AOV) without losing customers with hard-hitting sales tactics. 
So how can you make the most of this strategy in your ecommerce business?
What Is Product Bundling?
Product bundling is a popular, successful, and psychology-backed strategy for selling. It offers a chance to group similar products together and sell them for one price. A product bundle adds several products that work well together and that fits in the customer profile to give them greater value. 
Often, the buyer will pay less by buying a bundle than paying for each item individually. However, this doesn't have to be the case. 
A classic example of a product bundle is a meal deal. A customer will pay less to buy the qualifying items altogether than if they purchased each item individually. However, the beauty of product bundling means that if their intention was to buy just a sandwich, they then spend more by adding a drink and a snack while still enjoying good value for money. 
Product bundling can be a strategy for almost every industry, from earrings to go with a necklace purchase, a shampoo and conditioner set, an online course with accompanying textbook to multipacks of essentials rather than single purchases. 
The premise of product bundling doesn't just have to be to increase average order value, although it often does help. In fact, there are lots of ways that product bundling can serve businesses. From introducing customers to new products to tapping into a different market by adding virtual products to physical goods and vice versa. 
Eight Benefits Of Product Bundling For Ecommerce Retailers
While product bundling is useful for all retailers, these are the main benefits that ecommerce retailers can enjoy:
1. Reduce stale/deadstock
Slow-moving stock can be a burden on your inventory, impacting your costs and warehouse space. Product bundling with faster-moving goods can help get rid of this stock before it is written off as wastage. By product bundling this way, you are likely to see some revenue from selling (as long as the customer sees your bundle as a good deal) while also helping to reduce holding costs. 
2. Increase your sales
By bundling products, you may potentially be introducing new or different products that the customer may not have seen before. Introducing customers to other products can help to increase your sales. For example, they may purchase a bundle to trial a product and then return to repurchase the product if they like it. 
3. Maximise consumer surplus
In selling strategy, every customer will have an amount that they are willing to spend on a product. So, the difference between what they pay and what they are willing to pay is known as the consumer surplus. Product bundles help to maximize the consumer surplus as the price increases, but the customer will perceive that they are getting more for their money. 
4. Lower your packaging & shipping costs
Having customers buying products altogether than purchasing separately helps to enhance the packaging and delivery process. Packaging multiple items together can save money on packaging costs and shipping costs too. There is also less to process in terms of the sale, making it much more efficient for your pickers and packers. 
5. Increase average order value
As mentioned at the beginning, product bundling can help to increase your average order value by between 10 to 30%. This is a fantastic way to boost your revenue and keep repeat customer orders at a high value. Despite spending more in one go, customers will appreciate the value that buying all at once provides, as single spends can often incur higher shipping costs. 
6. Reduce your marketing costs
Having to market every item you sell can be a significant investment in your marketing budget. However, by marketing complementing items into one single item, you can streamline your marketing. Homing in on one product helps you to maximize your marketing return on investment. This is a particularly beneficial aspect of product bundling if you're looking to be super-efficient and laser-focused with your marketing strategy. 
7. Increase product awareness
If some of your products aren't selling as expected, product bundling helps to increase product awareness. This can help get your product in front of new audiences while increasing awareness to those who have perhaps been reluctant to buy it as a one-off. 
8. Enhance the buyer experience
The user experience is essential for creating an enjoyable shopping event. With product bundling, you help to eliminate the decision fatigue and the need to spend time assessing each item. One bundle that can be purchased in as little as a click creates a simple user experience that reduces information overload and, more importantly, lands the sale. 
Five benefits of bundles for the buyer
Product bundles don't just benefit the business. They also offer a multitude of benefits to your buyers too:
1. Greater satisfaction
Buyers are looking for products to address a specific need. If one product won't fully address a need, but a complementing bundle will, then you make the purchasing process much easier. You essentially create a one-stop-shop that is far more satisfying to time-pressed consumers. 
2. Money-saving
Receiving a discount for products they may be likely to buy separately helps the buyer to save money. Even if the product bundle includes something they wouldn't usually purchase, a buyer will follow the economies of scale mentality and appreciate the fact that they are making a saving by buying a bundle. 
3. Trial without risk
If a buyer is making a new purchase, then there is a lot of pressure for the one item to be right. However, bundling as a trial pack allows the customer to experience a range of what the business offers. They are statistically more likely to return to the business as it's a chance to try options and find the right one for them. 
4. Less effort
Bundles can be a great way for a shopper to enjoy a stress-free shopping experience. Instead of having to source individual items, they can purchase one bundle with ease. This means that they don't have to overthink their decision or get lost in price comparison. 
5. Reduce experience friction
If a customer has to purchase an item and then several other items in order to fulfill the experience, then this can put the customer off the purchase. For example, buying a toy and then having to buy batteries. Having a bundle helps to create an enjoyable product experience rather than being one task in a list of actions to complete. 
Ten different types of bundles to consider
1. New product bundles
If you are launching a new product and it seems that customers are reluctant to try it, it can work really well if you bundle your new product with an existing high-selling product. This offers customers a chance to try something new while still enjoying their favorite purchase and getting a good deal too. 
Example: New flavor beverage paired with a popular selling beverage. 
2. Pure bundles
This type of bundle can work really well for some businesses, but it can be limited. A pure bundle is when you can only purchase a product as part of a bundle, and it's not available to be purchased separately. This can help create a captive audience but has to show value to make a customer commit to the pure bundle. 
Example: TV packages where you cannot buy access to just one channel.
3. Upsell bundles
Suppose you're launching an updated or newer version of a product. An upsell bundle can work wonders in helping to convince your customers to part with more money for a chance to receive an upgraded version of the product they intended to buy, and they'll receive an extra item too.
Econsultancy believes that upselling bundles can be 20 times more effective than cross-selling, so it is well worth considering if you're launching an updated product to your offering. 
Example: Latest version of a particular phone model, bundled with headphones. 
4. Gifting bundles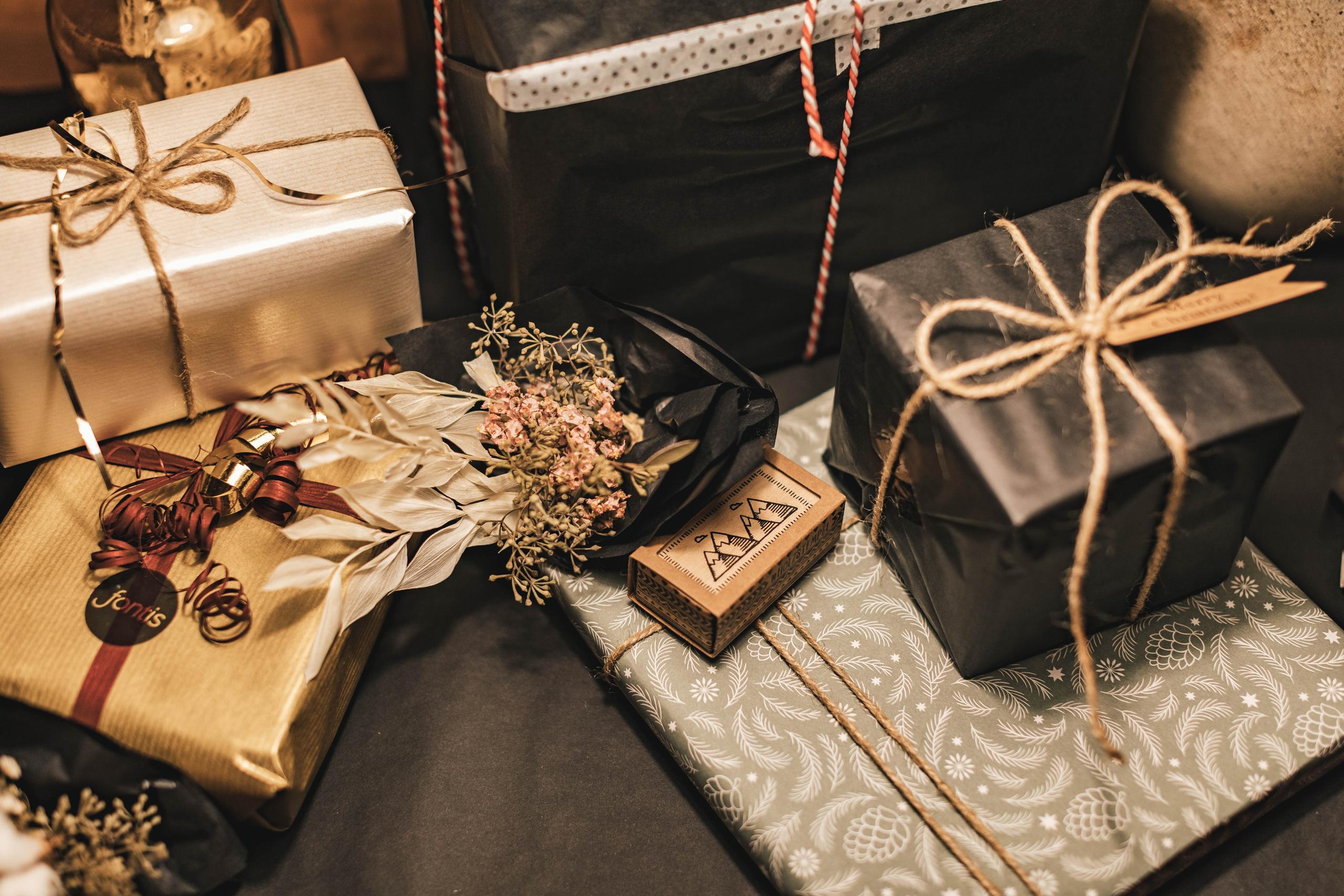 Gift bundles are growing in popularity and can work wonders for seasonal sales and holidays. Gifting bundles take a product and give it a touch of luxury by creating an all-in-one solution. This is perfect for the buyer who wants to give more than a standalone item but wants to have value for money in their purchase.
Example: Perfume in a gift set with a matching body lotion. 
5. Necessity bundles
Another popular consumer option is to create stress-free shopping with a one-stop-shop for essentials. This type of bundle can be helpful for seasonal or occasion gifts. However, it can also be useful for stocking up on the basics in one quick shopping experience.
Example: Valentine's Day package of flowers, champagne, and chocolates. Alternatively, it could be a travel first-aid kit or regular pet care essentials. Another popular example is cooking bundles, where all the ingredients you need are bundled up into one product.
6. Cross-sell bundles
A cross-sell bundle works well to add extra spend to an existing order if you provide complementing items that make sense to purchase together. Typically a cross-sell bundle will focus on a product that a customer wants to buy and then help increase the value of the purchase with items that the customer will also find useful. 
Example: A phone with a corresponding phone case and screen protector. 
7. Mix And match bundles
This type of bundle is fantastic for giving the customer choice in their purchase. With a mix and match bundle, they have control of the items they will receive, so they will be getting value from the picking items they actually want. This type of bundle works best when the item will be customer-specific, such as picking a clothing or footwear size or having a dietary requirement. 
Example: Buying a suit jacket, trousers and shirt in a bundle. 
8. Excess inventory bundles
If you have slow-moving or perishable items that need selling quickly, an excess inventory bundle can be incredibly useful in shifting stock that is taking up valuable warehouse space. It can also help to recoup costs before the stock is written off as wastage. The best use of excess inventory bundles is to pair them with fast-moving stock.
Example: Adding a less popular shower gel to a popular shampoo and conditioner to create a bathtime set. 
9. Sales bundles
Another way to help get slow-moving or end-of-line stock out of your warehouse is by creating sales bundles. Customers will enjoy grabbing a bargain in the sales. However, you can increase the value they receive while also increasing your average order value by bundling sale products together. 
Example: Movie Night In Sales Bundle instead of single purchases of on-sale popcorn, chocolate and sweets.
10. Buy one get one free bundles
Last but not least is a buy one get one bundle. Two-thirds of customers believe this is their favorite bundle deal, so it is certainly one to consider. However, it only works on items that customers regularly buy. For example, it is less likely to work for infrequent purchases such as electronics or gadgets. No customer is looking for two pairs of the same hair straighteners. However, it can work on items where they will want two, such as a standard pair of hair straighteners and a mini travel set. 
Example: Buy one pair of sandals get another pair free – customers will never have too many pairs of flip-flops! 
Why Selling In Bundles Works
There is a school of psychology when it comes to selling, and bundles fall into this. The most important aspect of selling in bundles is creating perceived value in the customer's eyes. This value may be a significant discount. However, it may be that you've simplified their life by being able to purchase just one bundle instead of having to shop around for singular purchases. 
The idea of buying successful product bundling taps into the psychology known as 'pain of buying'. 
The pain of buying could be simply spending money and wanting to get the best deal. In ecommerce, it is so easy to compare multiple stockists to try and find the best deal. This can be overwhelming and confusing when you have to search for the right product, check the price, the delivery cost and speed. Ultimately, with so many tabs open, a customer may suffer cognitive overload and not make the purchase at all. 
Instead, product bundling creates a clear view of value. It explains what you will receive and the value it provides as well as the potential savings the customer could enjoy. 
Getting The Balance Right
There is a fine line for product bundling to be successful. You want to show the customer that they are receiving value without overloading them.
A fantastic example of this is buying a car. A car salesperson could give the customer a cost breakdown of every single item. For example, they could provide the cost for leather or fabric upholstery, the difference in price between a standard and high premium sound system, the cost of trims, alloys, accessories and the list could go on. 
Instead, car showrooms can remove the pain of buying by offering a standard car package and a premium car package. From that, the customer doesn't need to add up all the costs of each item. Instead, they can determine the value they're looking for from a car and whether it seems better value to enjoy all of the features of the premium specification or whether a standard option suits them better. 
Giving Value 
Ultimately, a customer will want to make the purchase decision easy for themselves: Is this good value to me or not? 
If your product bundling can show a clear promise of value, you help to make the buying decision much easier. 
In some cases, product bundles may be more expensive than buying the items individually. For example, you may be able to purchase three pairs of socks for £10, but a bundle of three pairs of socks in a gift box will be £12. However, this still represents value to the customer as you remove the pain of decision-making. 
Eight Ways To Get The Most Out Of Product Bundling
Position an item as free
Research suggests that saying there is a 'free gift' in the product bundle can help to reduce the level of returns. 
Bundle related items together 
A bundle has to make sense to a customer; if they do not complement each other and the customer cannot see use in an item, then the bundle loses its incentive. 
Make the savings clear
If the customer receives a saving from the bundle, then display this saving clearly in your promotional material. Show them exactly how much they'll save in simple terms.
Make the most of your data
Looking at your sales data, do customers regularly buy two items together? What products are regularly purchased in one go? An inventory management system can be a great way to figure out the products your customers want. 
Data can also help you find your slow-moving and fast-moving stock if you're looking for ways to create excess inventory bundles. 
Capitalise on checkout
Last chance sales are a fantastic way to capture an impulse sale and increase the average order value. Offering an order bundle at checkout or providing a gentle reminder that they could save money if they purchase a bundle can be incredibly effective. 
Test and measure
A/B split testing can be invaluable in determining what shows value to your customers and which offers don't inspire your audience.  
Create a value section
Capitalize on the quick, efficient shopper looking for easy value by creating a separate page for popular bundle deals. 
Create gift guides
If you're opting for gift bundling, then taking your customer through the gift-buying journey through guides can help to make holiday shopping easier for your audience. 
How Veeqo can help you take advantage of bundles
Veeqo's ecommerce fulfillment platform makes setting up bundles straightforward by:
Producing product reports to identify slow-moving stock you may want to shift or popular products that you may want to bundle.

Giving you greater visibility of your inventory. So you can sell products individually or as part of a bundle without having to track stock separately or ring-fence stock for bundles. This includes automatically updating the availability on 1OO's of bundles that a "sold item" may be part of.

Make picking easy by giving you the individual bundle items to pick rather than just giving you the name of the bundle that has been ordered.
You can learn more about how Veeqo's picking features can help your business here.
About the author
This article was written by Marc Girdlestone. Marc is Product Manager at Veeqo. His particular focus is all things warehouse-related, making sure Veeqo offers the functionality its users need to make a success of their ecommerce businesses.