Shipping
ShippingEasy vs Pirate Ship: Which Shipping Solution is Right for You?
Written by Rachael Pilcher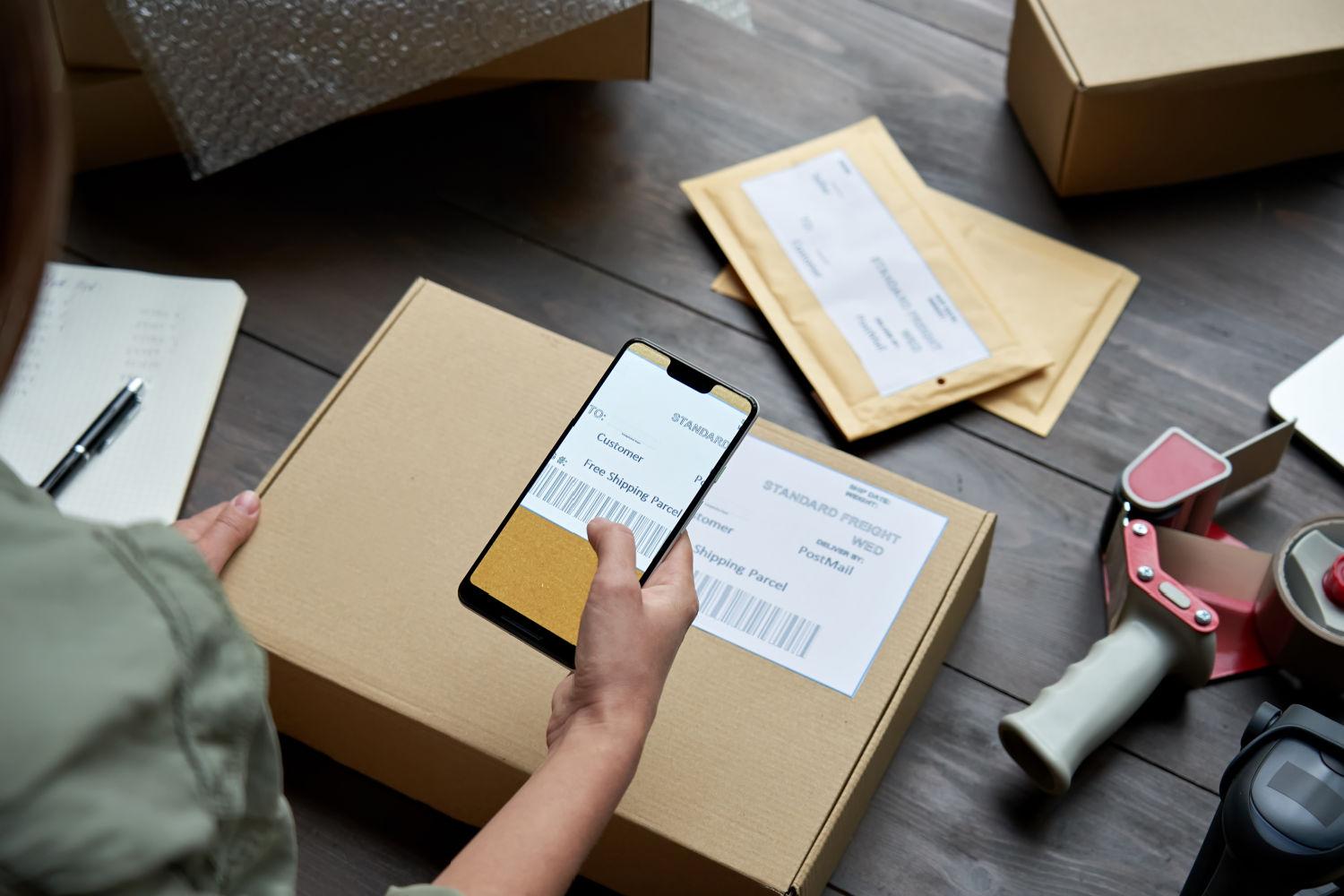 If you're on the hunt for cloud-based shipping solutions, ShippingEasy and Pirate Ship are both established software providers that can help you save time and simplify your order management.
But as you're choosing a shipping software that's the best fit for your business, we also want to show you how Veeqo can help you streamline the entire shipping process from end to end with discounted shipping, advanced automations, inventory controls, and reporting features — and without any monthly fees!
Table of contents
ShippingEasy overview

Pirate Ship overview

Why choose Veeqo over ShippingEasy or Pirate Ship?
ShippingEasy
ShippingEasy is a popular cloud-based shipping management tool, owned by Auctane, that began in Australia, and is now headquartered in Austin, Texas. 
It's a flexible software solution that can be used by small businesses with low-volume needs, right through to enterprise sellers who ship thousands of orders each month.
Shipping Easy lets sellers download orders from their sales channels and map them to their shipping preferences, rates, and delivery options.  
Shipping labels and branded packing slips can be printed out within the software, and tracking details and delivery status are automatically populated in both the ShippingEasy dashboard and the merchant's stores, making it simple to communicate on shipping progress with their buyers.
Key features of ShippingEasy
Customer support via live chat, phone, and email

API & EDI integration

Automations

Product management tools

User management tools

Customer marketing tools

Bar code scanning
Carriers
Users can access a good range of shipping options with this software, including USPS, UPS, FedEx, and DHL.
ShippingEasy also offers commercial rates with USPS and discounted insurance rates for carriers.
Integrations
Integrations for ShippingEasy include major marketplaces like Amazon, eBay, Etsy and Walmart, ecommerce software such as WooCommerce and Shopify, and cloud accounting and ERP tools.
ShippingEasy also offers a $19.99 monthly plan exclusively for LulaRoe sellers that lets them integrate with Bless software.
ShippingEasy Pricing
There are 7 plan tiers to choose from, including a free starter plan.
It's worth noting that the plan amounts state they are the "expected" subscription prices for each month, meaning that you could potentially be paying more than the figures below.
Starter - this is a free plan with basic features. It's suitable for small businesses that ship less than 25 parcels per month.

Growth - $19.99 per month up to 200 shipments, with added features such as CSV uploads and reporting.

Basic - $29.99 per month up to 500 shipments. This plan offers extra features such as unlimited marketplaces.

Plus - $49.99 per month up to 1,500 parcels.

Select - $69.99 per month for up to 3,000 packages.

Premium - $99.99 per month up to 6,000 parcels.

Enterprise - $159.99 per month for up to 10,000 shipments.
As ShippingEasy is owned by Auctane, like other Auctane software brands, it's been subject to recent price increases, and those price increases could happen again.
Pros of ShippingEasy
Overall, users say they enjoy ShippingEasy's helpful customer support systems, time-saving features, and the fact they can manage shipping from multiple marketplaces in one place. Some other positives mentioned include:
The ability to manage orders in real time

The ability to manually create orders by uploading a CSV file

One-click label printing

Handy automations such as import rules
Cons of ShippingEasy
Despite its name, some customers have found ShippingEasy to be…not so easy.
Reviewers mention that there is a steep learning curve, the interface is "messy and cluttered and things are hard to find" and that it "sometimes becomes menu soup when you are just trying to create a simple shipment".
A few downsides that users comment on are:
The free plan only offers basic features

Glitches and syncing issues with apps and label printers

The constant need to top up your account to print labels

Not necessarily cheaper than other providers, especially for international shipping labels
Pirate Ship
While ShippingEasy offers something for sellers at every level, Pirate Ship has a lean business model that's designed with small businesses and entrepreneurs in mind.
It's a free shipping management solution that offers all the core features you need, and nothing that you don't, making it an ideal option if you're a low-volume seller.
Key features of Pirate Ship
Pirate Ship has a stripped-back feature set, which means it's pretty user-friendly and easy to get set up in, even if you're not that tech-savvy. You can:
Print labels

Track shipments

See basic reports

Import orders from either spreadsheets or your connected commerce channels

Find the cheapest UPS and USPS shipping options

Choose the fastest delivery speeds
Carriers
The main drawback for many businesses who use Pirate Ship is the limited choice of carriers. You can only ship with USPS and UPS.
On the upside, sellers can get discounted shipping rates with both carriers.
Integrations
Like ShippingEasy, Pirate Ship integrates with major commerce channels like Etsy, Shopify, WooCommerce, and eBay. Although integrations are limited in number here, they include some of the most popular online channels used by small businesses.
You can also manually upload your orders from any digital spreadsheet into the Pirate Ship tool to start printing labels out.
Pirate Ship Pricing
As an independent provider for UPS and USPS, Pirate Ship is 100% free to use. There are no markups, fees, hidden costs, or minimums to worry about. 
All you'll get charged for is printing your shipping labels.
Further reading: Pirate Ship vs ShipStation Comparison
Pros of Pirate Ship
Pirate Ship has a ton of happy customers. Online reviews mention that this software is easy to get started with, it saves time having everything in one place, and the on-brand pirate theme makes it fun to use.
Other pluses for sellers include:
Simple interface

Cheaper than other shipping management tools

The ability to find the cheapest shipping options

Good customer support
Cons of Pirate Ship
As we mentioned above, Pirate Ship is designed with small businesses in mind. So if you plan to scale, or if your order volume is increasing, it might not be the best choice.
Some other downsides that reviewers mention are:
No two-day delivery guarantees

You can only print one label at a time

You can't easily split an order over multiple shipments

Not enough marketplace integrations
Why choose Veeqo over ShippingEasy and Pirate Ship?
When you're looking at ShippingEasy vs Pirate Ship, it's obvious that they're very different solutions targeting different types of customers.
But both of these providers have limitations when it comes to their features and pricing, and this can hinder your ability to scale.
With ShippingEasy, it costs an increasing amount in fees each month as your business sends higher volumes, and with Pirate Ship, the features you need to grow and scale simply aren't there.
Veeqo gives sellers the ability to increase their inventory and order volume smoothly, with built-in tools to make order management, shipping, analytics and forecasting a breeze — whether you're sending 10 parcels a month, or 10,000.
Faster, cheaper shipping
Sellers can quickly find the best shipping rates for any parcel using FedEx, DHL, UPS, and USPS carriers.
Veeqo automatically chooses the best value label for every order you receive on any commerce channel, meaning you never have to spend time hunting for discounts. 
Once you've found the best rates, you can also ship up to 100 orders at once, saving you hours of time processing everything manually.
Our automated shipping rules mean you can save even more time by setting up rules for weight, value, delivery options, and other repetitive inputs in advance. Veeqo will follow these pre-set guidelines to offer you the best labels when it's time to print.
Inventory management 
Another advantage Veeqo has over Pirate Ship and ShippingEasy is that it automatically syncs inventory across all of your stores.
For example, when something sells out on your Shopify store, it will also be marked as out of stock on your Etsy store in real time. 
Our inventory control features take all the hassle out of processing refunds and sending "sorry" emails to buyers — ensuring they have a better customer experience.
You'll also be able to enjoy advanced features such as inventory management, product sales forecasting, and digital picking, which will help your business pick, pack, and send orders faster than you ever thought possible.
Veeqo's Integrations
While ShippingEasy integrates with Amazon, Veeqo has the advantage of being an Amazon company.
This means Veeqo is fully integrated with Amazon's shipping and fulfillment systems — giving you extra peace of mind when you're shipping out Amazon orders.
We've also been approved as a Shopify Plus partner due to our ability to provide advanced performance, security, and support for the unique and complex needs of global sellers.
Veeqo's integrations also include top marketplaces like:
eBay

Magento 

Walmart

Etsy

BigCommerce
Scalability
Veeqo is designed to scale alongside you as your business grows. If you're starting small, you'll have access to all the features you'll need as a high-volume seller in the future, including forecasting and reporting tools, plus advanced inventory and order management.
And if you're already sending thousands of parcels a month? You'll have all the features you need to manage a large inventory and run your shipping process smoothly from start to finish.
Ease of use
We designed Veeqo to be as simple to use as possible, despite having such a large range of features and integrations. 
Customers frequently comment about how easy it is to get set up compared to other ecommerce shipping software, and that it's simple to sync and integrate with the tools and marketplaces that they're already using.
Customer support
When you're an ecommerce seller, things can often be busy and stressful - we get it!
Our customer support team has been hand-picked to give you the support you need, when you need it. 
Here's what some of our reviewers have to say:
"The team is great whenever we pester them with something (we're not the most tech-savvy bunch!) and they are always very helpful"
"This kind of support is really important to us which is one of the reasons we rate it so highly - the team are quick to respond to all our queries and very friendly"
"Veeqo has massively streamlined the order dispatch process and allowed us to focus on our core business. Coupled with outstanding customer service - it's a must have for our business"
Pricing
Veeqo only has one pricing plan — and it's free!
That means unlimited users, no monthly costs, unlimited orders, and no shipping label limits. The price is a flat rate of zero.
Are we wizards? Unfortunately not! We partner with our shipping carriers to provide this free service. It's all part of our core mission to help sellers like you stay one step ahead.
Further reading:
At the end of the day, the question is — do you want a shipping management solution that has lots of features and lots of ongoing fees (ShippingEasy), a solution that is free but has very basic features (Pirate Ship), or comprehensive software that solves all your shipping management problems for free (that's Veeqo!)
Create your free Veeqo account today and discover how simple shipping management can be.