Shipping
Shippo vs ShipStation: Which Shipping Solution is Right for You?
Written by Rachael Pilcher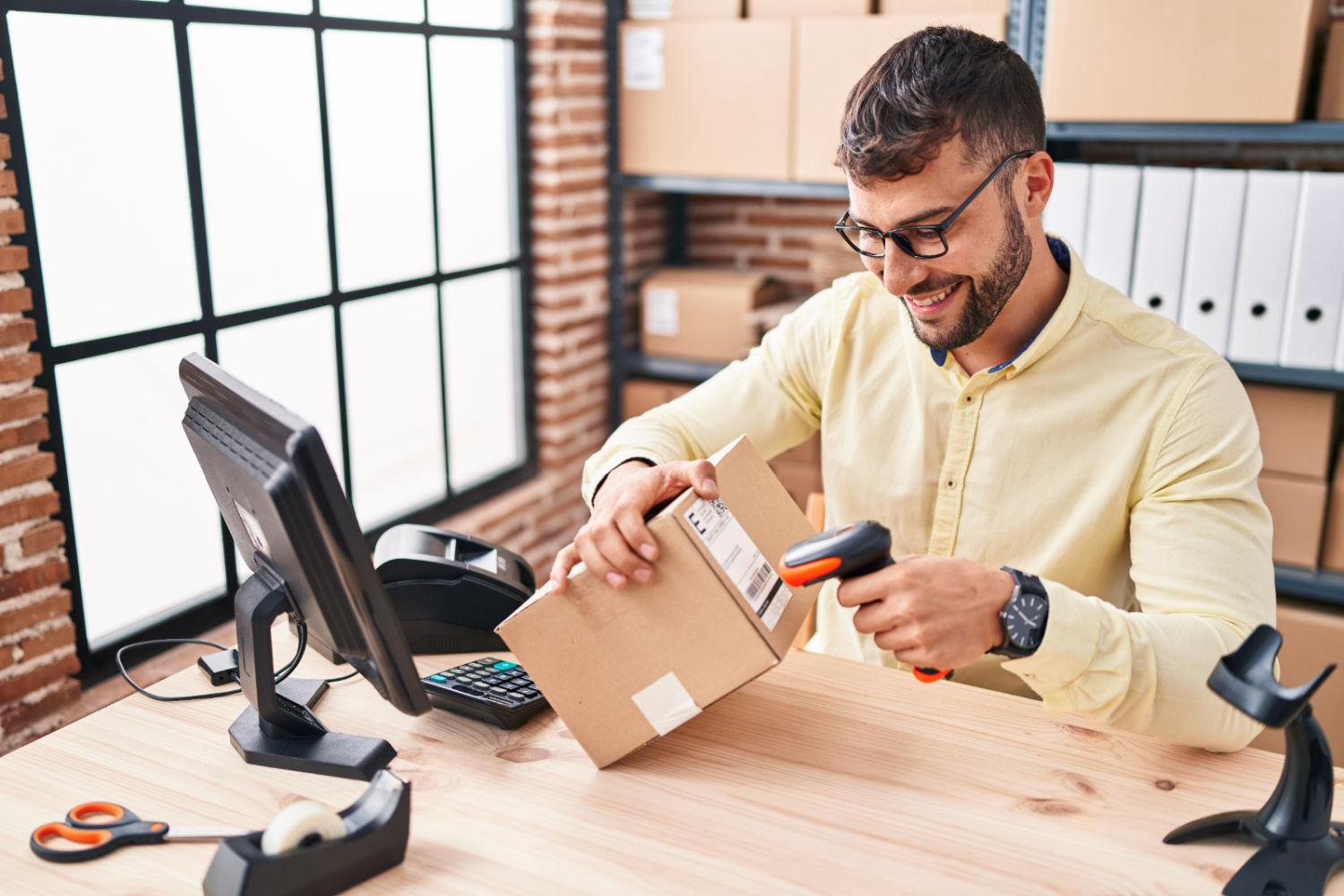 If manually sending and tracking parcels is becoming a major headache, you're probably on the lookout for some robust software that can help you manage the end-to-end shipping process online.
Shippo and ShipStation are both major players in the shipping software industry, and both of these apps promise to streamline your operations and save you a ton of time and money.
But which one is best for the unique needs of your ecommerce business?
In this article, we'll be looking at the finer points of Shippo vs ShipStation, and we'll also show you how Veeqo's free, all-in-one shipping management software could be an even better fit for your business.
Table of contents
Shippo overview

ShipStation overview

Veeqo vs Shippo vs ShipStation

Further reading
Shippo overview
Shippo is a multi-carrier shipping management tool that gives you access to 85+ global carriers and claims to save users 80% on standard shipping rates. 
It syncs with popular ecommerce apps and marketplaces, letting you download orders from multiple marketplaces into your dashboard,  print shipping labels, and track your packages from dispatch to delivery.
While Shippo is tailored to meet the needs of all sizes of business, it's probably best suited for smaller businesses who can afford the monthly plan fees, but don't need advanced automations, analytics, or inventory control at this stage of their growth. 
If you're looking for a ShipStation alternative (without the price tag), Shippo could be a great option for you.
Key features of Shippo
Parcel tracking

API access

Carrier discounts

Custom branding for emails and packing slips

Email, phone, and chat support

Global address validation
Carriers
All your global and regional shipping needs are taken care of with Shippo's network of 85+ carrier partners, which include DHL Express, FedEx, UPS, and USPS. 
In addition to the existing discounted rates they offer with their primary carriers, Shippo has also recently partnered with FedEx to offer discounted shipping services natively within their software.
Integrations
Shippo integrates directly with many popular apps, fulfillment partners, and marketplaces used by ecommerce retailers, including.
Square

WooCommerce

Amazon

eBay

Etsy

Fishbowl
For apps and websites that don't sync directly with Shippo (e.g. BigCartel and Ecwid), you might need to pay extra for third party software like Zapier to create the necessary integrations.
Shippo plans and pricing
Shippo offers more affordable pricing than ShipStation, and has three plans (including a basic free plan). There are additional fees if you want to use the native API.
Starter - this plan has no monthly subscription fees, and gives you basic features like label printing, carrier discounts, live chat, and email support. It only allows web app access for one user, so it's best for solopreneurs or small businesses who only ship a small amount per month. It's worth noting that you'll be charged a 5c per label fee on this plan if you want to connect your existing carrier accounts, but this fee will be waived if you're using Shippo's default carriers (USPS, UPS, or DHL Express).

Professional - at $10 per month, the mid-tier plan is tailored for vendors who need extra features such as batching and automating the shipping process. This plan gives you five user accounts and you have the option to create branded packing slips and customer notifications.

Premier - a custom plan for high-volume shippers that need a defined fulfillment workflow, Premier offers technical setup assistance and dedicated customer support. This plan gives you 15 user accounts, and pricing will be quoted depending on your shipping needs.
Pros of Shippo
Shippo has hundreds of online reviews, with customers mentioning that they enjoy the "real time shipping and tracking info" and feel that it is "one of the best and easy e-commerce platforms for shipping labels to use by small business owners".
Customers generally feel that Shippo is pretty straightforward to use, although there are a few reviewers that comment they "wish it was a bit easier to set automations and rules like automatic signature requirement or insurance on packages", and that an external app would make it easier to check on shipment progress.
Shippo users also appreciate that they can:
Create multi-piece shipments

Easily schedule parcel pickup

Generate free return labels

Track shipments and notify customers
Cons of Shippo
Some customers mention that despite Shippo's claims to help users potentially save 90% on shipping labels, this wasn't the case for them. One user states that "the Shippo charge made the total cost higher than the cost to use the US Post Office" and another says that "the rates were not as good as some other companies I deal with".
Reviewers also state it can be frustrating trying to get a reply through Shippo's email and chat support channels. One user mentions "I received an error and was asked to contact support which I did, but received a response 5 days later" and another reviewer echoes this, saying "It takes ages for you to get help from them".
A few more downsides to Shippo include:
Only supports English language

No iOS or Android applications

API is not well documented

Doesn't integrate directly with some popular commerce sites like BigCartel

Extra surcharges might be charged to your account if you enter an incorrect destination address, incorrect package weight or dimensions, or pay insufficient postage.
ShipStation overview
ShipStation is another popular choice of ecommerce shipping software for retailers who need to import sales data from multiple stores, manage customer orders, and ship packages online. It integrates with many of the popular marketplaces, apps, and carriers.
It offers more features than Shippo (e.g. advanced inventory management tools), and the monthly pricing plans reflect this. 
ShipStation positions itself as an ideal solution for every size business, but the plan pricing and extra charges make it best for sellers who send large volumes and can afford to absorb the ongoing costs of using their software.
Key features of ShipStation
Branded tracking page and return portal

Real-time tracking

Combine, split, and filter orders

Bulk label printing

External mobile apps

Inventory management tools

Track delivery times in-app or with automatic notifications
Carriers
ShipStation offers direct integrations with several carriers including USPS, DHL Express, UPS, and GlobalPost.
You can also connect your existing merchant carrier accounts for an additional fee. Read on for more details about these charges.
Further reading: The Ultimate Guide to USPS Priority Mail Flat Rate Shipping
Integrations
ShipStation offers 70+ integrations with inventory, ERP and marketplace apps like WooCommerce, Squarespace, eBay, Amazon, and Shopify, allowing you to manage all your shipping logistics in one place.
Their REST API is available on all plans if you need to create custom integrations for your existing tech stack.
ShipStation plans and pricing
ShipStation's payment plans and pricing will vary depending which country you're in. **
In the USA, there are four plan tiers that are billed monthly—Startup, Accelerate, Scale, and Enterprise. 
All plans come with a 30-day free trial, but unlike Shippo there is no basic free plan for low-volume sellers.
Starter - $9.99 USD per month. This plan only gives access for one user who can ship up to 50 parcels a month.

Bronze - $29.99 USD per month. This plan still only gives access to one user, but volume increases to 500 parcels a month.

Silver - $59.99 USD per month. Gives access to two users who can ship up to 1,000 parcels a month.

Gold - $99.99 USD per month. Three user accounts can be set up, and shipments go up to 2,000 parcels a month.

Platinum - $149.99 USD per month. This plan lets you add five users and ship up to 5,000 parcels a month.

Enterprise - $229.99 USD per month. For large-volume sellers, this plan lets you create 10 user accounts and ship up to 7,500 parcels a month.

High-Volume - if your shipping and user access needs exceed all of the above plans, you can contact the sales team to get a custom plan set up.
ShipStation's extra charges
With ShipStation's plans, it's important to note that you could be charged extra fees in addition to the monthly recurring fees. Some users get caught out with these unexpected charges.
You need to carry a minimum balance of $10 USD in your ShipStation account, and you'll be charged for each label you print out, which is then deducted from this balance. Extra fees can be automatically charged at any time to top up your carry balance.
Label printing charges will depend on which carrier or postage provider you use. You might be either charged when you create the label in ShipStation, or be sent a monthly invoice to pay.
There are also additional fees if you want to connect your own direct carrier accounts to ShipStation, and if you decide you want to use the available rates in your own carrier account.
As of July 2023, the fees for United States users are: **
Starter Plan - $5

Bronze Plan - $20

Silver Plan - $30

Gold Plan - $40

Platinum Plan - $60

Enterprise Plan - $95
And if you want to use premium integrations? There's an extra charge for connecting these third-party apps too.
As we mentioned earlier, ShipStation isn't the best option for small-volume shippers, or sellers who are trying to keep their monthly costs down so they can grow faster.
There are many alternative shipping solutions out there that offer more value, for less money.
Pros of ShipStation
If you can absorb the monthly costs, you'll be pleased to know that many ShipStation customers leave positive reviews about "The ease of connecting carts and other order sources", the fact that it's "easy-to-use and customisable", and that "it's also easy to ship internationally".
Other pros mentioned by ShipStation users include:
Easy to download spend reports

Quickly print shipping labels

Reduces manual work

Supports a wide range of hardware such as printers and scales
Cons of ShipStation
On the flipside, ShipStation reviewers comment that there are often glitches with the software, which include things like "The connections to carriers go down at random times", "Sometimes the Connect app does not always work and has to be restarted", and "Shipstation Connect is finnicky".
Some of the other drawbacks for ShipStation customers include:
No free plan

Doesn't automatically pick the cheapest shipping option

Steep learning curve

Unable to restore orders if you need to

Frequent price increases

No warehouse management tools
Veeqo vs Shippo vs ShipStation
If the steep pricing for ShipStation, or the lack of features in Shippo have you sitting on the fence about which is best—Veeqo's comprehensive multi-channel shipping software has got you covered.
Veeqo gives you access to discounted shipping rates with FedEx, DHL, UPS, and USPS, plus you'll get all the shipping management and analytics tools you need as you grow—without the hefty price tag. Or any price tag for that matter, because it's free!
With other shipping management tools, if your shipping volume grows, so does your monthly bill. But with Veeqo, whether you ship one parcel or 10,000 parcels, you still won't pay a cent.
We designed our app to manage shipping for businesses of every size.
It's simple to use, and gives growing businesses the ability to scale faster—meaning you won't need to scramble for another shipping management solution if your order volume suddenly explodes.
Partnerships
Amazon
Shippo and ShipStation both integrate with Amazon, but Veeqo gives you the unique advantage of being an Amazon-owned company.
This means you get all the benefits of being fully integrated with Amazon's own fulfilment and shipping systems. 
As part of the Amazon family, Veeqo gives you peace of mind around data security, plus Amazon account protection from late deliveries and negative feedback if you ship on time.So if Amazon drives a lot of your commerce revenue, we'll be a perfect match!
Shopify
Veeqo is also a certified Shopify Plus partner.
This means our app has been approved by Shopify to handle the advanced needs of high-volume Shopify sellers who need more tools, higher performance, and better customer support to keep everything running smoothly.
Cheaper, faster shipping
Unlike Shippo and ShipStation, Veeqo lets you automatically see the best shipping rates for any parcel at a glance, saving you valuable time checking all the different carriers to find the cheapest prices.
You can also view our discounted USPS, DHL, FedEx and UPS rates in your dashboard, and you don't need to negotiate rates or meet any specific volume requirements to take advantage of these great prices. 
Other Veeqo shipping perks include:
Bulk shipping - ship up to 100 orders at once, reducing manual tasks and saving you a ton of time

Automations - advanced automations let you pre-set guidelines for delivery options, value, weight, and other frequent shipping selections, meaning you'll automatically be offered the best labels each time you go to print
Further reading: 9 Benefits of Using Veeqo for USPS Shipping
Veeqo integrations
Veeqo integrates with leading marketplaces like Amazon, eBay, Shopify, Etsy, Walmart, and BigCommerce, which means you can quickly integrate multiple selling channels into the Veeqo dashboard and manage all your orders in one central place.
Need more? The Veeqo API lets you integrate any other external app or service with your retailer's account.
Pick faster from your mobile
Our customers love our free mobile app that lets them pick, pack, and ship straight from their phone.
Ship your orders on the go, keep your warehouse organized, and ensure your customers get their parcels at lightning speed with digital picking.
Keep control of your inventory
If you plan to scale, or sales are booming —Veeqo has all the functionality you need to increase order volume smoothly.
One of the main advantages Veeqo has over Shippo and ShipStation is that it enables you to sync and track inventory across all of your stores in real time.
This makes ecommerce order management a breeze, and ensures you'll never ship something that's not in stock. 
With our inventory control feature, if you sell the last piece of a product in a specific store, it will immediately be marked out of stock across all your other stores. So you can eliminate all of those "oops" emails and ensure a better customer experience.
Further reading: Veeqo vs ShipStation Comparison Guide
Track your business growth
With robust analytics and forecasting built right in to your Veeqo dashboard, you can quickly find all the information you need to make smarter business decisions, including:
Audit trails

Top selling items

Cost prices

Sales margins

Unified sales, inventory, and fulfillment reports for all your connected stores
Veeqo's advanced forecasting means you can prevent over-ordering and under-selling, and avoid running out of stock during high seasons (did you know, that stockouts lead to US and Canadian sellers losing an estimated $350billion a year in revenue!)
Veeqo pricing
In short, it's free!
No monthly subscriptions. No hidden fees. With Veeqo, you can add unlimited users, send unlimited orders, and print unlimited labels. It's all part of our mission to help businesses grow.
We work with our carrier partners to save you money on tiresome shipping costs—so you can spend it on more exciting parts of your business instead.
Further reading:
If you're looking to keep your monthly shipping costs down, and don't need a huge range of features, Shippo might be a great choice for your business.
And if you need a few more advanced functions and can afford the increasing monthly fees of ShipStation—it's a good solution for some businesses.
But if you want the best of both worlds, Veeqo can solve all your shipping management and inventory challenges at every stage of your business, for free.
Create your free Veeqo account today and enjoy all the benefits of our user-friendly, all-in-one shipping management solution.
Pricing Sources:
** ShipStation pricing and features sourced from shipstation.com/pricing. Last updated July 2023.