Amazon Seller
Ultimate Guide For Comparing Marketplaces to Sell On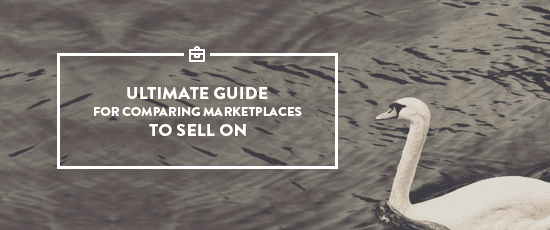 It can be confusing and daunting trying to choose a platform for your online sales, but not to worry: we're providing you with this handy comparison guide. Because you're probably already familiar with the concept of sites eBay and Amazon, and because they are both quite simple in terms of features and customizability, we are going to give a quick overview of both and then list the pros and cons of each. For the other ecommerce sites, we are going to give a more detailed account of the features, because each one is quite different. 
Amazon 
Amazon has overtaken eBay as the world's most popular ecommerce site. It has a simplistic seller package and an elegant interface that many prefer over eBay, which can seem a little disorganised and messy. One of the major benefits of being an Amazon seller is that it's a true marketplace – meaning there's tons of users who like that kind of shopping experience (imagine it like an online farmers' market or department store) ready to buy your goods. 
Pros of selling on Amazon: 
Your products are easier to find and buy on Amazon

Convenient, trusted shopping experience for customers

Security and fraud protection for you and your customers

Access to Fulfilment by Amazon, which can save you money on your shipping

Amazon Seller Central is easy to navigate and helps you understand everything about how to sell on Amazon

Easy uploading and downloading of information

Lengthy informative emails when an item sells

Many reports you can access on Amazon

Free Amazon Auction listings

Customer Feedback that rates you as a seller
Cons of selling on Amazon:
It's a marketplace, which can be good as well as bad. There's chance of being undercut by other sellers and Amazon restrict the degree to which you can brand your presence, communicate with customers, dictate what items you can and cannot sell, and so on.

Poor feedback system in comparison to eBay. Negative feedback determines whether you can sell on their site. If a seller is only getting negative feedback because no one is leaving any positive feedback, Amazon will close your seller account.

You can't capture customers' email addresses for future marketing purposes.

You have to wait 30 days to see revenue

Customers are not loyal to you, they are loyal to Amazon
Selling Fees:
Amazon charges 15% commission to its sellers, plus $0.99/79p per sale, but if you're a Pro Merchant, you only need to pay $39.99/£25 per month and you're only charged the commission instead of paying per sale. 
eBay 
eBay attracts millions of customers and has several more categories than Amazon. Although it is primarily an auction site, plenty have found success using eBay as an ecommerce store. Like Amazon, eBay is another "marketplace" which can be good because there is already a huge customer base, but bad because it is saturated with other sellers.
There is a fee for listing each item on eBay, whether it sells or not. eBay also takes from each sale, which is based on the cost of the item and PayPal takes a percentage as well. This may sound like a lot more commission to pay, but it works out pretty much the same as selling an item on Amazon. 
Pros of selling on eBay:
It has a good customer feedback system. Leaving feedback for Amazon sellers is purely optional and is also cumbersome with a multi-screen process – and because of this, the only customers likely to leave feedback are the dissatisfied ones.

More branding potential than Amazon – you can customise storefronts.

More categories available than Amazon, which has many restricted categories

Better than Amazon if you're not selling branded goods (e.g handmade goods)

You get immediate access to revenue
Cons of selling on eBay:
Many will argue that the user interface is disorganised compared to Amazon

Fees can add up

No help with fulfilment

More competition with casual second hand sellers and low priced auctions
Selling fees:
As a private seller, you get 20 free listings a month, and then pay £0.35/$0.52 per item. There's also 10% commission to pay if the item is sold. You can also apply to be a business seller where the fees are as follows:
Free up to 65 listings per month. No free fixed price listings. Price per additional fixed price listing: £0.26, Price per auction starting under £1L £0.09. Price per auction starting at £1 or more: £0.26.

£17.38 gets you 65-600 listings, a basic shop, and 200 free fixed price listings. Price per additional fixed price listing: £0.09, Price per auction starting under £1: £0.04. Price per auction starting at £1 or more: £0.13.

£52.17 gets you gets you 650-5,000 listings, a featured shop, 1,200 free fixed price listings. Price per additional fixed price listing: £0.04, Price per auction starting under £1: £0.04. Price per auction starting at £1 or more: £0.13.

£217.38 gets you gets you 65-600 listings, an anchor shop, unlimited free fixed price listings. Price per additional fixed price listing: free, Price per auction starting under £1: £0.04. Price per auction starting at £1 or more: £0.13.

 
Etsy 
Etsy, like Amazon and eBay, is an online marketplace, but with a focus on handmade and vintage goods (although it does allow factory-made products too). There are no membership fees, but there are costs involved per sale. If your business focuses on anything vintage, craft-related or hand-made, then Etsy may be a better option for you than Amazon or eBay. 
Pros of selling on Etsy:
A great hub for sellers of handmade goods – people generally flock to Etsy to look for these kinds of products because it has a reputation for being "crafty"

Easy to list items – simply upload a picture, add a header, price and keywords, and you're ready to sell

Fees are relatively cheap – it's 20 cents per item and then 3.5% if the item sells.

Allows sale of digital products

 
Cons of selling on Etsy: 
Easy to get lost in a sea of other sellers due to an oversaturation of highly competitive users. Many sellers complain that their items don't sell and are like a needle in a haystack

Little or no availability to customize shop for branding – no HTML allowed.

Again, the fees can add up
Shopify
Shopify is a popular and powerful ecommerce marketplace which gives you a tremendous amount of freedom to customise your store and inject your brand's personality into it. You don't need to be a design wizard to create a great-looking store, and there's a huge amount of support available. There's also an extensive catalog of apps and addons you can choose from to add more features and functionality to your site, or to help with other elements of running your business. 
Key Features
Over 100 professional themes to choose from and you also have full access to the HTML and CSS of your store, making it easy to customize.Get a Shopify blog.

Secure shopping cart with automatic carrier shipping rates. Abandoned checkout recovery automatically emails prospective customers with a link to their abandoned shopping carts, encouraging them to complete their purchase.

Customer profiles so you can learn more about your customers and their shopping habits.

Customers can create an account at checkout, which encourages repeat custom. Your customers can also check out as a guest without creating an account, so there's less chance of abandoned carts.

Search engine optimized shops, product reviews, email marketing and integrations with all the leading social media sites.

Digital products available.

Analytics on sales, orders, and traffic helps gain insight into your store's growth. See which products are selling — and which ones aren't.

Shopify Mobile – Capture payments and fulfill orders right from your phone. Send shipping notifications from the post office.

Shopify has a dedicated support team available 24 hours a day, 7 days a week by email, live chat, and phone.
Pros of using Shopify:
24/7 customer support is definitely a winner

The reporting features are definitely handy for sales forecasting

Has its own built-in email marketing system

SEO friendly, but arguably not as good as WooCommerce's

Unlimited bandwidth for fast shopping
Cons selling on Shopify:
Can cost more than Amazon and eBay

Not as customisable as other platforms

You don't have access to a ready-established customer base

Although the templates are customisable, it can be hard to tweak them around if you are unfamiliar with PHP

Blogging software is not as powerful as others and could be improved, especially if you are used to WordPress.

 
Pricing:
There is a 30 day free trial available, then you can choose from the following options:
Basic – $29 a month. Credit card rate – Online: 2.4% + 20p. Includes Shopify PO, 1 GB file storage, unlimited products, 24/7 support, discount code engine, no transaction fees, fraud analysis tools.

Professional – $79 a month. Credit card rate – Online: 2.1% + 20p. Includes Shopify POS, 5 GB file storage, unlimited products, 24/7 support, discount code engine, no transaction fees, fraud analysis tools, gift cards, professional reports, abandoned cart recovery

Unlimited – $179 a month. Credit card rate – Online: 1.8% + 20p. Includes Shopify POS, unlimited file storage, unlimited products, 24/7 Support, Discount code engine, no transaction fees, fraud analysis tools, gift cards, professional reports, abandoned cart recovery, advanced report builder, real-time carrier shipping
WooCommerce
WooCommerce is a free ecommerce toolkit for WordPress for turning your site into an ecommerce store, and and is the most popular wordpress plugin. You can sell anything on there, including digital downloads, and it's easily customisable, like Shopify, with loads of templates to choose from, so you can let your branding shine though. It also has hundreds of free and commercial extensions, so you can optimise your shop however you want. 
Key Features
The default Storefront design is clean and simple – the perfect starting point from which to customise your store to match your brand – but you can enhance it in plenty of ways with extension such as slider tools and product galleries.

WooCommerce supports PayPal for accepting credit card & PayPal account payments, BACS, and Cash on Delivery. They've also got a variety of specific payment gateway extensions.

Cater for specific distribution logistics, like table rate shipping, through a variety of shipping extensions.

Easily manage your digital or physical products with the intuitive and WP centric UI. You can assign store managers to handle the day to day inventory management.

Keep a birds-eye view of incoming sales & reviews, stock levels & general store performance, all from your WordPress backend, with the reporting tool.

Marketing options including campaigns offering a range of discount options, usage limits & product / user restrictions as well as free shipping.

Responsive design, so your shop will look good on any screen

 
Pros of using WooCommerce:
Hundreds of themes available, and highly customisable storefront – much more customisable than Shopify.

Loads of add ons available, which can outperform some of Shopify's built-in features

Simple to use interface

No limit to the number of products and categories

Very SEO friendly (something WordPress is known for), so easier to get your shop to the top of search engines.

Excellent blogging capabilities thanks to WordPress

It's free, unlike Shopify
Cons of using WooCommerce: 
Lack of high-end features to support very large stores

More paid extensions required, so costs could add up

No free support option

You need to stay on top of updates

It's very popular with users and hackers alike, so you need to take extra security measures
Magento
There is a large eco system around Magento with the official site offering extensions and themes from their Magento Connect area. Themes there typically cost around £50 and extensions can be quite costly with some going up to almost £700. 
Magento is aimed at larger eCommerce stores which need a lot of functionality and it is easily the most in-depth system on this list. It will allow you to run large scale eCommerce operations all flexibility and customization that you would need. It can handle thousands of products with different currencies, payment systems, multiple languages, and multiple sotre fronts. 
Pros of using Magento: 
Free Community Version

Perfect for larger ecommerce stores

Highly customizable with hundreds of addons to choose from

Most powerful system on the list and can handle thousands of orders

 
Cons of using Magento:
Well designed, but a steep learning curve for those who are new to ecommerce. Could take a long time to learn how to use the system, let alone build a good-looking store.

Addons are much more expensive than those available on the other platforms

Because it's so powerful, hosting can be expensive. You may need a dedicated server to handle it.
We hope this helps you in deciding which marketplace to sell on. Don't forget – you can use more than one marketplace; most people tend to use a combination of Amazon and eBay, and then also have their own store using one of the other platforms.