Shipping
Comparing UPS Ground vs USPS Priority
Written by Clare Dyckhoff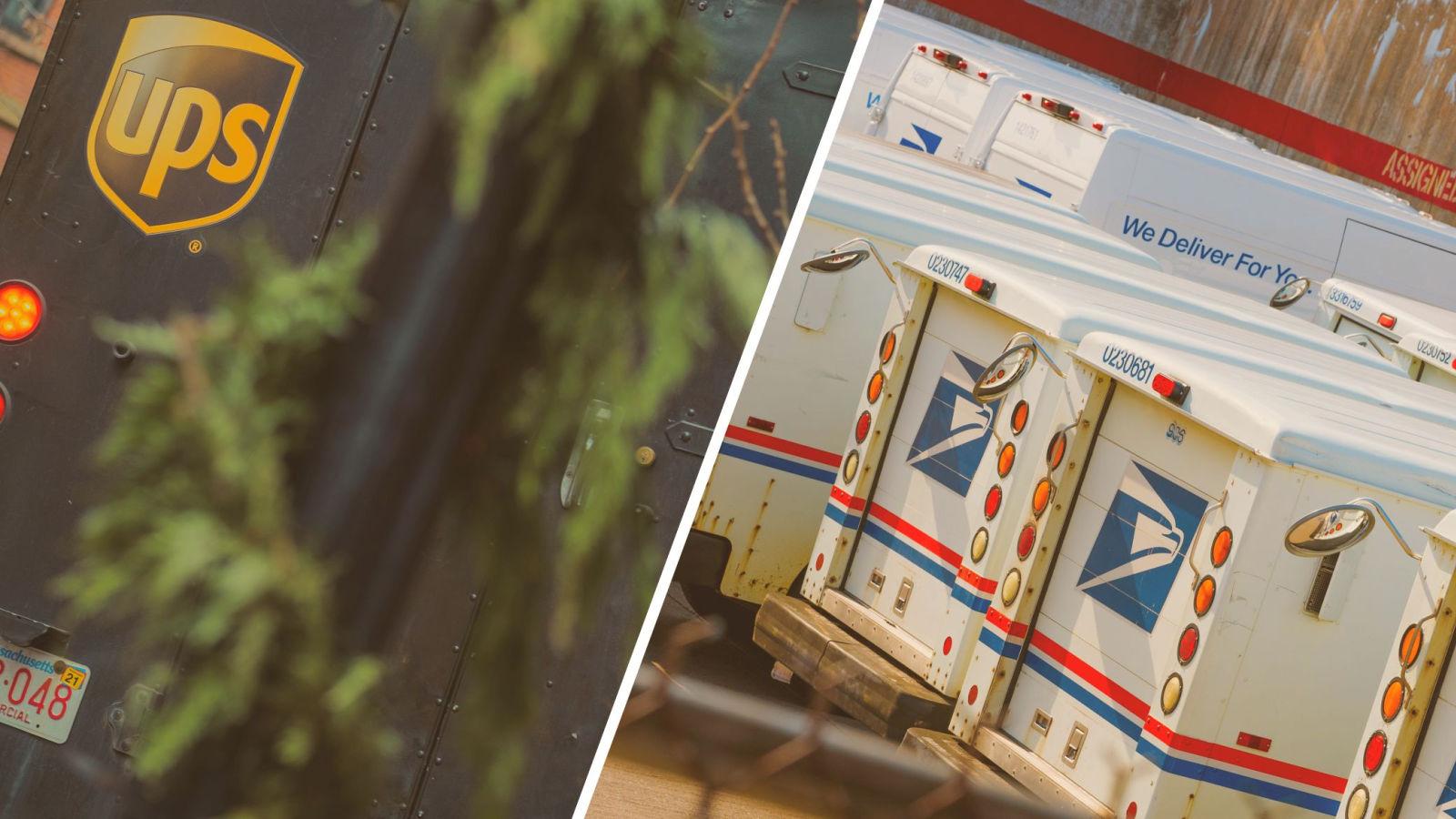 Getting your business off the ground and running, customers ordering your products, and looking at shipping solutions…there's a lot going on when you're at the steering wheel of an ever-growing ecommerce business. 
When it comes to fulfilling orders, you want to be sure your customers receive what they've ordered and in the timeframe both you and they are expecting. Not only will this provide the best experience possible, it will also increase your chances of retaining loyal and returning customers time and time again. 
But beyond order management, what happens when it comes to finding the right shipping solution? What about different parcel sizes? What is the best solution when it comes to shipping internationally? 
As every business need is different, we've weighed so you can UPS Ground and USPS Priority - two of the biggest shipping options, so you dive more into the two options available and see which is the better fit for your business needs. 
Table of Contents
What is UPS Ground?

How long does it take to ship with UPS Ground?

Advantages of UPS Ground

Disadvantages of UPS Ground

What is USPS Priority?

How long does it take to ship with USPS Priority?

Advantages of USPS Priority

Disadvantages of USPS Priority 

What is the best solution for different parcel sizes? 
Shipping with UPS Ground and USPS Priority are two different shipping experiences, provided by two well-established shipping providers in the U.S. With each being operated by two different carriers, there are different features and benefits to both.
Both operate in all 50 states in the U.S. and in Puerto Rico, so options are available when it comes to choosing between the two. It mostly depends on the specific shipping needs and preferences for your business and your customers.  
What is UPS Ground? 
UPS (United Parcel Service) offers a range of shipping services including Standard and Ground, which we are focusing mostly on in this piece.
Founded in 1907, a lot has changed when it comes to shipping options since UPS first started. Along the way, as the name suggests, UPS Ground is the option where deliveries occur on the ground, with your goods being carried via freight and trucks. 
UPS ground supports packages up to 130lbs in weight, 165 inches in length and 108 inches in length. 
How long does it take to ship with UPS Ground? 
UPS Ground is the standard shipping option and is a slower alternative compared to express shipping services but it is often more reliable. It is guaranteed to get to its destination in 5 business days depending on the location of pick up and delivery. 
However, it can take 6 days in other markets as no air travel is involved - though the later time frame is in more extreme cases.
Depending on the distance covered with the delivery, it can take as little as one day so it really depends on the origin and destination of the shipping. 
But what if you need your parcel to arrive sooner? UPS Ground has a clear 1-5 business day window but they also offer three options to suit the timeframe you need, however this is not via Ground: 
Fast: One to Five business days - UPS Ground is cost-effective and reliable 

Faster: Second or Third business day - Important but not critical delivery friendly, using UPS 2nd Day Air

Even Faster: Next Day - For crucial and urgent deliveries, this option provides time-definite delivery 
In this guide however, we will focus on UPS Ground, the standard option. 
Advantages of UPS Ground
Guaranteed day-delivery for your business and your customer

Parcels are delivered in 1-5 business days

Free 24/7 tracking to see your parcel's journey and monitor the progress of your shipments, 

Often the most cost-effective shipping option as no air or trains are involved in the journey, it's just on the ground - no fuel costs that airlines can sometimes charge for

Fewer delays due to adverse weather conditions

Competitive pricing against other companies where premium shipping options are required 

Customer service provided if the parcel doesn't arrive when it should or if there are any errors with delivery. 
If you're considering other Ground options available, check out our Fedex Ground vs UPS Ground guide. 
Disadvantages of UPS Ground
Delivery can take longer than other methods of shipping - something to consider when it comes to the items you're sending out 

Depending on your location, other charges can be added if you're in a more remote area
What is USPS Priority? 
Since 1775 when Benjamin Franklin was appointed first Postmaster General, the United States Postal Service (USPS) has developed and changed along the way to keep up with current demands and advancements. 
With a variety of postage options available, USPS understood the need for accuracy, speed, and reliability when it comes to handling and sending packages and parcels.
Because USPS understands the above are so important for ecommerce business and individuals needing faster delivery, Priority Mail includes tracking and delivery in 1-3 business days.
How long does it take to ship with USPS Priority? 
USPS Priority is typically faster at shipping items than UPS Ground, with typical delivery windows being 1-3 business days. USPS Priority Mail Express can offer even faster delivery in as little as 2 business days. 
But focusing on USPS Priority specifically, let's look at some of the pros and cons to this service and alternative. 
Advantages of USPS Priority 
Delivery guarantee - refund options if they don't arrive 

Includes free USPS Tracking

Same price for mailpieces weighing up to 70lbs - going anywhere in the U.S. 

Free Package Pickup from your home or office 

Just like having ecommerce business insurance, with certain packages you can have peace of mind with up to $100 of insurance with most shipments (note: restrictions apply)

No saturday delivery surcharge 

No surcharge for fuel

No surcharge for residential or rural delivery 

Flat rate and prepaid pricing (for retail only) options available
Disadvantages of USPS Priority
Tracking might not be as detailed or updated frequently as UPS Ground 

Delivery can be less reliable than others

When sending internationally, timings can take longer 
What is the best solution for the different parcel sizes? 
Both options provide shipping solutions for your ecommerce business with different pros and cons to weigh up.
UPS and USPS are no strangers to ecommerce business shipping so you can feel reassured knowing your business shipping is with companies who know how to do it well, and have done so for a long time. 
However, the prices and solutions for different parcel sizes vary. For smaller packages and lighter items, using USPS as a small business, Priority often works out more cost-effective than Ground, making it a better choice for smaller ecommerce businesses.
But depending on how much the parcel weighs, how big it is, how far it needs to travel, and the speed of delivery will influence how much you need to pay to reach your customer. 
Even things such as delivery date can change the pricing (peak holidays for example), so it is always advised to check pricing guidelines and weigh up which option suits your business best. 
Check out UPS Ground 2023 rates here and USPS Priority Mail 2023 rates. If you've got set measurements and weights in mind, this can provide a rough idea of what it could cost.
Further reading: Priority Mail Flat Rate Shipping Guide 
Using Veeqo for your shipping needs
UPS Ground and USPS Priority are just part of the bigger shipping picture. Veeqo is a multichannel shipping software designed to provide a smooth delivery shipping process across all channels. 
Benefits of using Veeqo is that they can offer special rates with shipping suppliers such as UPS, FedEx and DHL, and the software can integrate with other suppliers.
Because Veeqo is packed with shipping management and inventory tools, you can assess shipping rates with rate shopping features, bulk order shipping labels, and even create return labels. 
For more information on the benefits of using Veeqo USPS shipping, check out our guide. 
Top Tip: If you want to weigh up your costing options, Veeqo can often give you discounted rates with top suppliers including UPS and USPS above - sign-up and have a look to see if you can save vs going direct to UPS or USPS.
UPS Ground vs. USPS Priority: Which is the best service for your business
Just like deciding the best ecommerce shipping software solution, considering the pros and cons to UPS Ground and USPS Priority is a good first step to meeting your shipping needs.
Depending on the pros and cons, choosing between UPS Ground and USPS Priority comes down to your specific requirements such as tracking, costs, delivery time and urgency and the reliability of the service. 
UPS Ground is a lower-cost solution but delivery will take longer, USPS Priority is more expensive but shipping and delivery is faster, so it really depends on your business needs.
And whilst we don't want to complicate things further by adding another solution into the mix, if you're also wondering how it compares to FedEx, you can also check out our guide comparing UPS, USPS and FedEx, for other options. 
We know that businesses all have their individual priorities and requirements. Consider the size and weight of your package, the delivery timeframe you need, and your budget.
With more than one option available, bear in mind the various service levels available and any additional features that could come in handy. Then you are on the right track to finding the right solution for you and your customers. 
Sign-up now for Veeqo, a free shipping and inventory management software owned by Amazon, that provides A to Z protections and up to 5% back in Veeqo Credits on eligible shipments purchased through Veeqo.