Warehouse
How to Set-up Your Warehouse Inventory
Written by Clare Dyckhoff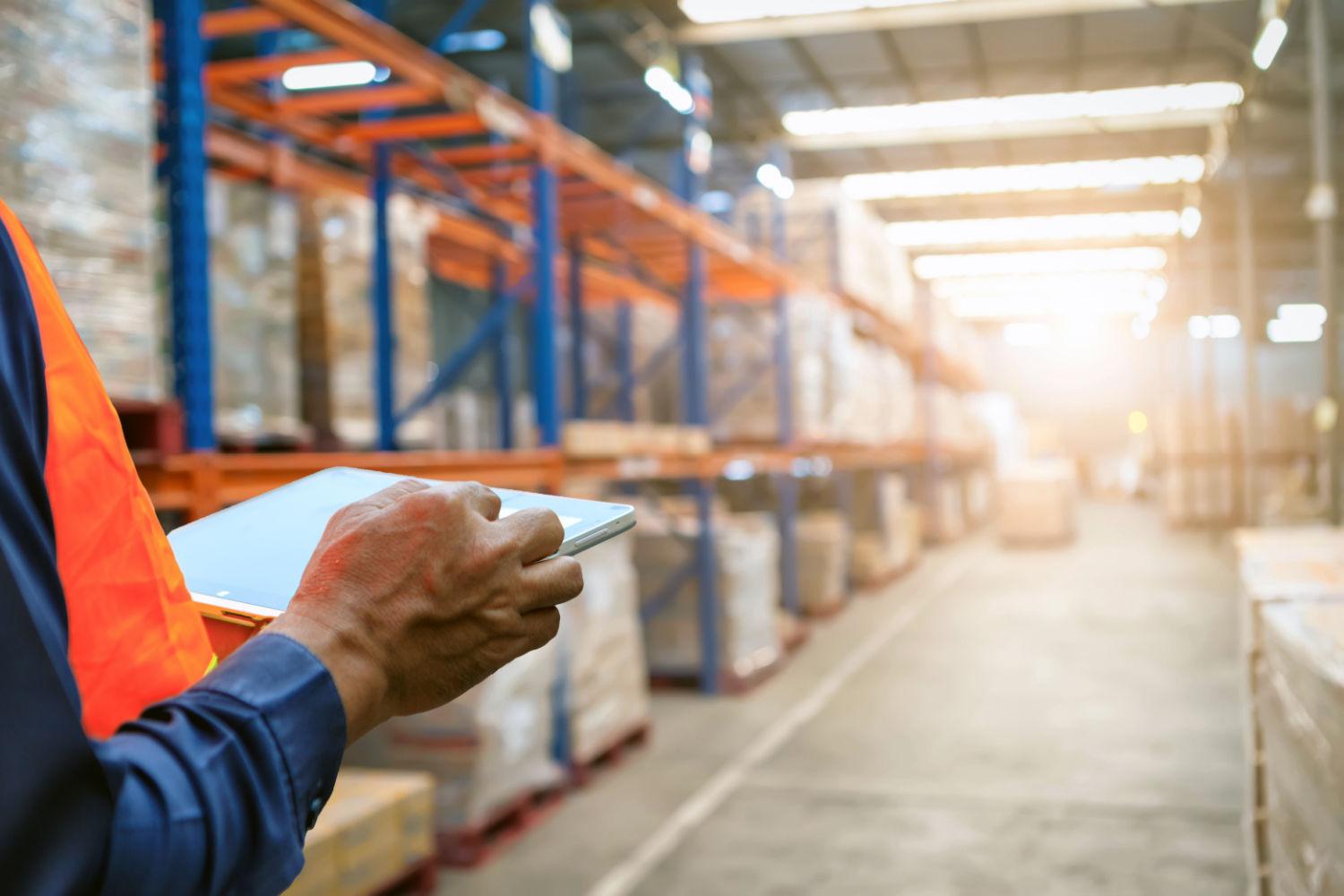 In a world where customers can order goods at the click of a button, at any hour of the day, when you're running a warehouse, efficiency is key.
From inventory organization to sorting business insurance, running an ecommerce business requires endless organization and decision making. So knowing how to set up your warehouse inventory is the first step to warehouse success, and will mean it's one less thing for you to think about.
Because every business is different, knowing how to set up a warehouse will depend on a few factors. Let's go into a few of them.
Benefits of setting up your warehouse inventory 
An organized warehouse

Efficient warehouse with items organized by demand

Reduced risk of overselling or incorrect 

Better inventory accuracy

Avoiding excess stock and stockouts 

Better customer experience 
Define Your Objectives
Before any inventory is moved or organized, start by clarifying your inventory management objectives.
Are you aiming for better tracking, faster order fulfillment, reducing storage costs, or all of the above? Knowing your objectives upfront is the first step to the warehouse set up process that is right for your business.  
Organize your inventory 
You've put the hard work in and now you're at a point where you're selling more product. Knowing how to organize inventory in a warehouse is the crucial first step to setting up your inventory. 
Inventory Management Software
Inventory management is key to knowing what stock is where, and how much of it there is.
Keeping track of product with inventory and warehouse management software is crucial to setting up your warehouse inventory. This will help you and your workers updated on the product from warehouse to delivery. 
By using an inventory & warehouse management software like Veeqo, you can improve fulfillment efficiency and customer satisfaction by preventing stock-outs, forecasting customer demand, automating inventory tasks, and keeping inventory up-to-date across your marketplaces, stores and locations.
Further reading: Choosing the Right Warehouse Management Software
Plan Your Storage Containers 
When it comes to storing inventory in a warehouse there's a variety of options to suit your business need.
Storage bins, totes, and containers come in a variety of sizes and styles. Choose from collapsable, stackable, coloured or plain. They're great for storing and transporting large quantities of goods and are often made from plastic, metal or wood. 
Some commonly chosen storage solutions include:
Plastic containers with lids: Collapsible and stackable, these are ideal for warehouse inventory due to their range of sizes and functionality to store a wide range of goods

Stacking bins: Designed to stack on top of each other, these are great for warehouse inventory where space is tight or at a premium

Shelf bins: Perfect for storing small products, tools, or other items - these are designed to fit on standard shelving units

Bulk boxes: Ideal for holding large quantities of goods and can even be used to transport items from one location to another - handy for big, bulk purchases 
Tags and labels can help improve everything from stock room management to traceability. At Veeqo we recommend you set-up your tote boxes clearly with barcoded label stickers on the sides, so it's as easy as possible for your scanners to scan the barcode.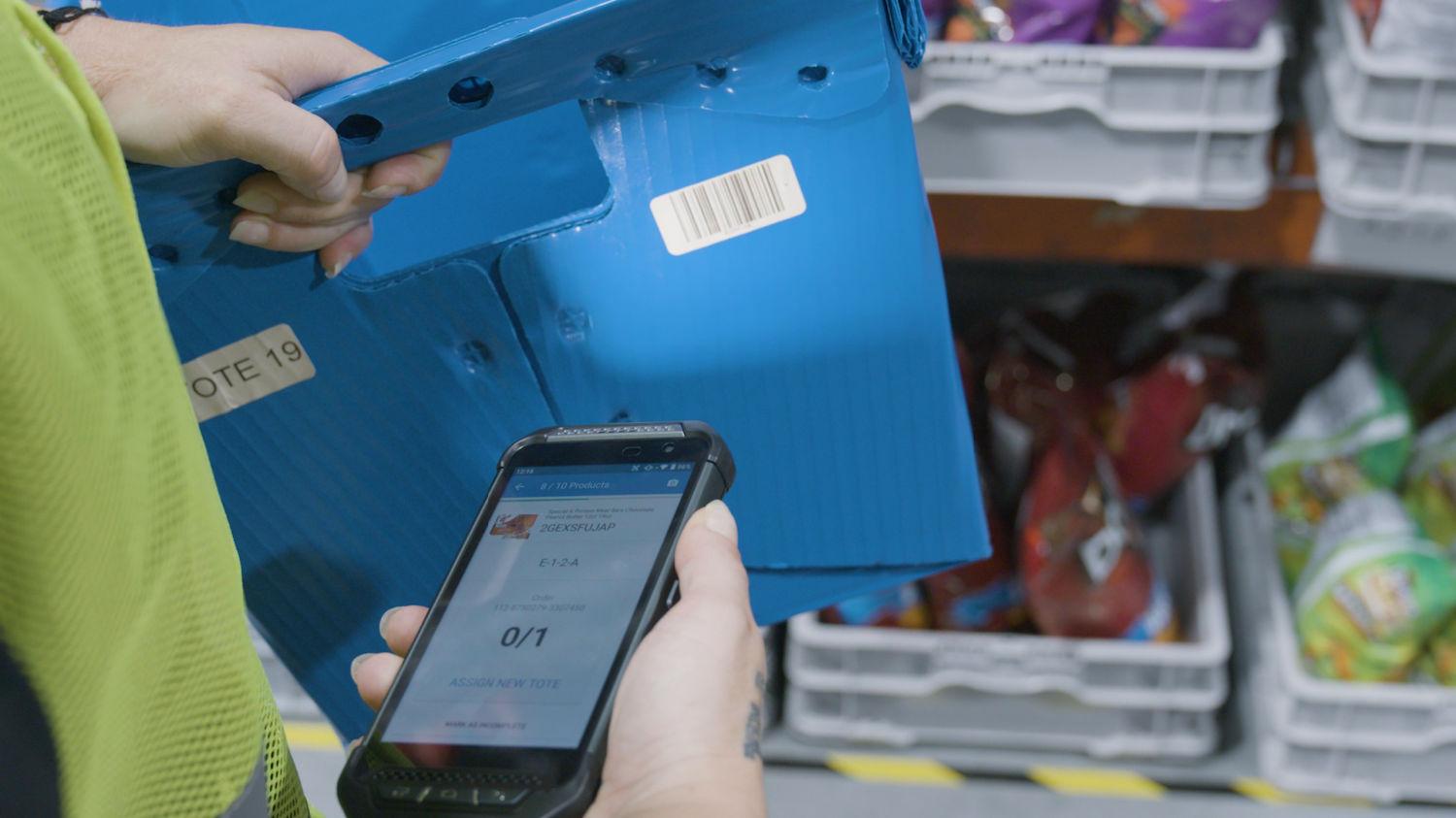 Select Your Picking Method
With a great deal going on in the warehouse, time and focus is limited. With employees coming and going each day and orders coming in left right and center, choose a picking method that's going to be quick and easy for staff to use.
If you want to use the same efficiencies as Amazon in your warehouse, make sure you avoid using paper picking. It will slow you down and there's a lot of risk in errors that can be made, such as mispicks and misshipments.
Picking digitally doesn't have to be expensive - you can use Veeqo's free digital picking app, which is compatible with iOS and Android mobiles.
If your warehouse operations are more advanced or you're scaling your business, you can purchase the Veeqo Scanner, which is the same scanner used in Amazon Fulfilment Centers.
Organize the Warehouse Layout
Once you've got the storage solutions for your inventory and have figured out how you're going to track and manage your inventory, optimizing your warehouse layout to ensure efficient storage and easy access to inventory items comes next.
Think about using vertical as well as horizontal space in your warehouse, particularly if you're renting your warehouse and don't want to make too many long-term decisions on structure and layout.  
Not sure how to structure the layout? Consider factors like product demand, storage capacity, and accessibility. Use the racks, shelves, bins, and labels to designate storage locations so everyone knows where everything is - handy when it comes to picking. For extra organization points, you could also take photos of the inventory and post it where the product is stored. Not sure where to place popular or heavier products? Have your better selling product nearer the packing area and keep heavier items nearer the shipping and receiving area.
Keeping the warehouse organized is crucial for efficiency, yes, but also for the safety of those working in the warehouse.
Ensuring you have clear travel areas, lanes between aisles, and designated cart paths are all sure fire ways to ensuring the warehouse is laid out in a way that keeps it clear of obstruction and has safer procedures. 
Establish Receiving Procedures
It's one thing establishing a process for sending out products but what about receiving them in the warehouse?
When you develop standardized procedures for receiving goods into the warehouse, you create a clearer process for receiving inventory in the first place.
This includes inspecting, counting, and recording incoming inventory and ensuring that every item is properly labeled.
Set Up Picking and Packing Processes
Once you've got your warehouse organized, your inventory sorted and accounted for, and your picking method chosen, it's time to create efficient picking and packing processes to ensure smooth processes from order to delivery.
Start by ensuring that items are easy to locate and prepared for shipping. Use a "first-in, first-out" (FIFO) or "last-in, first-out" (LIFO) system based on your specific needs.
With Veeqo automated shipping, you can also access low shipping rates and earn Veeqo credits. Or negotiating better shipping rates with Fedex can all help with the journey once your warehouse inventory is set up. 
Establish Reorder Points and Restocking Procedures
When it comes to setting up your warehouse inventory, determine reorder points for your inventory items to prevent stockouts which can be incredibly frustrating for customers.
Implement a restocking system that can be manual or automated based on your reorder point triggers and that suits your business best. 
Regular Audits and Continuous Improvement 
Just like requiring more finance and weighing up the best business loan for your business, we know things can change when your business grows.
Trial and error are the best ways of figuring out what works for your business. By scheduling regular inventory audits and cycle counts you can ensure accuracy and identify and resolve discrepancies between the actual and recorded inventory levels.
When it comes to monitoring and assessing your warehouse inventory, look at your inventory system's performance. Look at the data to see what improvements can be made, how costs can be reduced and how you can enhance efficiency.
The organization of inventory in a warehouse needs to be updated at least once a year to maintain efficient operation and inventory control. 
During that time, your business will likely add new product lines and discontinue others. When this happens, there is a natural tendency to move and store new products where you can find the space to hold them until there's a day you can reorganize them.
When you review the layout of the warehouse, you can have a clean slate by shifting some of the product to one side of the warehouse and establishing what needs to go where at that time for the business. 
If you do make changes be sure to:
Amend and update your warehouse map

Update any documentation you have of the layout in the training documents 

Renew labels on shelves

Update digital photos of the stock, if you use them
Focusing on the here and now is often all we can do in many scenarios but with growing businesses, it's best to design your warehouse inventory system with scalability in mind.
Creating an Adaptable System
As your business grows, your inventory management needs will change, and the system should be able to adapt in a way that won't feel like the world has turned upside down. 
Setting up an organized, efficient warehouse inventory system is an ongoing process that requires regular maintenance and adjustment to meet changing business needs.
Not only is this something those working in the warehouse can input on, well-organized and efficiently managed warehouse can lead to cost savings and improved customer satisfaction time and time again.
From automating the shipping process to training everyone on your inventory management system, these are some starting points to help you set up your warehouse inventory for success.
Sign-up now for Veeqo, a free shipping and inventory management software owned by Amazon, that provides A to Z protections and up to 5% back in Veeqo Credits on eligible shipments purchased through Veeqo.