Shipping
5 Reasons to Ship Your International Packages With DHL
Written by Jana Gentry Smith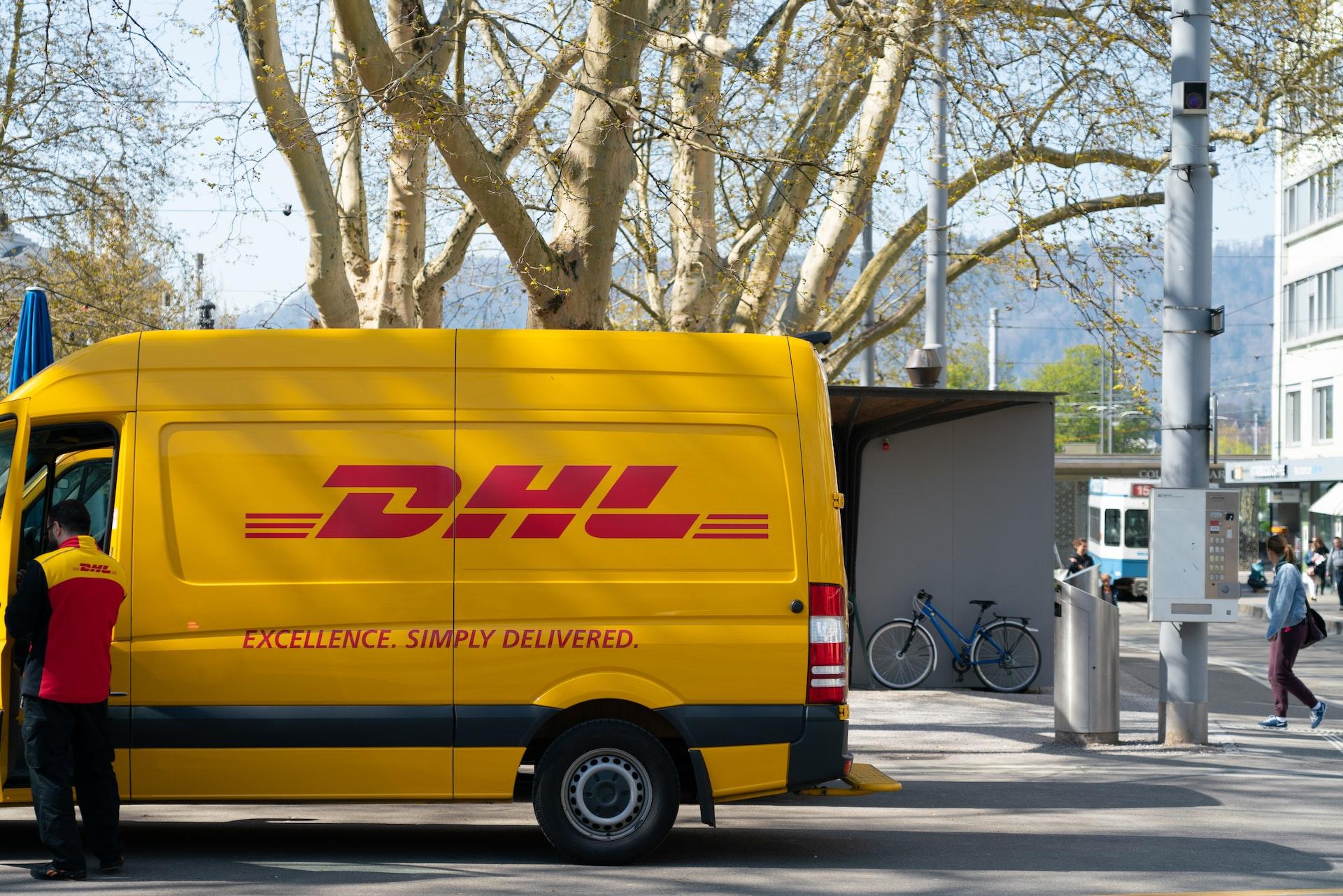 When shipping your packages internationally, there are many options - one of which is DHL. So why choose DHL international shipping?
Here are five reasons to ship your international packages with DHL:
Reliability

Global reach

Customer support

Wide range of services

Sustainable shipping practices
Let's look at each more closely.
Reliability
First, DHL international shipping is one of the most reliable options when sending packages abroad. 
Not only does DHL have tools to make things easier for shippers (like this international shipping checklist), but their combination of experience and connections means that they can leverage scale for both speed and reliability, with a delivery success rate of over 99%.
Also, DHL's tracking systems allow you to track the status of your shipments in real time.
DHL international shipping also offers incredible speed, including many next-business-day and same-day options.
Same day 

Next business day

DHL Jetline 

DHL Secureline

DHL Express

DHL Express Easy

DHL Express Worldwide
Most of these options include guarantees, as well, in addition to tracking.
And if you're wondering how to ship DHL international? Using Veeqo's DHL integrations and automated shipping software can help make shipping internationally with DHL much more approachable.
Further reading: How to make USPS work for your small business; and how to choose the best shipping software
DHL's Global Reach
What's more, DHL has an impressive global reach. With facilities in over 220 countries and territories, DHL international shipping is an option in as many (if not more) countries as UPS or FedEx. 
Want to get packages nearly anywhere in the world and get them there quickly? Here are your options:
DHL Express

DHL Express Easy

DHL Express Worldwide

DHL Jetline

DHL Secureline
And because DHL rarely uses other services, even for last-mile delivery, you can trust DHL international shipping to be fast, accurately tracked, and delivered at the quoted time.
Further reading: International shipping with Veeqo
Excellent Customer Support
DHL also offers top-notch customer support. Along with a team of dedicated customer service reps who are incredibly responsive and helpful, DHL also provides detailed tracking information and shipping advice.
This means they'll be available to help resolve any issues that may arise if you are unsure how to ship DHL internationally in the most cost-effective way for your packages.
That's a big part of why DHL is one of the most trusted international shipping brands, even outside DHL's international price competitiveness. Numerous industry sources name DHL as either the best international shipping brand or one of the top three.
DHL international prices are competitive with other top shipping options, and their customer support sets DHL international shipping apart. Because of such strong customer support, DHL is best for dangerous goods requiring special handling or documentation.
Also, DHL offers greater contract language flexibility than many other options. Many shipping partners try to lock sellers into rigid contracts with volume requirements. Instead, DHL international shipping allows much more flexibility in shipments' numbers and size. 
Finally, because Veeqo negotiates rates on sellers' behalf—including negotiated rates with DHL—you can use Veeqo's rate shop feature to find the best rate quickly. If negotiating your shipping rate sounds like a hassle, Veeqo's pre-negotiated rates can save you time and money.
Further reading: Is flat rate shipping the best option for your business?; and Improving picking accuracy 
They Offer a Wide Range of Services
Another advantage of DHL international shipping is the range of services. Let's take a moment to explore those options.
Same-day Shipping Options
DHL Jetline
DHL Jetline expedites emergency shipments by putting them on the next possible flight out of the country. Additionally, DHL Jetline includes pre-arrival customs clearance and expedited last-mile delivery to ensure your packages arrive quickly.
DHL Secureline
DHL Secureline adds an additional, enhanced layer of security with dedicated charter services. For smaller shipments, a dedicated on-board courier is assigned to your packages.
Next-Business-Day Shipping Options
DHL Express
For time-critical shipments, you can choose the delivery time slot you want your package delivered the next business day: 
9:00 AM,

10:30 AM, 

or 12:00 PM. 
While there are some restrictions—your shipment may not exceed 300 kg or dimensions of 120 x 80 x 80 (in cm), nor is it available in every country—DHL Express offers a refund if delivered later than the quoted time (per their Money-Back Guarantee).
DHL Express Easy
DHL Express Easy means you can have your package in any of those other countries by the next business day. Simply drop off your package at a DHL location near you. (Note that DHL Express Easy has a 25 kg weight limit and is best for single-piece shipments.)
DHL Express Worldwide
Express Worldwide may be the best option for larger packages, given that your shipment may be up to 1,000 kg and maximum dimensions of 120 x 80 x 80 cm, or pallets up to 300 kg and dimensions of 300 x 200 x 160 cm. This is true even for some dangerous goods, such as flammable liquids and solids, which many shippers will not allow.
Multi-day Shipping Options
DHL Global Forwarding
DHL Global Freight Forwarding (DGFF) is a freight management service for air and ocean freight forwarding services. It brokers transport services between customers and freight carriers to offer the most efficient routing and transport services possible. 
DGFF is also the third-largest ocean freight forwarder in the world, so if this is an option you need to pursue, you can be assured of quality shipping.
Air Freight
While faster, air freight options are generally more expensive. There are occasionally air freight options—especially through DGFF—that get your packages to their destination within a few days without costing as much as the same-day and next-business-day options.
Ocean Freight
DGFF ocean freight options abound, including Ocean Bulk and Ocean Non-Containizered Load shipping. In either case, DGFF ships bulk liquids and dry cargo safely and efficiently with in-house designed and manufactured equipment like the following:
Flexitanks

ISO tanks

Dry bulk liners

IBCs

Drums
As a result, shipping costs less because materials are packed more efficiently. In addition, DHL's international shipping includes customs clearance and global technical support as part of their end-to-end bulk transport.
Road Freight
While road freight is not an option for all international destinations for obvious reasons, it can be a great cost-effective option for destinations in Mexico or Canada, especially where arrival within a few days is fast enough.
Rail Freight
Similar to road freight, rail freight is often much cheaper when destinations allow for that option. Then again, rail or road freight may be the only option for some destinations.
Still, DHL offers flexible optional services and customs services so that you can customize as needed while getting the DHL international prices you need for your packages.
Further reading: Managing multi-channel ecommerce orders; Veeqo's shipping management guide
Sustainable Shipping Practices
Another reason to use DHL is their sustainable shipping practices. DHL has implemented many environmental impact initiatives. For example, DHL uses electric delivery vehicles in their fleet and eco-friendly packaging materials to minimize waste.
Even at the start of the pandemic, research found that as many as 74% of those surveyed in the United States, Europe, and South America were willing to pay more for more sustainable packaging. Beyond that, 44% of consumers prioritize brands with a clear commitment to sustainability. 
As a result, using DHL's sustainable shipping practices can help your brand appeal to your eco-conscious customers—while DHL international prices ensure you don't have to pay a premium to do so.
Further reading: How to best package items for shipping; how to create a shipping label for your small business; 7 ways to reduce your shipping costs as an Amazon seller; buying discounted shipping labels 
Bolster your international shipping process with Veeqo today
Do you plan on using DHL? Our software can help with DHL's Express International service, and trying Veeqo is 100% risk-free.
We don't charge our users a single cent for using our software, no matter how large their business is. With our commission-based business model, we make money from partner carriers by promoting their services rather than our users.
And, when you ship in Veeqo you'll get up to 5% of that shipment's base value back in Veeqo Credits. Your Veeqo Credits are applied to your next billing cycle.
Get started today by creating your free account here.