Ecommerce Growth
Shopify Plus Demystified: A Complete Guide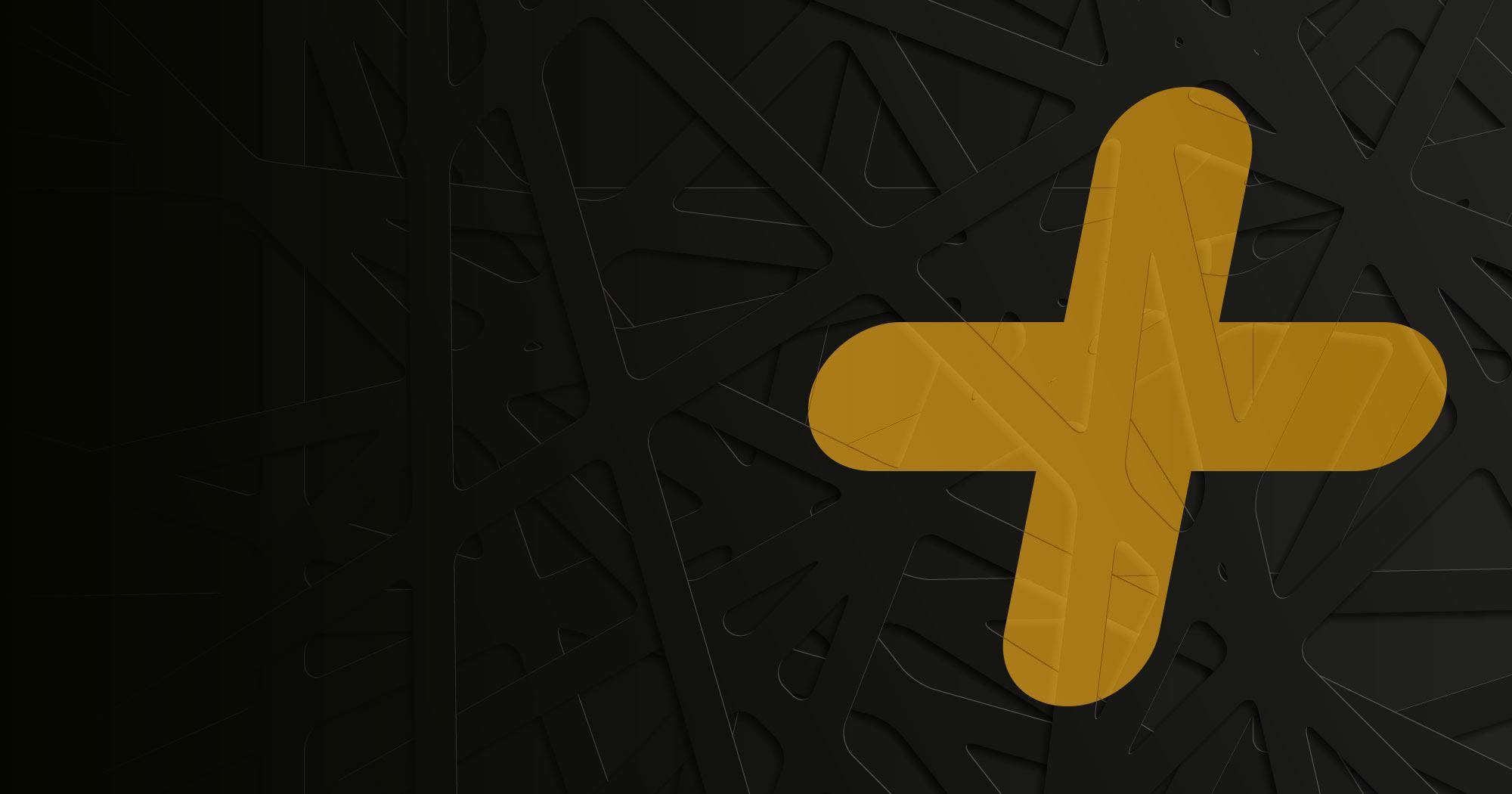 Shopify Plus is the platform for high growth ecommerce brands.
Some huge players have switched over, including giants like Heinz, Staples, Gymshark, Good American, and Spanx.
Why?
Because Shopify Plus have nailed it when it comes to some key features for high volume stores.
But there are still aspects of Shopify Plus features and pricing that are very misunderstood.
Do you really need it? How much actually is it? Is it worth the investment?
All questions we've found to be rolling around a lot of heads. So we put together this post covering everything you need to know about:
Key Shopify Plus features

Shopify Plus pricing

When you're ready for Shopify Plus
What is Shopify Plus?
Shopify Plus is a commerce platform specially designed with high volume, enterprise-level brands in mind.
Its core offering centers around taking what more basic systems do, and adding:
More customization and control.

Greater automation capabilities.

Improved multichannel and omnichannel functions.

Faster speeds.

The ability to reliably handle huge amounts of traffic and sales.
"Shopify Plus is the most robust and flexible ecommerce platform on the market. It is the logical choice for brands and retailers looking to turbo-charge growth and capitalize on their marketing efforts."With Plus you can get to market quicker, integrate your existing business functions and focus your budgets on driving traffic."~ Kelly Brown COO & CFO, The Working Party
This doesn't necessarily make it 'better' than the likes of standard Shopify, WooCommerce, BigCommerce and Magento. Just that it can cater for a certain size of retailer in a much more reliable way.
Key Shopify Plus features
There are a number of key Shopify Plus features that help the platform stand out from the crowd.
Let's take a look at them:
1. It can handle serious traffic
There's one thing that matters above all else for any ecommerce retailer:
That their website is live and fully operational.
All the marketing, email flows and conversion tactics mean nothing if there's no working site to actually make purchases on. So every second of downtime is money down the drain.
High volume merchants therefore need a platform that won't come crashing down when flash sales or seasonal events create huge traffic spikes.
And Shopify Plus provides that – able to withstand massive demands like:
Over 200,000 people simultaneously flooding the Kylie Cosmetics site during a New York pop-up event.

Death Wish Coffee taking $2,083 a minute after their Super Bowl commercial aired.
Shopify servers also handled huge amounts of Black Friday Cyber Monday (BFCM) load in 2017 without letting up:
Note: Just make sure you've got a solid Shopify shipping software in place to fulfill all the orders that should come from this traffic!
2. Built with global expansion in mind
Global ecommerce presents a huge opportunity for retail businesses.
But it takes much more than just driving traffic from multiple countries to one website.
International success means having dedicated storefronts for different countries or regions. With the appropriate languages, currencies and payment options available for each.
Shopify Plus (currently) allows 10 additional clone stores on top of your original. Meaning you can operate up to 11 different storefronts from one Shopify Plus account.
Fitness brand Gymshark have a subdomain for each location they operate in:
With the store redirecting to the correct one depending on a browser's location. Like shifting to French and Euros when in France:
Each storefront has its own backend. Meaning you can manage content, inventory and orders separately.
But you'll likely be much better off considering a quality Shopify Plus management system to bring all your back office tasks into one place.
Further reading: The Ultimate Guide to Migrating from Magento to Shopify Plus
3. Full store customization
Many of the more basic platforms aren't great for store customization. With not too much room for manoeuvre beyond the design or theme you initially settled on.
But it's different with Shopify Plus. Allowing your dev team full site control through editable CSS files and scripts.
"Shopify Plus is an easy-to-use, yet highly customizable platform for ecommerce. Since the UI is so intuitive, most of the daily operations can be taken care of by in-house staff rather than hiring costly agencies or IT staff."Plus, because it's a fully hosted solution you don't have to worry about expensive hosting options and reliability issues during high traffic periods."~ Shawn Khemsurov Co-Founder, Electric Eye
Perhaps the best part is how easily you can customize the checkout process – an absolute essential to get right.
For example, here's a standard Shopify checkout process:
Still looks nice and can convert pretty well with a slot for branding in the top-left.
But then look at how fashion brand Military Hippie have customized it through their Shopify Plus account: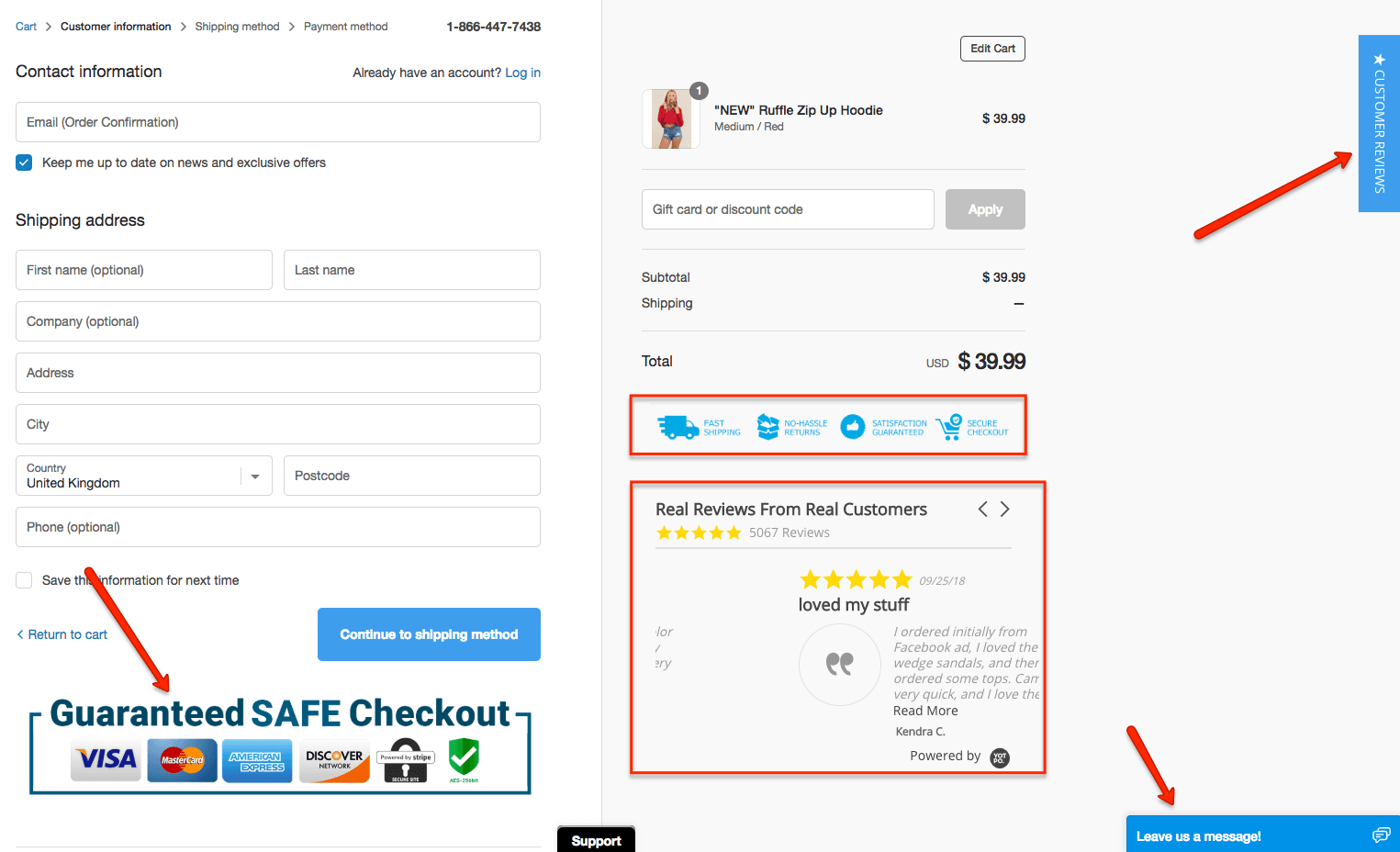 Making sure they continually reassure the customer through:
Reinforcing their safe checkout procedure.

Promising fast shipping and easy returns.

Showcasing reviews from happy customers.

Offering support and contact opportunities on the checkout page itself.
4. Automated workflows and campaigns
There's a lot to get done every day when running an ecommerce business.
But one of the Shopify Plus features is all about being able to create a whole host of automation capabilities aimed at cutting hours of repetitive busy work from day-to-day tasks.
You can use Shopify Flow to put things like adding customer tags on autopilot: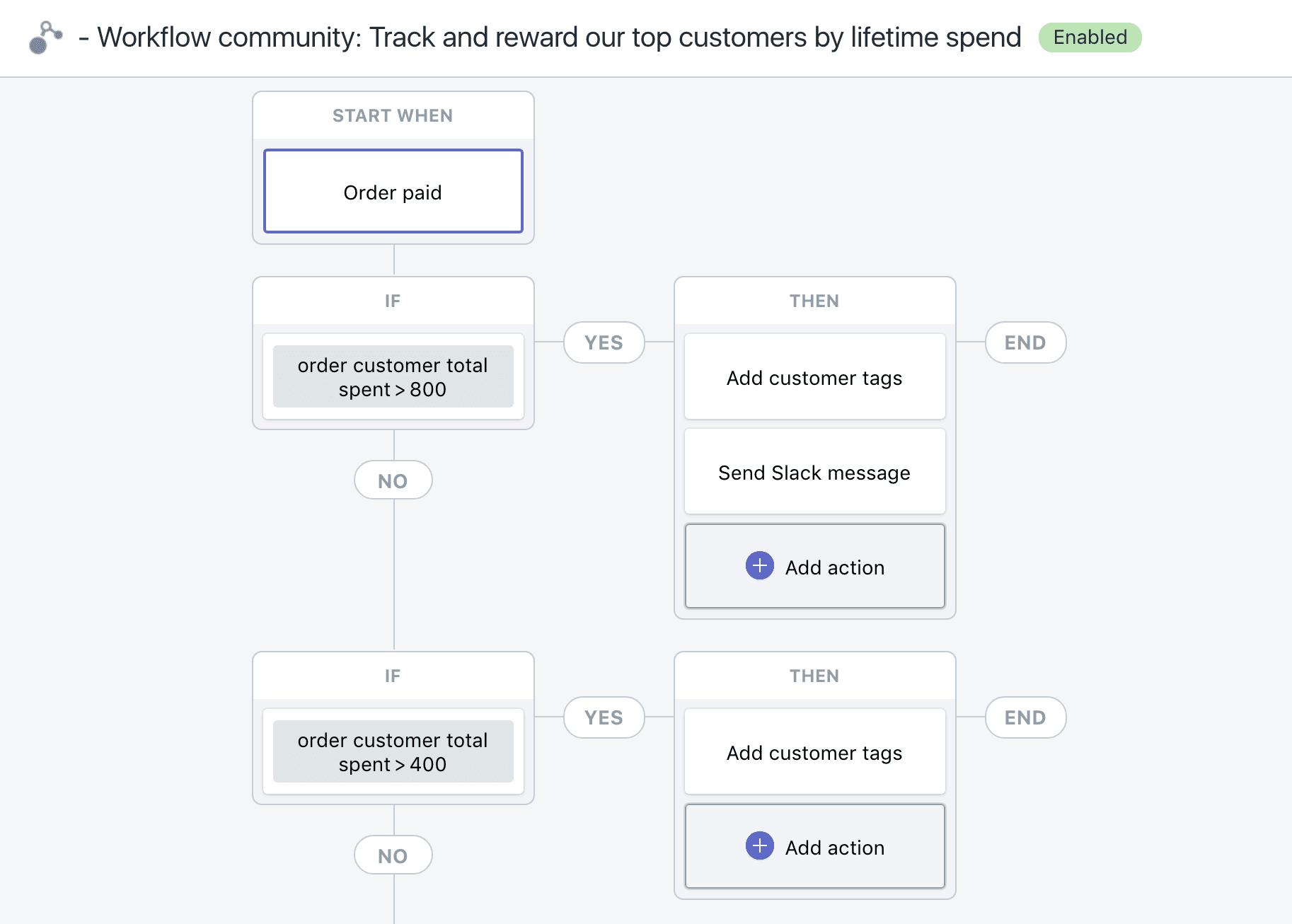 With Flow also letting you automate other things, like:
Identifying and, if necessary, cancelling high risk orders.

Re-ordering inventory when a certain threshold is hit.

Hiding out of stock products from your online store.

Following up with customers who've returned a certain amount of goods.
On top of this, Shopify Plus' Launchpad tool lets you put marketing campaigns on autopilot too. Meaning you can schedule a heap of crucial tasks when it comes to flash sales and product launches.
5. Advanced multichannel capabilities
Shopify Plus isn't just about creating a killer ecommerce site. It also sets you up for seamless native social selling in some crucial places – like Instagram, Facebook Messenger and Kik.
And it's all connected – on the back end and the front.
Take a look at how fashion retailer Chubbies lets customers sync their Facebook Messenger profile when adding items to the cart:

Meaning they can send updates, promos and abandoned cart reminders straight to each customer's Messenger app.
But Shopify Plus features also go beyond this and into the beginnings of omnichannel too.
Huge amounts of users have utilized the Shopify POS system to interact with customers and make sales in-person via pop-up stores.
6. Dedicated wholesale online store
Wholesale B2B ecommerce orders can make up a significant chunk of revenue for growing ecommerce brands. But dealing with it all manually via email is simply not scalable.
So the fact Shopify Plus lets you integrate B2B and B2C operations can be a major game changer.
You can even use one of your 10 extra storefronts to build a branded B2B portal for your wholesale customers. Like Death Wish Coffee: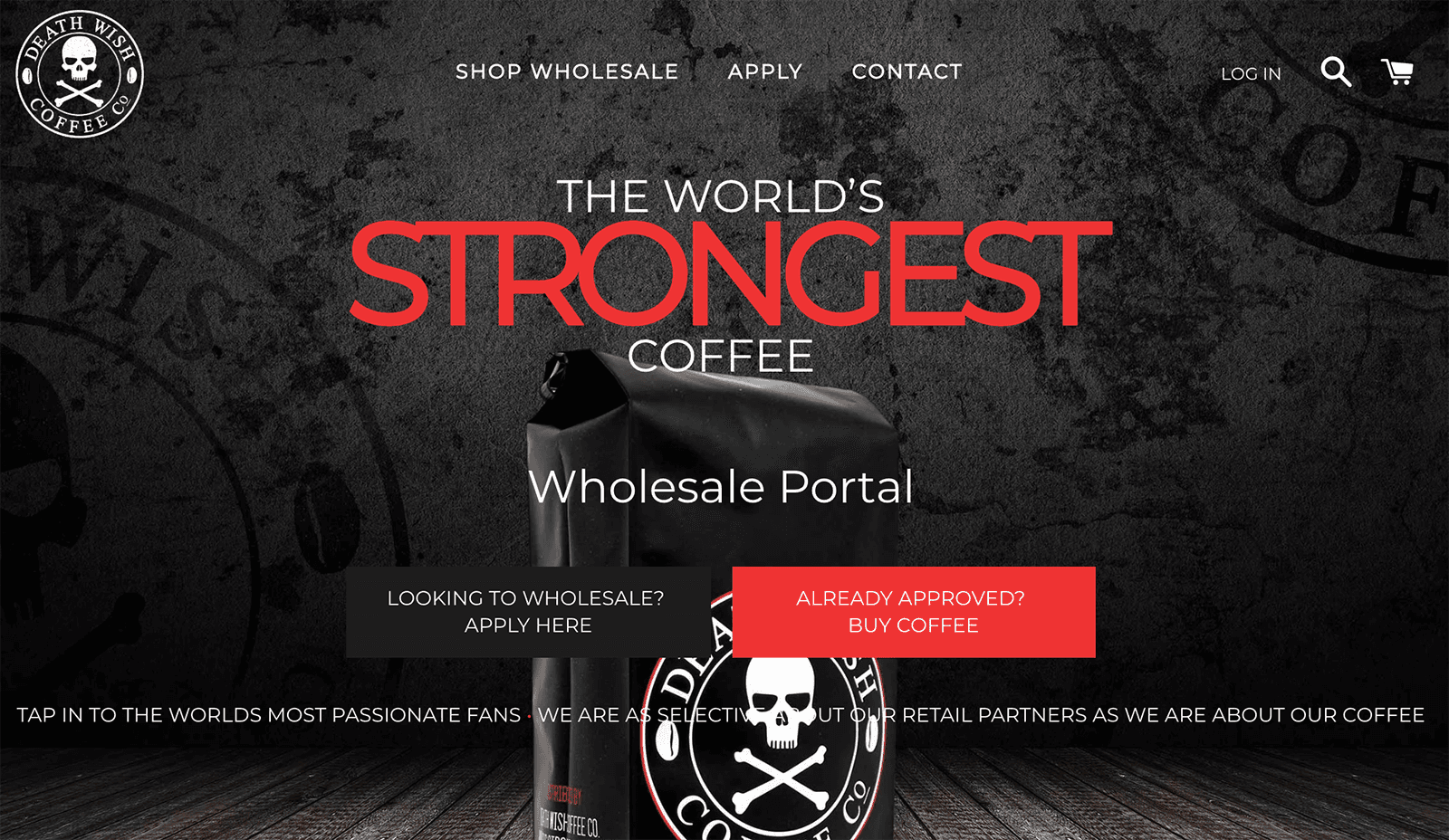 Once accepted, resellers can simply log in and make purchases as and when needed. With you able to control aspects like:
Volume based discounts.

Tiered pricing levels.

Special pricing for specific B2B customers.

Minimum and maximum order amounts.
Further reading:
Shopify Plus pricing
Shopify Plus pricing also tends to create some confusion. No prices are listed on their website and you're encouraged to contact them for a quote.
This is because pricing for Shopify Plus is heavily based on usage and sales volumes. Meaning it can be very different for each business – and even month to month.
Here's a run-down of what exactly to expect for Shopify Plus pricing:
Build costs. Using a pre-designed template is an option, but most enterprise merchants will want something unique to align with branding. Expect to pay a quality third-party design agency anywhere from $30,000 to $250,000 and beyond.

Licencing costs. Monthly fee starts at $2,000 and runs up to $40,000. This increases incrementally after hitting $1,000,000 in monthly sales, up to a cap of $16 million.

Transaction costs. Payment processing fees are also added at 1.6% + $0.35/£0.20 per transaction if using Shopify Payments. There's also a 0.15% fee if using a third-party processor.
Yes, this sounds like a big investment.
But Shopify Plus pricing can be quite cost-effective when compared to other enterprise solutions. Especially with what the platform can actually do for your business too.
Further reading: Read our in-depth guide on Shopify Plus Pricing
Note: This is not 'official' Shopify Plus pricing, but a reliable guide to help you decide. These rates may also be liable to change.
When are you ready for Shopify Plus?
Shopify Plus features can offer a growing ecommerce business an exciting opportunity. But the power and relative expense of the platform means it's not suited to everyone.
It's a judgement call. But first and foremost you need to make sure the monthly costs involved aren't going to cripple your business.
"Shopify Plus is the best choice for retailers who want to focus on growth instead of just maintaining. If you feel like you are outgrowing your current platform or that technology issues are holding you back, it's probably time to upgrade to Plus."~ Gary Carruthers CEO & Founder, Underwaterpistol
Aside from this, here are a few things that may give you an idea you're ready:
Hitting at least $105,000 in monthly revenue ($1 million/year).

You're growing quickly, and realistically expect it to continue.

Expanding globally is part of your growth forecast.
Conclusion
Shopify Plus is an insanely powerful platform that can accelerate a brand's growth exponentially.
But it comes with a price. And it's essential to only invest once you've hit that tipping point in your growth that makes the expense worth it.
Sign-up now for Veeqo, a free shipping and inventory management software owned by Amazon, that provides A to Z protections and up to 5% back in Veeqo Credits on eligible shipments purchased through Veeqo.