Ecommerce
Magento Extensions You Need to Know About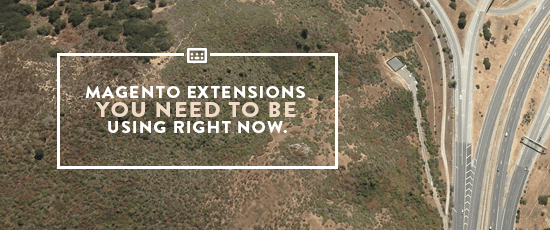 If you're using Magento you're probably aware that it's a platform, as opposed to a ready-made business in a box that will meet all of your needs. Of course, you'll need to expand upon the basic website to make sure your store really kicks the competition, so here are some of the top Magento extensions you really consider using for your website.
Olark 
Olark is a live-chat platform, allowing you to communicate with your customers while they are browse your store, so you can waste less time and provide the best service possible. With Olark, you can see every customer browsing your store, what they're looking at, and what they have in their cart. Meaning you're notified in real time if they are looking at top-drawer items, if you get a repeat customer, or if the customer adds or removes items from their cart. It's a great option if you don't like ticketed support, or if you want to have a live chat option in addition to your ticketed support. 
Our software is a great, multifunctional extension which  you can use for shipping, purchase orders, supplier management as well as integrating seemlessly with the Magento platform. Veeqo boasts a Royal Mail, FedEx, and a variety of other courier options, and works with both a Magento Amazon integration and a Magento eBay integration, as well as connecting Magento with your other web stores so that your inventories are synced across these channels. You'll never have to worry about over-selling again. 
We are all familiar with Wordpress's framework, but if you're already reading this far, you probably didn't choose to go with the WooCommerce platform. Don't worry though, this plugin by Fishpig allows you to integrate Wordpress into your Magento base.  If you're familiar with the Yoast SEO extension for WordPress, you probably went looking for the Magento version. There used to be one, but with Fishpig's Wordpress integration extension you can utilize Yoast's SEO wordpress extension. 
Yotpo
Yotpo is a review enhancement extension which helps you generate reviews for your product catalog. You can use Yotpo to share reviews on social media sites and let your customers do the same. You can also email customers with recent purchasers to encourage them to write a review, and Yorpo allows you to respond to reviews on your site. 
Exploded Menu 
If you have multiple products to sell with high numbers of categories to be put on in the menu, then Exploded Menu is definitely the extension you're looking for. It not only makes your page look better by taking away the boring drop down menus, this extension also makes it simpler for people to select and look through the different categories and products. Another good part about this extension- it is completely free. 
OneStepCheckout 
You can use OneStepCheckout to improve and streamline the checkout process for your customers. This cuts down the purchasing process to one single step. Improving the customer experience you offer and boosting your bottom line.
Sweet Tooth 
Sweet Tooth is a customizable loyalty and rewards extension. Allowing you to reward your customers with just about anything. Including reviews, social sharing, newsletter subscriptions, referrals, and much more. You can turn your existing customer base into loyal buyers and brand advocates with Sweet Tooth tools and a great support team. 
Zendesk
This cloud-based customer support extension integrates with your Magento store, enabling customer support within the Magento platform, allowing you to create tickets without leaving Magento. Display customer support tickets based on relevance and use the customer dashboards to help filter through tickets. If you're struggling with your customer support, then Zendesk is a great, cost-effective option for you to consider. We hope you found this list of Magento Extensions useful and that they help you get the most out of this powerful ecommerce platform.