Ecommerce Operations
Multichannel Inventory Management Features Every Retailer Needs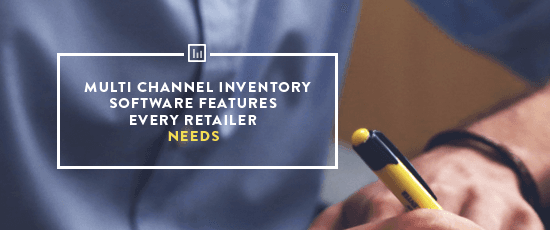 Here are some of the key features we think every retailer needs from multichannel inventory management:
Order Management
Inventory management and order management go hand in hand, so your multichannel inventory management software should really be able to handle your orders too. Most software will have this feature build in, so there's no reason you should have to use separate software to deal with your orders. You should be able to use the software to view all your orders by sales channels, status, stock location and customer delivery choice. 
Shipping
Another feature you're going to want to look for in your multichannel inventory management system is a shipping integration. If you can take care of your inventory and orders in one system, good - but factor in shipping too, and you've got a do-it-all software. The aim of this feature is to make sure the shipping process has as little steps as possible, and is automated where it can be to save you time and effort in the shipping process. Bulk printing your shipping labels, for example, can save you hours per week.
Supplier Management & Purchase Orders
Your multichannel inventory management  system is definitely worth your money if it integrates with your manage your suppliers. You should be able to add new suppliers, editing existing ones. and delete suppliers you no longer use. The software should also let you email your purchase orders directly to suppliers once they are created, as well as archiving these so you can access them at a later date should you need to. 
Reporting
There's a lot you can earn from sales reports, but these can be time consuming and confusing to generate yourself. Having a built-in reporting function is immensely helpful as it saves you time and effort - it's also much more likely to be accurate as there's no room for human error. You should be able to view reports across all your channels as well as reports on individual brands. This will allow you to see which channels are selling the most, and always which items are worth restocking and which items are not worth restocking.
Cloud-Based
Having all the information on your orders, inventory and suppliers is hugely advantageous. Having a cloud-based multichannel inventory management system means you can log in from anywhere, providing you have an internet connection, and that all your valuable information is backed up online, so there's no stressing over lost data.