Amazon Seller
Tools for Lowering Your Amazon & eBay Fees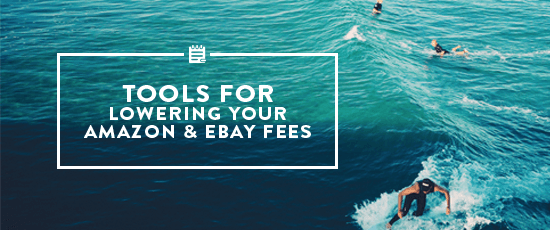 Selling costs incurred as a result of sales are one of the most frustrating things about being an eBay or Amazon seller. However, there are ways you can bring these fees down, and here are a number of tools which can help you.
Amazon Pro Merchant
Perhaps the best way to reduce your shipping costs if you're an Amazon seller is to apply to become a pro merchant. If you sell more than 40 items a month, you can easily save money by becoming a pro merchant. Amazon charges 15% commission to its sellers, plus $0.99/79p per sale, but if you're a Pro Merchant, you only need to pay $39.99/£25 per month and you're only charged the commission.
Amazon FBA Calculator 
Amazon's own shipping fulfillment program - Amazon FBA (Fulfillment by Amazon) - can be taken advantage of in order to help you reduce your shipping fees. If you send your goods to Amazon, they will take care of your shipping and handling fees. This could save you money, so it's worth checking out, but it could also prove more expensive than taking care of the shipping process yourself. Amazon FBA calculator is a handy tool - you can use it to calculate how much it would cost to have shipping fulfilled by Amazon. You can then compare this to how much it would cost to take care of shipping yourself, so you can make an informed decision and choose the option which will lower your shipping fees. Alternatively, you can use ShipBob's Amazon FBA calculator. This helps you see how much Amazon FBA would be for you against using a third-party fulfillment provider like ShipBob. Note: If you use the FBA option, make sure to use Veeqo's Amazon FBA software to manage everything.
Gumtree and USPS 
Check the "Freebies" section of Gumtree for boxes and other shipping materials. People are often getting rid of unwanted packing items after moving house or buying large items, and you could use these for your Amazon and eBay goods. If you're in the US, you could take advantage of USPS's free shipping materials - they offer a wide variety of free packing items including envelopes and boxes of varying sizes - to help lower shipping costs further.
Feedback Pro and Feedback Five 
As you probably already know, Amazon will penalize you by suspending your account if certain metrics are not met. One of the reasons you might not be meeting these targets is if your seller rating is low - people are not going to want to buy from a seller with bad feedback. Feedback Five is a tool you could use to turn your seller rating from bad to good - sometimes all it takes is a little prompting for your customers to leave you good feedback. Remember, people are more likely to be vocal if they have a bad experience rather than a good one, so you could use Feedback Five to send automatic feedback requests to your customers. If your customers leave you better feedback, your seller rating will go up, and so will your sales, preventing you from being penalized by Amazon.  The same goes for eBay. People are more likely to buy from Top Rated Sellers (TRS), and TRS get a 20% discount on their fees every month, so you'll want to improve your seller status. You can do this by sending requests to your customers for reviews and feedback by using Feedback Pro, which performs many of the same tasks as Feedback Five. The more you sell, the less costs you will incur on Amazon and eBay. 
Photobucket 
If you're selling on eBay, you'll be familiar with their rule of allowing 1 picture per listing and charging per extra picture. If you're selling products which require multiple pictures to really show their features, you could use a picture hosting site to avoid these costs.  Photobucket is a good option, as are Tinypic and ImageShack. 
Paypal Merchant Discount 
Another way you could reduce your fees on eBay, especially if you're a high volume seller, is to apply for a Paypal Merchant discount. All you have to do is login to your Paypal account and apply from the Paypal fees page. The fees structure is as follows:  UK: £0.00 to £1,500.00 - 3.4% + £0.20 £1,500.01 to £6,000.00 - 2.9% + £0.20 £6,000.01 to £15,000.00 - 2.4% + £0.20 £15,000.01 to £55,000.00 - 1.9% + £0.20 above £55,000.00 - 1.4% + £0.20 US:$0.00 to $3,000 - 2.9% + $0.30 $3,000.01 to $10,000 - 2.5% + $0.30 $10,000.01 USD-$100,000 - 2.2% + $0.30 above $100,000 - 1.9% + $0.30  You could potentially save up to 2% on all Paypal transactions by applying for Paypal Merchant Discount.