Ecommerce
WooCommerce Vs Magento: Comparing WooCommerce and Magento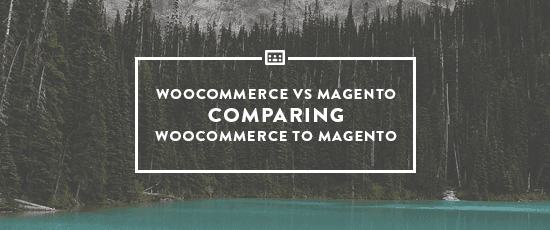 With so many different online selling platforms available to choose from it can be tough to make a decision on which one you want to use, especially with such a variety of pricing plans, features, integrations, add ons and more. We've put together this handy comparison guide to help break down the differences and simplify the decision making process. In this article we are going to look at two very popular marketplaces: WooCommerce and Magento. Both are incredibly popular for various different reasons, but which is best for you?  We are going to give an overview of the benefits and key features of each platform, and then compare them to each other. 
WooCommerce 
We're going to look at WooCommerce first. WooCommerce is an ecommerce toolkit run by WordPress for turning your site into a fully functional ecommerce store. It's free and it's WordPress's most popular plugin. You can sell absolutely anything on WooCommerce, including digital downloads (e.g eBooks, MP3's, video content), and it's very easily customizable with plenty of clean, professional looking storefront templates to choose from, as well as the option to create your own unique designs so you can let your personality and branding shine. There's also a Wordpress's free ecommerce toolkit for turning your site into an fully functional ecommerce store, and and is the most popular wordpress plugin. You can sell anything on there, including digital downloads, and it's easily customisable, like Shopify, with loads of templates to choose from, so you can let your branding shine though. It also has hundreds of free and commercial extensions, so you can optimise your shop however you want. 
Key Features
The default storefront design is clean and simple, but also highly customisable with hundreds of themes available, and plenty of add ons which allow you to optimise your store in whatever way you want. You can also add other stores, e.g a Magento Amazon integration, or a Magento eBay integration.
WooCommerce supports PayPal for accepting credit cards and PayPal account payments, BACS, and Cash on Delivery. There is also a variety of specific payment gateway extensions available.
You can cater for specific distribution logistics, like table rate shipping, through a variety of shipping extensions.
Easily manage your digital or physical products with the intuitive and WP centric UI. You can assign store managers to handle the day to day management of inventory.
Keep on top of incoming sales and reviews, stock levels and general store performance from your WordPress backend, with the reporting tool.
Marketing options including campaigns offering a range of discount options, usage limits & product/user restrictions, as well as free shipping.Option to have a WooCommerce eBay integration, plus others such as WooCommerce to Amazon
Responsive design, so your shop will look good on any screen, be it a laptop, tablet or smartphone
Simple to use interface.
There's no limit to the number of products and categories you can have at your store.
Excellent blogging capabilities thanks to WordPress, and very SEO friendly, which is great for getting your store to rank highly in Google searches.
It's free.
Drawbacks of using WooCommerce 
Lack of high-end features to support very large stores.
Even though WooCommerce is free, some paid extensions required, so the costs could quickly add up if you want to build a great store with lots of cool features.
No free support option.
You need to stay on top of updates.
Magento 
Next we have Magento. Magento is aimed at larger eCommerce retailers who  need a lot of functionality and it is easily one of the most in-depth ecommerce systems available. It will allow you to run large scale eCommerce operations all flexibility and customization that you would need. It can handle thousands of products with different currencies, payment systems, multiple languages, and multiple store fronts.  Magento is composed of such a large ecosystem of developers producing new features for stores, with official site offering extensions and themes from their Magento Connect area. Themes there typically cost around £50 and extensions can be quite costly with some going up to almost £700. 
Key features and benefits of using Magento 
Rich in features, including multiple storefronts, multi-currency support, and mobile friendly.
Very flexible and totally customisable, so you have the freedom to create whatever store you can imagine (providing you or someone else you know is capable of doing so).
There's a huge community of users who create plugins and extensions for Magento stores and also offer help and support.
Very powerful system, so perfect for larger ecommerce stores.
Highly customizable with hundreds of add ons to choose from.
Community version is free.
Scalable, so it can handle however many products you need to sell.
Strong SEO functionality. 
Drawbacks to using Magento 
Well designed, but a steep learning curve for those who are new to ecommerce. Could take a long time to learn how to use the system, let alone build a good-looking store
Addons are much more expensive than those available on the other platforms
Because it's so powerful, hosting can be expensive. You may need a dedicated server to handle it
If you want support, the Enterprise version starts at $14,420/year (at time of writing) and the Premium Enterprise version starts at $49,990/year (for large businesses)
Because it's open source, so you need to be able to code or bring someone in to help. Good Magento developers are often much pricier than the average ones
Magento Vs. WooCommerce 
Both are free, but Magento offers more powerful stores for much larger businesses, but these have the potential to cost a lot, especially if custom features need to be built.  Both are very flexible and customisable in terms of design, but Magento is slightly more powerful than WooCommerce, and is great if you're a developer who has the skill to create truly individual and beautiful stores. WooCommerce would probably be better for someone with a smaller store who lacks the skill to develop their own features. It's also far more expensive to find a Magento developer because they need to know the unique system.  Neither offer free support, but the Magento community is a great source for finding help with issues. WooCommerce lacks a similar alternative, although there are many WooCommerce-centric forums out there which offer help and guidance for WooCommerce users.  Both are SEO friendly, but WooCommerce has the edge due to it being supported by Wordpress, which is a powerful blogging platform in terms of SEO.  Ultimately it depends on what type of retailer you are - if you are a small scale retailer who is looking to create their own store beyond Amazon and eBay then WooCommerce is probably your best option, and if you're a large scale retailer with thousands of products, you would most likely benefit from using Magento.